Game of Thrones Inspired Jewelry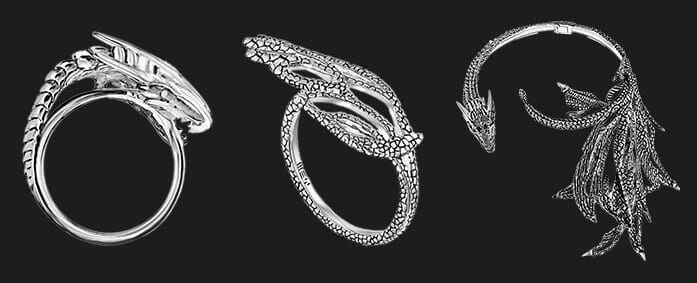 Remember the scene in Game of Thrones season 5, when Daenerys is ambushed and fighting for her life before her dragon arrives and saves the day? The scene was amazing in terms of action – but it wasn't just this well-engineered plot twist that caught viewers' attention: Daenerys was wearing a brand-new piece of Game of Thrones jewelry.
How A Single Necklace Launched a Brand-New Jewelry Line
Not surprisingly, this incredible sculpted dragon necklace was just one of the many items produced for the show by designer Eliza Higginbottom and her husband, designer Yunus Ascott. Now Yunis & Eliza have combined their sculpting know-how with the unique vision of GOT costume designer Michele Clapton, creating a company called MEY Designs, which creates dramatic pieces for use in film and television productions. Now, viewers have the opportunity to own Game of Thrones-inspired jewelry.
MEY Designs has created two distinct GOT jewelry collections so far: in 2016, they released the Dragon Storm collection, and in 2017, the Breaking Chains collection was introduced. Each collection includes several distinct pieces, with some appearing almost identical to items worn by Game of Thrones characters, most notably those worn by Daenerys.
Daenerys Drogon Neck Sculpture
The most sensational item in this incredible Game of Thrones jewelry collection is the Daenerys Drogon Neck Sculpture. Hand-carved to create exceptionally intricate detail, this amazing piece features a sinuous dragon complete with a mouth that you can open and close. The dragon's tail wraps around the wearer's neck, almost as if the creature were alive. It's a replica of the necklace Daenerys wears in Game of Thrones Season 5, episodes 9 and 10.
Khaleesi's Drogon Choker
A slightly scaled-back version of the same necklace replicates the dragon choker Khaleesi wore on GOT season 5, episode 10 as well as on season 6, episodes 1, 2, and 3. Like the larger neck sculpture, this piece features a curved dragon that extends from one side of the wearer's neck to the other, with a mouth that opens and closes.
More Jewelry From The Big & Small Screen
8 Showstopping Engagement Rings In Movies And TV · Famous Necklaces Worthy Of Their Roles ·

The Daenerys Flight Neck Sculpture
Just a touch less dramatic but equally stunning is the Daenerys Flight Neck Sculpture, which can be seen in season 6, episode 9. Beautiful dragon wings encase the wearer's neck in a substantial yet delicate embrace, creating a look that's a touch more romantic that bolder pieces. A simpler (but still impressive) version of the Flight Neck Sculpture is also available. All Daenerys neck sculptures feature hinged backs that blend into the overall designs, essentially becoming one with their wearers.
The Flight Cuff
For those who want something dramatic but a bit more subtle than the neck sculptures, MEY has designed the Flight Cuff, which takes its inspiration from Daenerys Flight Neck Sculpture. This beautiful piece encases the wrist, and features a spring hinge in back for secure, seamless wear. The matching Flight Earrings and Flight Ring are similarly well-suited to everyday wear.
Mother Of Dragons Chain
Fast-forward to season 7, when Khaleesi shows off a new body chain that shows off her status as a warrior while accentuating her appearance, and the Mother of Dragons Chain comes to mind. This collector piece isn't for the faint-hearted; it's among the most iconic of all Game of Thrones jewelry designs. With a trio of fierce dragon heads positioned at the wearer's shoulder, it features strong, sculpted links that cross the body, and a large sculpted ring that falls at the waist. The same trio of dragons is seen in the simpler Dragon Pendant, which offers exquisite detail and a design that's a bit more amenable to everyday wear.
Smaller Game of Thrones Jewelry Items for Daily Enjoyment
Most Game of Thrones inspired jewelry is substantial, particularly the pieces that allow wearers to take on the role of Daenerys. These pieces make an incredible impact, and many are very well-suited for special occasions and role-playing. But fans who want to carry a little piece of their favorite show with them on a regular basis can enjoy GOT-inspired bangle bracelets, earrings, and rings. Of particular interest are the Dragonstone Earrings, Rings, and Pendants, which showcase the wearer's choice of blue labradorite, fire orange glass, or electric green glass glowing from within the heart of a silver dragon's egg.
//= get_template_directory_uri() ?> //= get_template_directory_uri() ?> //= get_template_directory_uri() ?> //= get_template_directory_uri() ?> //= get_template_directory_uri() ?> //= get_template_directory_uri() ?>
©2011-2023 Worthy, Inc. All rights reserved.
Worthy, Inc. operates from 45 W 45th St, 4th Floor New York, NY 10036