How Divorced Parents Can Help Their Children Through the Holidays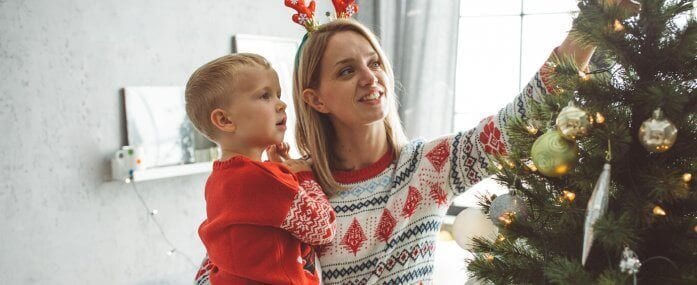 My heart was in the right place. It was. That doesn't always matter though. As life has shown me, the universe doesn't seem to care as much as I would like it to or expect given my good intentions. Oh, well. I get that there's a plan and all. I'm just aware I don't know what it is, making it that much more problematic when I go about figuring out what it is I can do to ease my children's pain and mine. Which is what I was trying to do when I booked a last-minute cruise to the Caribbean over the holidays for us almost two years to the day following my husband's decision to live in Hong Kong full time. The last thing I wanted to think about was our final family vacation, which preceded the end of my marriage by a matter of days, yet that's the situation I created when I tried to run from the inevitable.
It wasn't the itinerary that was the problem. Far from it. Three nights in Houston followed by a seven-day cruise to Costa Maya, Belize, and Cozumel was to be a welcome reprieve from the cold weather and memories of holiday time when I was married, and my children's dad lived at home. Starting with our arrival in Houston, it was. But from the moment I set foot on the ship, I realized I had made a mistake.
Although I know this couldn't have been true, it appeared that every family on the boat was a complete one except ours. Most tables at mealtime included a dad. So did the family portraits we watched the professional photographers take throughout the trip as we stood in line for our own. My kids were not well behaved during many occasions that week, and I attribute some of their bad behavior to them acting out because they felt sad in an environment which underscored what they were missing rather than being in one that would not draw attention to it. Looking back, I now see there are a few other ways I could have made the holidays that year more palatable, if not enjoyable, for my kids following my divorce. A whole lot of experience later, here's what I would recommend to other divorced or divorcing parents trying to do the same.
Face your situation.
Never was running away so tempting than when I was going through my divorce and the first few years following it. Those were some tough times. But getting away, even if for a couple of hours or a day, should never be about avoidance. I'm all for changing surroundings, routine, and traditions. Throw stuff away, pack it up, or sell it. Get out of the house. But do so with the mindset that you're letting go, not burying or avoiding your pain. When you do, it's sure to bubble up to the surface, whenever and wherever you are. You can run as long as you know you cannot and should not hide from your pain, for your sake and your children's. The holidays are no exception.
" The great thing about energy is that energy is free flowing; as much as we empower our kids, they do the same for us. "
Evaluate your destination or what it means to stay put.
When you set about trying to forget an incident or situation, you only draw more attention to it. That's what I did when I tried to replicate the feel of a family vacation during the holidays we had already taken. I had always liked cruises, especially with young kids. Many ships even offer supervised childcare, which is a big plus when you're the only adult caring for them. But what happens when you're alone? Or when you're with your kids and in the company of others?
It's important to consider where you are and whether your surroundings will lift you up or pull you down. Only you can answer these questions. For me, being surrounded by mostly married couples with children wasn't exactly great for my spirits at the time or my children's. Nor would have been being stuck at home during the holidays, which is why I chose to go away in the first place. But based on the feel of the first part of our trip during which we could explore a new city on our own and at our own pace versus the second, an environment that left us feeling like we were on the fringes, I know there would have been better options for us at that time and stage in our healing. Today, I consider a lot more than the just the destination when choosing a trip or, on the flip side, how it is we will occupy our time if we decide to stay home during the holidays. Doing so makes for a much more pleasant experience all around.
Own your power.
As the parent, you're in control, whether you like it or not. Because of that, you have the power to set the tone for the day and, by default, your children's mood. Kids take their cues from us, even older ones. If we're angry or sad, they'll feed off of our energy and become the same way, making the present conditions that much more difficult for anyone in their path, which is usually their siblings. Enough said there.
Being the family mood ring is a lot of responsibility and can get to be unbearable when all you want to do is crawl under the covers and cry. Save it for later. That's what the bathroom is for and your bedroom once the kids go to sleep. In the meantime, get into the fresh air. Cook dinner together. Go out for a meal. Whatever you do, remember to engage with your children. The great thing about energy is that energy is free flowing; as much as we empower our kids, they do the same for us. Yes, the holidays are all about giving. But sometimes it's okay to receive, too. And our kids have a lot to give us if we let them.
//= get_template_directory_uri() ?> //= get_template_directory_uri() ?> //= get_template_directory_uri() ?> //= get_template_directory_uri() ?> //= get_template_directory_uri() ?> //= get_template_directory_uri() ?>
©2011-2023 Worthy, Inc. All rights reserved.
Worthy, Inc. operates from 25 West 45th St., 2nd Floor, New York, NY 10036