Worthy Women's Scholarship 2023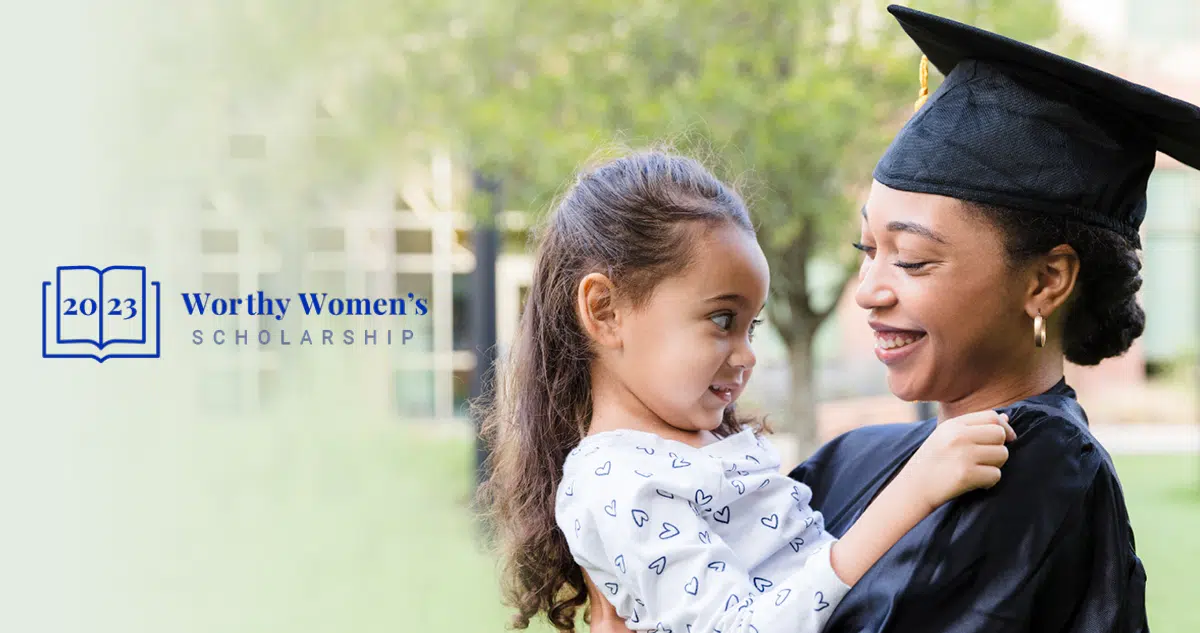 At Worthy, we like to think of ourselves as a selling partner for individuals looking to sell their jewelry. But that partnership is something we feel extends beyond the transaction and into the lives of the people we help by providing them with a safe and easy way to make the most of their jewelry as a financial asset. And an extension of that partnership is the Worthy Women's Scholarship, which we are so proud to once again be able to offer in 2023.

The scholarship, now in its eighth year, is intended for women who have decided to enroll in school to pursue their passions and open up more doors for themselves and others. Over the years, we have helped eighteen worthy women make their dreams of returning to school a reality and continue to support women as they pursue their academic careers and onward. To apply, please review the requirements and writing instructions below.
Scholarship Awards
The writers of the top three selected essays will be awarded as follows:
First Prize: $2,500
Second Prize: $1,500
Third Prize: $1,000
Scholarship Submission Guidelines & Topics
For your essay, please choose one of the following quotes and topics to address in 300-500 words. We are looking for answers that are honest, thoughtful, well-written, and focused.
Please note that while relevant background information is always appreciated, we ask that you remain topic-focused in your answer.
Dream
Describe a dream of yours you hope to one day achieve and tell us how your current educational and career endeavors will help you get there.
Guidance
Imagine you could have dinner with any historical figure (political, entertainment, public figure). In your essay, share who it would be, why you chose them, and what you would hope to gain from your conversation.
Culture
Share a practice or belief in your culture that has helped you on the educational and career path you are taking.
2022 Worthy Women's Scholarship Recipients
1st Place

Amy Henry
36, MA in School Librarianship, Longwood University
"I am honored to be chosen as a recipient because as a woman going back to graduate school in my 30s, it has been a lot of hard work and making ends meet to get where I want to be. It means a lot to me to know that my dream can continue."
2nd Place

Amanda Sherman
33, BA in Psychology and Pre-School Counseling
"The female focus greatly added extra meaning for me because I am a single mother over the age of 30 that is trying to better myself for me and my kids. Having an emphasis on females made me feel I had a better chance at getting the scholarship and I love how it feels empowering."
3rd Place

Katherine White
50, BA in Law Enforcement and Criminal Justice
"The over-30 female focus is extra meaningful to me because going to school is tough. Even more so when you haven't done it in 20+ years. Not only because we're probably working full-time and have to carefully delegate our time between multiple outlets, but some of us are also maybe raising children or have completed that, as well. "
Our Worthy Scholarship Panelists
Carrie Rattle
Financial therapist/coach and the CEO & Founder of Behavioral Cents
Past Recipients
2021 – 1st Place
Laura Turner
32, Social and Human Services
Seattle Central College
2021 – 2nd Place
Kelsey Anderson
42, J.D., Law & Advocacy,
University of California
2021 – 3rd Place
Cleopatra Williams
39, Nursing,
University of Houston


2020 – 1st Place
Hillary Dahl
37, Psychology & Human Services,
Lesley University
2020 – 2nd Place
Temitope Asein
52, MA in Healthcare Management, University of St. Francis
2020 – 3rd Place
Erin Heise
31, Nursing, University of Arizona


2019 – 1st Place
Susan Bullotte
56, Masters in Human Resources, Saint Francis University
2019 – 2nd Place
Andrea Sneezy
33, BA in Criminal Justice, Arizona State University
2019 – 3rd Place
Elizabeth Walker
48, Doctorate in Organizational Change & Leadership, USC


2018 – 1st Place
Melissa Huff
32, Early Childhood Education, Barton Community College
2018 – 2nd Place
Christina Cordell
49, Religious Studies, Randolph College
2018 – 3rd Place
Angela Mayfield
32, MBA, NYU Stern School of Business


2017 – 1st Place
Rachel Carter
31, Masters in Divinity, Iliff School of Theology
2017 – 2nd Place
Kimberly Edwards
34, Nutrition and Dietetics Program, CSU Chico
2017 – 3rd Place
Dawn McCall
45, Master of Education, Grand Canyon University


2016 – 1st Place
Rayceana Rocha
32, BS in Sociology, California State University
2016 – 2nd Place
Emily Gagnon
32, Masters in Public Administration, Marist College
2016 – 3rd Place
Minerva Tovar
54, BS in Psychology, Colorado Christian University


Terms and Conditions
To qualify for this semester's scholarship, all papers must be submitted by December 4th, 2023*
Must be enrolled in a continuing education professional studies program
Submissions must be sent in from the valid email address of the author
Applicant must be a permanent resident of the United States
Applicant must identify as a female and be age 30 or older
The paper must fit the criteria of the topics outlined above
Worthy, Inc. has the rights to the submitted content
All personal information is protected by our Privacy Policy
*Deadline subject to extension.
If you have any questions or issues submitting your application for the 2023 Worthy Women's Scholarship, please don't hesitate to contact us at [email protected]
//= get_template_directory_uri() ?> //= get_template_directory_uri() ?> //= get_template_directory_uri() ?> //= get_template_directory_uri() ?> //= get_template_directory_uri() ?> //= get_template_directory_uri() ?>
©2011-2023 Worthy, Inc. All rights reserved.
Worthy, Inc. operates from 45 W 45th St, 4th Floor New York, NY 10036