Worthy's Trends Report: Insights Into Our 2019 Auctions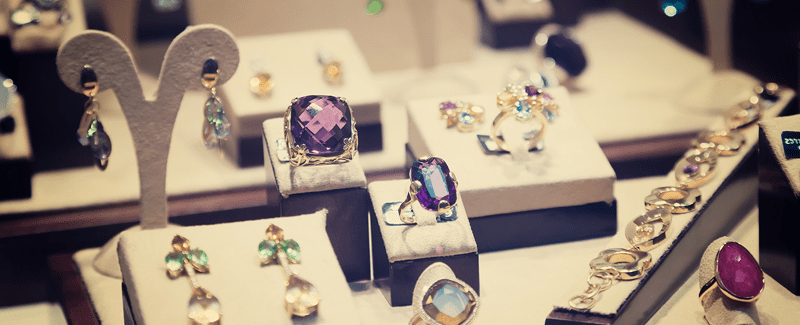 In 2018, it was reported that American households held over $98 trillion of wealth. If that fun fact doesn't surprise you, maybe this will: "There is approximately $1 trillion worth of diamonds sitting in drawers across the country." In other words, US households are the largest diamond mine in the world.

That's what Worthy's founder, Benny De Kalo, has to say about why he founded the online auction platform. Not only does an online auction platform like Worthy make it easier for buyers to get more recycled diamond inventory, but it also helps sellers get good prices for their items, many of which are no longer wanted or needed.

In the diamond and fine jewelry industry, it's not just the source for diamonds that's changing. It's also what people are buying. In De Beers' Diamond Insight Report for 2019, the diamond giant noted that engagement rings today contain smaller center stones, but with more side stones and accent stones than in the past, a hint that the majority of bridal jewelry shoppers today are looking for more affordable ring options. As De Beer's reports, there "has been a small decline in the average price paid for diamond engagement rings in the last five years", going from $3,700 in 2013 to $3,400 in 2017.

Another big change? More and more women under 35 are purchasing their own jewelry, growing from 21% in 2013 to 30% in 2018. While rings may have gotten smaller, "diamond necklaces, bracelets, halo earrings, and stud drops have grown in popularity." Today, more women than ever are even buying their own engagement rings, spending more on themselves than their grooms to be: "In 2017, brides who reported financing the ring themselves spent on average $4,400, while grooms spent $3,300 on diamond engagement rings."
Knowing what and how people bought last year, let's look at what was sold in the Worthy auctions.
Types of Items Sold On Worthy
While Worthy does accept all types of fine jewelry, in 2019 the diamond ring remained the queen of the auctions, with 78% of all auctions selling rings. Other diamond jewelry made up 10% followed by loose diamonds at 6% and watches at 4%.

Item Types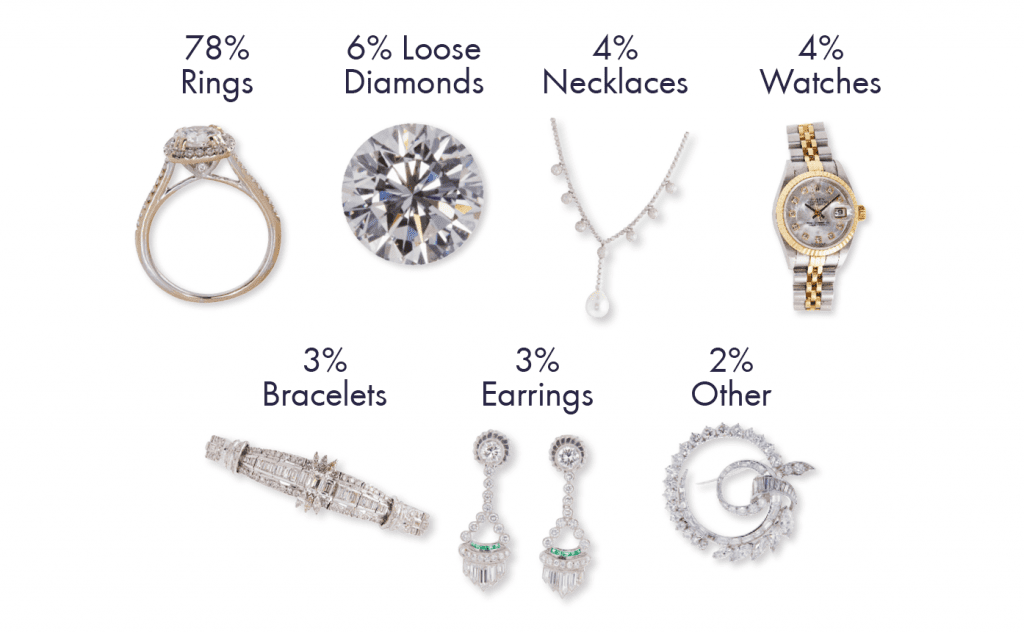 Diamonds – The Stars of The Show
Since diamonds are the big-ticket item on the Worthy auction platform, here's an in-depth look at what's coming through our vault.

Diamond Shapes
Round diamonds remain as popular as ever, rising from 51.6% of Worthy's 2018 diamond auctions to 55% in 2019. This is a reflection of the continuing trend in the retail market, as De Beers said round diamonds accounted for 40% of their sales in 2018. However, De Beers did note that other diamond shapes are growing in popularity, including the princess at 22% and cushion at 12%. At Worthy, princess diamonds were the second most popular shape sold in 2019 at 18%, followed by marquise at 6%. Marquise diamonds were a popular shape in the 80s and early 90s, and according to our jewelry expert Hedda Schupak, they are making a comeback in current jewelry trends.

Diamond Shapes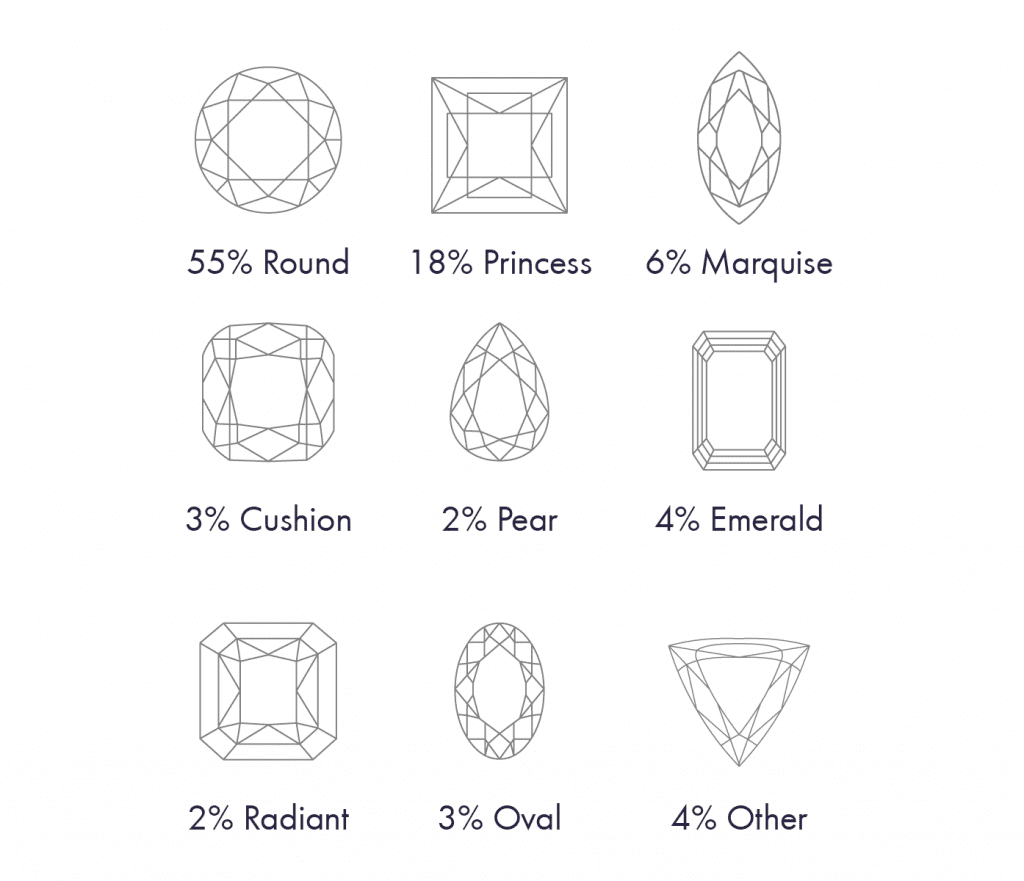 The Four Cs: Cut
The term "cut" can be confusing: a "round-cut" refers to the diamond's shape but when it comes to diamond properties, "cut" is a reference to how well a diamond's facets catch and reflect the light. Cut grades range from the highs of excellent and very good to fair and poor.

Cut can have a big effect on a diamond's price, with buyers looking for good scintillation or sparkle. In 2019, 91% of diamonds sold on Worthy were graded with Good, Very Good, or Excellent cut grades. That's one point up from 2018.


The Four Cs: Color
Diamond color grading works on a scale different from others, with the best grade a diamond can get being D. So the fact that 23% of diamonds sold on Worthy this year were in the D-E-F range was pretty outstanding.

Diamond Colors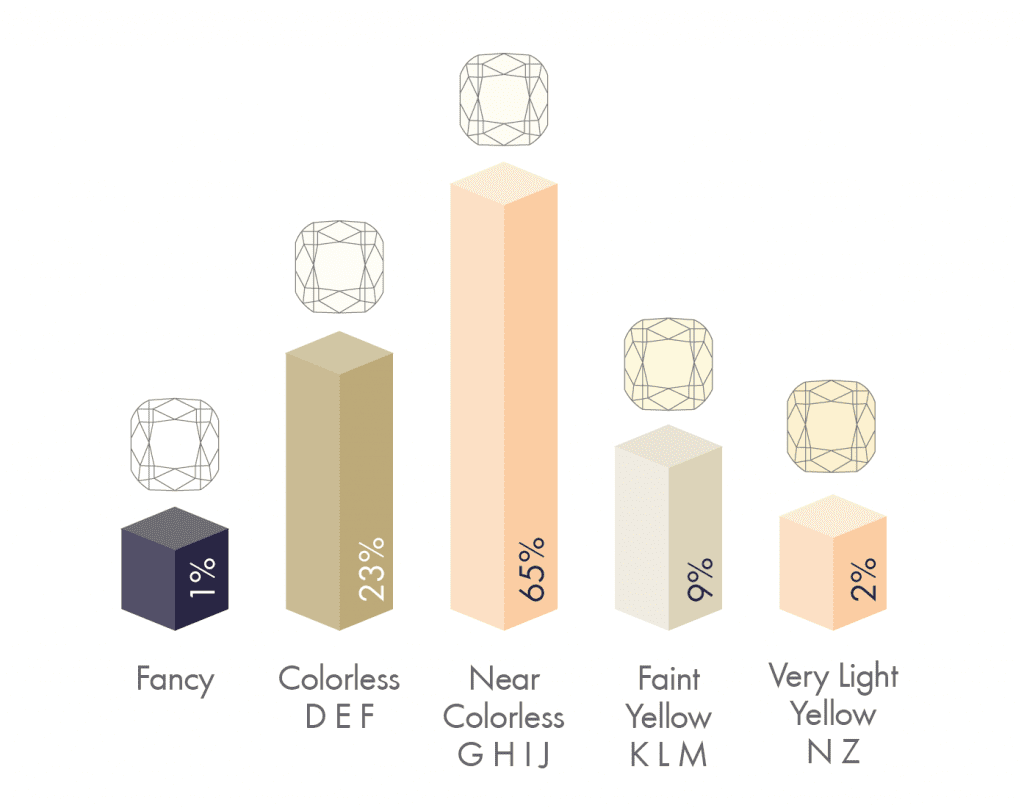 The Four Cs: Clarity
As with skin, flawlessness is a sought after characteristic but the price tag can be much higher. That's why only 0.5% of Worthy's diamond sales in 2019 were for diamonds with no inclusions (or "IF", internally flawed).

Diamond Clarity


The Four Cs: Carat
Things can get confusing when it comes to carat weight: carat weight and total carat weight (TCW). De Beers reports that the average total carat weight for bridal jewelry in 2018 was 1.7 CT. However, the four Cs are referring to the carat weight of the main stone and De Beers reports the average carat weight at 1.1CT for the main stone. While the majority of diamonds sold at Worthy in 2019 were under 1 CT (59%), 34% of diamonds were between 1-2 CT. Note that these numbers are only for diamond rings and loose diamonds. Other diamond jewelry often only features very small stones.

Diamond Carat Weight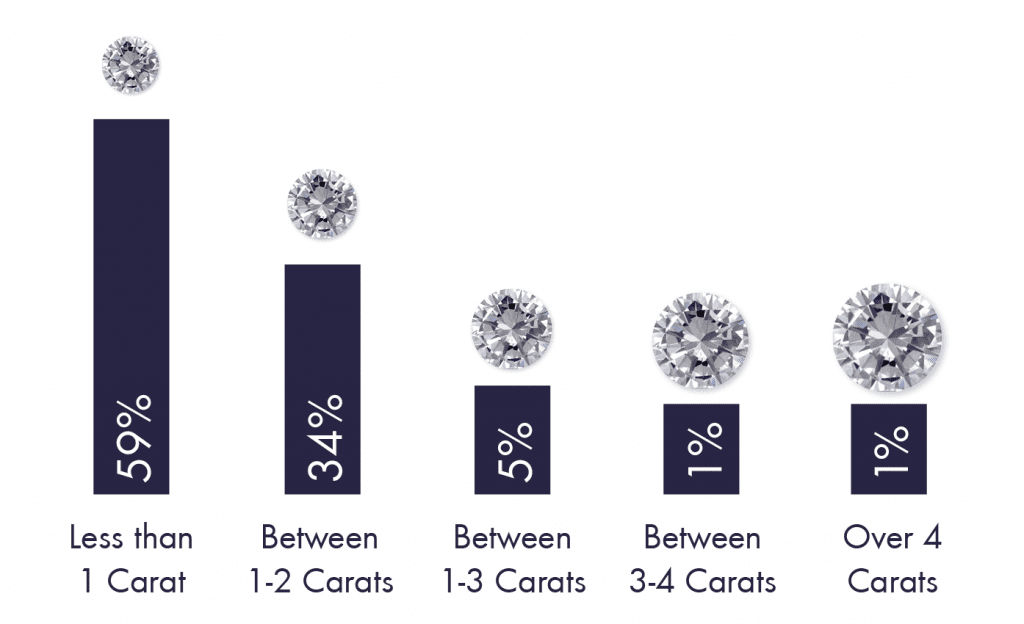 When comparing the average carat size of diamonds sold across the country, Nevada came in first place, with an average carat weight of 1.16. This was followed by New York (1.15 CT), New Jersey (1.14 CT), Connecticut (1.13 CT), and the sunshine state of Florida (1.12 CT). The smallest diamonds came from South Dakota, with an average size of 0.66 CT.

Diamond Size By State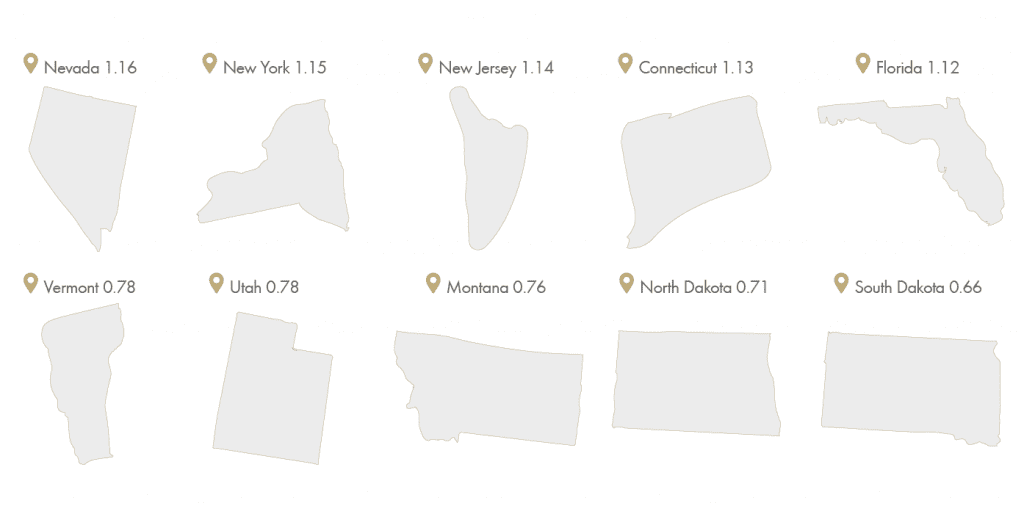 Ring Styles
As we mentioned earlier, diamond rings made up 78% of our auctions in 2019. Looking a little deeper into this number, we can see what ring styles people are looking to sell.

Bridal sets made up 42% of auctions, hinting that more than half of the rings auctioned with Worthy were from divorcees. The ever classic solitaire style ring made up 32%, halo rings at 9% and 3 stone rings at 7%.

Most Popular Ring Styles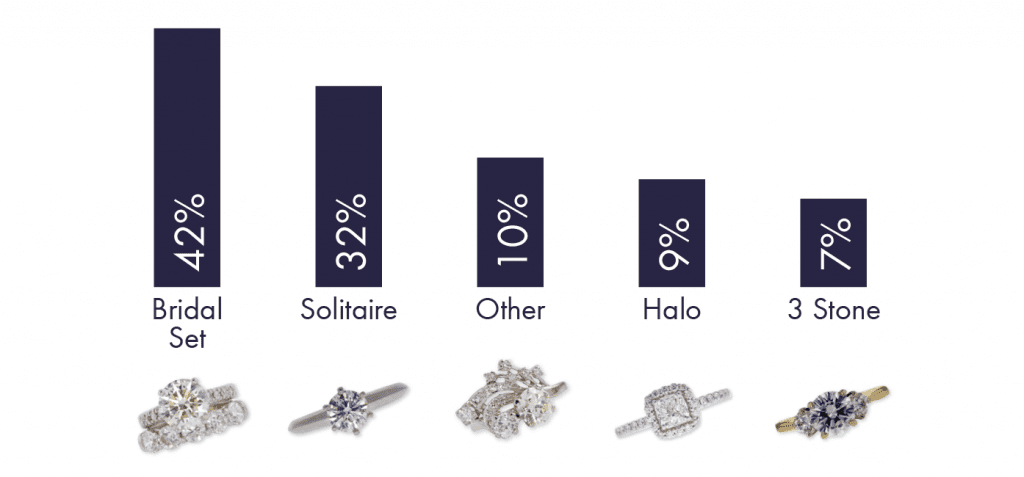 De Beers notes that while the solitaire is still a classic with ring shoppers today, 38% of their engagement ring sales in 2018 were for rings with side stones and halo settings.

Metal Type
When it comes to metal types, 14K white gold is the most common metal seen on the Worthy auctions at 66%. Platinum, a less common and more expensive metal, came in second at 18%. 18K gold was third at 13% followed by 10K gold at 2%.

Metal Types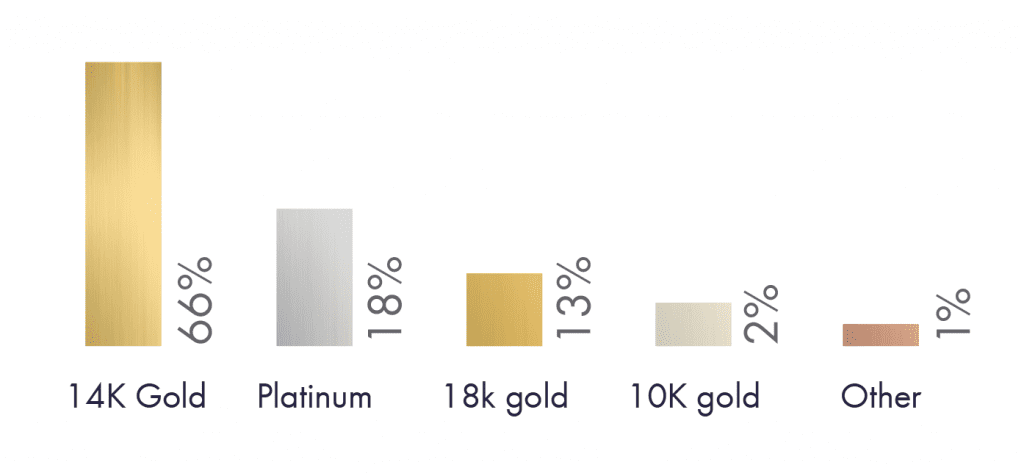 In comparison, De Beers found white gold to be their most popular metal type sold in 2018.
Branded Jewelry
In 2014, McKinsey & Company released a report with their projections on the future of the jewelry industry for 2020. At the time, branded jewelry made up 20% of the overall jewelry market, a share that had doubled from 2003. Looking forward to today, they expected that by 2020, branded jewelry would make up 30-40% of the market.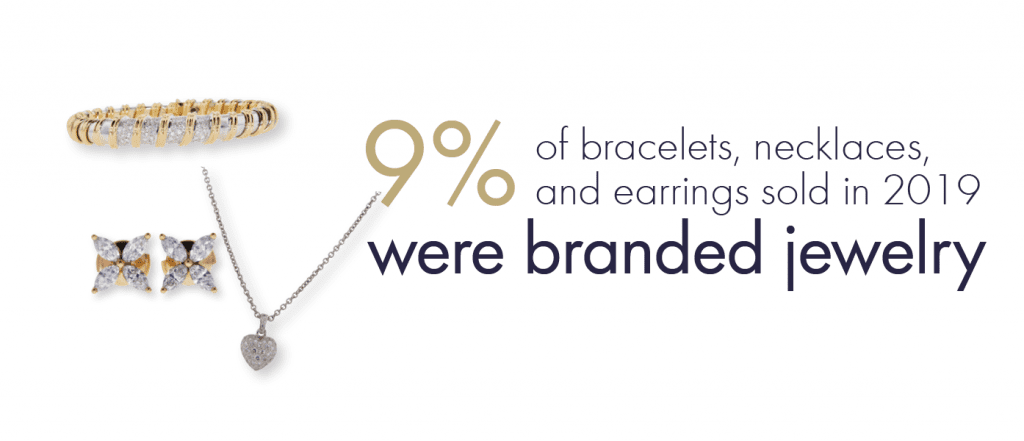 At Worthy, 9% of bracelets, necklaces, and earrings sold in 2019 were branded jewelry, with more and more items coming in from the big names like Tiffany and Cartier.
The Breakdown
Tiffany & Co. is one of the top luxury brands in the world, with both the history and the numbers to back it up. According to National Jeweler's "$100 Million Supersellers List" for 2018, Tiffany & Co. came in at number 5, with over $1.25 billion in US sales. Not surprisingly, Tiffany & Co. made up 60% of Worthy's branded jewelry sales in 2019. Next up Tacori at 16%, a brand known for intricate and exquisite craftsmanship, especially when it comes to engagement rings.

Most Popular Jewelry Brands


Other names on the list of brands Worthy sold were some of the big names, such as Chopard, Van Cleef & Arpels, Harry Winston, and Graff.

What's In America's Jewelry Boxes?
What's in jewelry boxes across the country? Plenty of bracelets, earrings, and necklaces were sold this year. People have all sorts of reasons to put their items up for auction, including vacations, college funds, or even trading up for more trendy pieces.
Popular Bracelet Styles
Just as Serena Williams is the queen of female athletes, the tennis bracelet was the queen of bracelet styles for 2019. The classic style made up 45% of bracelets sold, more than double the amount of bangle (14%) and link bracelets (13%).

Most Popular Bracelet Styles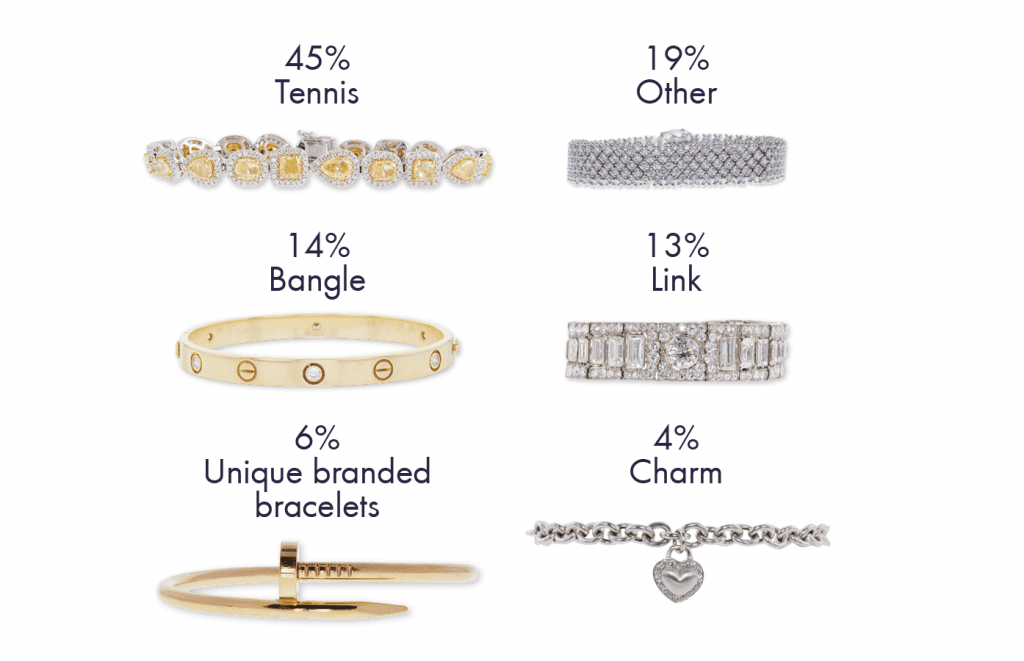 Note that unique bracelets include one-of-a-kind designs from brands like Cartier, Tiffany, Roberto Coin, and David Yurman.
Popular Earring Style
Earrings made up 3% of Worthy's 2019 auctions. Studs were by far the most popular earring style (60%), with other styles including drop earrings (8%), hoop (7%), and huggie (3%).

Most Popular Earring Styles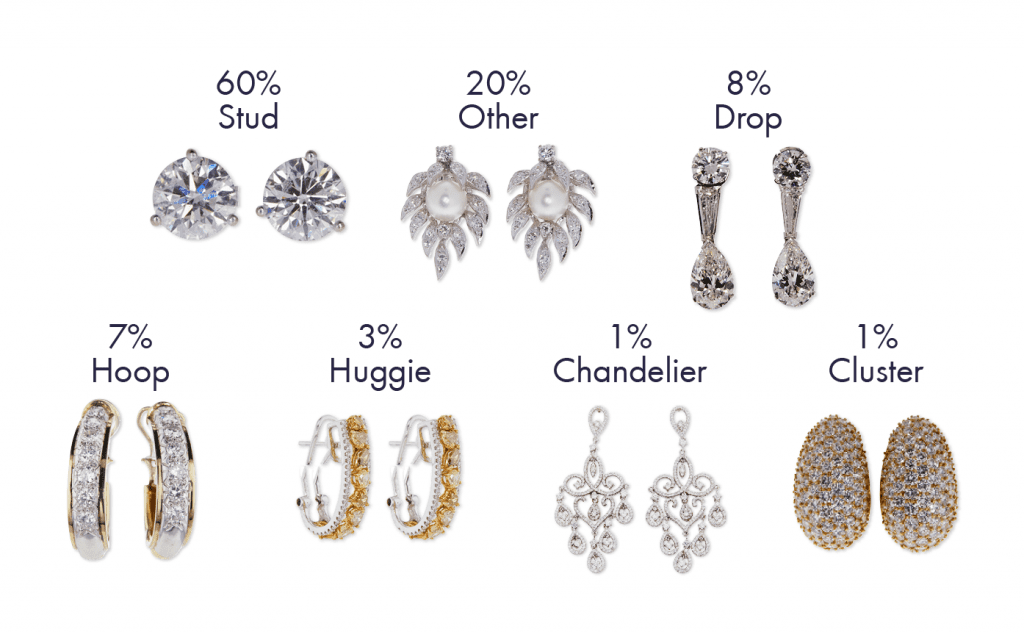 Popular Necklace Style
Necklaces made up 4% of Worthy's auctions this year. The classic look of a pendant necklace beat all the other styles by a mile with 74% while other styles came in far behind: chain at 11%, riviera at 3%, and drop, collar, choker, and station all at 1%.

Most Popular Necklace Styles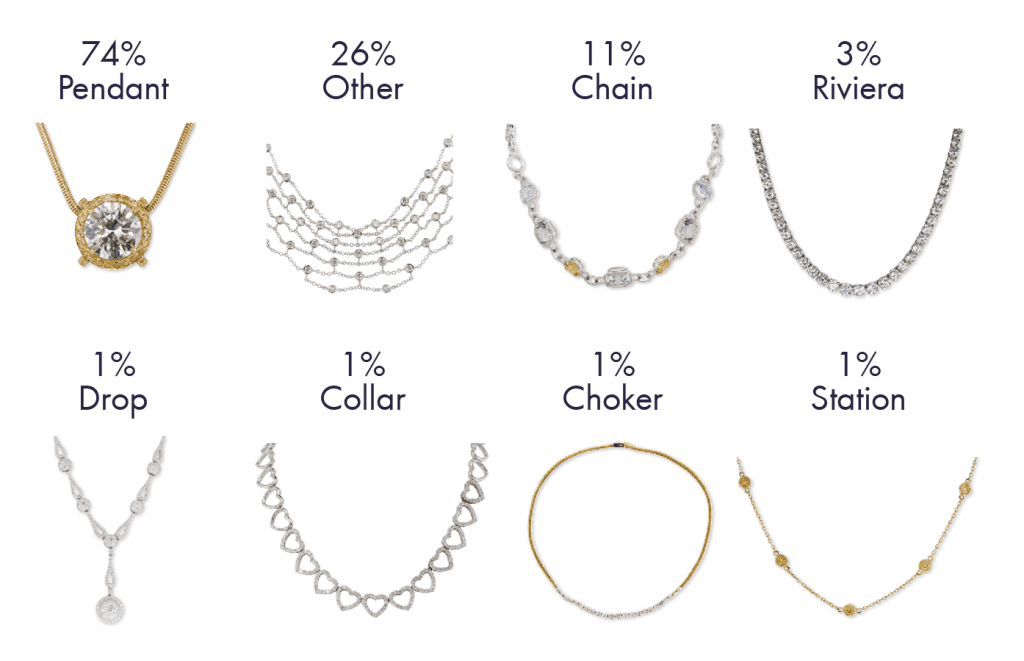 The Best of Worthy Watches
Last but not least we have watches sold on Worthy in 2019. Watches made up 4% of the total items auctioned, with the average deal amount being $1,814.

Unlike diamond rings, watches are all about the brand, and the top three brands seen on the Worthy auctions were Rolex (25%), TAG Heuer (14%), and Omega (12%). And the biggest the brand, the bigger the price tag, even at resale. While Harry Winston only made up for .46% of the auctioned watches, it was the #1 brand for deal amount. Same for Patek Philippe at #2 with 1.53% and Breguet at #3 with .15%.

Most Popular Watch Brands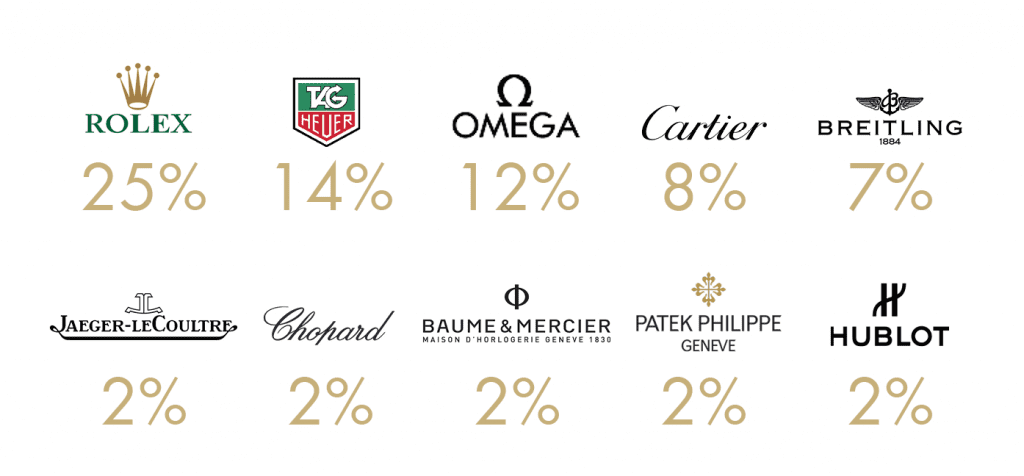 Top 10 Watch Brands By Deal Amount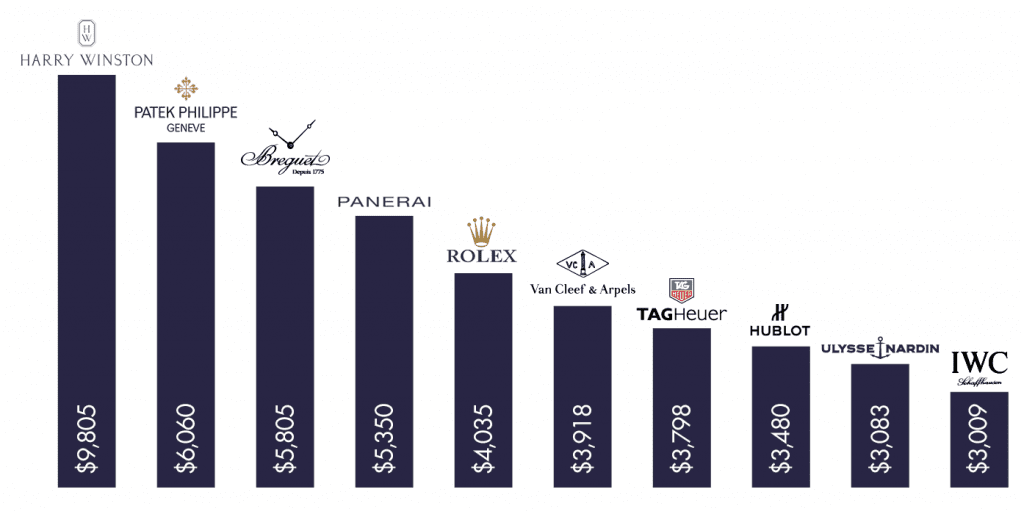 Demographics: Who's Selling And Where
In 2019, 83% of jewelry and watch sellers were women while 17% were men.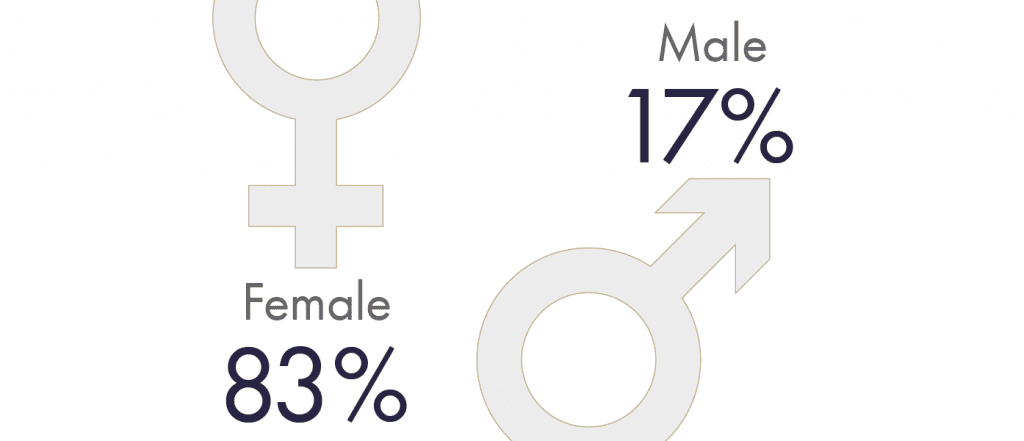 When looking across the country, the highest average deal amount came from the great state of Oklahoma with an average of $3,567 while Montana had the lowest with an average of $674. However, a high price doesn't necessarily mean a big diamond since Nevada came in first for average carat size at 1.16 CT and Oklahoma only at 0.99 CT. This just goes to show you that while the diamonds in Nevada might be bigger, they are of a lesser quality than those in Oklahoma.

Average Deal Amount and Carat Weight By State
Looking at the middle of each of these ranges, New Mexico comes in with an average carat weight of 0.95 while Mississippi with an average deal amount of $1,555.
Top Seller First Name From 2019
One of the many bits of data we've gained from our many surveys over the years is that women in their 30s are the biggest age group getting divorced today. And in case there were any doubts about this, a comparison against the most popular baby names of the 1980s speaks louder than words.

Top 10 Seller Names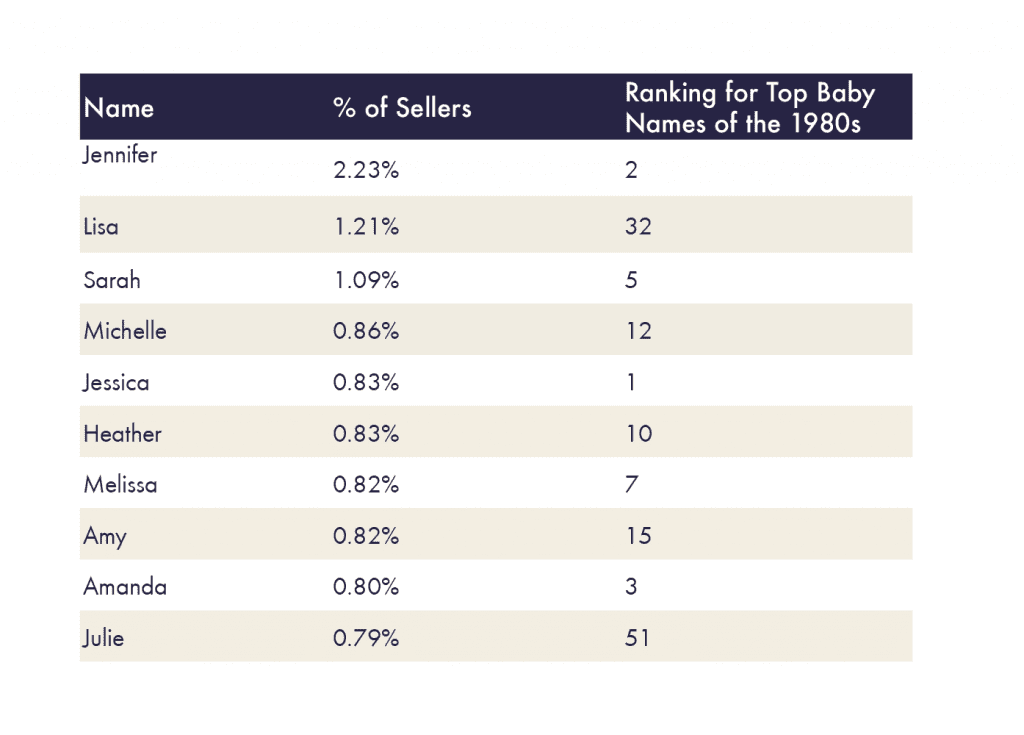 While the names Lisa and Julie were lower on the 1980s list, they ranked high for the decade before. In the 1970s, Lisa was #6 and Julie was #18.

Is selling jewelry something you're thinking about for 2020? Considering using that inherited brooch to pay off debt or an out of style necklace to help with tickets to Aruba? Worthy can get you there. By putting your item in front of an audience of qualified buyers, we make sure you get true market value for your jewelry. And the entire process is safe and simple, designed to be done from the comfort of your couch. To a successful New Year!
//= get_template_directory_uri() ?> //= get_template_directory_uri() ?> //= get_template_directory_uri() ?> //= get_template_directory_uri() ?> //= get_template_directory_uri() ?> //= get_template_directory_uri() ?>
©2011-2023 Worthy, Inc. All rights reserved.
Worthy, Inc. operates from 45 W 45th St, 4th Floor New York, NY 10036