2022 Diamond Prices: Why Now Is The Best Time To Sell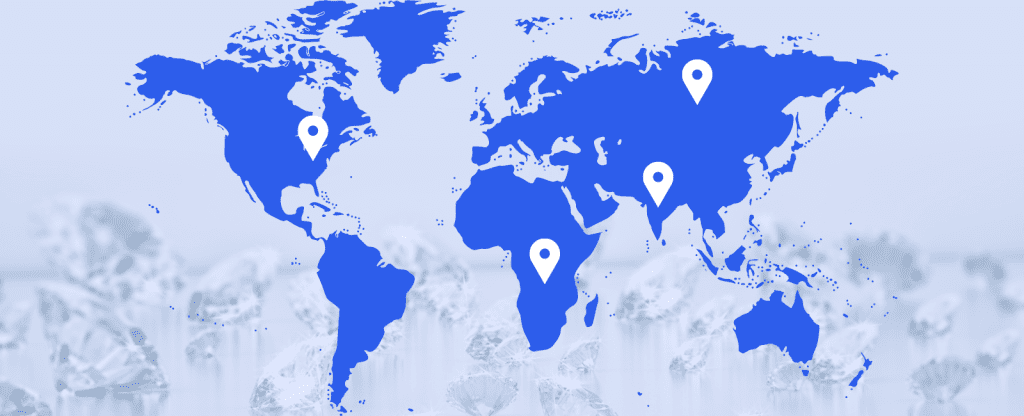 If you have been waiting for the best time to sell your diamond or diamond jewelry, now might be the ideal time. A combination of global political events, changes in the market, and the COVID-19 recovery are making recent and upcoming months a great time to sell a diamond and earn higher than average amounts. Here is a deeper look into some of the reasons why diamond prices are peaking right now.
The Ukraine-Russia Conflict and the Diamond Market
With Russian forces invading and attacking Ukraine since the end of February 2022, global and economic leaders have issued multiple sanctions against Russia in order to deter escalation. As part of that effort, President Biden banned the import of Russian diamonds into the United States.

This "banned import of Russian diamonds" is a bit complex, as it only works against rough stones mined in Russia or stones from elsewhere that are cut and polished in Russia. In reality, most stones mined in Russia are sent elsewhere for cutting and polishing and cannot be separated out from diamonds from another source.

The diamond giant Signet took this approach one step further and told its suppliers it will no longer be buying diamonds or precious metals mined in Russia. Signet is the owner of Kay Jewelers and Zales and the largest diamond retailer in the country.

Finally, the Alrosa mining company, which operates the major diamond mines in Russia, closed its US office and the president of Alrosa USA left the company. You can have a look at how Alrosa compares to the other top diamond companies in the world (and also see some of the biggest stones to come from Alrosa's mines).

De Beers Raises Diamond Prices In Response To "Buying Frenzy"
Some in the jewelry industry say there has been a true "buying frenzy" of uncut or rough diamonds. In direct response to this, De Beers has been aggressively raising the prices of its mined diamonds on the open marketplace.

According to insiders with knowledge of the situation, De Beers has raised its diamond prices this year by approximately 8% or so. While the most dramatic increases were for smaller and less expensive diamonds, price hikes could still be seen across the board.

Economic pressures have been contributing to the rising prices of diamonds. As the world continues to dig itself out of the pandemic era, consumer demand for luxury goods – including diamond jewelry – has seen significant growth. Meanwhile, supply had remained roughly the same until the Russia-Ukraine conflict began squeezing the supply chains.

This is not the first price hike we've seen as the world continues the pandemic recovery. In fact, De Beers had been increasing prices on its larger and more valuable diamonds throughout 2021. The current major increases on the smaller, less expensive stones can be understood as the rest of their inventory playing "catch up" to these higher prices.

Though the average price hike by De Beers is roughly 8%, depending on the diamond, price inflation has varied from as low as around 5% to as much as 20% or more. As inflationary pressures continue throughout the diamond marketplace and supply gets squeezed by geopolitical conflict, it's possible that diamond prices may climb even higher.

More Pandemic Impacts on Diamond Prices
The diamond market experienced a major recovery in 2021 following a difficult year due to pandemic-related supply chain and retail disruptions. Some of the factors affecting the market's pricing include:


India's 2020 lockdown led to a severe supply decline in polished diamonds, raising the price of diamonds toward the end of that year.
The economic boom following the stimulus and stock market highs allowed for growth across the jewelry sector, particularly in the diamond segment.
Prices for polished diamonds went up by 32% between July 2020 and December 2021.
2021 saw a carryover from the previous year of an undersupplied market of both rough and polished diamonds. There was also a high demand for diamonds, which ultimately drove the prices up.
The pandemic saw online jewelry sales rise significantly
111 million carats of diamonds were removed from the market due to 2020's production decline
These factors, leading to a decrease in overall supply and an increase in overall demand, have been pushing the prices of diamonds on the secondary market ever higher. As a result, there may never have been a better time to sell your pre-owned and unwanted diamond jewelry on the open market. In fact, ever more people have been doing so with Worthy and have been reaping major benefits from it.
Worthy's Results From 2022 So Far
Since 2022 began, Worthy has seen an average of 37.23% increase from deals in 2020 to deals in 2022. This is compared to a 15.3% increase we saw from 2020 to 2021. There are a few reasons we believe are behind this increase:
Sellers are becoming more and more comfortable selling items online. The pandemic and lockdowns cause more industries to turn to online solutions and individual sellers just as much.
Sellers are finding that their diamond jewelry is no longer suited to the more casual lifestyle we've come to recognize as the norm. They are more willing to part with their diamond and luxury jewelry and use the money from their deal toward something that will serve them better.
Alternatively, sellers are looking for more ways to make money and selling jewelry can offer a quick and large payout, depending on the item.
Looking into the financial details, selling jewelry has also become significantly more lucrative since 2020. During the first year of the pandemic, round cut diamonds in the 1 carat range sold for an average of $1,584. That number increased by 32.5% in 2021 and has increased by another 7% in 2022, bringing the total price increase to 39.6%! You can see the chart below for the price increase on other types of diamonds.

In addition, the sheer amount of diamonds being sold has increased significantly. For diamonds in the same category as above, 2020 saw an average of 1.6 diamonds sold per month as opposed to 3.3 diamonds sold per month in 2022.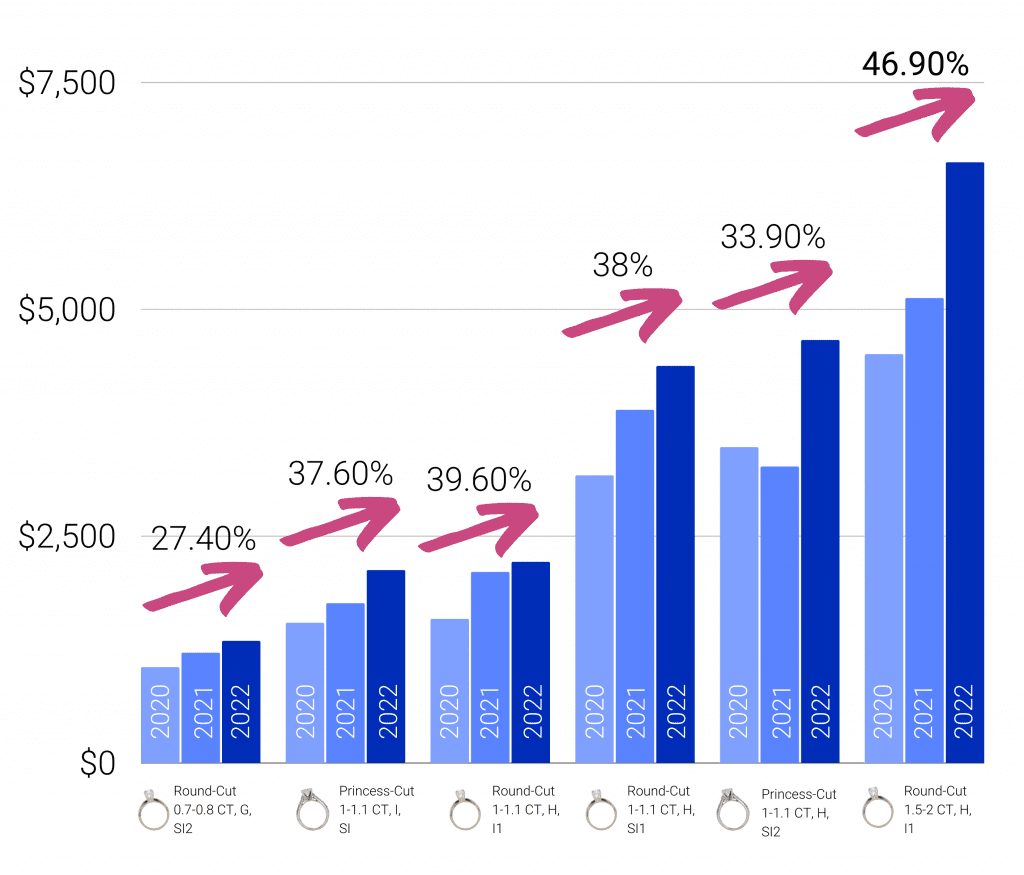 If you are wondering whether now is the best time to sell your diamond, the answer is a resounding yes! Not only are you bound to get the best price on record for your diamond when you sell right now but you will also be helping the earth by returning diamonds to the market rather than causing more stress on the environment. And, as we like to say, that's a win-win.
//= get_template_directory_uri() ?> //= get_template_directory_uri() ?> //= get_template_directory_uri() ?> //= get_template_directory_uri() ?> //= get_template_directory_uri() ?> //= get_template_directory_uri() ?>
©2011-2023 Worthy, Inc. All rights reserved.
Worthy, Inc. operates from 25 West 45th St., 2nd Floor, New York, NY 10036