How Much Is My Jewelry Worth?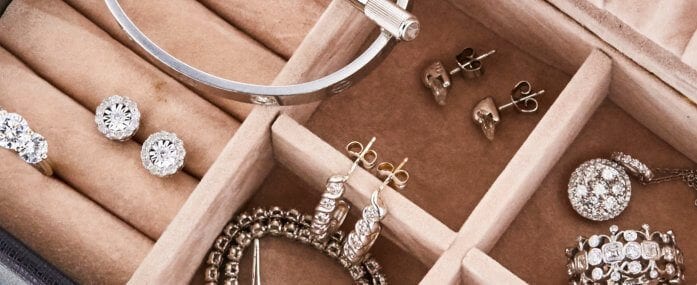 It's a fact of life that when you drive a new car off the lot, it loses around 40% of its value. You still insure it for its full purchase price, of course. But you know if you were to sell your car, you wouldn't expect to receive the full insured value. The value of a pre-owned car is always less than the original retail price. In other words, when it comes to automobiles, there is a big difference between retail replacement value and resale value.
Keep this fact in mind when you decide to sell your jewelry. The retail price of a jewelry item is an indication of its value – but for insurance purposes only and only as new. Often consumers have their newly purchased jewelry appraised to determine what it will cost to replace it. The appraisal states what is known as a Retail Replacement Value. But that value is a bit rubbery. In fact, it's often an overstatement of what an insurance company would pay to settle in cash in case of loss. To find out why, we need to look closely at the fine print of your insurance policy.
Why Jewelry Insurers Pay You Less Than Retail
There are two types of jewelry replacement insurance, referred to as Actual Cash Value and Agreed Value insurance. Most people buy Actual Cash Value policies. If you're one of them, you should know that these policies do not obligate the insurer to pay you the appraised value of your jewelry if it's lost to theft or fire, but only what it would cost them to replace the item. Why?
Actual Cash Value is defined by insurers as "actual cash value minus depreciation [wear and tear] and obsolescence [being out-of-date]." The premium is calculated on the degree of risk. Say you have a piece of jewelry worth $5,000. If the insurer must settle in cash, they can pay a lesser amount than the figure on which they've based your policy. You heard right. If you have an Actual Cash Value policy, you are not entitled to the full dollar-amount of retail replacement value.

Only Agreed Value policies guarantee you the full-dollar amount of retail replacement value. These policies, usually more expensive than Actual Cash Value policies, represent an up-front understanding between the insurer and the insured of an exact amount that will be paid in case of loss or theft. However, this means that the policy must be adjusted every two years or so to reflect current retail market value. That entails fairly regular re-appraisal to make sure of accurate re-valuation.

In short, Retail Replacement Value is valid only for purposes of insurance. The job of insurance companies is to indemnify their customers if their property is damaged, destroyed or disappears. The term "indemnity" refers to making a policyholder "whole" again in case of loss. To determine restitution value, insurance companies need appraisals to tell exactly what was purchased and how much it will cost to buy an identical or like item. Depending on the type of policy one buys, Retail Replacement Value is not a guaranteed amount. It is important that consumers know there are variable meanings of Retail Replacement Value can have on an appraisal, even just in the context of insurance.
Now let's tackle resale value.
Replacement Versus Resale Value
Most people think that the value on a jewelry appraisal is what their jewelry is worth: an absolute value that holds in any situation. But appraisals are generally created specifically for insurance purposes. That means the value stated is valid only in that context: Retail Replacement Value for insurance purposes. (And, as we've seen above, that doesn't necessarily mean that the insurance company will pay you that amount in case of loss.) So, even in a context of insurance, the value stated on your appraisal is relative, not absolute.
The value on an insurance appraisal doesn't apply at all to what your jewelry would be worth in the resale market. When jewelry is resold, it is generally sold as used jewelry in the wholesale market, not new jewelry in the retail market. This applies no matter how you resell your jewelry.
To determine resale value, you need a specific resale appraisal, which will be an estimate of what a buyer will pay for your used piece in the wholesale market. Or you can get an estimate from a company like Worthy that sells in that market every day.
Resale Markets
There are many resale markets–ranging from garage sale and flea market to consignment shop and auction house. Which re-sale market is best for fine jewelry and watches?
At Worthy, we believe secured specialized marketplaces offer the best resale opportunity for selling fine jewelry and watches–both in terms of the number of informed buyers and highest potential prices.
Three things are essential to obtaining optimal resale prices in a specialized marketplace:
Items should be offered in a market associated with fine jewelry and affluent buyers. We believe jewelry and watches should be sold in an auction marketplace dedicated solely to jewelry. Why? First, such markets attract knowledgeable buyers who realize the value of what they're getting. Two, specialist jewelry markets confer greater prestige upon the items they offers.

Items must have an accurate and comprehensive identification to optimize their resale value. Many variables contribute to a piece's sales potential but often the factors that most enhance value are noticeable only to an expert. Clear attractive photographs that show all relevant details are essential to marketing an item effectively.

Items offered at auction must be verified by a third party. Only items verified, tested and described by a trustworthy third party have the element of risk and fraud removed, allowing them to reach their full potential value. These experts must possess all the gemological, metallurgical, manufacturing, and jewelry knowledge to make the fullest, most value-adding scrutiny of the item. This expertise must be coupled with an extensive background in buying and selling jewelry.

Your final goal is this: to sell your jewelry at a price that is as close to its original purchase price as possible or, in the case of goods owned for a long period of time, current retail value. That takes placement with knowledgeable sellers in a marketplace where your piece can attract maximum competitive exposure to buyers.
That's exactly why we created Worthy: we saw a need for a tool that allows consumers to reach the same wholesale buyers that specialize in pre-owned jewelry that professionals seek out to buy jewelry on the resale market.
//= get_template_directory_uri() ?> //= get_template_directory_uri() ?> //= get_template_directory_uri() ?> //= get_template_directory_uri() ?> //= get_template_directory_uri() ?> //= get_template_directory_uri() ?>
©2011-2023 Worthy, Inc. All rights reserved.
Worthy, Inc. operates from 45 W 45th St, 4th Floor New York, NY 10036