Why Consignment Jewelry Will Lose You Time & Money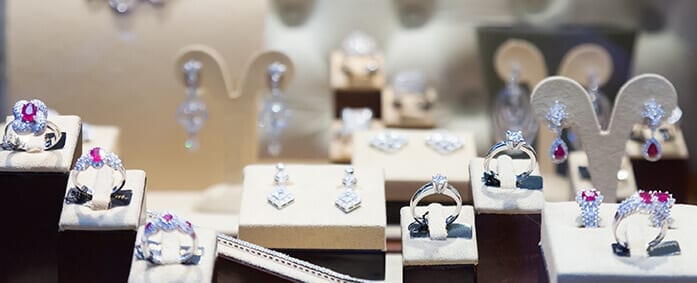 If you own jewelry that you no longer wear, then selling it makes sense. There are several methods for selling fine jewelry, and each comes with different benefits and drawbacks. Selling jewelry on consignment is a popular option, but it might not be the best way to sell that old engagement ring, necklace, or bracelet that's taking up space in your jewelry box.
For decades, consignment jewelry stores provided people with a trustworthy method for getting rid of fine jewelry that they no longer needed or wanted. The process was simple: Run a quick search for "jewelry consignment shops near me," make an appointment to show the shop's owner or staff the item or items you'd like to offer for sale, and then agree on a price.
How Does Jewelry Consignment Work?
Jewelry consignment agreements are based on the idea that the store owner will use his or her display space, marketing materials, and sales staff to sell jewelry on your behalf. In return, the store takes a pre-agreed percentage of the jewelry's selling price. This is known as the consignment rate.
Once the item sells, the shop pays you a percentage of the overall sale. In most places, the jewelry consignment percentage averages 35 percent. This is quite general however; in researching various jewelry consignment agreement contracts, we found that rates typically range between 20 and 50 percent.
Unfortunately, consignment jewelry profits tend to be very low, since these shops have to compete with other businesses including local jewelry stores selling the latest styles. In some cases, jewelry shops themselves offer consignment, and their pre-owned jewelry cases are a good place to find bargains.

This is great for consumers looking to buy nice jewelry at cheap prices, but not so good for consignors who are trying to get as much money as they can for their items. Many people are surprised at how little they make when selling jewelry via a consignment shop.

Jewelry Consignment Near Me: Not as Profitable or Cost-Effective as You Might Think!
You might be wondering: "Why do those jewelry consignment stores near me charge such high rates? After all, they're just selling a few things I don't need!" The answer lies in overhead costs. Brick and mortar stores usually have to cover rent or a mortgage on the physical properties they occupy. Additionally, they must pay their staff's wages, cover the cost of insurance, and pay utility bills.

In consignment, jewelry often sits for months before the right buyer comes along, and there are many days when stores simply don't make any sales. It's a tough business! The more desirable the location, the faster your item is likely to sell – but there's a catch: The cost of doing business is probably quite a bit higher, too.

Online Jewelry Consignment Shops
What about jewelry consignment online? You may pay a bit less, and in some cases, you might have your jewelry displayed at a physical location as well as available for online purchase. Some online jewelry consignment shops offer sliding scale percentage rates, which are usually based on an item's final selling price.

For example, the store might get to keep 40 percent of the selling price for items that go for $400 and under, and 25 percent of the price for items that go for more than $400. Every shop is different, with prices reflecting the current economy and the cost of doing business.
Whether you consign in-person or online, you may have to foot the bill for a professional jewelry appraisal, cleaning, and other costs associated with selling your jewelry.

READ ALSO: Exploring Diamond Pricing Part 2: Recycled Diamonds
But, keep in mind, not all consignment shops are alike. Therehere are additional considerations, as well as problems that may arise. For example:
Watch out for consignment shops with sloppy or dusty displays
Look out for shoddy business practices, i.e. handwritten notes instead of organized receipts and consignment contracts
Be leery of shops that fail to provide percentage terms up-front, or people who shy away from discussions about your costs and profits
Read reviews and look out for shops with a poor reputation concerning payment; you should never have to ask for your payment and payments should be provided promptly on a predetermined schedule, usually shortly after the item sells
Be sure that the shop has a business license and visit a few times before agreeing to do business there
Checking into a consignment store's reputation takes time. So does driving to and from different venues that seem promising, and so does waiting for an appraisal. If you're like most people, time is a valuable commodity and using it to sell your jewelry cuts into your profit margin.
Some jewelry stores may offer to purchase your item wholesale instead of consigning it. This might be useful if you need cash in hand immediately, but if you can wait for a little while, you're likely to get a better return by looking into some alternatives.
Alternatives to Consignment Jewelry Stores
If a consignment jewelry store offers to purchase your item outright, you're likely to get only a small portion of its current market value. The reason for this lies in the shop's need to make a profit; and it's completely justifiable considering the high cost of doing business. Luckily, there are other ways to sell jewelry that you no longer want or need.
Pawn shops are sometimes viable alternatives. However,pawn shops are best for use in emergency situations when you need money right away and can't wait to get the best possible price for your jewelry. It's a good idea to reserve this option for worst-case-scenarios.
Also, you can try going directly to the consumer on your own. If you decide to do this, you should be aware that most consumers on sites like eBay, Craigslist and Facebook Marketplace are looking for ultra-cheap prices. You'll have to spend a lot of time advertising and communicating, not to mention arranging for meetings with potential buyers. Safety is a concern too, as scammers and thieves use direct sales sites to prey on people who are selling valuable merchandise.

Worthy: The Best Place To Sell Your Diamond Jewelry
Curated online auctions can be an excellent alternative to consignment jewelry stores, as they can expose your items to a huge audience of interested and professional buyers. Depending on the platform you choose, your jewelry may be seen by people in a certain geographic locationor all around the world.

Worthy is a curated, luxury online jewelry auction platform designed for the diamond seller seeking to maximize their profits when selling their jewelry, in a convenient and timely manner. Some of the reasons people love selling their diamond jewelry with Worthy include:
Low Fees, so you get to keep far more money than you would with a consignment store
Jewelry sales prep including cleaning and photographyit so your diamond sparkles and shines
A free certified GIA/GSI diamond grading report is provided to help you and buyers understand the true market value of a diamond
A detailed description of your item to display at auction, so that the buyers know exactly what they're bidding for
Worthy's exclusive, curated buyers' network, composed of professionals who are willing to pay top-dollar for high-quality diamond jewelry
Competitive bidding that drives prices up, increasing the amount of money you receive
A convenient auction platform that saves you both time and money in selling your diamond
The piece of mind that comes with secure and fully insured FedEx shipping
Getting paid top dollar and receiving your money fast!
The entire process takes just a few days, and money is securely transferred to your bank account as soon as you give your approval. You'll save time and can earn a lot more money through Worthy's luxury selling experience than you would through a consignment shop. If you have a piece of diamond or luxury jewelry you're looking to sell, get started with Worthy today.
READ ALSO: How to Estimate A Diamond's Value
//= get_template_directory_uri() ?> //= get_template_directory_uri() ?> //= get_template_directory_uri() ?> //= get_template_directory_uri() ?> //= get_template_directory_uri() ?> //= get_template_directory_uri() ?>
©2011-2023 Worthy, Inc. All rights reserved.
Worthy, Inc. operates from 25 West 45th St., 2nd Floor, New York, NY 10036