Selling DiamondJewelry Online: Ebay vs Worthy – An In-Depth Look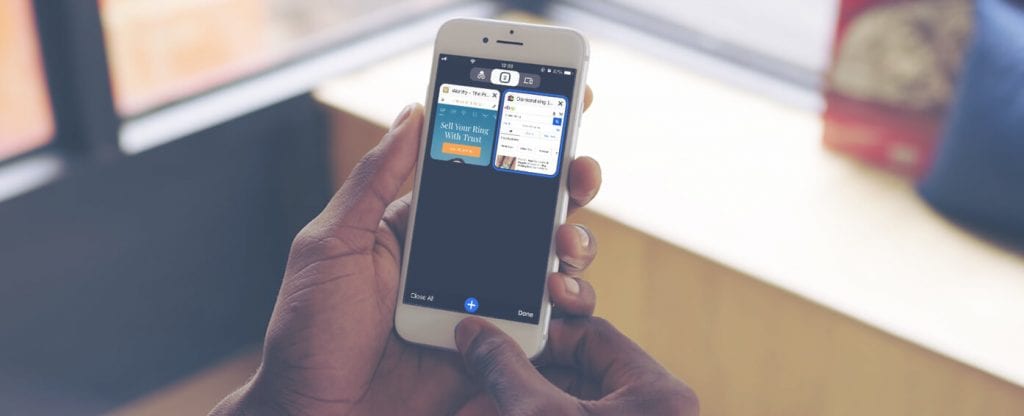 Whether you are looking to sell a piece of old fashioned inherited jewelry or get rid of memories from a bad marriage, selling a diamond can seem like a process fraught with dangers. Pawn shops, jewelry stores and consignment shops are not good options if you are interested in getting the true value of your diamonds.

So, in this age of innovation and technology, you turn to your greatest resource: the internet, and try to see if another option exists. But now you have to ask yourself: do I sell with a general auction platform like eBay or a specialized marketplace like Worthy? In this article, we will compare and contrast selling your jewelry on eBay versus Worthy. By the end, you should see why Worthy is the better option for most people like you looking to sell their engagement rings, wedding rings, or other diamond jewelry.
A Glimpse Into the Diamond Resale Market
Traditionally the process of diamonds entering the market begins at the mine where new diamonds are found. After they are cut and polished, they make their way to retailers who ultimately sell their goods to consumers. Currently, consumers own $3 trillion of jewelry, $1 trillion of which is in diamonds.
With so much valuable inventory, consumers are looking to become sellers themselves if they have a piece of fine jewelry they no longer need or want. Regardless of why you are selling your diamond ring, your next decision is where to go to actually sell it. If you decide to sell your diamond online, two main places where you can sell it are eBay and Worthy. Let's now take a look at each in turn.
eBay
eBay may be the first option that came to mind when considering selling your diamond online. After all, it's the biggest name in the US when it comes to consumer-to-consumer sales. On average, eBay has about $3 billion in jewelry listings so you would not be alone in choosing eBay to sell your item.
However, while the site does have so much jewelry available for sale, 95% of those items aren't sold. There is a lack of trust on the part of buyers on eBay, especially if the seller has not achieved the "power seller" level. So unless you have a long history of successfully selling jewelry on the site, you are not likely to attract much interest or attention – or a satisfying price – for your jewelry.
Another issue people have with eBay is that there are a ton of scammers lurking around the site. This is a significant part of the reason why people may not trust you enough to buy your jewelry from you or to pay you what it's worth. But it's also possible you could get ripped off or scammed on the platform. When selling on eBay, be wary of this and put in place as many safeguards as you can to protect yourself.
Worthy
By utilizing innovative technology, Worthy is disrupting this traditional secondary market for diamonds by bringing sellers and a curated network of highly-trained professional diamond buyers together on our platform. The transactions occur through or cutting-edge online jewelry auction.
By connecting sellers directly with highly qualified professional buyers, sellers will often get as much as two or three times more for their item than they would get from eBay or other sources like local pawn shops, consignment shops, and jewelry stores. In fact, our mission is to get every seller as much money as we can for their jewelry, because the higher the final bid, the more money they make and we make too. Our interests are always aligned in this way so you never have to worry that Worthy is trying to lowball you.
Worthy is the smartest online solution for selling diamond jewelry and luxury watches. At Worthy, your item is officially graded by one of the world's top gemological labs like GIA, professionally photographed, and offered in a real-time auction to a group of verified and highly trained professional buyers. The buyers know exactly what they are getting and are therefore willing to pay the true value of the jewelry, making Worthy the best place to get top dollar for selling your diamond
eBay Vs Worthy Comparison Chart
eBay
Worthy
Safety
eBay is self-managed – you don't have an account executive and you manage the transactions as an individual.

You are fully responsible for mailing your diamond to the buyer

eBay security center provides helpful guides for:
– how to avoid scamming buyers and sellers
-when to contact law enforcement
-how to protect your information to make eBay a safe space for everyone.


However, the downside of a platform like eBay is that it is open to anyone and everyone and there is no one to know 100% who you are buying and selling from.



Worthy is a managed platform, meaning we are fully involved in each step of the process.




Sending your diamond in the mail can seem like a risky business but with insured shipping and a secure entry process, your diamond is in good hands.




When it comes to the who is buying, we have a network of verified, professional diamond buyers who have been vetted by Worthy.

Value

No professional diamond grading service included.

You take your own photographs.

No account executives to help you determine a lowest offering price can lead to lowball sales.

And when it comes to those looking to buy on eBay consumers are the general public who are unable or unwilling to pay the true worth of a pre-owned diamond.






Your diamond is officially graded by a certified grading lab (GIA, IGI) to receive a full report on your diamond. Worthy takes beautiful and professional photographs to show the true quality of your diamond.

Worthy professional can help you determine a reserve price to make sure you are satisfied with the final price.

Our network of professional buyers directly compete to make the highest offer on your valuable.




Effectiveness

Over 3.2 million diamond rings available for sale on eBay, but only 5% of those rings will be sold.





Most of our submitted items sell for a price you'll love, and if your item doesn't, we'll send it back to you and you pay zero dollars for anything to us. You can then try to sell your ring elsewhere or keep it.




Process

You enter all details about your diamond including characteristics and condition without guidance.





You will be asked to detail the item's basic characteristics. Once it arrives at our office, these details are officially verified or corrected. This allows the buyers full transparency and enough trust to pay top dollar.



//= get_template_directory_uri() ?> //= get_template_directory_uri() ?> //= get_template_directory_uri() ?> //= get_template_directory_uri() ?> //= get_template_directory_uri() ?> //= get_template_directory_uri() ?>
©2011-2023 Worthy, Inc. All rights reserved.
Worthy, Inc. operates from 25 West 45th St., 2nd Floor, New York, NY 10036