The Life-Changing Magic Of Lasting Value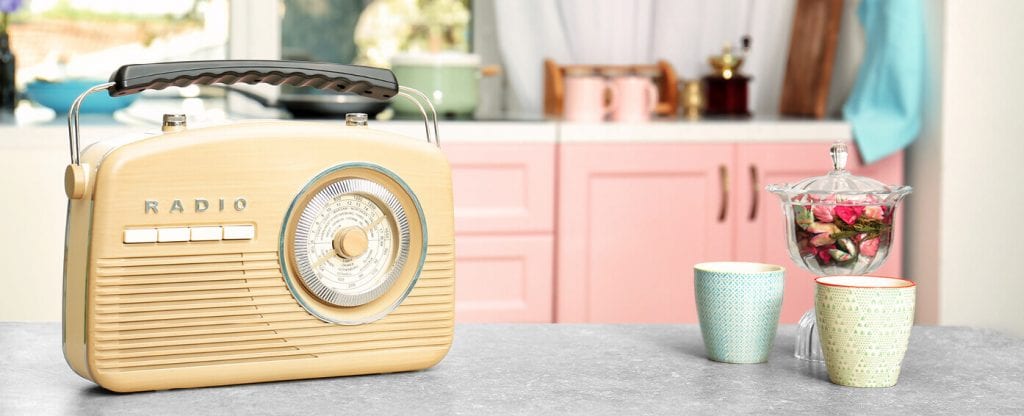 How did the United States of America become the United States of Stuff?
It started shortly after WWII. After the privations of the Great Depression and the rations of the war years, Americans were hungry for consumer goods. Basking in the newfound economic opportunities afforded to returning GIs, Americans flocked to the suburbs and brand-new developments of single-family homes, a departure from the crowded multi-generational living many families experienced during the Depression. All those shiny new houses demanded shiny new stuff to fill them.
Mid-century design was inspired by modern post-war technology: rocket science meets rocking chair. People snapped up all the convenient new devices like automatic dryers, blenders, and more, but it still would be several decades before American houses became the paeans to consumption we think of today.
As consumer goods got cheaper and cheaper to produce, the piles of stuff in American homes got bigger and bigger. Then the dying GI Generation willed their piles of stuff to their Boomer children, so that by 2012 when Japanese organizational expert Marie Kondo introduced Americans to the Kon-Mari method of tidying up, our excess stuff had spawned an entire industry.
Self-storage facilities replaced vacant lots across the nation and de-cluttering became entertainment: first, Style Network's Clean House host Niecy Nash tried to lead messy homeowners to part with some of their clutter in a yard sale and put the money toward redecorating; followed by A&E's Hoarders and TLC's Hoarding: Buried Alive, both of which helped (or exploited, depending on your point of view) troubled families whose hoarding had gotten so far out of control as to become a health hazard.
When Japanese organizational expert Marie Kondo introduced Americans to the Kon-Mari method of tidying up, our excess stuff had spawned an entire industry.
In her best-selling book The Life-Changing Magic Of Tidying Up, Kondo urges readers to keep only those items that "spark joy" and part with the rest by gently holding the item and thanking it for its service before letting it go. She's now starring in her own Netflix series. Meanwhile, a Facebook community called "40 Bags in 40 Days" sprang out of an annual Lenten challenge to clear out—you guessed it—40 bags of stuff over the 40 days of Lent.
The GI Generation might have developed an appetite for stuff, but they also grew up with habits of thrift. They knew how to fix things when they broke. Today it's not only impossible to find anyone who can fix, say, a toaster, but if you could it would cost way more than just buying a new one because consumer goods have gotten so cheap. So the old one goes into the trash.
But cheap appliances are only part of the consumption equation: the growth of fast fashion drives consumers to churn over wardrobes and redecorate homes on a regular basis. Such cheap clothing (and home furnishings) are barely a step above paper and plastic: essentially disposable and unapologetically so.
In their book Gen Buy, authors Kit Yarrow and Jayne O'Donnell highlighted the difference between what a high school senior in 1978 owned, vs. one in 2008. The former had a few pairs of jeans and a few sweaters to last the school year; the latter bought a new outfit for every event and discarded it a few months later, resulting in a wardrobe that turned over several times a year. Ten years later, fast fashion companies still churn out tons of disposable clothes and retail jewelers have grown truly concerned about how to sell costly luxury to consumers that don't want to wear the same thing twice.
But Sarah Quinlan of MasterCard Spending Pulse observed a few years ago that the tide might be turning, and recent research from both De Beers and the Diamond Producers Association is showing younger consumers increasingly value something that will last and can be handed down.
Enter fine jewelry. It's one of the few things that is still meant to have lasting value—not planned obsolescence—and that truly can be resold, reused, and recycled.
When you buy or receive a piece of jewelry to commemorate an event, it's imbued with a certain kind of meaning that few other things have. Even when you buy it just for fashion's sake, it still retains a value and relevance that few other items have: years after a new sweater is faded and pilled, a handbag falls apart or you've outgrown a favorite pair of jeans, you can still wear a ring, necklace, bracelet, or earrings. If it does get a little tight or goes out of style, it can be resized or remade, and better yet, if it represents a remnant of a chapter in your life that's now closed, you can sell it.
Another sign that the tide might be turning is the rise of the second-hand and sharing economy. Consumers that can't afford luxury products new can either get gently used versions at a gentler price, or they can experience them for a moment, if not a lifetime, through sites like Rent The Runway or Airbnb, and as we've learned from Worthy's auctions, the greatest untapped resource in the diamond supply chain today is not a new mine discovery, but rather in American jewelry boxes.
A diamond is forever. It just doesn't have to be yours forever.
//= get_template_directory_uri() ?> //= get_template_directory_uri() ?> //= get_template_directory_uri() ?> //= get_template_directory_uri() ?> //= get_template_directory_uri() ?> //= get_template_directory_uri() ?>
©2011-2023 Worthy, Inc. All rights reserved.
Worthy, Inc. operates from 45 W 45th St, 4th Floor New York, NY 10036