Top 8 Bespoke Fine Jewelry Brands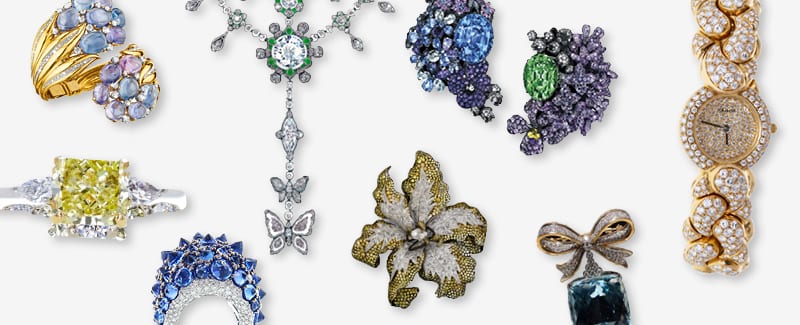 Earlier this summer, we talked about "high jewelry." For a refresher, read that post here. We also delved into some of the iconic designers and facts about America's own Tiffany & Co. As we continue our exploration into iconic jewelry designers and brands, the next stop is literally a trip around the world—to Paris, Italy, Asia, and the United States.

JAR, Paris
The most exclusive of iconic jewelers (arguably ever!) is Joel Arthur Rosenthal, reverently known as JAR. Though born in Brooklyn, the 76-year-old JAR settled in Paris years ago and is not only exclusive, he's notoriously reclusive. Jewelry experts agree he is the number-one contemporary jewelry artist that defines modern high jewelry, and most will refer to him as today's equivalent of the great Peter Carl Fabergé. Not that JAR's works look like Fabergé's, but his level of talent and his influence are to contemporary high jewelry what Fabergé's were to his time.
JAR refuses to be interviewed, doesn't advertise, and his Place Vendôme shop doesn't even have a sign or a display window. Clients can only come through a referral from an existing client, unless they have a totally unambiguous name (such as, say, the Prince of Wales, who reportedly is a client.) He's even been known to refuse to sell a piece—at any price—to someone he thinks doesn't have the taste and culture to appreciate it. Each piece he creates is one of a kind, and custom created for the client. His annual production is only about 70 or 80 pieces, if not fewer.
JAR was not born into a jewelry family. His upbringing was typically New York Jewish, the son of a postal worker and a biology teacher. In college, he studied linguistics, art history, and philosophy, but after college, he headed to Paris where he worked as both a screenwriter and a needle-stitcher.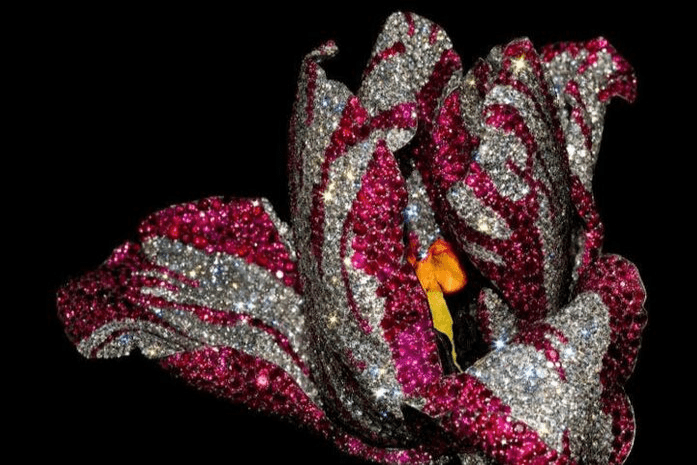 Among his needlework clients were the famed luxury brands Hermès and Valentino. He had begun working with highly unusual colors of yarn, presaging his future work as a jeweler who masterfully "paints" with gemstones in pavé settings as fine as his needlework stitching once was. He is renowned for setting gems in blackened alloys to further enhance their color and in fact insists all displays or photographs of his work be done on a black background.
JAR has had only two public exhibitions of his jewelry. The first was in 2002 in London and the second was in 2013 at the Metropolitan Museum of Art in New York, the only living jeweler to have had a solo exhibit at the Met. But in both cases, the reclusive artist provided no information for museum visitors to reference in the exhibit, believing the jewelry should speak for itself.
Even books about JAR are collectible. Two immense publications, JAR I and JAR II, command over $1,000 for a new edition, but the catalogs from his two exhibits are more attainable, especially the one from his Met exhibit, which is readily available on Amazon and other booksellers for a mere $28.50.

Laurence Graff, London
Just as JAR had a typical New York Jewish upbringing, Laurence Graff, OBE, had its London equivalent. Graff was born in London's Stepney district in 1938—just before WWII—the son of a tailor and newsstand operator. He left school at age 15 to apprentice to Schindler, a jeweler in Hatton Garden, London's jewelry district. When Schindler went out of business about a decade later, in the early 1960s, Graff began selling his own designs to jewelers all over England, but soon would become known worldwide for his diamonds.
In the early days of his career, he literally would buy a fine diamond and travel with it until he found a buyer. That was essentially the start of Graff Diamonds, officially founded in 1960. But after a design he commissioned won the prestigious De Beers Diamonds International Awards in 1966, his name became automatically associated with fine diamonds.
"I came from a background where diamonds meant something because so many Jewish people came out of East Europe and suffered and lived off their diamonds," he said in a 2013 interview in a British jewelry trade journal.

By 1974, Graff had begun specializing in selling to ultra-rich Middle Eastern buyers, including one member of the Saudi Arabian royal family who came into his shop and bought everything in stock. At a time when the United States and most of the Western world were mired in recession, Graff's focus on the Middle East prompted (or resulted from) his observation in a 1998 interview that money never goes away, it just moves around.
Today, Graff is renowned for his interest in big stones and fancy color diamonds. He is listed by Forbes among the world's billionaires, with a fortune estimated at $5.5 billion. He has 50 retail shops around the world, his own diamond-procurement and cutting facility in Botswana, and manufactures his finished jewelry in his London workshop, which turns out a remarkable 350 pieces per month, an extremely high volume for a jeweler of this caliber.
In 2008, Graff achieved notoriety for his acquisition and re-cutting of the Wittelsbach Diamond (now the Wittlelsbach-Graff Diamond), a 35.52-carat grayish-blue. Graff had the stone repolished, losing 4.45 carats of weight in the process and prompting howls of outrage in the diamond community. But at least one noted gemologist, Richard Wise, observed that Graff did right: the re-cutting raised the stone's value because its GIA color grade went from Fancy Deep Grayish Blue to Fancy Deep Blue (pure colors are more valuable) and its clarity grade rose from VS2 to Internally Flawless. The original star-like facet pattern also was retained, keeping the stone's character.
In 2014—his 60th anniversary in the jewelry industry—Graff was awarded an OBE from Britain's Queen Elizabeth II for his services to the industry.

Wallace Chan, Hong Kong
Chinese-born Wallace Chan began fashioning flowers out of plastic at age eight. He is renowned for his gem carving skills, but his delicate pieces with their exquisitely set gemstones are highly sought after. His designs are informed by nature, philosophy, and sculpture, something that's not surprising as that was his original training.
Chan was born in Fujian, (mainland) China in 1956, but at age five his family moved to Hong Kong, then a British colony. He left school at age 13 to help support his family and became an apprentice sculptor three years later. Two years after that, he opened his own workshop creating Buddhist sculptures, but quickly moved on to creating jewelry pieces.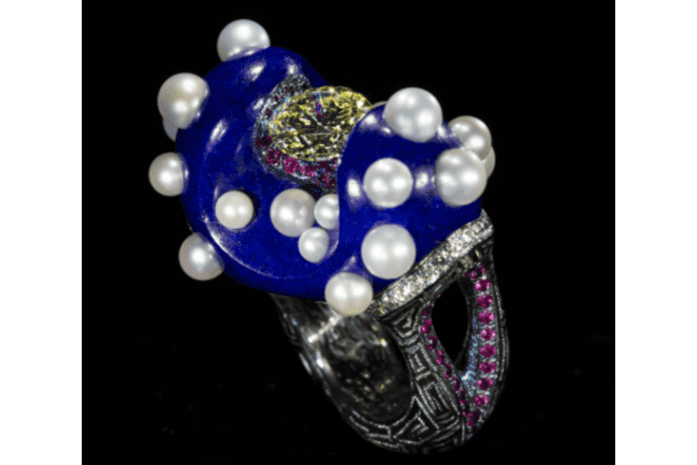 His first big break came when a Taiwanese art collector commissioned him to create a stupa, a meditation structure for a famous garden. Later, he would become famous for gem cutting; specifically devising the means to carve designs within a gemstone, adapting the techniques used in creating cameos and intaglios, and adding in a dash of inspiration from multiple-exposure photography. It became known as the "Wallace Cut," because in Chan's gems, an image is reflected within the gem to create a three-dimensional effect.
Chan said in an interview with Christie's that he observed how light entered a stone's body through its surface and interacted inside.
"When I carve an image at the back of a gemstone, that image is visible on the front. But, thanks to the stone's own reflective properties the design appears four additional times. When viewed from the front, the result seems almost three-dimensional."
Chan's favorite themes are opulent yet delicate nature-inspired designs (mainly insects, butterflies, and flowers), while his sculptural forms are inspired by the great classic artisans like Michelangelo.

Michelle Ong, Carnet, Hong Kong
Born into a prominent family in Hong Kong, designer Michelle Ong this year celebrates her 20th anniversary of creating jewels for Carnet, a brand partnership of Ong and Avi Nagar, whom she met while working in the diamond business. Nagar sources the materials and handles the business side of Carnet while Ong brings the stones and jewels to life.
Ong has the rare distinction of being not only one of the few people in the world to whom the famed JAR will open the doors of his salon, but her designs have drawn high praise from him and he is both a mentor and a dear friend to her. And yes, she's also one of his clients.
Chances are, you've seen Ong's jewelry already: she supplied the biggest pieces worn by characters in last year's blockbuster rom-com Crazy Rich Asians.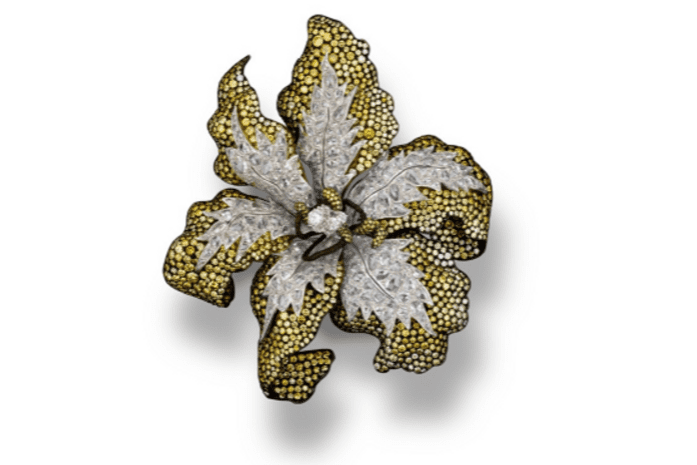 The Carnet brand began as a notebook filled with sketches: jewelry she would want to wear herself for the many formal events she and her husband attend in Hong Kong. Her first design was a pair of bold flower earrings. Friends asked her to make similar pieces for them, and the rest, as they say, is history. (One gets the impression she's got firsthand experience with the world depicted in Crazy Rich Asians…)
Carnet is renowned for designs using shimmering, feminine rose-cut and briolette diamonds, which Ong says give off a softer, more subtle and delicate light than modern brilliant-cut diamonds, which she finds a bit harsh. Although Ong began her career in the diamond industry she equally uses many exquisitely colored and fancy-cut gemstones. Each piece is meant to be a wearable, collectible piece of art informed by both traditional and modern elements, as well as influences from both East and West, owing to the years Ong lived and studied in Canada. She also cites her interest in antique jewelry and European art as influences in her designs, which she blends with Chinese culture.
To celebrate her 20th anniversary, renowned jewelry historian Vivienne Becker penned a voluminous coffee-table book, Carnet by Michelle Ong. And the introduction was penned by none other than Joel Arthur Rosenthal himself, who despite his own aversion to publicity apparently had been bugging his friend to do a book for a long time. The book launch was held this past spring with a reception at Christie's London auction house, along with a selection of Carnet jewels to covet.

Jean Schlumberger, French/American, 1907-1987
Jean Schlumberger was best known for his work for Tiffany & Co. (read more about that here) but he also had an illustrious career apart from Tiffany.
Schlumberger was born into a prominent family of textile manufacturers in the Alsace region of France, on the border with Germany and Switzerland. Specifically, he was born in Mulhouse, which at the time of his birth was German. Today, it is part of France, and as a point of trivia, the airport that serves Basel, Switzerland, is in Mulhouse and has three exits: one each into Germany, Switzerland, and France. If you're going to the Baselworld watch and jewelry fair, this is where you fly into, and we're not kidding that it's right on the border.
As a child, Schlumberger sketched constantly, but his parents tried to discourage his artistic interest by refusing to allow him to undertake formal training. Undeterred, Schlumberger found a compromise that allowed him to express his creativity but satisfy his textile-industry parents: he began his career creating buttons for the famed Italian fashion designer Elsa Schiaparelli in the 1930s. She later commissioned him to design costume jewelry for her firm, heralding his later career.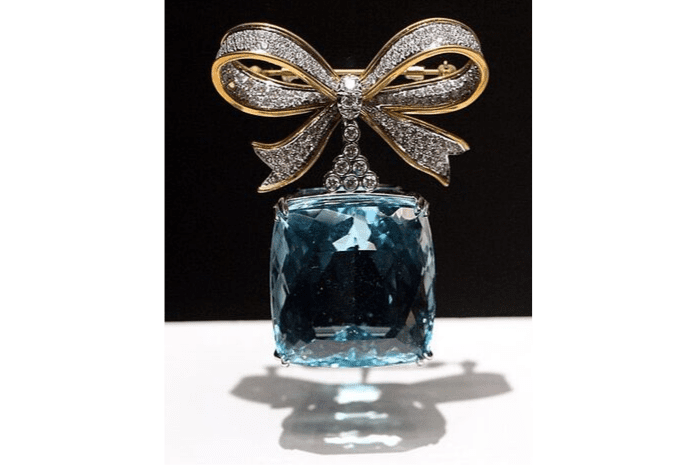 But WWII interrupted Schlumberger's career ambitions for a while. He served in the French Army, surviving the famed Battle of Dunkirk. He also served under General Charles de Gaulle in England and in the Middle East with the Free French Forces.
After the war, Schlumberger immigrated to New York, initially falling back on his textile background as a clothing designer but quickly turning to jewelry. In 1946, he opened a jewelry salon with his business partner Nicolas Bongard (1908–2000).
A decade later, in 1956, he was hired by Tiffany & Co.'s famed chairman, Walter Hoving, as a vice president of the company. A special design studio and salon were created to Schlumberger's specifications, and with Tiffany's almost-unlimited supply of the finest colored stones he was free to create some of the most incredible jewelry designs both of his own career and in the annals of American jewelry design.
Schlumberger's Tiffany pieces were often inspired by sea creatures and other animals. Among his clients he numbered top-tier names like the Duchess of Windsor, Babe Paley, Greta Garbo, C.Z. Guest, Gloria Guinness, Gloria Vanderbilt, Audrey Hepburn, Elizabeth Taylor, Jacqueline Kennedy, and more.
Over the years, he won numerous honors and awards in the world of art and fashion and was the first jewelry designer to win the coveted Coty American Fashion Critics' Award in 1958.
Schlumberger often traveled to Bali, India, and Thailand for design inspiration, but in his later years he returned to his native France and lived in Paris. Following his death in 1987 at age 80, he was posthumously honored by the Musée des Arts Décoratifs in Paris with a retrospective entitled "Un Diamant dans la Ville" in 1995. The museum also houses Schlumberger's original designs.
Today, a signed Schlumberger piece, whether from Tiffany or his own atelier, is highly prized and valued.
Buccellati, Italy
Celebrating its 100th anniversary this year, the Italian jewelry house of Buccellati is perhaps best known for its signature surface texture that results in an almost velvety finish for gold and silver, immediately recognizable as Buccellati.
In 1919, jeweler Mario Buccellati opened his first jewelry store on Largo Santa Margherita in Milan. He soon established stores in Rome and Florence as well, before WWII intervened and put a halt to further expansion. But soon after the war, in 1951, he opened his first New York store, followed by a location on Fifth Avenue in 1954.
Meanwhile, Mario's son Gianmaria Buccellati was born in 1929. In addition to the family business, he had a passion for the jewelry industry in general and, with a group of professional colleagues, founded the Italian Gemological Institute in 1973, serving as its president until 1998. Meanwhile, his son, Andrea, began working in the family business in 1978 at age 20.

In 1979, Gianmaria opened a Buccellati location on Paris's tony Place Vendôme, cementing the jeweler's place as a globally important and prestigious jewelry brand. By the mid 1990s and early 2000s, Buccellati jewelry and silver had been featured in several museum exhibitions, including one at the Smithsonian Institution.
Buccellati introduced its first luxury watch collection in 2001, at the prestigious Salon International de la Haute Horologie, an ultra-high-end watch show held every year in Geneva. Throughout the early years of this century, Buccellati would go on to be featured in many more museum exhibitions, including the State Museum of Moscow Kremlin, and to expand its retail locations in the United States, South Korea, Capri, and Dubai.
In 2013, the Buccellati family sold a majority stake of the company to Italian equity fund Clessidra, but Gianmaria's three sons remained in leadership positions: Andrea serving as president, Gino in charge of silverware, and Maria Christina in charge of branding and communications. The following year, fourth-generation Lucrezia Buccellati, Andrea's daughter, became the first female designer for the company.
In December 2016, China's Gansu Gangtai Holding Group bought a controlling 85% share in Buccellati. Today the company creates high jewelry, jewelry, watches, silverware and flatware, and even tech accessories like iPhone covers in its signature finish.

Verdura, New York
Duke Fulco di Verdura (1899–1978), son of an aristocratic family in Palermo, Sicily, began his jewelry career in 1920s Paris, designing his soon-to-be-iconic Maltese Cross cuffs for fashion designer Coco Chanel. He had been introduced to her by the American musician and Broadway legend Cole Porter, with whom he was fast friends. Verdura had met Porter and his wife, Linda, while they were on honeymoon in Palermo in 1920 and, over the years, designed many pieces of jewelry and other gifts for Cole to give Linda.
Throughout the 1920s, the duke was a regular on the aristocratic social circuit of Europe, traveling to the social seasons in Paris and Venice but incidentally draining his financial reserves in the process.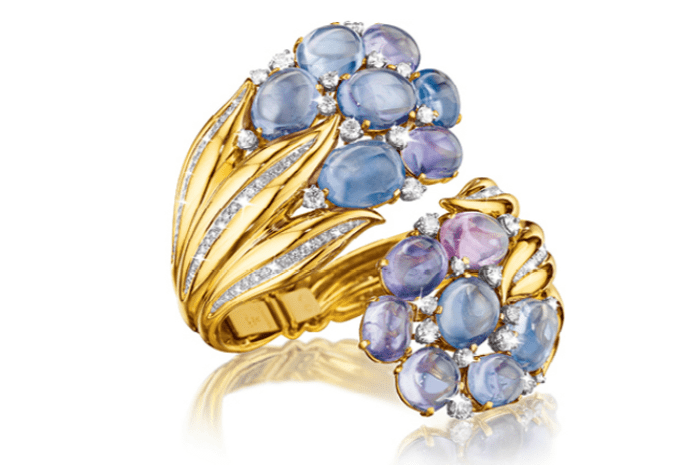 Costume balls were extremely popular during this time. In 1929, Verdura himself hosted a lavish costume ball for 300 people in Palermo. On the guest list were all his famous and/or high society friends like Coco Chanel, Elsa Maxwell, and others. It depleted what was left of his inheritance, but got his jewelry in front of the influencers of the day: basically, a big marketing gamble that paid off well!
In 1934, the Duke immigrated to America, where his knack for making friends among the influential and famous stood him in good stead. The legendary fashion editor Diana Vreeland introduced Verdura to Paul Flato, the era's leading "jeweler to the stars," and Verdura soon began designing jewels for legendary film stars like Greta Garbo, Joan Crawford, Katharine Hepburn, and Marlene Dietrich. His famous Curb Link watch, created for Garbo, became a signature look of the house.
On September 1, 1939—the same day WWII broke out in Europe—Verdura officially became an "American" jeweler, again through his close friend Cole Porter who, together with philanthropist and society scion Vincent Astor, financed his retail debut on Fifth Avenue.
With Europe embroiled in war, wealthy Americans now had to shop for jewelry stateside, giving Verdura a following of high-profile clients among New York society women enticed by Verdura's bold, yet understated, designs. Over time, society doyennes from Palm Beach and other cities joined their New York counterparts in Verdura's salon. The three legendary Cushing sisters at the pinnacle of society—Babe Paley, Betsey Whitney, and Minnie Astor—were both customers and muses. In later years, a new generation of socialites such as the late Princess Diana of Wales became brand fans.
The Duke retired in 1973, turning the business over to longtime associate Joseph Alfano. He moved to London, published his memoirs, and died in 1978.
But that wasn't the end of the Verdura story by any means. In 1985, Ward Landrigan, head of Sotheby's US jewelry department—where he undoubtedly had encountered many Verdura pieces—purchased the company and its archive of nearly 10,000 original sketches. Landrigan immediately worked to bring Verdura's timeless designs to a new generation of collectors, such as Princess Diana.
Landrigan's son Nico joined the company in 2004 and was promoted to president in 2009. His father still serves as CEO. The Verdura flagship salon remains on Fifth Avenue in New York City, with brand outposts in London, Toronto, and a few select jewelry retailers in the United States.

Chopard, Geneva
Unlike the other iconic names we've been discussing, Chopard began as a watchmaker that added jewelry later. Although Buccellati added luxury watches to its brand in 2001 and Verdura's curb-link bracelet watch is highly sought after, watches are not a primary focus for most of the brands. 
Louis-Ulysse Chopard founded his eponymous company in 1860 in Sonvilier, Switzerland. His approach was revolutionary for the time: he observed it was more profitable to market a finished watch than just make the mechanical movements for independent watchmakers to assemble.
After the founder's death in 1915, his son Paul-Louis took over the company, which by then specialized in men's pocket watches and women's wristwatches. The company moved to Chaux-de-Fonds In 1921 and, ultimately, to Geneva in 1937. Six years later, at the height of WWII in 1943, Paul-Louis's son and Louis-Ulysse's grandson, Paul-André Chopard, took over the company for the next 20 years.

But in 1963, Paul-André was ready to retire. With no children wishing to continue in the business, he sold it to Karl Scheufele III, a German goldsmith and watchmaker.
In 1976, the company introduced its famous "Happy" watch that contained its signature free-floating diamonds behind a sapphire crystal. The design is still one of the company's most popular and is highly sought on the secondhand market as well as in new versions. A Chopard "Happy Diamond" wristwatch was sold at auction by Christie's Geneva in 2015, for about $1.67 million. The watch has a quartz movement and contains a 2.62-carat pink marquise-cut diamond and a 1.48-carat blue marquise-cut diamond.
In the 1980s, the company began making sports watches for men—a growing category—and diamond jewelry for women. By 2010, estimates put more than half of the company's sales from jewelry. (As a private company, Chopard is not obligated to release figures publicly, so all numbers are estimates). The company today is run by siblings Karl-Friedrich and Caroline Scheufele, who serve as co-presidents of the brand their father acquired.
Like many other luxury watch companies—less so jewelry brands—Chopard is very active in corporate sponsorships. Of course, it is renowned for its presence at the Cannes Film Festival, sponsoring two prizes. In 2018, to commemorate both the 70th anniversary of the festival and the 20th anniversary of Chopard's partnership with it, Chopard created a special Palme D'Or prize adorned with Fairmined diamonds. Other sponsorships include the Mille Miglia car rally and the historic Grand Prix of Monaco.

//= get_template_directory_uri() ?> //= get_template_directory_uri() ?> //= get_template_directory_uri() ?> //= get_template_directory_uri() ?> //= get_template_directory_uri() ?> //= get_template_directory_uri() ?>
©2011-2023 Worthy, Inc. All rights reserved.
Worthy, Inc. operates from 25 West 45th St., 2nd Floor, New York, NY 10036