America's Biggest Diamond Finds: 5 You May Not Have Heard Of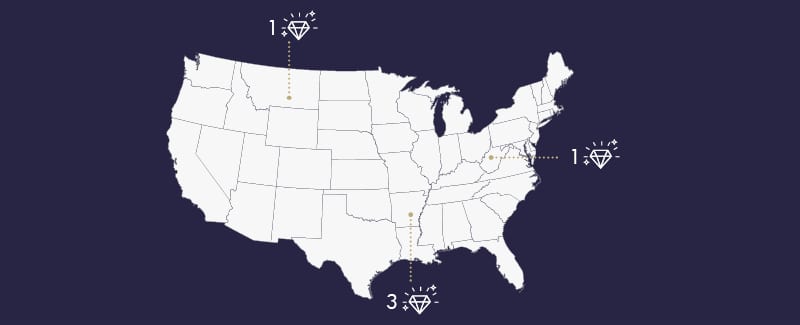 Alluring treasures that symbolize love, royalty, and power, diamonds have fascinated us for millennia. Nicknamed "tears of the gods" by Greeks and Romans, these incredible gemstones are formed hundreds of miles beneath the earth's surface. Some are pushed upward by magma, working their way into accessible regions. In some places, diamonds make their way out onto open ground.  
We've covered many of the most famous diamonds in the past including the Hope Diamond, the Koh-I-Noor Diamond, and others. This time, we decided to take a look at some large, unique diamond finds, focusing on a handful of interesting, unexpected discoveries right here in the United States that you may not have heard of. Enjoy! 
The Caro Avenger
The Caro Avenger is a 3.72 carat yellow diamond that was discovered by Miranda Hollingshead in August of 2019. Miranda was visiting Crater of Diamonds State Park in Arkansas. She hadn't yet started to search for diamonds; instead, she was sitting in the shade watching a YouTube video that covered the finer points of finding diamonds on the ground. When she glanced up from the video, she saw something sparkly mixed in with some rocks.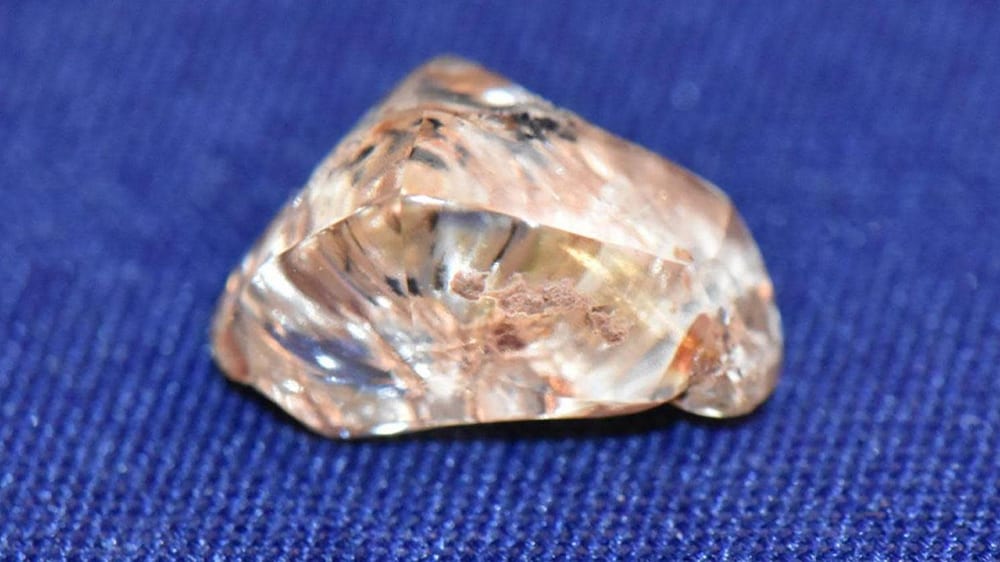 Upon closer inspection, Miranda realized that she had discovered a large yellow diamond about the size of a pencil eraser. Her son named it the Caro Avenger after the park's staff registered her find as a 3.72-carat yellow diamond, and the largest yellow diamond found at Crater of Diamonds since a 3.85-carat gem was pulled from the earth in 2013. In all, more than 75,000 diamonds have been discovered at Crater of Diamonds State Park since 1906. The largest diamond found here is a white diamond with a pinkish cast. Named the Uncle Sam Diamond, it weighed in at a stunning 40.23 carats before cutting.
The Esperanza Diamond
In 2015, Bobbie Oskarson found an elongated 8.52-carat diamond while she was visiting Crater of Diamonds State Park. She was looking for a shady place to rest when she spotted a clear stone that resembled a nice quartz crystal. She picked it up, put it in her pocket, and eventually brought it to park staff along with other stones she and her boyfriend, Travis, had found while enjoying the park. Upon close inspection, a ranger confirmed that the stone was in fact a flawless perfect D color diamond – and certainly among the most valuable ever discovered on U.S. soil. Bobbie named the diamond Esperanza, which means "Hope" in honor of her niece.

The Jones Diamond
Imagine being a little boy nicknamed "Punch." You're playing a game of horseshoes in an area where crystals are often discovered, and you kick up a pretty stone. You put it in your pocket, take it home, and place it on a windowsill. Eventually, it makes its way into a cigar box. This is the story of the Jones Diamond, which is also known as the Punch Jones Diamond, the Horseshoe Diamond, or the Grover Jones Diamond.
The Jones Diamond is a blue-white alluvial diamond that was discovered in Peterstown, West Virginia, way back in 1928. It spent the Great Depression hiding inside a cigar box in a tool shed, until in 1942, Punch rediscovered his stone and took it to a geology professor at Virginia Tech.  After authentication, the stone was determined to be a 34.48 carat diamond, and to this day, it's the largest alluvial diamond found in the United States. 
Sadly, William "Punch" Jones lost his life in World War II. His famous diamond find spent many years on display at the Smithsonian institute before the family decided to sell it at auction. In 1984, the Jones Diamond was sold to a buyer from Asia for the mere sum of $64,000. Today, no one is sure of its whereabouts.
The Amarillo Starlight Diamond
Weighing in at a stunning 16.37 carats, the Amarillo Starlight Diamond has the distinction of being the largest diamond found at Crater of Diamonds since its founding in 1972. This beautiful yellow stone was discovered in 1975 while a retired janitor named W.W. Johnson was visiting the park with his family. Like a few others who have stumbled upon amazing diamonds unexpectedly, Johnson was resting in the shade when he spotted a gleam in the sunlight. The diamond was mostly buried; once unearthed, it was taken to the ranger station for identification. 
This surprising diamond find is named after Johnson's beloved hometown of Amarillo, Texas. It was eventually cut into a 7.54 carat marquise shape, and is valued at $150,000 to $175,000. Officials at Crater of Diamonds State Park aren't sure whether this diamond remained in the Johnson family, or if it was sold.
The Lewis and Clark Diamond
While most of the largest diamonds found in the United States come from Arkansas, other states have offered up some notable finds. Montana, aptly nicknamed the Treasure State, is famous for its sapphires, gold, silver, and agate. It has also produced a few diamonds, including the Lewis and Clark diamond, which is named for the county in which it was discovered. 
The Lewis and Clark Diamond is a light yellow 14-carat rounded octahedral crystal with no sharp edges or points. The stone was found in 1990 by Darlene Dennis who was simply walking along a country road when she stumbled upon the stone, picked it up, and eventually sold it to a New York gallery for the sum of $80,000. Its current owner is unknown.
While diamonds are always available for sale, it's fun to imagine finding an amazing gemstone on your own. Whether you're at a known kimberlite site or if you're simply enjoying some time outdoors, keep an eye out for sparkles on the ground! You never know…the next unexpected diamond find could be yours. 

//= get_template_directory_uri() ?> //= get_template_directory_uri() ?> //= get_template_directory_uri() ?> //= get_template_directory_uri() ?> //= get_template_directory_uri() ?> //= get_template_directory_uri() ?>
©2011-2023 Worthy, Inc. All rights reserved.
Worthy, Inc. operates from 25 West 45th St., 2nd Floor, New York, NY 10036