The Centenary Diamond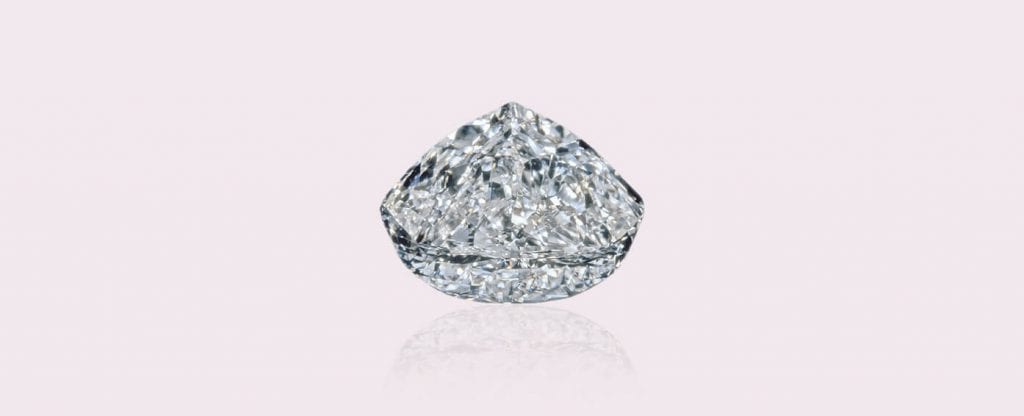 Name: The Centenary Diamond
Also Known As: The De Beers Centenary Diamond
Price Estimation: $100 Million USD
Size: 54.770 grams
Color: White / Colorless
Cut: Modified Heart-Shaped Brilliant Cut
Carat: 273.85 carats
Originally Belonged To: De Beers
Centenary Diamond History
While some diamonds have long, complicated stories attached to the, the Centenary Diamond history is a fairly short one. Discovered in the Premier Min in July of 1986 with the help of an X-ray imaging system, this massive stone weighed 599 carats (119.8 grams) uncut. It is the third-largest diamond to come out of the Premier Mine, and with a grade of D, it is internally and externally flawless.
The Centenary Diamond was formally unveiled in the rough at the Centennial Celebration of De Beers Consolidated Mines on 11 May, 1988. Julian Oglivie Thompson, chairman at the time, said "We have recovered at the Premier Mine a diamond of 599 carats which is perfect in color – indeed, it is one of the largest top-color diamonds ever found. Naturally, it will be called the Centenary Diamond."
The Centenary Diamond is Cut
Cutting a valuable – not to mention immense – stone such as the Centenary diamond requires expertise. De Beers chose Gabi Tolkowsky to head the team responsible for the task. A specially selected group of security guards,
engineers, and electricians were assigned to the team, and a special underground room was designed to facilitate the operation. Mechanical vibrations, temperature variations, and other factors that might interfere with cutting the stone were minimized, helping to reduce the potential for costly errors that might cause the Centenary diamond history to take a turn for the worse.
It took 154 days for the team to hand-cut the Centenary Diamond into an egg-shaped gem weighing approximately 500 carats. The team presented 13 different designs to the De Beers board, highly recommending the modified heart-shaped design. Accompanying documents read: "Effectively, the Centenary Diamond is shaped like a heart, but does not have a groove. The image the team had in mind was a shape which would adorn the turban of a Sultan or a Maharaja." The board settled on the heart shape, and the team continued to cut the diamond.
The Centenary Diamond was finally completed in February of 1991. This magnificent gem has a total of 247 facets including 164 on its pavilion and crown, and another 83 on its girdle. While the Centenary diamond value has never been publicly appraised, it was insured for more than $100 million USD at the time of its public unveiling in 1991.
Mystery Surrounding The Centenary Diamond
The De Beers Corporation happily loaned the Centenary Diamond to the Tower of London, where it was put on public display for a number of years. There is some mystery surrounding the stone's current ownership; it is believed that the Centenary Diamond is no longer owned by De Beers, however the new owner is unknown. De Beers, citing its strict anonymity policy, has declined to comment on the ownership status of the Centenary diamond.
Centenary Diamond Value Today
Among top-color diamonds, Only the Cullinan I and Cullinan II diamonds are larger than the Centenary. In 1991, Mr. Nicholas Oppenheimer, then Deputy Chairman of De Beers, made a declaration: "Who can put a price on such a stone?" Given the deep mystery surrounding its whereabouts, the stone is one many would like to know more about. As for the Centenary diamond value, no one is certain. Because it is one of a kind, of such size and purity, it is "priceless."
Sources: worldlatest.net, pandorajewelrycare.com, caesarom.com
//= get_template_directory_uri() ?> //= get_template_directory_uri() ?> //= get_template_directory_uri() ?> //= get_template_directory_uri() ?> //= get_template_directory_uri() ?> //= get_template_directory_uri() ?>
©2011-2023 Worthy, Inc. All rights reserved.
Worthy, Inc. operates from 25 West 45th St., 2nd Floor, New York, NY 10036