Top 10 Most Extravagant Diamond Rings Auctioned at Worthy
Here at Worthy, we constantly see beautiful pieces of jewelry come and go. While we love the classic round-cut solitaire diamond rings, we have a soft spot for unique, even, flamboyant pieces of jewelry. We decided to take another look and pick our favorites and here are the winners:
1. Three Sides, Three Rows, One Ring
Trilliant or trillion cut diamonds are one of the more unique diamond cuts. One of the biggest advantages of this cut is that it makes the diamond appear bigger because of the angles and light. This 3.65 trilliant-cut show stopper features not only a massive center stone but three rows of smaller diamonds set into a yellow gold band to create a sparkly backdrop. This ring sold for $7,683.
2. Regal Radiance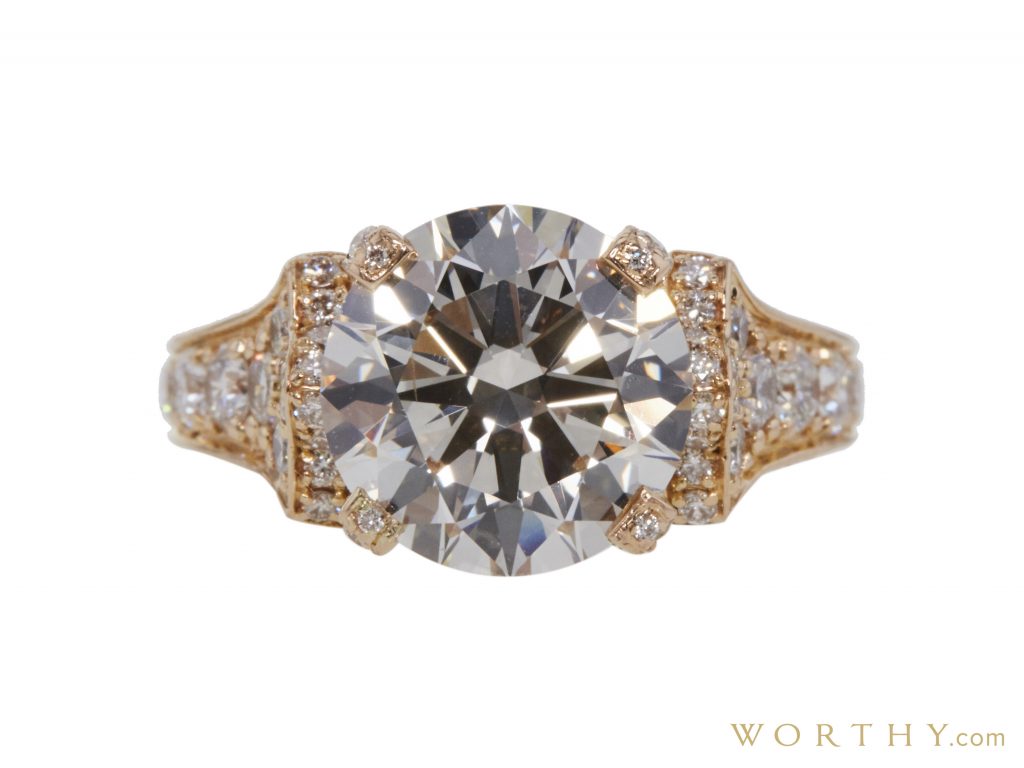 If you want to talk about true extravagance, royals of the past are a prime example (Marie Antoinette is enough for us). This 4.01 CT solitaire ring could hail from nowhere else apart from Maison Cartier, a jewelry brand fit for today's royalty. The features a large 4-carat stone as well as smaller diamonds encrusting the top and sides of the band and shanks. There are diamonds within the mounting as well, making this a glitzy piece of glamour that sold for $27,000.
3. Modern Art Bridal Set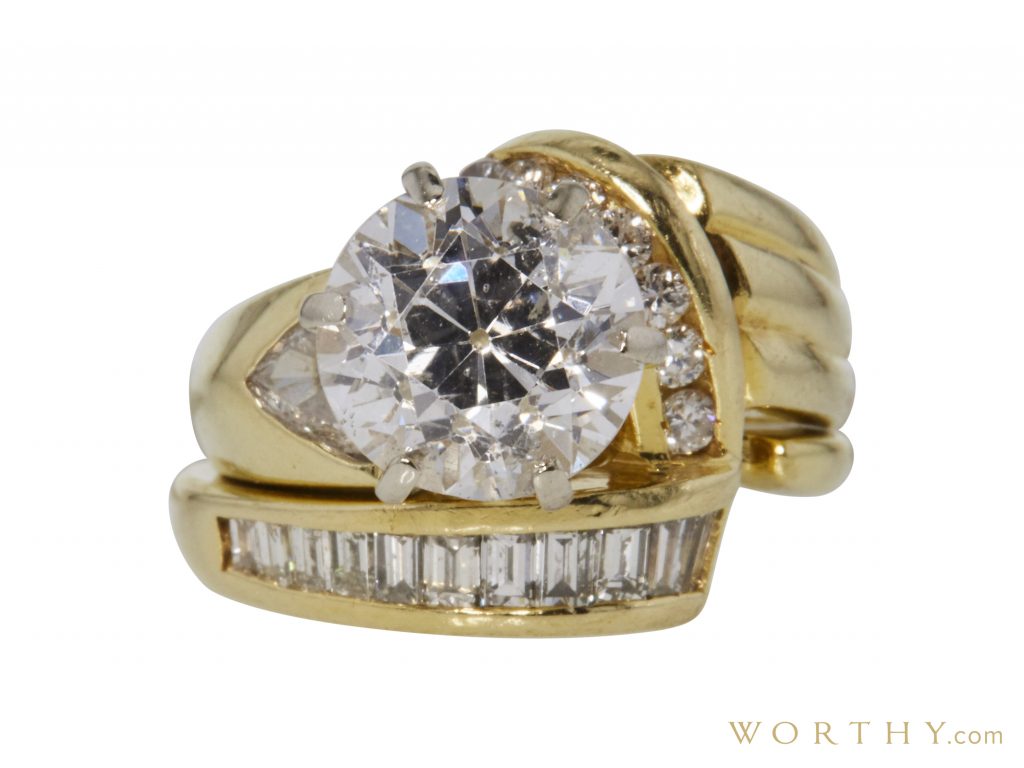 Chunky yellow gold rings and ring sets were a staple in the 80s and 90s and this ring is a prime example of that trend. The center stone is a true classic – a 3.25 European-cut stone set in a traditional 6-prong setting. But much like the hairdo of the times, this ring is a party at the back, featuring a mix of small round diamonds, baguettes, and a triangular diamond. This ring sold for $13,809.
4. A Ring to Tell Your Fortune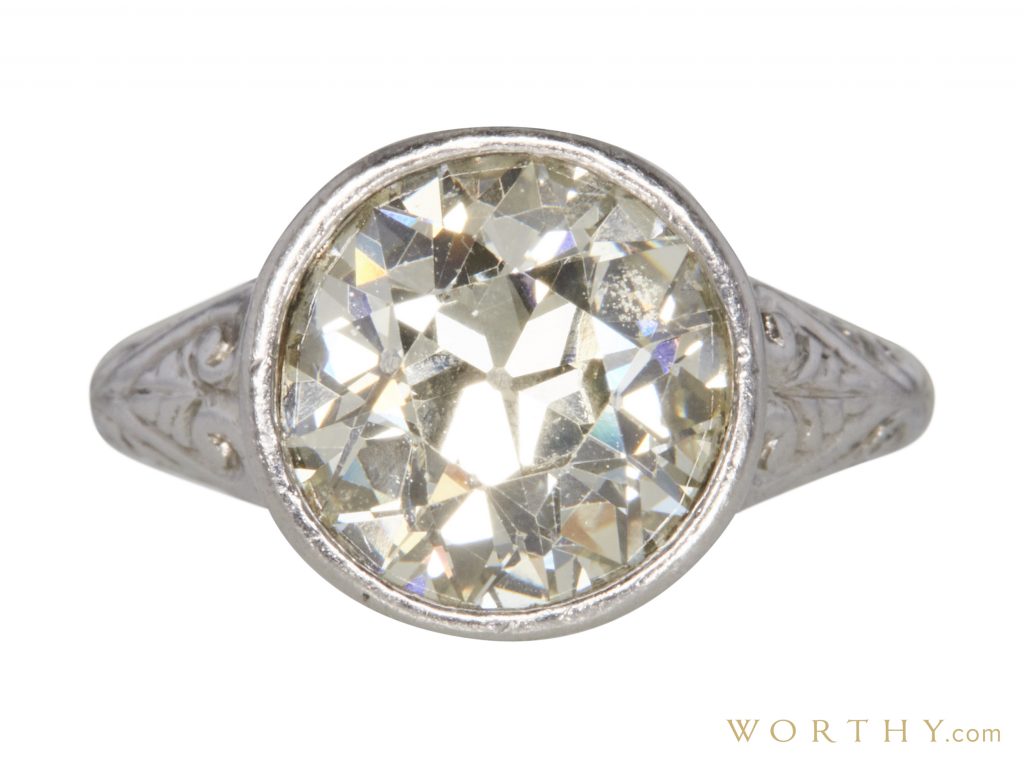 With the help of this ring, you can have a crystal ball at your very own fingertips. Kidding! But the 3.16 CT Old European cut diamond set into this ring gives us major crystal vibes (or disco ball if that's your thing). The reason for that is that Old European cut diamonds are essentially more domed than today's round or round brilliant cut diamonds, with a smaller cutlet at the top of the diamond. This ring sold for $11,191.
5. Deadly Weapon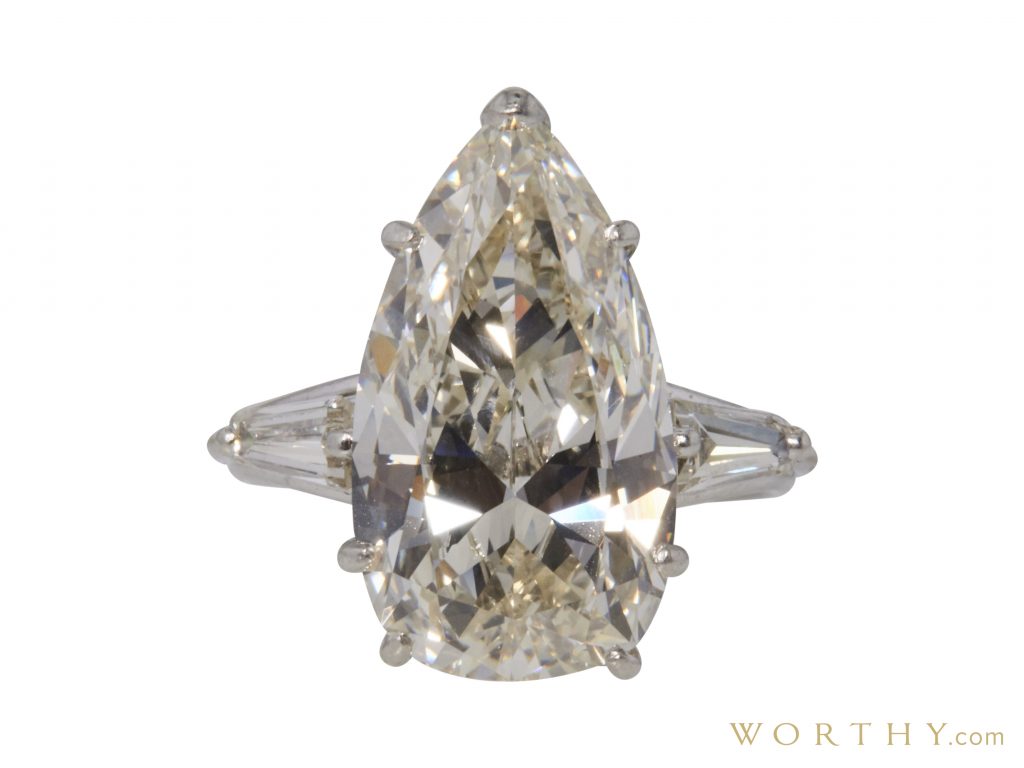 If diamonds are the hardest substance on Earth, what happens when you turn a sharp diamond into a knife? The deadliest weapon known to humans? Possibly. For now, we'll settle with this humungous 7.39 pear-cut diamond ring with its deadly point. And we're pretty sure this stone makes just as much of a statement on someone's finger as it could in someone's heart. This ring sold for $43,889.
6. Vecna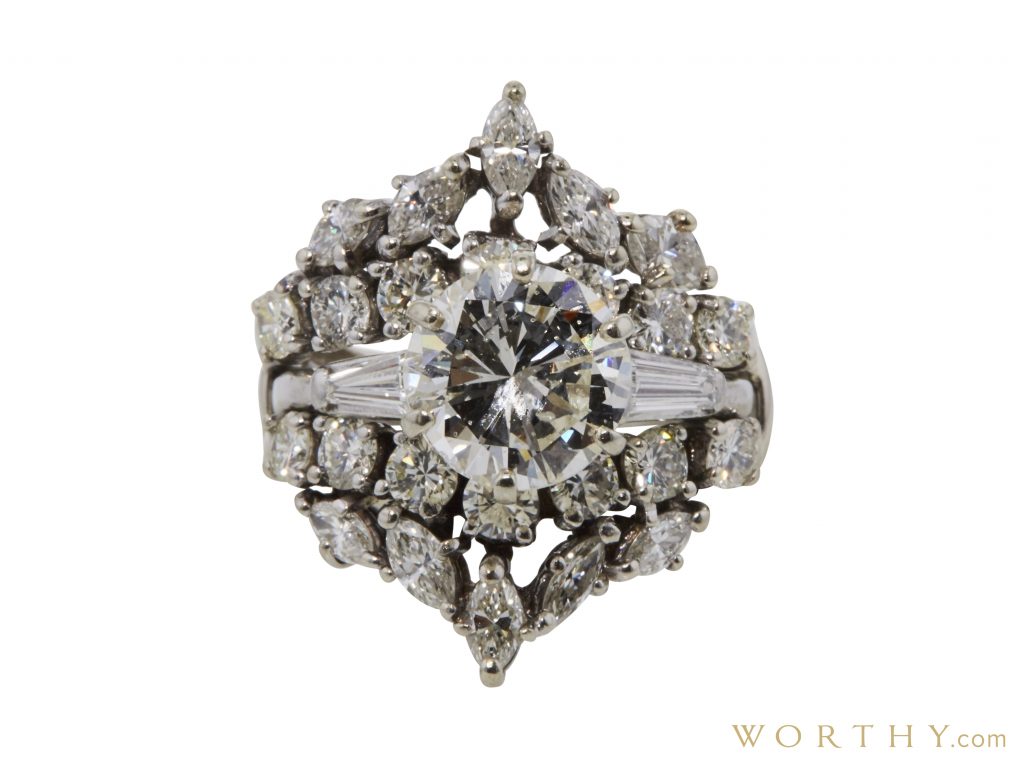 In a subtle nod to the most recent season of Stranger Things, we are certainly getting a "hive mind" vibe from this ring. A 4.31 CT round cut diamond set with two tapered baguettes is a classic but the addition of 24 round and marquise cut diamonds in the webbed background is something straight out of a sci-fi thriller. This ring sold for $14,315.

7. Wavy Pear
Another throwback to the chunky settings of the 80s and 90s is this pear-shaped ring set in a wavy double band and surrounded by 4 half-carat round diamonds. This ring sold for $11,177.

8. Harvest Moon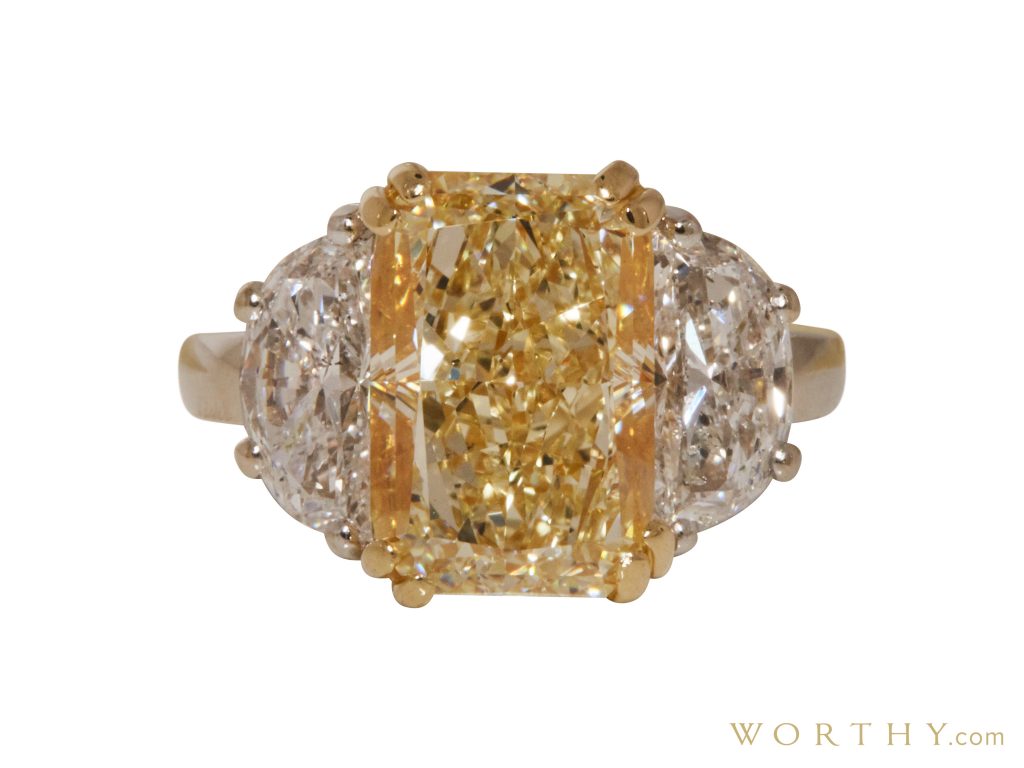 The remarkable orange-colored full moons of late summer and early autumn are reflected both in the color and shape of this ring. The center stone is a 6.52 CT radiant-cut diamond with a unique orange color (more peach if you ask us) and it is flanked by two 1 CT half-moon-shaped diamonds. This magnificent ring sold for $29,589.
9. Flower Power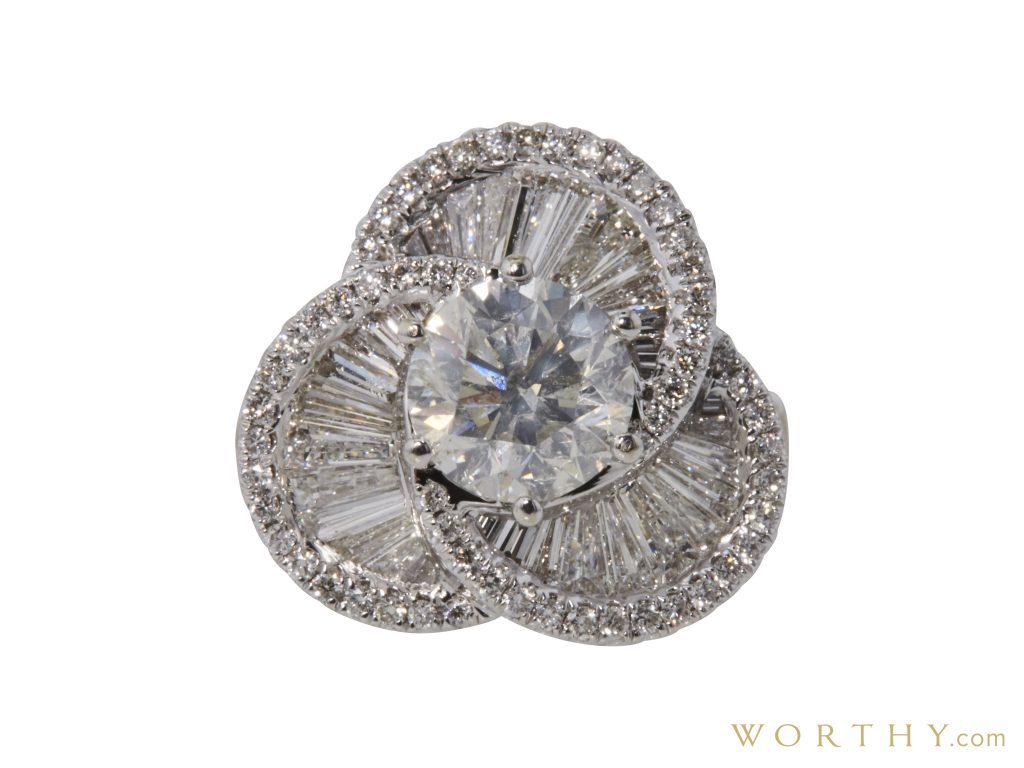 Floral motifs are classic in jewelry designs but this ring takes things to a whole new level. The ring features a 2.04 round-cut diamond at its center. Three petals are created out of a fan of baguette diamonds outlined by a thin row of small round diamonds to form a halo. This ring sold for $2,323.
10. Mirror, Mirror On the Wall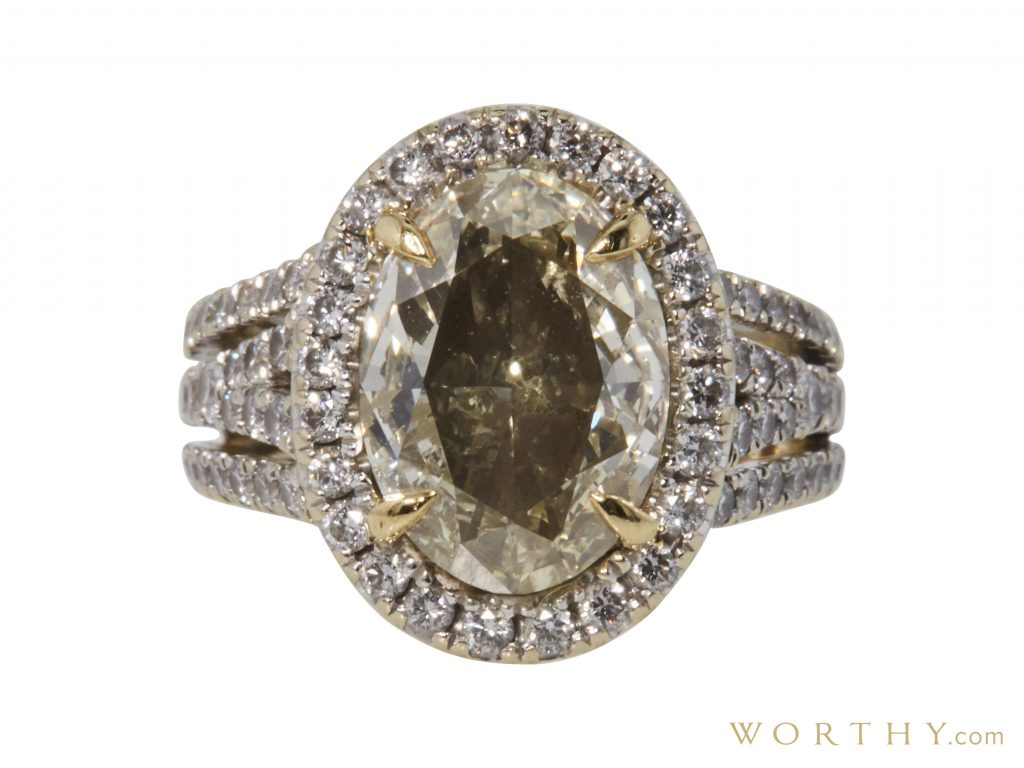 Is it us or is this ring giving magic mirror vibes? While it may not be the fairest of them all, this ring is certainly something. The center stone is a 3 CT oval-cut diamond with a brownish hue. The diamond is surrounded by a pave halo and the band features a pave split shank and two further thin pave bands. This ring sold for $5,198.
How to sell diamond ring with Worthy
//= get_template_directory_uri() ?> //= get_template_directory_uri() ?> //= get_template_directory_uri() ?> //= get_template_directory_uri() ?> //= get_template_directory_uri() ?> //= get_template_directory_uri() ?>
©2011-2023 Worthy, Inc. All rights reserved.
Worthy, Inc. operates from 25 West 45th St., 2nd Floor, New York, NY 10036