Six Iconic Art Deco Jewels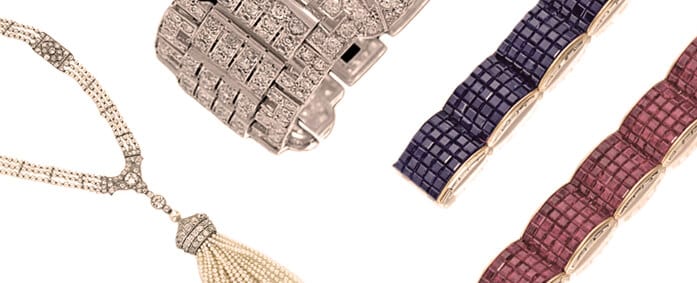 The Art in Art Deco Jewels
Although the shift from the more flowing lines of Art Nouveau began as early as 1920, it was the Exposition International des Arts Décoratifs et Industriels Modernes in Paris in 1925 that promoted the new look by jewelers at the exhibition who produced some of the most influential jewelry of the day: Raymond Templier, Cartier, Van Cleef & Arpels, Jean Fouquet, Jeanne Bovin, Suzanne Belperron, Boucheron and Chaumet.While each jeweler had its own interpretation, there was a unified movement toward streamlined circular or linear looks in all white and black and white: platinum, rock crystal, onyx, and new and mixed cuts of white diamonds. As jewelers moved into the 1930s, Art Deco became influenced by a global mix of cultures from Asia, Africa and Egypt. This softened the geometric lines with stylized florals, carved cabochons and figurative motifs. Vibrant rubies and sapphires as well as onyx, jade, lapis and frosted quartz contrasted against white diamonds represented the Art Deco movement until 1939.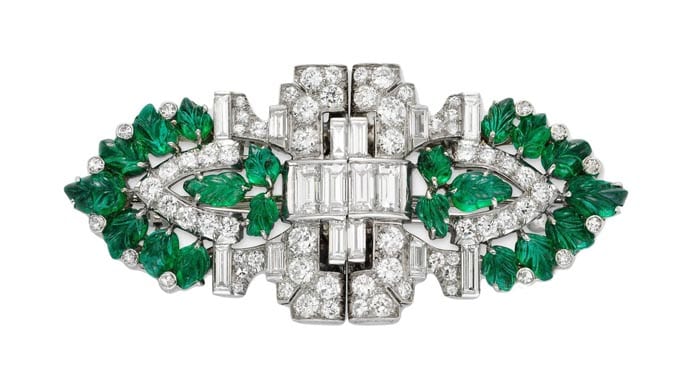 Clip Brooches
Raymond Templier was an early proponent of Art Deco and was heavily influenced by cubism. His jewelry focused on contrasting of opposing arcs and semi-circles, and inverted triangles which produced some of the most bold and thoroughly modern pieces of his day. He also played with volume as well as the geometry he was so intrigued with. Along with many of the other houses of the day he produced brooches and clips that were based on these cubist-inspired motifs in rock crystal, platinum and diamonds. Bovin, Chaumet and Cartier also showed clips that were multi-functional and traditionally came in pairs and could be clipped to the straps of a dress, worn on handbags, on turban style hats and cloches and also on shoes. Brooches are not as popular today as they were in the Art Deco period, partially because modern fabrics often aren't sturdy enough to hold a heavy pin. Some small brooches are candidates for conversion jewelry: they make lovely rings and pendants that can be worn more often.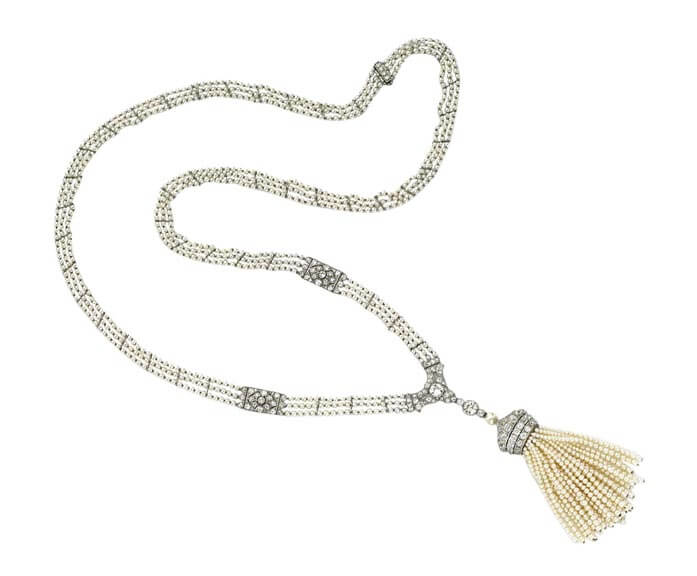 Sautoir Necklaces
Ultra-long sautoirs started out in all white versions and featured geometric diamond and platinum pendants at the bottom of a long diamond and platinum chain. Many of these styles also were designed with tassels of seed pearls and beads hanging from a stylized top or a tassel at each end of a necklace that could be knotted nonchalantly and worn down the front or back of a dress. Sautoirs were popular throughout the Art Deco period and took on cross-cultural influences of China, Egypt and India with the introduction of colored gemstones and carved jade, coral, onyx and brightly colored gemstones. Often the tassels for this particular style swung from circular rings or enameled pendants on silk cords. The sautoir style is returning to fashion with longer necklaces now appearing on today's red carpet.
Wide Flexible Bracelets
Bold yet easy to wear, another style that was in vogue throughout the entire movement is the wide flexible bracelet. These elaborately constructed jewels were first shown with intricate piercing work in all white platinum settings with an arrangement of diamonds at Chaumet and Cartier with baguettes, marquises, rounds, half circles and early emerald cuts surrounded by smaller diamonds. Many were geometric with additional details such as buckle closures but most lay flat on the wrist. As time went on these bracelets also took on the painterly feeling of Asian floral motifs, Egyptian scarabs and Pharaos, in vividly colored gemstones and diamonds, executed to perfection by Van Cleef and Arpels. The perfect addition to a modern arm party, Art Deco wide flexible bracelets are very much in demand today.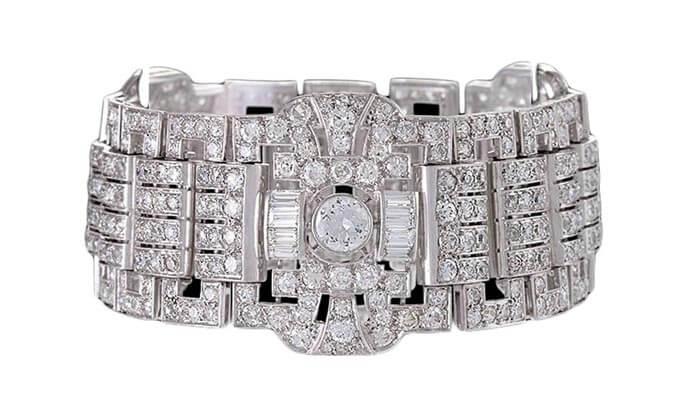 Rock Crystal Cuff Bracelets
Even though Suzanne Belperron didn't sign her pieces, saying that my style is my signature, they are among the most collectible jewels of the Art Deco period. Perhaps her most iconic Art Deco style is her cuffs carved out of rock crystal and other gemstones, which are as contemporary today as they were then. In fact, her design archive is being revived today by Ward and Nico Landrigan, who also own the Verdura brand. Before striking out on her own, she worked for Rene Bovin, the company which Jeanne Bovin, Rene's wife, took over after his death in 1917 and ran throughout the Deco period and beyond. She employed other female designers and in collaboration with them also created some striking rock crystal and gemstone cuffs. Perhaps the most famous Art Deco rock crystal, platinum and diamond cuffs by Cartier in 1929 that belonged to silver screen star Gloria Swanson. She wore the mismatched cuffs on one or both wrists in the film Sunset Boulevard, in many publicity stills for the film, and also to an Academy Awards party for her nomination for Best Actress for the same movie, only to find out that she had not won the award. But the bracelets and Swanson's epic performance lives on in our collective consciousness.


Tutti Frutti Jewelry
Cartier's entire Tutti Frutti collection was representative of the movement toward color, softer lines, and cultural influences during the Art Deco movement. These fruit and foliage pieces featuring exotic and imaginative combinations of precious gemstones carved into leaves or fluted beads were inspired by Indian jewelry designs. One of the most famous Tutti Frutti designs is the Daisey Fellowes necklace. The commission by American heiress to the Singer sewing machine fortune, features 146.90 carats of diamonds, two leaf-shaped sapphires weighing 50.80 and 42.45 carats each, and plenty of emeralds and rubies too.Tutti Frutti designs also were realized in brooches, clips and bracelets. A Cartier Tutti Frutti bracelet sold for more than $2.1 million at Sotheby's in 2014, setting a world record for a Tutti Frutti bracelet. Tutti Frutti designs, especially signed designs by Cartier, are very much in demand in the secondary jewelry market.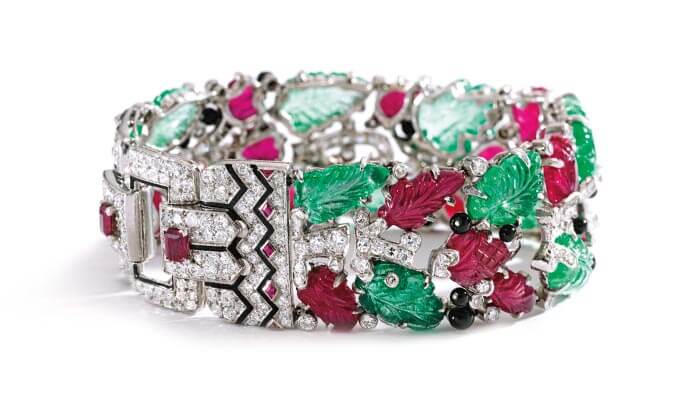 Mystery Settings
The advance in stone-setting technique known as mystery settings created distinctive new gemstone jewelry styles with stones set together in a seamless mosaic with no visible metal settings. The logical extension of Art Deco's streamlined simplicity, jewelry with mystery settings, usually in rubies and sapphires, is an example of how craftsmanship can free jewelry designers to new heights. Van Cleef & Arpel is most known for mystery-set jewelry, including iconic pieces such as the Duchess of Windsor's Holly Leaf brooch. The mystery setting is featured in a wide range of designs by the house and has never gone out of style: it's still popular today. Mystery-set jewelry is very collectible and fetches high prices in the resale market.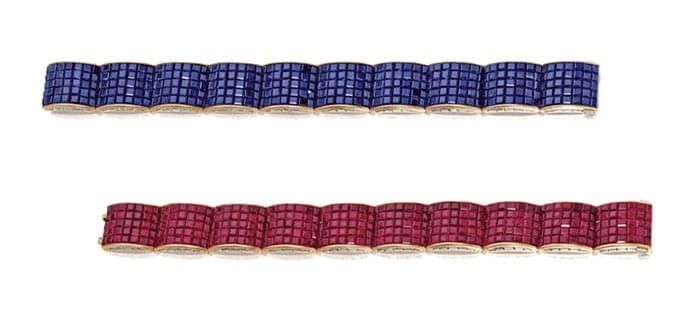 //= get_template_directory_uri() ?> //= get_template_directory_uri() ?> //= get_template_directory_uri() ?> //= get_template_directory_uri() ?> //= get_template_directory_uri() ?> //= get_template_directory_uri() ?>
©2011-2023 Worthy, Inc. All rights reserved.
Worthy, Inc. operates from 45 W 45th St, 4th Floor New York, NY 10036