Top 10 Featured Auctions from November 2021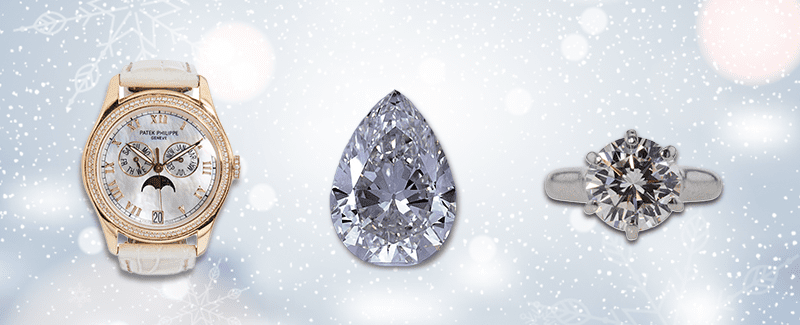 Tis the season to sparkle! And last month's auctions did not disappoint. There was plenty to see at our November auctions, including wildlife-inspired timepieces, a pear diamond the size of a partridge, and a glistening key. Let's dive in!

The Big Ones
In November we saw a number of pieces with diamonds that were large and in charge, including the two diamonds over 5 carats featured below (#1 and #2). These mega pieces are truly one in a million, especially given how rare diamonds, especially big ones, actually are. It all goes back to how diamonds are formed – hundreds of miles under the earth, diamonds are created by a combination of intense heat, intense pressure, and carbon. The diamonds that we buy, wear, and sell today were formed millions of years ago and brought to the surface of the earth via volcanic eruptions that carried the diamonds of the earth's mantle. That's a pretty dramatic entrance if you ask us.
Wild Wild Watches
Want to talk about exclusive luxury? The Panerai Luminor Sealand watch (#5 below) is the crème de la crème. To create this watch, the watch brand Panerai partnered with the British gun and rifle maker Purdey. Only a few hundred watches were made, with one fifth of the watches each featuring a hand-made engraving of one of the big five animals.

But, as always, 5 carat diamond jewelry and rare luxury watches aren't exactly made for everyday wear (especially for those of us who are still WFH or hibernating for the winter). And whether you are just looking for some extra cash, in need of a big ticket item, or facing some financial difficulties, selling diamond jewelry and watches can always give your budget a boost. And with the holidays right around the corner, you have even more of a reason to do so! Be sure to visit Worthy.com when you are ready to start selling.
Top 10 Auctions from November 2021
//= get_template_directory_uri() ?> //= get_template_directory_uri() ?> //= get_template_directory_uri() ?> //= get_template_directory_uri() ?> //= get_template_directory_uri() ?> //= get_template_directory_uri() ?>
©2011-2023 Worthy, Inc. All rights reserved.
Worthy, Inc. operates from 25 West 45th St., 2nd Floor, New York, NY 10036