All the Details on Lady Gaga's Engagement Ring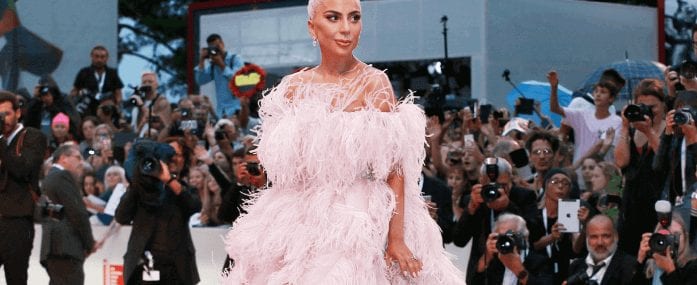 Lady Gaga has been in the news a lot lately – first for her incredible performance in 'A Star is Born' and now for her surprise engagement to Christian Carino. Now that she is officially spoken for, Hollywood is abuzz with the news. Meanwhile, we're excited to bring you these details about an engagement ring that's truly worthy of its wearer.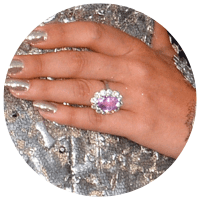 Design: oval cut stone with halo of white diamods.
Center Stone: either a high quality fancy pink diamond or a vivid pink sapphire.
Size: estimated to be about 6 carats.
Cost: Estimated to have cost around $300,000.
What Kind of Stone is in Lady Gaga's Engagement Ring?
Some experts quoted in the press believe that Lady Gaga's exquisite oval ring contains a massive pink diamond at its center. While this could be possible, our expert gemologists state that "the center stone in the images we have examined is most likely a purplish pink sapphire." Sapphires are second to diamonds in hardness. They are hard enough to resist scratches – a great thing considering Lady Gaga's active lifestyle.
How Much is Lady Gaga's Engagement Ring Worth?
Since Lady Gaga hasn't revealed any details about the center stone in her engagement ring or discussed its provenance, it's impossible to state an exact value! The ring's value largely depends on the type of gemstone set at its center. Both stones are rare and valuable. If it is a natural pink diamond, its value is likely to be over $1 million; far greater than that of a similarly sized sapphire ring, which would be closer to $400,000. Either way, we're sure this bold, beautiful engagement ring is priceless to its owner.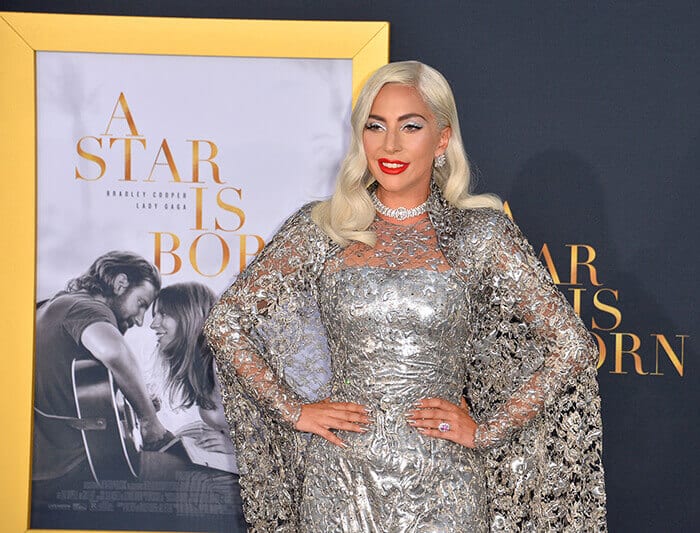 Lady Gaga's official engagement announcement is news – but the ring itself has been a source of speculation since it first made an appearance on that special finger during the January 2018 Grammy Awards. Since then, Mother Monster has been showing the massive sparkler during interviews and appearances showcasing her role in 'A Star is Born'. She made the news official when she called Christian Carino her fiancé during a moving acceptance speech at Elle's 25th Annual Women in Hollywood Celebration.
The relationship between Lady Gaga and Christian Carino came on the heels of a highly publicized breakup in which Lady Gaga returned her $600,000 heart-shaped engagement ring to former fiancé Taylor Kinney before publicizing her relationship with Christian Carino.
Insiders speculate that the couple's engagement was kept secret for an entire year – quite a feat for someone who lives in the spotlight!
Just like Lady Gaga, this eclectic engagement ring is a showstopper. Absolutely spectacular, supremely colorful, and truly one of a kind, it's a glowing symbol of the love of a lifetime. We wish this couple all the best as they embark on their next chapter.
READ ALSO:
//= get_template_directory_uri() ?> //= get_template_directory_uri() ?> //= get_template_directory_uri() ?> //= get_template_directory_uri() ?> //= get_template_directory_uri() ?> //= get_template_directory_uri() ?>
©2011-2023 Worthy, Inc. All rights reserved.
Worthy, Inc. operates from 25 West 45th St., 2nd Floor, New York, NY 10036