The Noteworthy Series: Rolex Presidential Review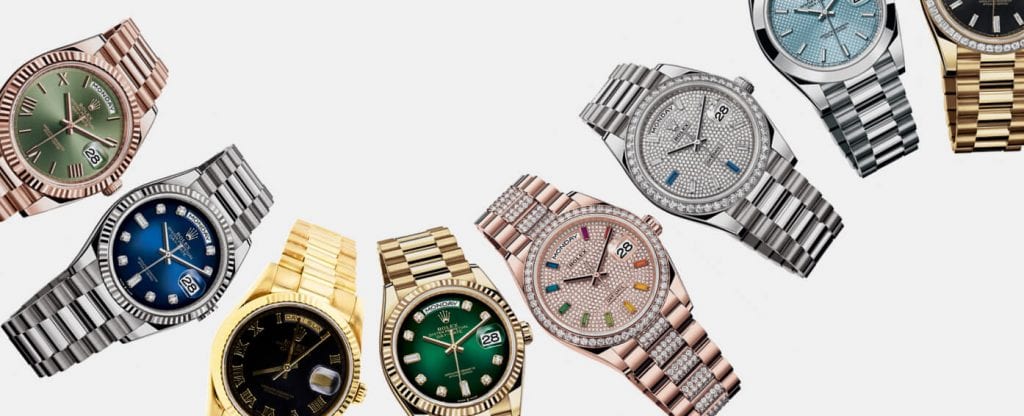 When you think luxury watches, it's likely that the name "Rolex" springs to mind! Rolex watches are status symbols, but that's not all: Since the company was formed in 1908, its watches have been renowned for their quality, incredible movements, and unmatched style. Rolex watches are built to stand the test of time, making this brand trustworthy as well as luxurious. Let's take a closer look at one of the most iconic Rolex watch designs of all time: The Rolex President, which is often referred to as the "Presidential."
All About Rolex Watches
More About Rolex Watches On Worthy
Top 9 Rolex Auctions on Worthy · Rolex As A Smart Investment · How To Spot A Fake Rolex · Most Popular Rolex Watches · James Bond's Rolex Watches
Other Rolex Model Reviews
Air King · Cellini · Date/Datejust · Daytona Cosmograph · Explorer · GMT Master & GMT Master II · Milgauss · Presidential
Rolex Presidential Review & History
In the world of horology, few watches stand out quite so much as the Rolex President or "Presidential" as it is often called. There's another name for this watch: Rolex Oyster Perpetual Day-Date, which is often shortened to Rolex Day-Date. Patented in 1955 and introduced in 1956, this iconic watch gets its nickname from the President Bracelet.
We'll dig deeper into the President's history momentarily, but first let's pause to clear up a myth. Although there's a popular story about President Eisenhower's Rolex that credits him with wearing this watch and giving it its nickname, the truth is that this model wasn't even a twinkle in its creator's eye when then-Five Star General Dwight Eisenhower received his Datejust ref. 6305. You can see him wearing the watch in portraits, including one that graced the cover of the July 21, 1952 issue of LIFE magazine.
Even though Eisenhower's watch wasn't a "Presidential" model, it was very special. When Rolex produced the 150,00th certified chronometer, they engraved its caseback with five stars that signified Eisenhower's rank, along with 12-19-1950 to commemorate the date that he was appointed as NATO's Supreme Commander. His initials, D.D.E., are engraved on the caseback as well as in the bracelet clasp. The watch was given to General Eisenhower as a gift, and it was his constant companion throughout his presidency.
Other U.S. presidents and government leaders were known for wearing Rolex Presidential models over the years, and its sleek design and versatility made it a favorite with others who preferred fine timepieces. Many were (and still are) astonished to discover that it's possible to swim and even dive while wearing a Rolex President. Remember, it has an Oyster case, and this means that some early models could withstand pressure at depths up to 50 meters. Newer President Day-Date Rolex watches are waterproof to an astounding 100 meters, which is deeper than most recreational divers will ever venture.
When Rolex introduced the Day-Date in 1956, it was the first watch to display the day of the week in one window located at 12:00 and the date of the month in another window located at 3:00. The earliest models had fluted bezels, Roman Numeral hour markers, and a second hand. The Rolex Crown is in its traditional position on these watches, right under the "day" window. Beneath that, are the words "Rolex Oyster Perpetual Day-Date. The earliest Rolex Presidential watches were available in either platinum or 18k gold, and were mounted on President bracelets.
Rolex Day-Date ref. 6510 and ref. 6511 models were replaced with Rolex 1800 series Day-Date models in 1959. Customers could choose from 18k yellow, white, or rose gold. The Rolex ref. 1803 was produced until the late 1970s, when Calibre 1555 movement was replaced with Calibre 1556 movement. In 1972, Rolex gave Calibre 1556 and the President watch an upgrade, equipping the movement with the hacking feature. This allowed the were to pull out the winding crown so that the seconds hand would come to a stop.
In 1977, Rolex updated the Day-Date again, this time with faster-beating Calibre 3055 movement. These watches had a quickset date function that allowed the wearer to change the date window separately from the hands. 1977 also saw the introduction of the Day-Date Oysterquartz President, which was powered by Rolex Calibre 5055 movement. Both the case and bracelet were slightly angled, making it easier to distinguish Oysterquartz Rolexes from other Presidential models.
Eleven years later, in 1988, Rolex introduced a new Day-Date, this time with 18200 series reference numbers as well as 18300 series reference numbers for those with diamond accents. The newest Rolex Presidentials were equipped with Calibre 3155 movement with a double quickset feature that allowed wearers to set both the day and the date independent of the hands.
In 2000, Rolex again updated its Day-Date line, this time with series numbers containing six digits and beginning with 118. In 2008, the company introduced the Rolex Day-Date II series, which featured a 41mm Oyster case. It was replaced with the slightly smaller Rolex Day-Date 40 series in 2015.
Where most other Day-Date models offer a 36mm case, the Day-Date 40 features a 40mm case. It has been upgraded to the self-winding Calibre 3255, which boasts a 72-hour power reserve, among other desirable features.
When the President celebrated its 60th anniversary in 2016, Rolex introduced an Everose gold Rolex President with a green dial. New for 2019 is a Rolex Day-Date 36 with a turquoise dial.
There's one more way in which Rolex President watches are unique: They are made only with solid 18k yellow gold, 18k everose gold (this is Rolex's special brand of 18k rose gold), 18k white gold, and platinum PT950, all with or without special features such as diamond dials and bezels. Dials come in a variety of colors and patterns, and a few models are even available with leather straps instead of traditional President bracelets. The day display is available in a variety of languages, making it possible for people everywhere to enjoy the quality and luxury associated with the Rolex Presidential watch.
Rolex Presidential Watches Noteworthy Owners
The list of famous Rolex President watch owners is a long one! Here are a few highlights.
President Linden B. Johnson was the first U.S. president to wear the Rolex President Day-Date watch.
The story associated with President John F. Kennedy's Rolex Presidential watch is amazing – and scandalous, as well. In 1962, after Marilyn Monroe sang "Happy Birthday, Mr. President" to JFK, she gave him a Rolex Day-Date inscribed with "JACK, with love as always from MARILYN, May 29th, 1962." President Kennedy told one of his aides to get rid of the watch, but it resurfaced in 2005. Not only was the watch in perfect condition, it was accompanied by its original box and a love poem from Marilyn Monroe. JFK's Rolex was sold at auction, fetching $120,000 from an anonymous bidder.
Presidents Ford, Nixon, and Reagan wore Rolex Presidential watches as well. Former First Lady and presidential candidate Hillary Clinton treasures her Rolex Lady Datejust, although it's just one of her favorite watches. Billionaire investor Warren Buffet has been wearing the same Rolex Presidential since the 1980s, and rapper Jay Z loves his Rolex Presidential as well. Even fictional character Tony Soprano wears a Rolex Presidential! In truth, James Gandolfini preferred his Rolex Submariner, but we agree that the Presidential was in keeping with his iconic character.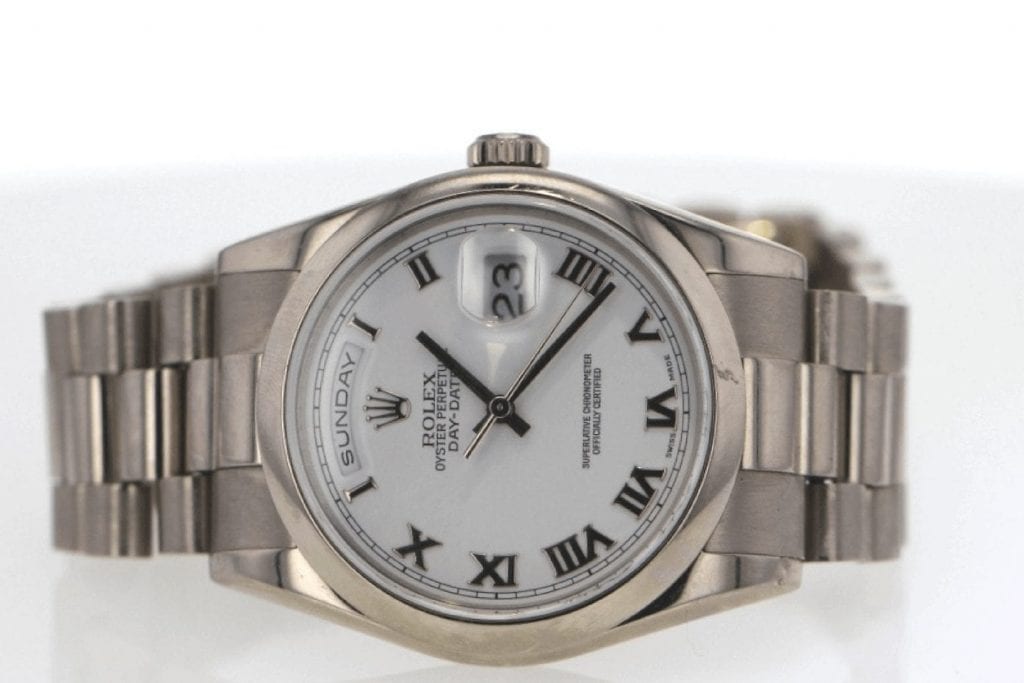 How to Spot a Fake Rolex Presidential
There are so many Rolex Day-Date models available that it is impossible to provide one specific set of instructions for spotting a fake Rolex President. The best way to avoid counterfeit watches is to purchase directly from Rolex, or, if you're looking for a pre-owned Rolex Day-Date, to purchase from a trusted source such as Worthy. With this in mind, here are some ways to distinguish faux Rolex Day-Date watches from authentic timepieces.
Very low price.

Missing authentication documents.

Reference number inscription looks like it has been acid-etched (real Rolexes are diamond-engraved).

There are obvious issues such as uneven spacing, incorrect spelling, missing Rolex logo and other common features.

Talented counterfeiters are able to replicate most exterior Rolex features but there's no way to counterfeit the Rolex Calibre movements. Qualified horologists are able to inspect a watch inside and out to ensure that it's real – and that you aren't treating a counterfeiter to an ill-gotten payday.
Read our in-depth guide for how to spot a fake Rolex
Estimated Value of Rolex Presidential Watches
The current MSRP (retail price) of a Rolex Presidential averages between $31,550 and $58,050. For some models, current pricing is available only upon request, directly from Rolex.
Pre-owned Rolex Presidential watches are well-known for holding their value, which is determined by factors such as whether the watch is a rare model, what condition it is in, whether it comes with an original box and/or paperwork, and the current market value for the reference number in question. Worthy takes all of these factors into account when providing estimates
If you have a Rolex Presidential and you are considering the option of offering it for sale, we can facilitate the procedure by preparing your Rolex for sale and targeting qualified, interested buyers who have expressed the desire to purchase Rolex Presidential watches like yours. Our process is designed to ensure that you receive the best possible price.
//= get_template_directory_uri() ?> //= get_template_directory_uri() ?> //= get_template_directory_uri() ?> //= get_template_directory_uri() ?> //= get_template_directory_uri() ?> //= get_template_directory_uri() ?>
©2011-2023 Worthy, Inc. All rights reserved.
Worthy, Inc. operates from 25 West 45th St., 2nd Floor, New York, NY 10036