The Noteworthy Series: Rolex Milgauss Review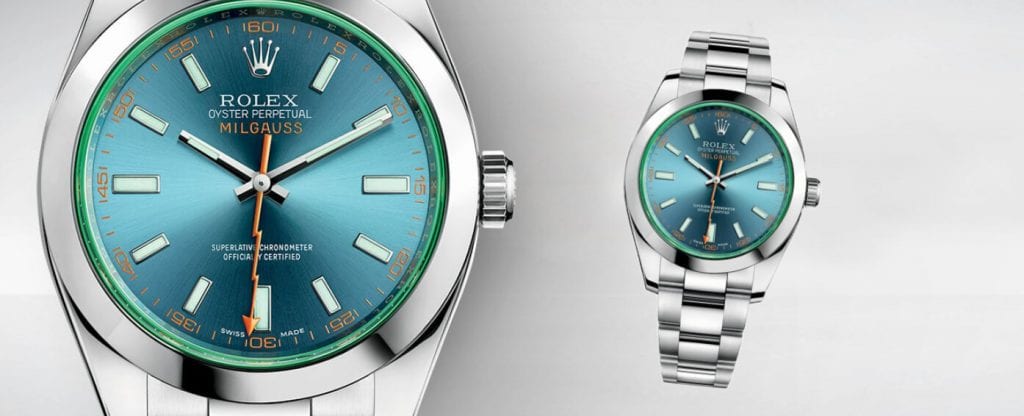 For more than a century, Rolex has been crafting some of the finest timepieces in the world. One of the most intriguing is the Rolex Milgauss. Like many famous Rolex watches, this model is Part of the Oyster Perpetual family.
The original Milgauss looked very much like the Rolex Submariner, with a riveted Oyster bracelet, a Twinlock crown, and the same oversized bezel and case that give the Submariner its distinctive appearance. If you are fortunate enough to find an antique Milgauss, it's likely to be worth a handsome sum due in part to its rarity; for example, one vintage Rolex Milgauss marked by Tiffany & Co. famously fetched $32,000 at auction. Many others have been auctioned for $20,000 or more.
Other Rolex Model Reviews
Air King · Cellini · Date/Datejust · Daytona Cosmograph · Explorer · GMT Master & GMT Master II · Milgauss · Presidential
Rolex Milgauss Review & History
The first Rolex Milgauss was released in 1956, as Rolex model number 6541. Designed specifically for scientists and others who work in close proximity to magnetic fields, the Milgauss gets its name from its antimagnetic capabilities. Thanks to a specially designed ferromagnetic metal shield, it can withstand magnetic flux densities of up to 1,000 gauss. Interestingly, the Rolex Air-King offers the same level of magnetic protection.
As the story goes, a group of scientists working at Geneva's CERN nuclear research facility found themselves frustrated by the fact that magnetic fields made their watches stop working. They asked Rolex to help find a solution to the problem and the Rolex 6541 Milgauss was the result.
It wasn't long before scientists were ready for an upgrade. In 1960, Rolex released the Rolex Milgauss 1019, which featured Calibre 1580 movement and a larger 38mm case designed to accommodate the watch's anti-magnetic Faraday cage, which was responsible for protecting the movement. Not only was the redesigned Milgauss capable of functioning while exposed to extreme magnetism, but it was also able to withstand water damage all the way to a depth of 50 meters.
The Rolex Milgauss 1019 remained in production until 1988. Over the years there were some design variations on the dial; where the earliest models had 1/5 second tick marks, most had half-has tick marks denoting half-seconds. The earliest CERN dials were not illuminated, and they were always a silver color. Later models came with the option of black or silver dials, and with the option of having lume added.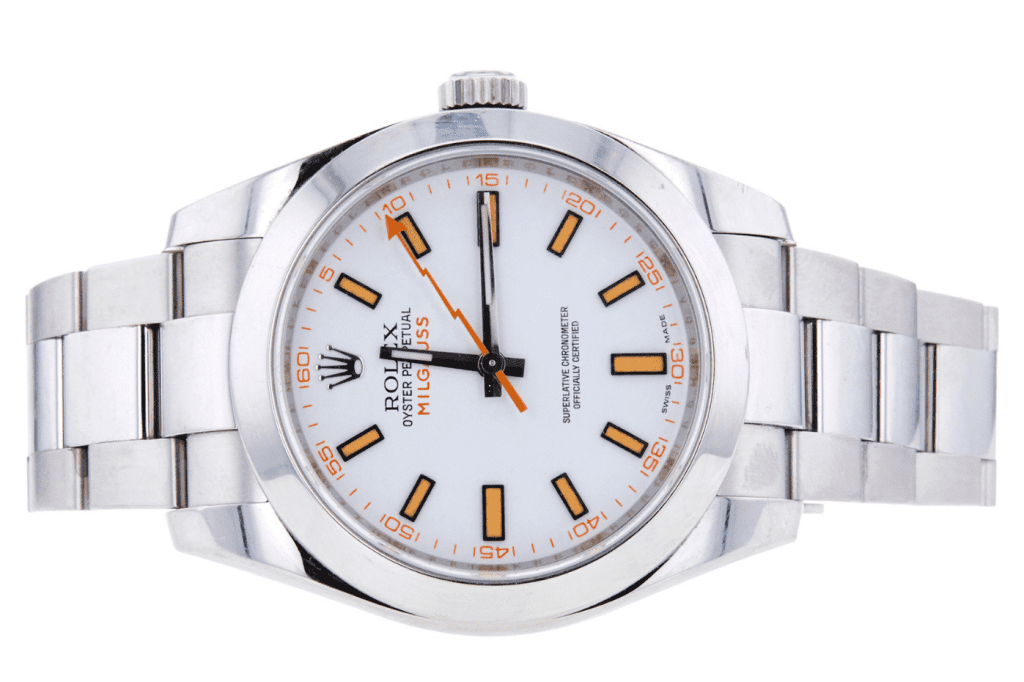 The earliest Rolex Milgauss watches had lightning-bolt shaped second hands. When Rolex model 1019 was introduced, the lightning bolt shape was gone however the second hand was tipped with a distinctive red arrow. The lightning bolt second hand was reintroduced in 2007, when Rolex brought the Milgauss back into production as model 116400. It's worth noting that these unique second hands aren't found on other Rolex models.
Today, there are a few different versions of the Rolex Milgauss in production. Interested parties may choose from a black or white dial with a colorless sapphire crystal, or they might prefer the Glace Verte (GV) version, which has a black or blue dial. In 2014, a newer version featuring an electric blue dial and green-tinted sapphire became available. The bright orange lightning bolt-shaped second hand is prominently showcased on all contemporary Rolex Milgauss watches, along with the word "Milgauss" in matching orange. Where older versions were waterproof to 50 meters, newer Rolex Milgauss watches are equipped with twinlock crowns that assure water-resistant to a depth of 100 meters.
Current Rolex Milgauss watch models are equipped with self-winding Calibre 3131 movement. All Milgauss models feature Oyster bracelets, along with Rolex's signature 904L polished stainless steel cases, since this durable material resists common hazards that can lead to issues like corrosion and scratching.
Rolex Milgauss Watches Noteworthy Owners
Given the Rolex Milgauss desirability with collectors, there are more than a few famous owners, past and present.
NASCAR race car driver Richard Petty famously purchased a Rolex Milgauss from Lexington, North Carolina's Hayes Jewelers in 1958. He kept the watch and wore it faithfully for almost two years before deciding that he'd prefer to wear something smaller – after all, smaller watches were in style during that era and the Milgauss reference 6541 was quite a bit larger than contemporary watches of the day. In 1960, Petty traded his Milgauss in for something different and Hayes Jewelers sold it to a different customer.
Other famous Rolex Milgauss owners include musician Eric Clapton and actor Daniel Craig (famous for portraying the sixth James Bond).
How to Spot a Fake Rolex Milgauss
You might be very surprised to learn that counterfeit Rolex Milgauss watches are fairly common. Some of the knockoffs are pretty good – so well-made in fact, that they're capable of fooling some watch collectors. Thanks to the availability of high-quality counterfeiting equipment, scammers are able to reproduce the exterior features of a Rolex Milgauss with surprising ease. Once a qualified horologist opens up the case though, it's game over. The distinctive interior design details of the Milgauss are unmistakable and impossible to reproduce even though counterfeiters try their hardest.
The best way to spot a faux Rolex Milgauss is to have the watch authenticated by an expert before investing in it. In case you're in the preliminary stages of investing in one of these fine timepieces though there are a few telltale signs to watch for.
Lower than market price
Missing paperwork, presentation box, or certificate of authenticity (not always a dead giveaway; many authentic pre-owned Rolex Milgauss watches are sold minus boxes & original sales receipts)
Visible flaws: watch out for misspelling, uneven letter/number spacing, shoddy engraving, etc.
Wrong second hand for the reference number being offered
Wrong dial configuration
Luminescent features have a mottled, uneven appearance
Because counterfeiters are getting better at producing fake Rolex watches, the best way to avoid a costly mistake is to purchase certified models only – either directly from Rolex or another authorized retailer, or from a trustworthy seller such as Worthy. Watches offered for sale should be certified, meaning they have been inspected inside and out by an expert horologist who is familiar with Rolex Milgauss watches. Certification is an assurance that you are purchasing the real thing when buying a preowned luxury watch of any kind.
Estimated Value of Rolex Milgauss Watches
The highest known price for a vintage Rolex Milgauss is estimated at more than $184,000 for a first-generation 6541. The current retail (MSRP) price of a Rolex Milgauss watch begins around $8,200 and varies depending on which model you choose.
Pre-owned Rolex Milgauss watches are in demand and hold their value extremely well. Many factors determine value; for example, it's important to take the watch's rarity, condition, and the current market value into consideration when buying or selling one of these timepieces.
If you currently own a Rolex Milgauss watch and would like to sell it, we can help by providing authentication, eliminating guesswork, and reaching out to our prequalified buyers, ensuring that you receive the best possible price.
//= get_template_directory_uri() ?> //= get_template_directory_uri() ?> //= get_template_directory_uri() ?> //= get_template_directory_uri() ?> //= get_template_directory_uri() ?> //= get_template_directory_uri() ?>
©2011-2023 Worthy, Inc. All rights reserved.
Worthy, Inc. operates from 25 West 45th St., 2nd Floor, New York, NY 10036