A Look Inside A Watch Collector's World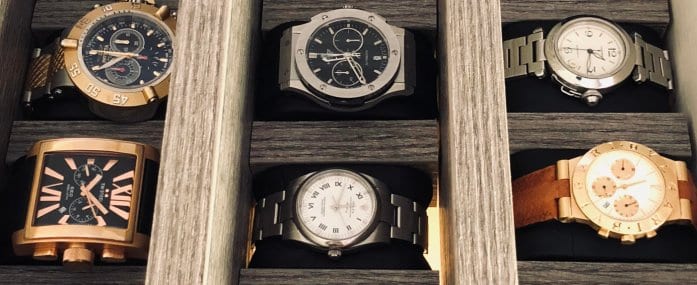 Vincent is an entrepreneur and a successful businessman who is passionate about watches, the stories they tell, and the special moments they represent. For Vincent, watches are commensurate with his identity – organized, meticulous, bold – with each representing a cherished and beloved narrative unique to him. We are so fortunate to have Vincent here today with us at Worthy to share his special drawer with us which he personally designed, engineered, crafted, and filled with the elegant timepieces, that is reflective of his quintessential talent for picking the perfect watch for every occasion.
Q: Vincent, when did watches first become important to you?
A: I liked watches as a little kid. My first watch was a Mickey Mouse. It was a great feeling of importance knowing how to tell the time, down to the minute, the second. Telling time, looking at the watch on my wrist, be it my first watch, a Mickey Mouse watch, or my Swatch watches, knowing the time was powerful. Remember when calculator watches came out. I thought I was the coolest kid… It was cool to tell people the time. It made me punctual, made me responsible at a young age.
Q: Why did you start a watch collection?
A: My collection just happened. Everyone knew I loved watches. I was the kid who loved telling time. So I would get watches as that special gift. That is how it started.
I always worked and saved as a young kid cutting lawns and knew the meaning of money very young. I was that "old man" at 17 who worked through high school. I was making my own money with my landscaping business, so I understood the value of money and the quality of a valuable watch. My dad felt I was worthy of having a good watch, and he helped me buy me my first Rolex, a black stainless Submariner. I took great care of that watch. Owning a Rolex was amazing. I wore it every day, my power watch. It made me feel good, and feeling good about yourself builds your confidence. Watches just became "my thing." Vinnie had a Rolex. Cool.
Q: What is the most important watch or watches in your collection and why?
A: I have two watches that are very important to me as they represent special moments in my life. Both were gifts to me. The first was a gift from my mother-in-law on my wedding day. Yes, my mother-in-law! She knew I loved watches. She sent me a special package that arrived the day of my wedding, and she called to make sure I opened it. It was a gold IWC Schaffhausen with a croc black band. Vintage. Automatic. My first leather band. She knew I would love it, and I wore it on my wedding day. It is my classic, stylish, refined, elegant go-to watch that I wear on special occasions.
My second and most important watch is a new Gold Rolex Black Face Submariner that was a gift from my father-in-law. It's my dream watch. It makes me feel good. Confident. It's a statement. An accomplishment. When you have a watch you want on your wrist, you own it. You got it. That is what makes it a favorite for me.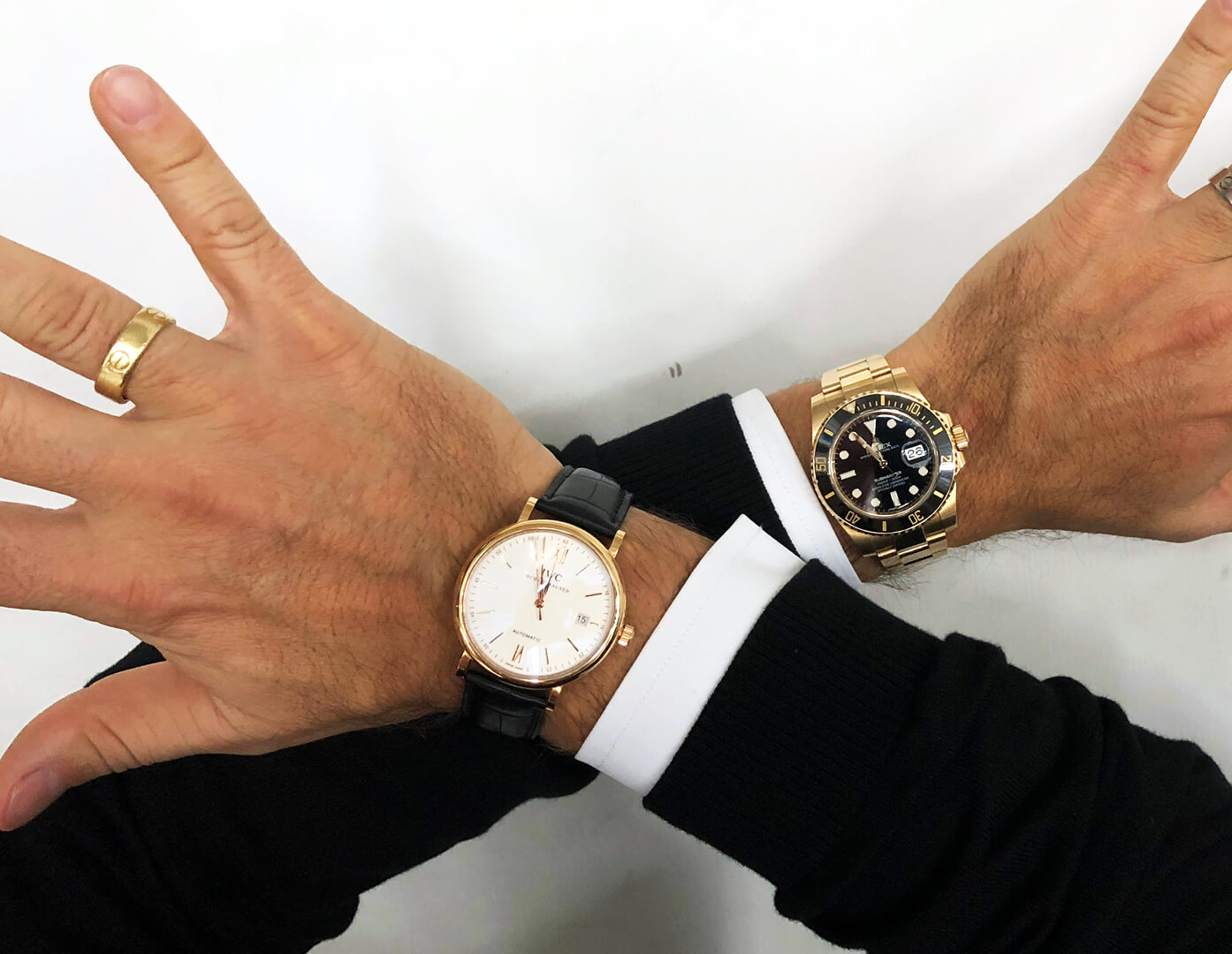 Q: Share with us what drives your interest in watches. What about watches causes a "rush" for you? Is it the movements? Design? Brand? What is the allure for you?
A: For me, it is about the craftsmanship, the dedicated, devoted attention to detail that goes into crafting and designing a watch. I like gadgets, the tools, rulers, watching the movements. I like knowing the precise time and how that is accomplished. That is what is beautiful to me. I attended a Patek event last year, and I was in awe meeting the watchmakers and seeing them up close working on the watches, describing the inner working of the movements.
Q: Collecting is a passion. But it also has to be fun. What makes it fun for you?
A: Cleaning is fun for me. Showing, wearing my watches is fun. I can do it now! I add a watch to my collection every few years. When I buy a new watch, I do feel the hit because I'm saving for my son's private school and college. I also love showcasing my collection. I designed and constructed a drawer, with lights, pillows. It is my personal display case. It's pretty amazing. I like organization – precise, clean, handcrafted. It epitomizes who I am.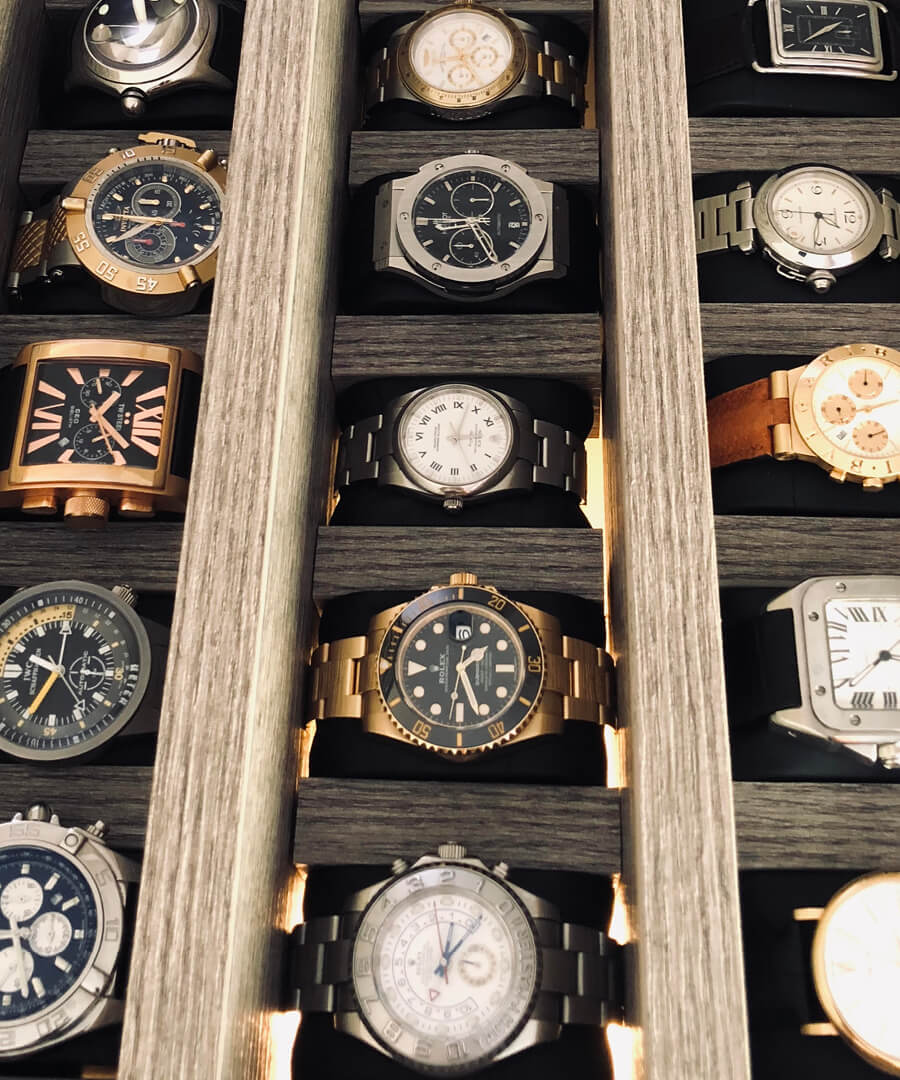 Q: How does your watch collection represent you? Does your collection follow any themes?
A: I have over 20 watches, and I wear them all. I like big, chunky, something heavy on my wrist. I have this 8 oz watch. It's huge. I needed it. It was a monster.
Q: What is your favorite watch that appeared in a movie?
A: Steve McQueen in the 1971 film "Le Mans." He wore the Heuer Monaco Chronograph. Favorite movie, favorite watch.
Q: How would you advise someone thinking about starting a watch collection to begin? What are your top tips for starting a watch collection?
A: Never buy if you can't afford it. Buy a watch within your means first.
Gifts are great. My first watch was a gift, so putting it on your holiday or birthday wish list is a start. Buy out of love for the watch. I did not start out buying as an investment. Heading into my 50 's, I was thinking about buying a watch for an investment. Only being financially able will I now begin to think of watches as an investment. Splurge when you are able.
Q: How do you choose which watch to wear? Do you rotate your watches?
A: I always have a watch on. I wear my gold Rolex to spin class. I do switch them based on how I am feeling, where I am going. It's part of my wardrobe. Having a watch on my wrist is an essential part of my attire.
Q: I know you are married. Does your wife love watches? Have you purchased watches that have gotten her hooked into collecting, too?
A: She loves watches. I think I'm hooked into buying for her. She wears a few different watches like her Gold Woman's presidential and her white-faced stainless Rolex.
Q: Have you ever sold a watch from your collection to make room for a new one?
A: Yes. It was a Cartier Roadster watch. I purchased it from certain professional basketball team player. It had a blue alligator band. I was in the Hamptons, and I told the story of the watch to the store owner. He called me weeks later that he had a buyer for my Roadster. He paid me well and it was an offer was too good to pass up. I learned it is not just about the watch, but about the story behind the watch that is intriguing.
Q: What's the next watch on your radar?
A: Patek, gold, $100,000, maybe.Sell Your Watch
BIO:
Vincent Gaudioso is president of Power Offset Print Management, a printing company located in the heart of New York City specializing in offset and digital printing, large format printing, and specialty invitation printing. The company has it's own modern state-of-the-art facility designed and equipped to expedite projects from preparation through distribution. A second generation company, Power Offset Print Management has been providing quality and affordable printing products and services for almost 50 years.
//= get_template_directory_uri() ?> //= get_template_directory_uri() ?> //= get_template_directory_uri() ?> //= get_template_directory_uri() ?> //= get_template_directory_uri() ?> //= get_template_directory_uri() ?>
©2011-2023 Worthy, Inc. All rights reserved.
Worthy, Inc. operates from 25 West 45th St., 2nd Floor, New York, NY 10036