The Good, The Bad & The Ugly: Top 10 Featured Auctions From November 2019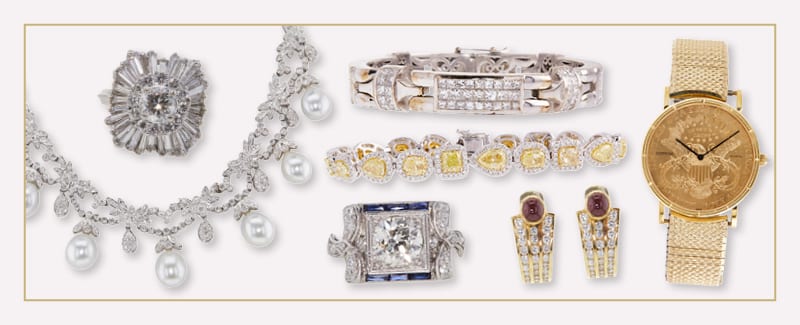 This month our auctions brought in a plethora of sparkling pieces. But, as with every month, not all of them dazzled us. As we head into the cheeriest season of the year, we thought we'd have a laugh and consider the good, the bad, and the ugly of this month's jewelry haul.

The Good
Whether you are a minimalist or a maximalist when it comes to jewelry, one thing is for certain: you can never go wrong with a classic piece. And last month, some of the best items we saw in our auctions were just that – classic pieces that will always be beautiful. Like the gorgeous radiant-cut ring with a diamond band (#) or the sleek look of a stainless steel Rolex Datejust (#), two items you can never go wrong with. And for those who like to glitz it up, there's the fabulous diamond and pearl necklace (#) and the yellow diamond tennis bracelet (#). These are definitely the goods.
The Bad
But for every good piece, there's a baddie to match, and you can certainly go wrong with some of these. The 2.35-1.4 CT round diamond featured in the ring pictured below (#) might look great on its own, but smothered in a diamond and synthetic sapphire encrusted setting takes away from the diamond's beauty and leaves you wondering what could have been for this ring. And while rubies and art deco design may, at one time, have made a perfect pair, the diamond and ruby jewelry set pictured below is anything but.

And The Ugly
Have you ever seen someone wearing an outfit or accessory that made you ask "What were they thinking?" So have we, especially when we saw some of these over-the-top pieces last month. Of course, there is much to be said about the creativity and craftsmanship that went into these pieces, such as the diamond right-hand ring (#) and cocktail ring (#), but the end result is too much for our eyes to handle. And we hope that the seller of the gold Corum watch (#) can feel just as patriotic without the symbolic dial as they did with it.

Are you looking to replace or upgrade a piece of jewelry you have with something new and improved? Consider selling what you've got and buying something much more your style. Especially something you'd consider not "good".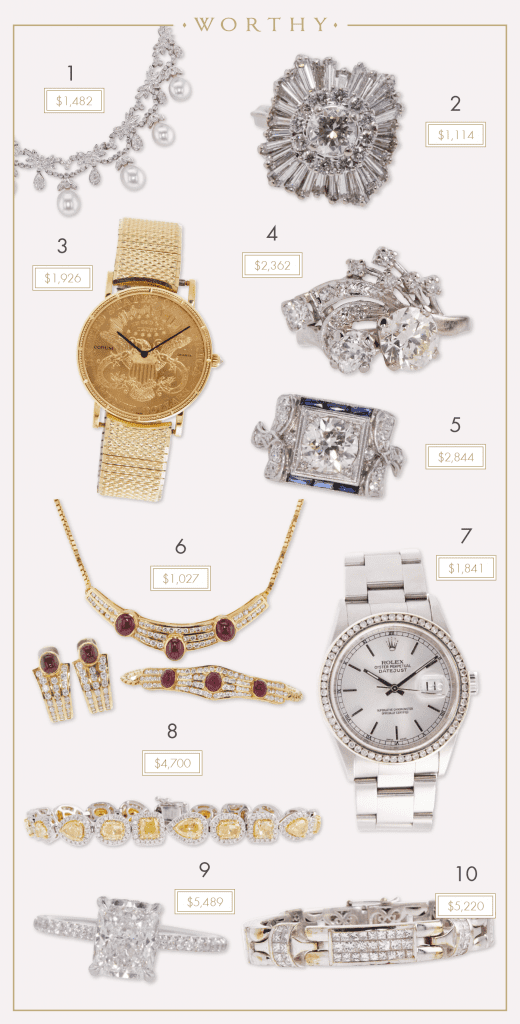 Top 10 Featured Auctions in November 2019
Diamond and pearl necklace. Sold at auction for $1,482.
Diamond cocktail ring. Sold at auction for $1,114.
Corum watch. Sold at auction for $1,926.
GIA 1.57 CT round cut right hand ring. Sold at auction for $2,362.
1.35 CT round cut ring. Sold at auction for $2,844.
Ruby and diamond necklace, bracelet, and earrings. Sold at auction for $1,027.
Rolex Datejust. Sold at auction for $1,841.
Pear-cut tennis bracelet with fancy colored diamonds. Sold at auction for $4,700.
GIA 1.5 CT radiant-cut solitaire ring. Sold at auction for $5,489.
Princess-cut bracelet. Sold at auction for $5,200.
//= get_template_directory_uri() ?> //= get_template_directory_uri() ?> //= get_template_directory_uri() ?> //= get_template_directory_uri() ?> //= get_template_directory_uri() ?> //= get_template_directory_uri() ?>
©2011-2023 Worthy, Inc. All rights reserved.
Worthy, Inc. operates from 45 W 45th St, 4th Floor New York, NY 10036