The Noteworthy Series: Omega Railmaster Model Review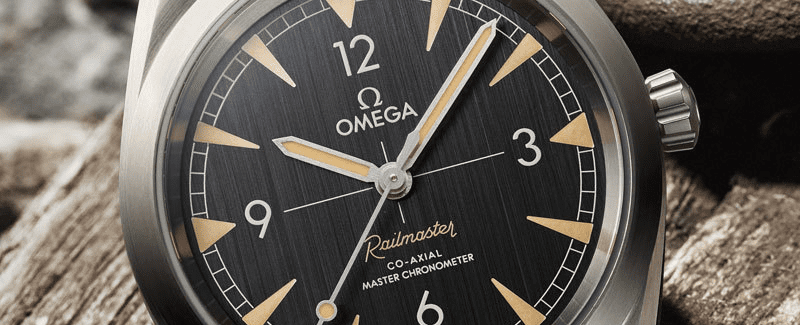 The CK2914 Omega Railmaster 1957: It's a coveted original that marks the introduction of a wristwatch designed specifically for railroad employees. All aboard! We're about to take a deep dive into the features and history of this iconic watch.
All About Omega Watches
Other Omega Model Reviews
Omega Planet Ocean · Omega Constellation · Omega Speedmaster Professional
More About Omega Watches On Worthy
Omega Celebrates The 50th Anniversary Of The Moon Landing · 9 Most Expensive Omega Watches Auctioned At Worthy
Omega Railmaster Review & History
Since 1895 – when railroads were being built rapidly and rail travel was the most convenient method of long-distance travel – Omega provided railway companies with pocket watches. The introduction of the Omega Railmaster in 1957 marked a new milestone as this was the first model ever designed with the needs of those who worked in close proximity to strong electric currents in mind. Scientists, electricians, railway employees, and other professionals now had access to a reliable timepiece that offered exceptional accuracy as well as a double caseback with anti-magnetic properties to protect the movement within.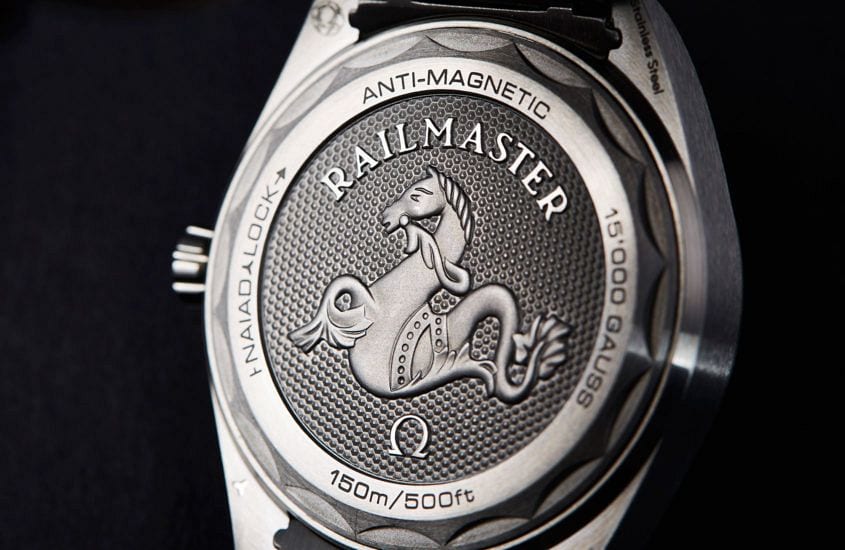 The original 1957 Omega Railmaster was produced until 1963, in limited quantities and is among the most collectible of all Omega watches. Throughout the early 1960s, Omega produced an updated version of the Railmaster for North American and Canadian Pacific Railways. The dial was white instead of black, and large black Arabic numerals replaced the familiar triangular hour markers. Some versions had 24-hour time in red positioned next to the printed black numbers. Known as the Railmaster Railroad Office Standard, this model was produced for a short time and is in high demand with collectors.
Two other models stand out as being even more uncommon than the Railroad Railmaster. One model was produced specifically for the Pakistani Air Force, but read "Seamaster" on the dial. The other was produced for the Peruvian Air Force, and said "Flightmaster" on the dial even though Omega had not yet introduced its Flightmaster line. Both models share many similarities with the original 1957 Railmaster.
The Omega Railmaster was out of production until being reintroduced in 2003. New Omega Railmaster 42mm, Omega Railmaster 39mm, and Omega Railmaster 36mm models were fitted with coaxial escapements as well as Aqua Terra-style cases. They lacked anti-magnetism, and had exhibition casebacks. Soon after, Omega released its Railmaster XXL Chronometer, which at 50mm was massive. Production of the Omega Railmaster halted again in 2012.
Five years later, the company released its Omega Railmaster 2017 model at Baselworld as part of a 60th anniversary production that included only 3,557 timepieces in celebration of the Seamaster, Speedmaster, and Railmaster watches. These were offered on their own or as part of a special trilogy set that included all three watches for the relatively modest figure of $20,000.
Contemporary Omega Seamaster Railmaster watches share many similarities with the original. Sleek and simple, they mingle effortless style with durable functionality.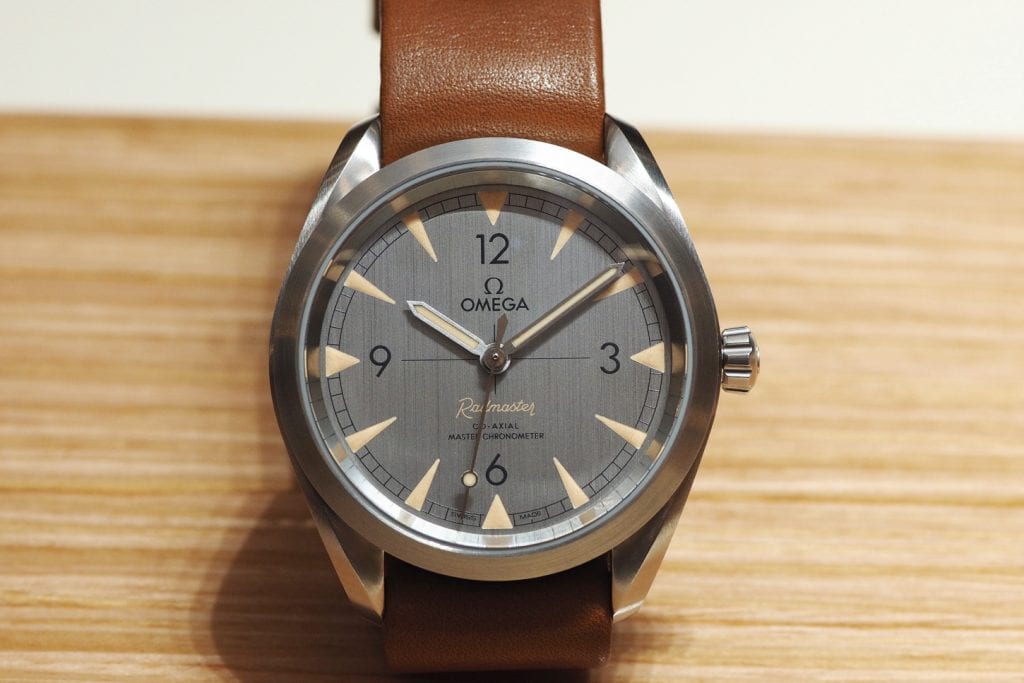 Designed as part of the Omega Seamaster line introduced in 1948, the Railmaster is fitted with a stainless steel case, luminescent hands, and Omega's signature hippocampus logo on the caseback.
Omega Railmaster watches feature vertically brushed metal dials, usually in black or grey, although there is a "blue jeans" model available as well. The lume markers have a distinctive arrowhead shape and are recessed into the dial rather than being applied on top. The Omega logo is stamped on as are the Arabic numerals, the signature crosshairs that intersect the hands, and the railroad-inspired minute markers. Omega Railmasters are fitted with simple, pointed baton-shaped hour and minute hands filled with lume; the second hand is slender and pointed, with a simple lume-filled circle situated a few millimeters from its tip.
The newest Omega Railmasters give yet another nod to tradition: These timepieces are available with leather or fabric straps as well as mounted on steel bracelets.
How to Spot a Fake Omega Railmaster
As Omega watches are valuable, they're frequently counterfeited. Improved technology compounds the issue, making it easier than ever for counterfeiters to produce watches that are difficult to distinguish from the real thing. As so many different Railmaster watches have been produced over the years, it is impossible to provide a complete list of all the telltale signs that you're looking at a fake Omega Railmaster. Even so, there are some common features to watch for.
Price seems far too low
No accompanying documentation or box; sellers often fabricate stories to explain the absence
Minor craftsmanship errors such as incorrect finishes, indices, hands, and details that appear even slightly out of alignment
Incorrect, obviously stamped, or poorly engraved details on caseback or elsewhere
Feels either too heavy or too light
Seems to be the wrong thickness
Serial number is missing or has been put in the wrong place
Lumes on hands, indices, and bezel should have a bright, clear glow that lasts; counterfeits often lack this or have a dim, fuzzy, or uneven appearance
Dial has misspellings, appears to have odd spacings
Second hand continues to move while adjusting the time
Second hand stutters or "ticks" instead of sweeping smoothly
If you're thinking about purchasing a pre owned Omega Railmaster privately and you aren't able to bring it in to a reputable watch dealer for inspection, learn all you can about the watch model. View detailed photos online and learn exactly how it operates. These precautions won't provide you with complete protection from swindlers offering replica Omega watches, but it will weed out all but the best counterfeits.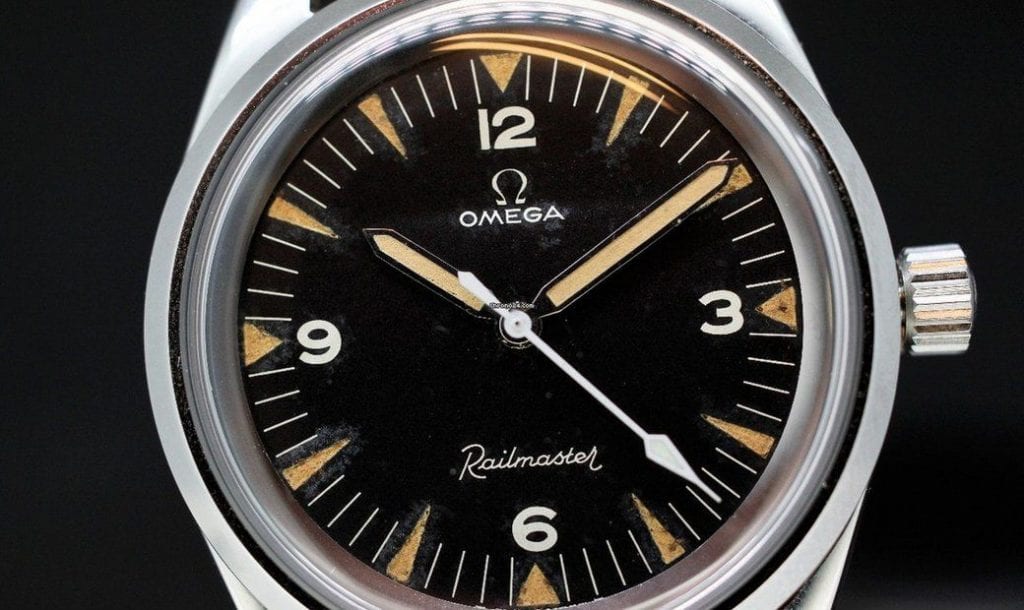 As faux Omega watches are more convincing than ever before, the only guaranteed method for verifying authenticity is to have the watch in question inspected inside and out by an expert. Do not attempt to open the caseback yourself as this can cause irreversible damage.
The best way to protect yourself from scams perpetrated by counterfeiters is to buy your watch directly from Omega or an authorized Omega watch dealer. For pre owned Omega watches, the best source is a trusted dealer that specializes in luxury watches, such as Worthy. Our experts have the experience and knowledge required to identify counterfeit watches. An internal examination is conducted during the authentication process, confirming that the movement is authentic and correct for the model in question.
Estimated Value of Omega Railmaster Watches
The current retail (MSRP) price of an Omega Railmaster watch is $4,900 to $5,200.
As you might imagine, pre-owned Omega Railmaster watches are in high demand. These timepieces retain value well when presented in pristine condition. In addition to overall condition, factors including the watch's age, the model's rarity, and real-time market demand are contributing factors when determining the selling price of a pre-owned Omega Railmaster watch. As with all luxury watches, value is often enhanced when a presentation box and original paperwork are included.
If you own an Omega Railmaster watch and you wish to sell it, we can help by eliminating the guesswork that's so often involved in selling preowned luxury watches. Our process helps you receive the best price possible by targeting interested, prequalified buyers who are actively searching for pre-owned Omega Railmaster watches like yours.

//= get_template_directory_uri() ?> //= get_template_directory_uri() ?> //= get_template_directory_uri() ?> //= get_template_directory_uri() ?> //= get_template_directory_uri() ?> //= get_template_directory_uri() ?>
©2011-2023 Worthy, Inc. All rights reserved.
Worthy, Inc. operates from 45 W 45th St, 4th Floor New York, NY 10036