The Noteworthy Series: Omega Constellation Review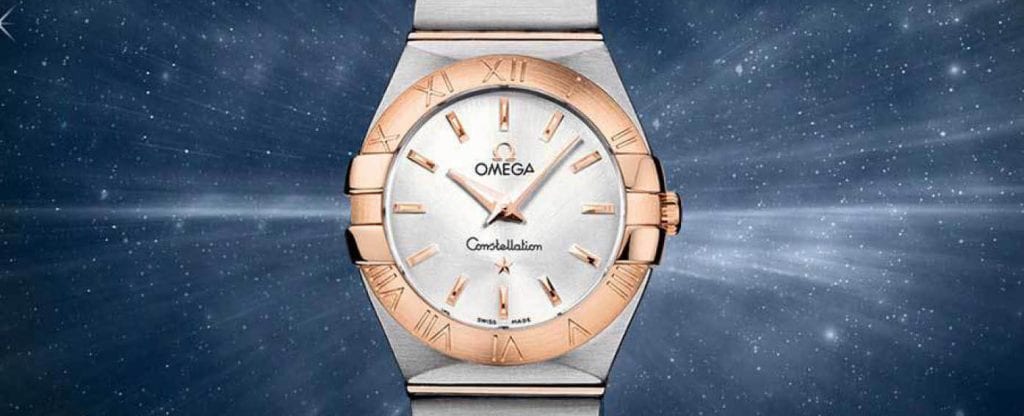 In 1948, Omega released its famous Centenary watch, which celebrated the company's 100th anniversary in stunning style. This timepiece was so popular that Omega decided to release a newer version with even more appeal: The Omega Constellation.
All About Omega Watches
Other Omega Model Reviews
Omega Planet Ocean · Omega Constellation · Omega Speedmaster Professional
More About Omega Watches On Worthy
Omega Celebrates The 50th Anniversary Of The Moon Landing · 9 Most Expensive Omega Watches Auctioned At Worthy
Omega Constellation Review & History
The year was 1952, and World War II had recently come to an end. In honor of the Lockheed Constellation jet or "Connie" that helped bring success to allied forces, Omega created and released the Constellation watch. Original Omega Constellation watches were offered in yellow gold, rose gold, and steel. Customers could choose from Standard, Deluxe, or Grand Luxe finish grades. Despite some distinctive differences in exterior design, all 1952 Omega Constellation watches had Omega Caliber 35x bumper movement inside.
In 1955, Omega replaced the Caliber 35x bumper movement with full rotor Caliber 50x series movement and over the years, additional improvements were made. The exterior features of the Omega Constellation watch remained virtually unchanged for nearly two decades, although a rectangular version was released in the 1960s. The Omega Constellation ref. 168.009 not only distinguished itself by featuring a slightly rounded rectangular case, but by offering a choice of integrated bracelet or leather band.
The 1970s saw yet more changes for the Constellation, modernizing and streamlining its appearance and shifting the design even further from the classic "dress watch" appearance that made it so popular during the 1950s. The Omega Constellation Megaquartz f2.4 MHz was revealed at the 1970 Basel Fair. This marine chronometer came in a few different iterations, all 1500 calibre series. These are broken down into caliber 1510 and caliber 1511-1516.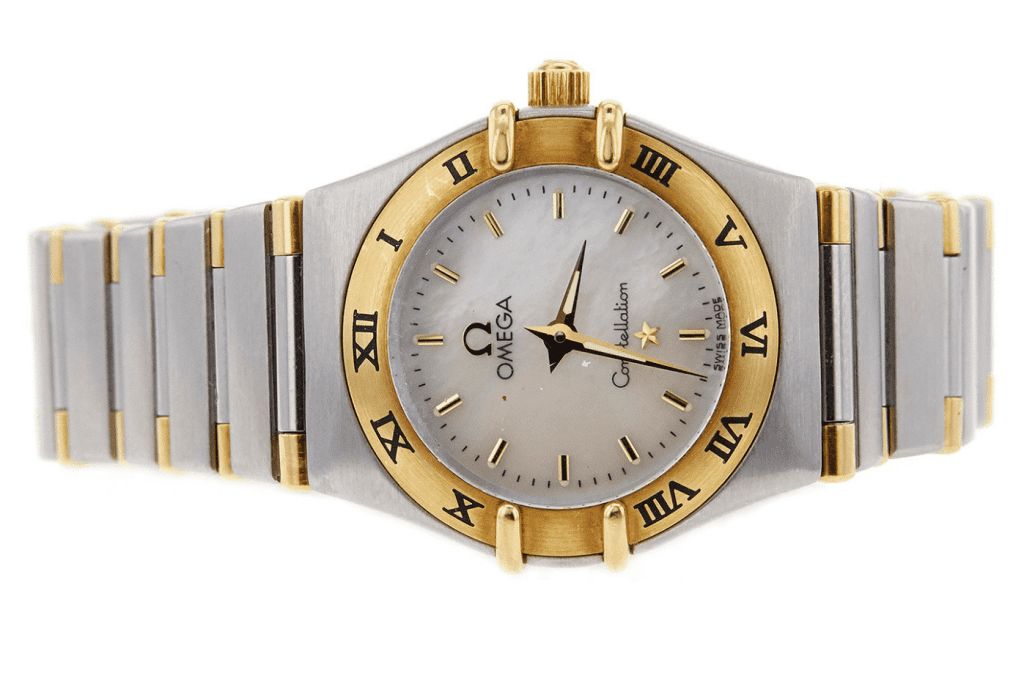 Only about 1,000 calibre 10 Omega Constellation watches were produced and another 9,000 calibre 1511-1516 watches. The dress version normally had a unique aventurine stardust dial, a gold case, a solid gold strap, a gold chapter marker, and gold hands although a few aventurine dial models had stainless steel cases and bracelets. Other models had stainless steel bezels and black, blue, or brown dials, many with Omega's characteristic waffling. Consumers could choose between a heavy link bracelet, a hollow light link bracelet, or a sharkskin strap in black or brown.
In 1982, the Omega Constellation went back to its roots. A round case, integrated bracelet, and four griffes or claws on the case's side gave the Omega Constellation Manhattan a distinctive appearance. Although the first Manhattan was equipped with caliber 1422, newer versions incorporated Omega's automatic caliber 1111.
2003 saw the release of the Constellation Double Eagle, and in 2009, the ladies' Omega Constellation line was introduced. In 2015, Omega released the Globmaster, which many consider to be part of the Constellation collection. The Seamaster and De Ville collections are technically part of the Constellation line as well, however, they have many features that set them apart.
Currently, Omega's Gent's line offers more than 25 different versions of the Omega Constellation to choose from. The ladies' collection offers several options as well. Most versions showcase the characteristic "claws" as well as roman numerals. All Constellation watches prominently feature a star on the dial and many are adorned with accent diamonds.
All gold Omega Constellation watches have a unique feature: They have a hand-engraved image of the Geneva observatory on the caseback, complete with eight stars overhead.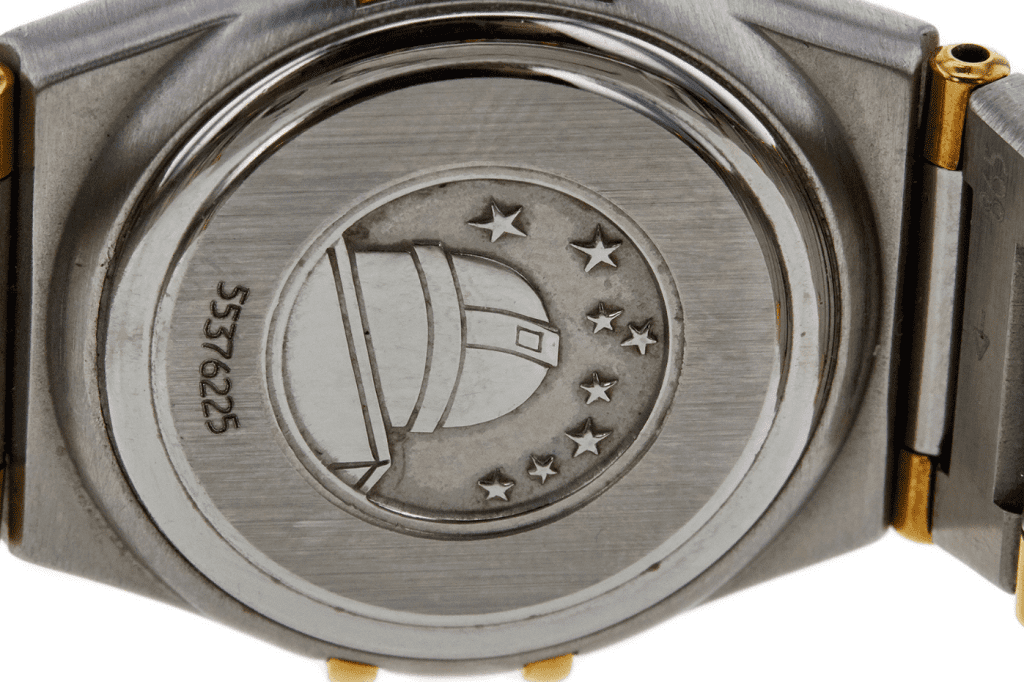 Omega Constellation Watches Noteworthy Owners
Perhaps the most famous Omega Constellation owner was Elvis Presley. While he was enlisted in the U.S. Army, The King wore a calibre 504 winding chronometer Omega Constellation with a stainless steel casebook, a pink gold cap, and gold hour indices complete with Omega's signature luminous inserts.
Soviet President Mikhail Gorbachev is famous for wearing a gold Constellation Manhattan, and Ringo Starr was often spotted wearing his Omega Constellation while performing with The Beatles.
Men aren't the only ones sporting Constellations: Nicole Kidman is famous for her Omega Constellation Quadrella watch, and Cindy Crawford is an iconic representative of the Constellation Manhattan collection.
How To Spot A Fake Omega Constellation
Because Omega Constellation watches are always in demand, counterfeiting is a major issue. Luckily, all contemporary Omega watches have serial numbers that certified dealers can use to confirm whether the watch in question is a counterfeit or an original.
Besides having the watch authenticated by an expert, there are a few other things to watch for when spotting a faux Omega Constellation.
Lower than market average price
Missing the signature "claws" or the star
Roman numerals should be engraved, never painted or drawn in place
Misspelled words, uneven letter or number spacing, shallow or shaky looking engraving, and other obvious signs of low quality
Most versions with a date window feature the window at the 6 o'clock position. Anything else may be indicative of counterfeiting.
Counterfeiters work diligently to produce highly convincing fakes since even a single sale can mean a big payday. The best way to avoid faux Omega Constellation watches is to purchase either directly from Omega or another authorized retailer, or to choose a highly regarded seller such a Worthy when searching for pre-owned luxury watches. Since certified watches have been inspected inside and out by an expert horologist who has demonstrated familiarity with Omega watches, there is no question that you are indeed buying an authentic timepiece.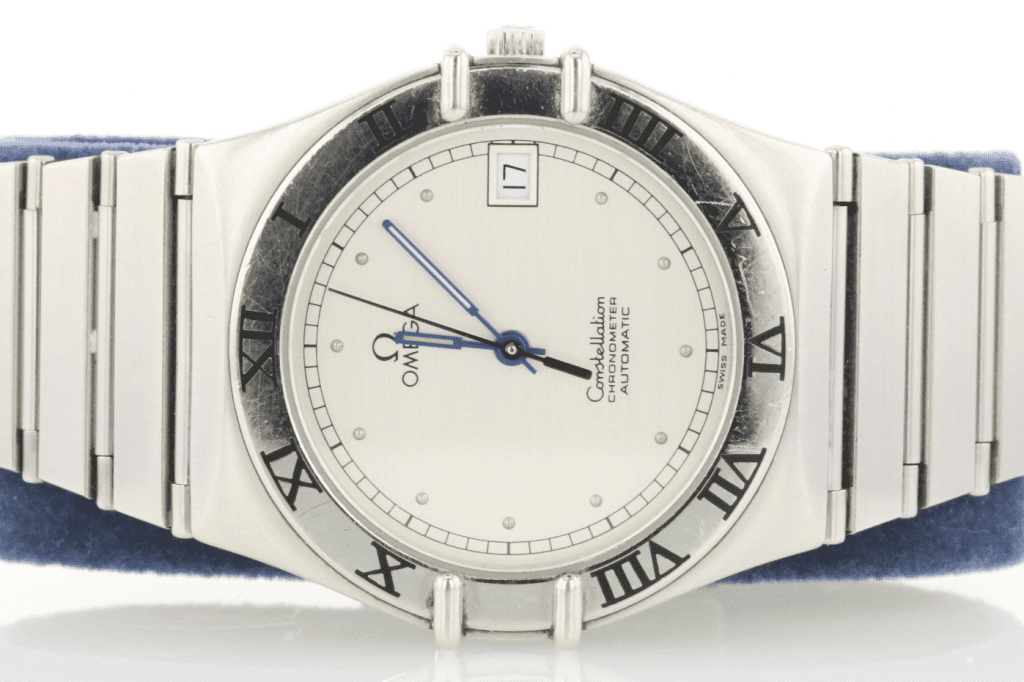 Estimated Value of Omega Constellation Watches
The current retail (MSRP) price of an Omega Constellation watch is approximately $2,700 to $65,200.
Pre-owned Omega Constellation watches typically hold their value very well, usually selling for thousands. Value is determined by taking several factors into consideration. Besides the model, rarity, precious metals and/or diamonds, the watch is carefully assessed for condition and its desirability on the current market is considered as well. Omega Constellation watches that include original paperwork and presentation boxes are typically of greater value than identical models offered on their own.
If you currently own an Omega Constellation watch of any type and would like to offer it for sale, we can help by targeting pre-qualified, interested buyers from across the nation, ensuring that you receive the highest possible price.
Other Omega Model Reviews
Omega Planet Ocean Review · Omega Speedmaster Professional Review
//= get_template_directory_uri() ?> //= get_template_directory_uri() ?> //= get_template_directory_uri() ?> //= get_template_directory_uri() ?> //= get_template_directory_uri() ?> //= get_template_directory_uri() ?>
©2011-2023 Worthy, Inc. All rights reserved.
Worthy, Inc. operates from 25 West 45th St., 2nd Floor, New York, NY 10036