Ladies' Watches that Hold Value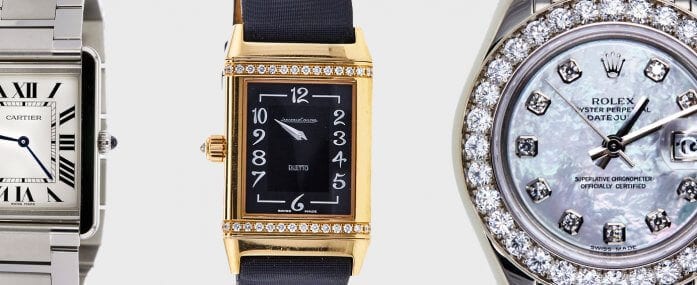 Much like diamond rings purchased on the retail market, new watches often lose part of their value after leaving the jewelry counter's showcase. The good news is that certain ladies' watches hold their value fairly well, and a select few may even increase in value so long as they are maintained in excellent condition. It's impossible to make predictions about how the watch market will behave in the future, but past and current trends can help you choose watches that are most likely to hold their value in years to come.
Rolex Oyster Perpetual Lady Datejust
Ladies Rolex watches hold their value well in general, and certain models may even appreciate with time. The Rolex Oyster Perpetual Lady Datejust Pearlmaster with Diamonds is a fine example of a watch that remains desirable as the years pass, particularly if you can obtain a Special Edition model. It's worth mentioning here that the best chance of value retention or increase occurs when you purchase diamond Rolex watches pre-owned; the precious metals and diamonds increase retail costs exponentially and original owners rarely come close to recouping their original investment. Plainer, sportier, larger models are good options as well, since they marry Rolex quality with versatile style.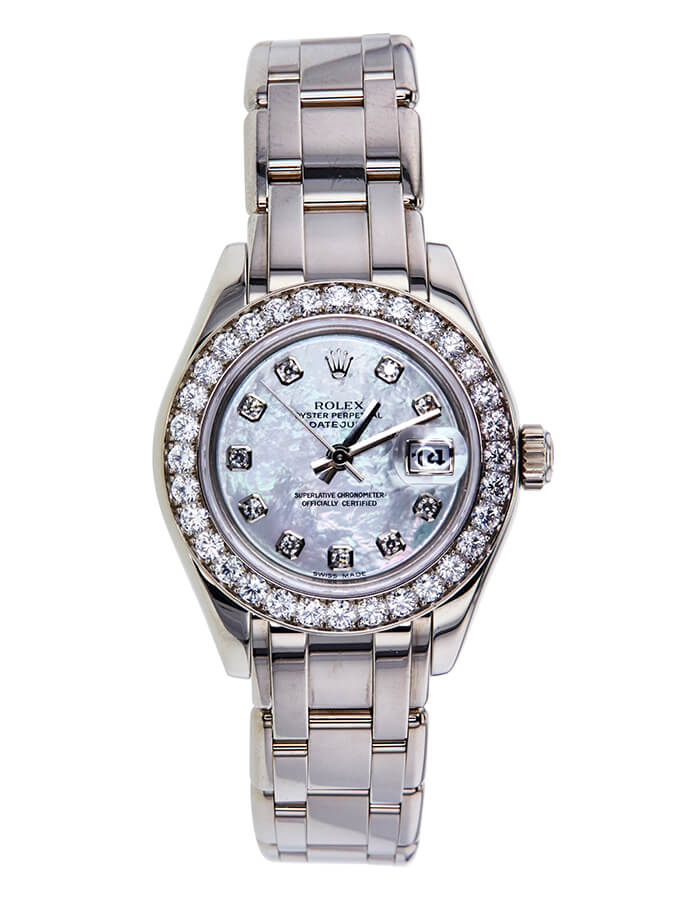 Cartier Tank
Not all Cartier watches hold their value well, but a few stand out. Certain ladies Cartier Tank watches do well at auction; for example, a trio of Cartier Tank Ref 2625 watches sold at Christies for $18,800, $21,053, and $12,898 on different dates. This model is a rare, curved Cartier Americaine tank watch with a case of 18K white gold, silver dial with black roman numerals at 12 and 6, and approximately 6.5 carats of diamonds on the case and buckle.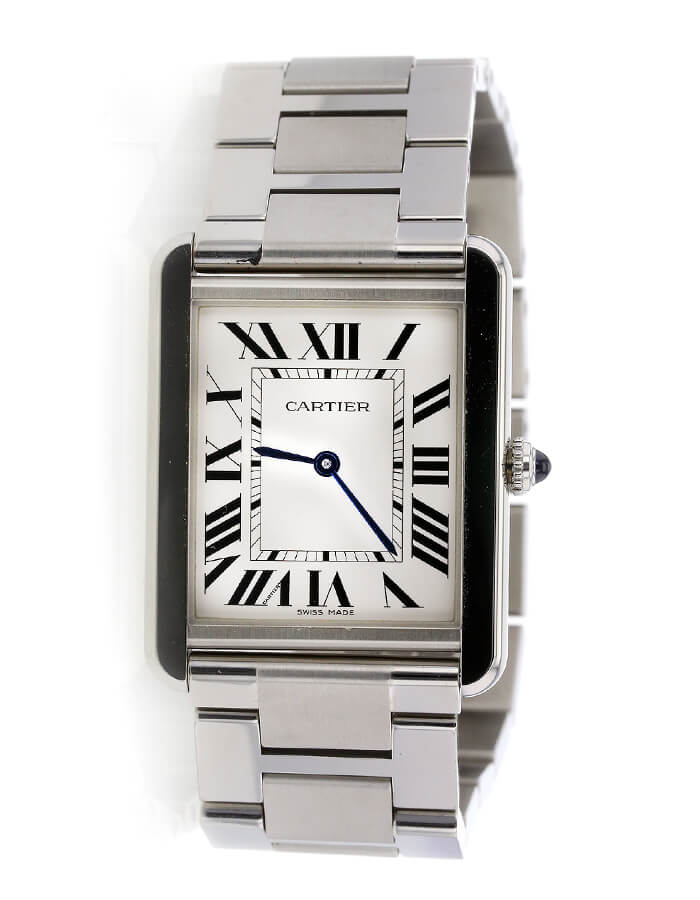 Patek Philippe Twenty-4
Sleek, simple, and timeless style paired with quality craftsmanship make the Patek Philippe Twenty-4 a highly sought-after watch that tends to hold value well. Its rectangular case is adorned with diamonds, and diamonds mark all hours but 6 and 12. Christie's calls this watch iconic, grouping it in the same category as the Rolex Datejust.
Jaeger-LeCoultre Reverso
The Ladies Jaeger-LeCoultre Reverso comes in different configurations, with or without diamonds. Like Jaeger-Lecoultre men's watches, these tend to be in demand on the aftermarket, particularly when they offer unique features. A skeletonized Jaeger-LeCoultre Reverso looks incredible on a woman's wrist, and typically fetches excellent prices at resale.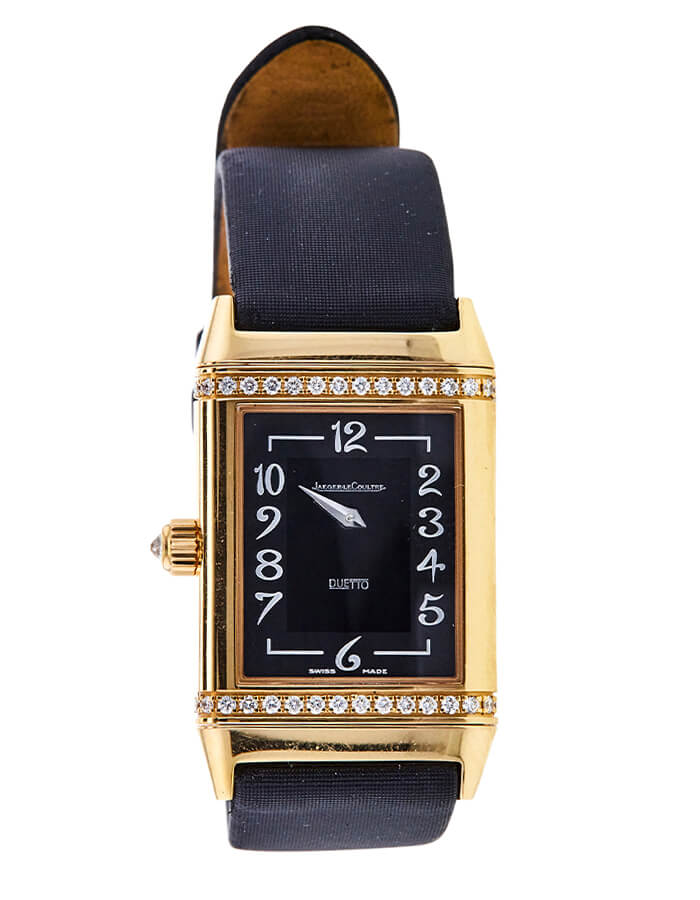 Harry Winston Emerald set in 18K Rose Gold
Quality and sensational style come together in the Harry Winston Emerald watch. The watch's name has nothing to do with the gemstones used in its design; in fact, most of these watches contain diamonds! This exceptionally elegant timepiece gets its name instead from Harry Winston's favorite gemstone cut, the Emerald. With an elongated octagonal shape, its look is sleek and feminine. These watches are made in a variety of configurations using white gold, yellow gold, and rose gold, paired with the wearer's choice of double tour straps or traditional bracelets.
Bulgari Lucea 18-carat Pink Gold and Diamond Watch
Bulgari is renowned for its beautiful ladies watches, including some astonishing models with artful details that make them standouts on the resale market. For everyday wear with business attire, the Bvlgari LVCEA pink gold and diamond watch makes an excellent choice. While it isn't likely to resell for its retail price, it is in such high demand that some retailers have sold out.
Tips for Choosing Ladies Watches that Hold Their Value
Before you begin your search for a ladies' watch that is likely to hold its value, remember that watches are not true investments, and horology is a pastime that comes with unique risks as well as spectacular rewards. Consider upcoming trends if you are planning to resell a watch in the near future, since this can have a considerable impact on pricing.
It is highly unusual for any watch to gain value over time, but certain items do stand out. If you are able to obtain a historic Rolex, particularly a unique, dressy diamond model that dates back to 1950 or earlier, consider adding it to your collection. Christie's New York sold a platinum and diamond-set watch with a concealed dial for $68,750 at auction in June of 2014. This incredible timepiece was more bracelet than watch, with approximately 135 baguette, circular, and marquise-cut diamonds. A more modest vintage 1970s ladies Rolex with a curb-link bracelet and circular-cut diamond spiral leaf border went for GBP 2,750, well over the estimated selling price.
Look for unusual items as well. Jeweled Bulgari watches are absolute standouts, and as they have been in production since 1918, there are plenty of unique options from which to choose. The company recently celebrated this 100-year milestone with the release of the Diva Finissima Minute Repeater in Rose Gold and Diamond, a limited-edition timepiece that sold out shortly after its release, and just one example of the company's ability to produce unique watches that appeal to collectors. Look for Bulgari Serpenti watches if you love the idea of combining function with art. Models such as the Bvlgari Serpenti Incantati are always well-received in the aftermarket, and they always make their way onto lists of the world's most iconic watches.
Age can be another indicator of a watch's ability to hold its value, particularly when unique design details are part of the picture. Estate pieces such as a 1930 Paul Ditisheim watch with rubies and diamonds in a pink gold Art-Nouveau setting treat potential buyers to the best of both worlds. It takes time to find items like these and they aren't cheap, however they are quite likely to hold their value or even appreciate as the years pass.
Lastly, consider wearability. Where vintage women's watches tend to offer delicate beauty and are often consigned to jewelry boxes for fear of damage, there's an alternative beyond modern luxury watches designed just for women. Considering the recent trend of women wearing men's watches, traditional favorites such as a vintage Omega Speedmaster double as statement pieces and well-known best-sellers. The Paul Newman Rolex Cosmograph Daytona, the Rolex Submariner, and the Longines Chronograph Flyback are a few more examples of wonderful vintage watches that look fantastic with casual outfits while serving as unique conversation starters.
Depending on your sense of style and your interest in certain brands, specific gemstones, and other factors, you may find that it's quite easy to find appealing timepieces that offer a combination of performance, beauty, and lasting value.
//= get_template_directory_uri() ?> //= get_template_directory_uri() ?> //= get_template_directory_uri() ?> //= get_template_directory_uri() ?> //= get_template_directory_uri() ?> //= get_template_directory_uri() ?>
©2011-2023 Worthy, Inc. All rights reserved.
Worthy, Inc. operates from 25 West 45th St., 2nd Floor, New York, NY 10036