5 Minutes With | Jeff Kingston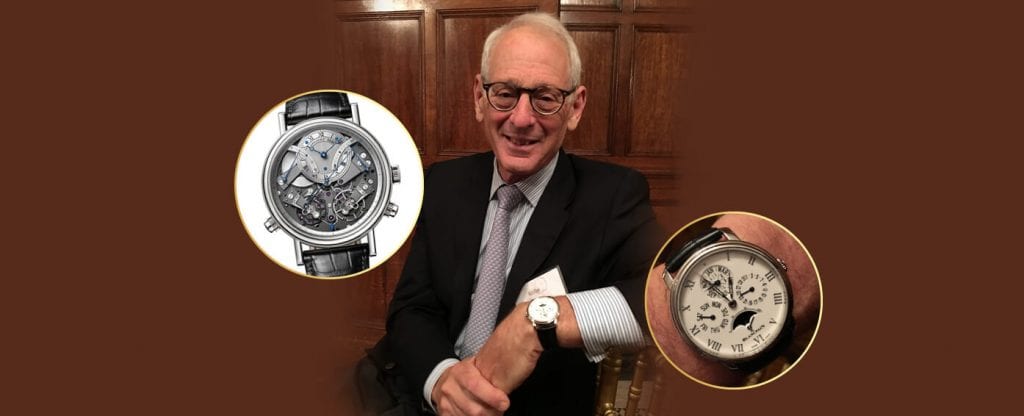 Before he became one of the world's top watch collectors and historians, Jeff was a technology and intellectual property lawyer. He was lead council for Sun Microsystems in the historic case against Microsoft at the European Commission in Brussels. He has partnered with prestigious houses including Blancpain, Breguet, Montblanc, Cartier, A. Lange & Söhne, Jaeger LeCoultre, IWC, Piaget, Audemars Piguet, Hublot, Zenith and TAG Heuer producing, directing and narrating educational videos for brands; lecturing large gatherings of watch collectors throughout the US and China; and writing extensively about watches. Worthy talked to him at WatchTime New York, where he was a speaker.
How many watches are there in your collection?
That's a state secret!
Whatever the number is, is it the right number?
No, it's never the right number. You always want something new and you see something that you don't have in your collection and you want to add it. The human mind is magnificent because it can come up with rationalizations to get another watch when there really is no objective reason to do it. You say I have a chronograph but I need a dress chronograph now. I need a lightweight chronograph now. You can always come up with reasons.
Have you sold a watch to buy a watch?
Yes. It's getting harder and harder. When I first started out I didn't know as much as I do now. I think now I understand every watch that I have, why I have it, and what makes it great. In the beginning I didn't understand so well. So in the beginning you have some pieces that you'd look at and say "What was I thinking?" So then you sell them. But now when I look to sell something I say "I don't want to sell that." I know exactly why it's a great thing. So it gets harder and harder.
What are you wearing today?
This is a Blancpain perpetual calendar in platinum with an eight-day power reserve movement. Power reserve means that the movement will run for more than a week all by itself without being worn or whatever. So you can wear it for a day or two and put it in a drawer or safe and pull it back out again and it's still going.
Does it stay in the safe for a week?
It does. In truth, when it's going to be in there for a while, it's on a watch winder that keeps it going anyway. But it's the only perpetual calendar with an eight-day power reserve. The calendar is very complicated because it has to keep track of 30-day months, 31-day months, leap years, all of that. All of the other perpetual calendars have little adjusting dimples on the sides to set the watch up if it's ever run down. This one has a patented system of little correctors hidden under the lugs of the watch that you can manipulate with your fingertips. So the side of the watch is perfectly clean and you don't need to get a toothpick or other tool to do the adjustment. The dial is full-fired enamel. It's really a wonderful watch.
What's your next watch?
I have a Breguet in mind: the new chronograph that came out in Basel this year.
If you could own any watch in the world, which would it be? What's the most desirable watch in the world to you?
That's a hard question. That's why you have more than one watch. Somebody could say I want this incredibly complicated watch, for example, but you don't go out to play with your dogs wearing your incredibly complicated watch. You wear something else. You have different watches for different purposes and different moods, and different things you do. For me, I don't know. You could say I'd get Greubel Forsey, an 800 thousand dollar watch, beautifully finished. But would I wear that? No, I'd rather do something different. So there isn't a single answer.
What watch would you recommend for a collector who's just starting out?
It's hard to say. When you first start out, you really don't know what you like. You just don't. You may think you know but what you are going to think five years down the road compared to this moment, there's going to be a big disparity between the two. So I think if you're just starting out, start out relatively modestly because your views are going to change inevitably. Try to understand the quality of the watch you're looking at.
First of all, I think you should buy a watch where the movement is made in house by that watch company, that's really important. Hopefully you can get information on the quality of the movement. For example, the best watches are made with what's called a free-sprung balance, meaning the balance wheel, which is central to the timing of the watch, the balance wheel's rate of back and forth oscillation is controlled by weights on either side. Some companies like Breguet, Blancpain, Patek Philippe, everything they make is free-sprung. There are some very prestigious watches that aren't. They're very expensive, but they aren't. When do you discover that?
I think sometimes people tend to go for the bling when they buy as opposed to the substance. And the question is how do you get to understand that substance when you are brand new? I was lucky when I started because I had a friend who was a watch collector. I thought he was insane. Why would you collect watches? This was 20 years ago. He directed me around and explained here's why this is good. You need a guide when you get started. Everybody says it's all out on the internet right now but it's remarkable how incredibly shallow a lot of these bloggers are. They have no idea what they're talking about. Absolutely none.
Is there a source everyone can trust to educate themselves?
Me! Honestly, I've been lucky. I have access to watchmakers and I speak fluent French, which is the language of watchmaking. I've been taught, had demonstrated things that other people just don't know. Unfortunately I think there's too much that's superficial written about watches without really understanding how they work. What is sound movement engineering? When you talk to the great designers of movements you get a whole new perspective on why things are done as they're done. It's just so divorced from the blogosphere and internet chat and all of that sort of stuff.
I'll give you an example. You have the Geneva seal, which is held out there as something that indicates the quality of a watch. The criteria for the Geneva seal, developed maybe 100 years ago or longer, made sense at that time. They said, for example, for every pinion or wheel you should individually polish the interior of the teeth by hand. Seems to make good sense for smoother running and reducing friction. The Geneva seal rule is that it has to be done by hand. It's moronic to do that now! Because today there are processes for making wheels and pinions that will do all of the polishing to the tolerance of a micron. A human being sitting there putting the wheel on a machine can't get close to that. So would you rather have the one done to the micron, which insures the watch will really run well? Or would you rather get the Geneva Seal thing so it will run less well?
It goes on and on. For example go on the blogosphere, I challenge you, to see if anybody talks about the material used for the wheels of a watch. I guarantee you won't find anything. You can make the wheels in brass, German silver, or copper beryllium. In fact, the highest quality wheels are made of copper beryllium and nobody knows it. Movement designers know it. Some watchmakers know it, and nobody else. And this is the kind of stuff that I wish people would hear about and know. Copper beryllium wears better, has less friction, it's more expensive. But some of the most expensive watches in the world don't use it.
Do you think that's because the source for much of the information out there is PR from the brands?
Yes. But really it's that not enough money is spent on the movement development side. There are some big brands that have relatively small movement design teams. It's the brands that have the powerful movement design teams that are leading the way. But nobody knows who has 27 movement designers as opposed to 3. It makes a huge difference.
//= get_template_directory_uri() ?> //= get_template_directory_uri() ?> //= get_template_directory_uri() ?> //= get_template_directory_uri() ?> //= get_template_directory_uri() ?> //= get_template_directory_uri() ?>
©2011-2023 Worthy, Inc. All rights reserved.
Worthy, Inc. operates from 25 West 45th St., 2nd Floor, New York, NY 10036