Top 10 Most Popular Rolex Watches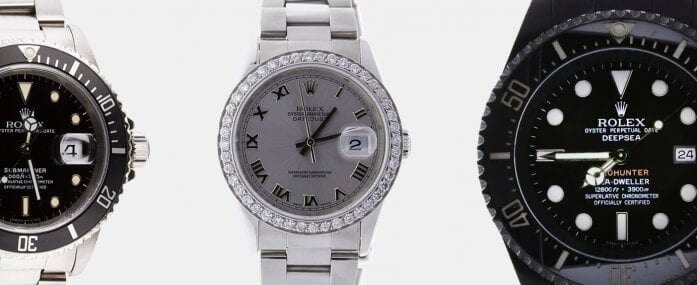 The right watch is more than functional – it's also a fashion statement. The most popular Rolex watches have a few things in common. They're invariably sleek and stylish and they are built to last. Here, we'll dive deep with a discussion of the most popular Rolex Submariner, we'll have a speedy talk on the subject of the Rolex Cosmograph Daytona, and we'll cover several other best-selling Rolex models as well.
Rolex's Most Popular Watches:
Rolex Submariner
Probably the single most popular Rolex model of all time, the Rolex Submariner was designed with scuba diving enthusiasts in mind. The model has transcended its original purpose though, reaching sports heroes, hip-hop musicians, Hollywood celebrities, and many others.
The earliest Submariners were waterproof to depths of 330 feet, and they offered the advantage of allowing divers to track their underwater time. Today's Submariners retain watertight integrity to a depth of 1,000 feet, which is far deeper than most sport divers venture. Popular models include the Submariner No Date, the Submariner Ceramic, and the Submariner Green.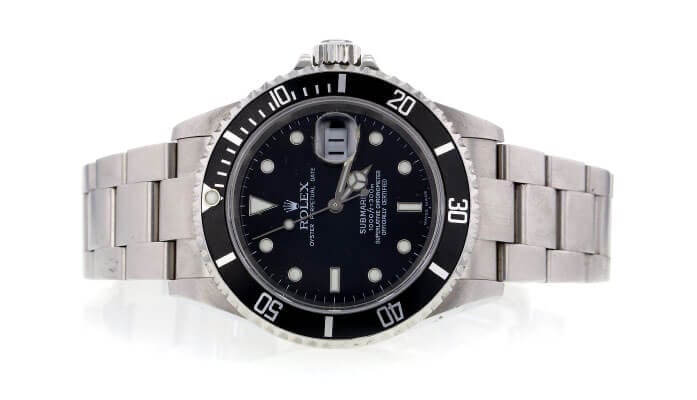 What's the most popular Rolex Submariner of all time? So popular that it is among the most frequently counterfeited of all Rolexes, the Rolex Submariner 16610 is best-recognized. This versatile timepiece was produced between 1989 and 2010, and is crafted from polished stainless steel. It boasts automatic movement, a unidirectional rotatable time-lapse diver's bezel, and date tracking, and it features a 40mm black dial with white gold circle hour markers and luminescent watch hands. A scratch-resistant sapphire crystal provides protection. The Rolex Submariner 16610 is durable and sporty, yet its sleek appearance makes it appropriate for wearing to black-tie events. Prices tend to vary from $5,000 to $10,000, depending on quality.
How to sell a Rolex Submariner
Rolex Cosmograph Daytona
So popular that it has been in production since 1963, the Cosmograph Daytona was originally marketed to racecar drivers, and as you might have guessed, is named in honor of Daytona, Florida, one of the world's car racing capitals. Thanks to its bold, masculine aesthetic, Daytona is one of the most popular men's Rolex models.
Sub-dials give the Daytona's face a uniquely sporty appearance, and there are many variations to discover as you become more familiar with these watches. Different models are highly sought after by collectors; in particular, the Paul Newman Rolex Daytona, an example of which sold at Christie's for 989,000 Swiss Francs, which is the approximate equivalent to $1,089,186 US dollars.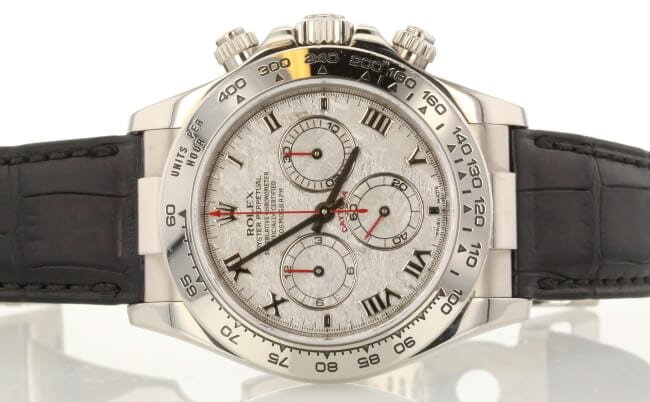 There's one more thing you should know about the Cosmograph Daytona: besides being one of the best-selling Rolex models of all time, it features accurate, reliable tachymeter and chronograph scales that allow racers to measure their speed, up to an astonishing 400 kilometers per hour. If you value speed and performance as well as luxury, then the Daytona just might be the right Rolex for you.
Read our full Rolex Daytona Cosmograph review
Rolex Yacht-Master
The Yacht-Master and Yacht-Master II are waterproof, with large hands and easy-to-read numbers. The model is fairly new, having been introduced in 1992, however, its stylish appearance and functionality made it an instant favorite. The Yacht-Master is popular with men and women alike and is produced in a variety of finishes to suit any style.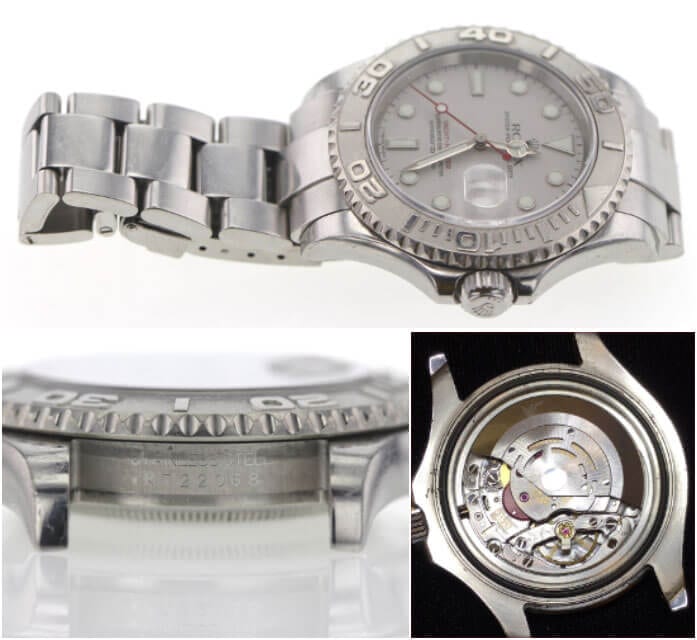 The Rolex President is part of the ever-popular Day-Date line, and is among the company's most luxurious and iconic models. So named because of its association with US President Eisenhower, it offers a variety of finishes including simpler stainless steel for a sleek, understated appearance, and gleaming gold for the ultimate look of Rolex luxury. If you want a watch that exudes sophistication, class, and success, the Rolex President is a fantastic one to consider.
Rolex President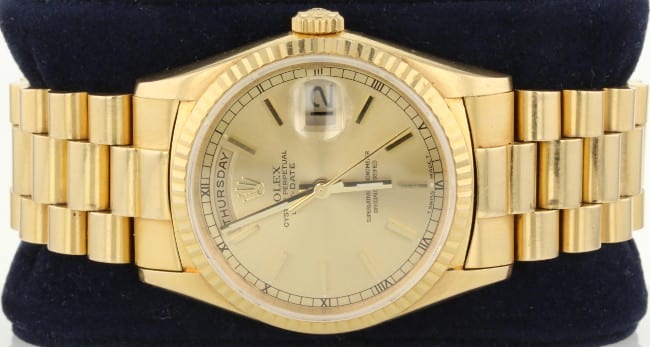 Rolex Datejust
Introduced in 1945, the Rolex Date Just was the first-ever watch to feature a date and self-winding capability. This streamlined timepiece features a signature cyclops lens for easy viewing, and it is available in an incredible array of finishes, including a number of ladies' models in stunning colors, with or without diamonds. Among the most popular women's Rolex models, it is equally popular with men. Reliable, uncomplicated, and perfect for wearing on any occasion, the Date Just will make a Rolex enthusiast out of anyone.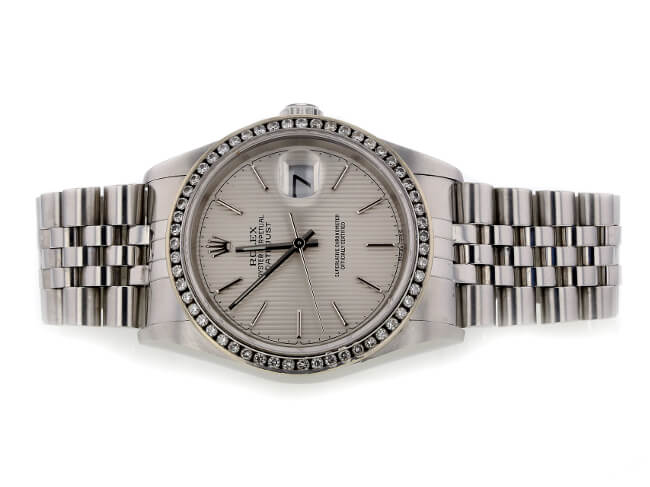 Read our full Rolex Datejust review
Rolex Day Date
The Rolex Day Date expands on the Date Just's ability to do more than simply tell time. Introduced in 1956, it allows wearers to easily read the date as well as the full day of the week. Its case comes in a variety of options including 950 platinum and 18 ct gold. The Day Date is among the best-selling Rolex watch models of all time, and has made its way onto the wrists of many world leaders and business executives.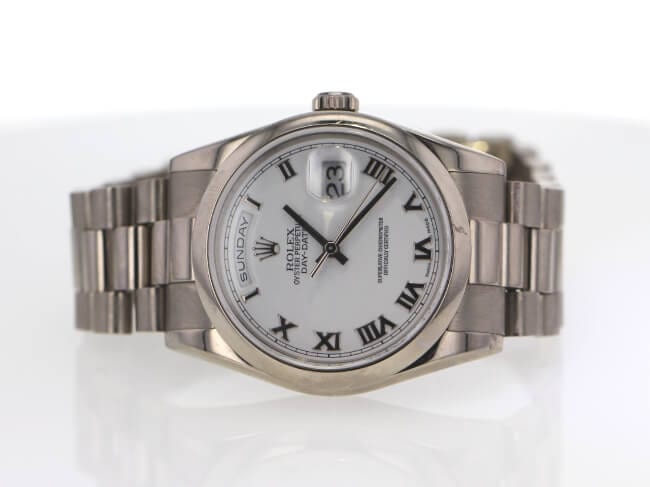 Rolex GMT Master
Part of the Rolex Professional Watch Collection, the Rolex GMT Master was designed with the help of Pan American Airways for use by the airlines' pilots and navigators. Introduced in 1954, the original model had a 24-hour display fourth hand complication that enabled wearers to set the watch to Greenwich Mean Time (GMT) or another time zone, and then use the rotatable 24-hour scale bezel set to a second time zone.
The Rolex GMT Master II was released in the early 1980s, although production of the original continued until the late 1990s. This model has a nearly identical look to the original, but its technology is updated so that the independently quickset hour hand can be adjusted to reflect local time without disturbing the minutes or stopping the seconds. Since it also features a rotatable bezel, it allows wearers to compute a third time zone reference with ease. There are a variety of finishes available, and in 2005, Rolex released a 50th Anniversary Edition with several unique technical changes as well as an updated, luxurious appearance.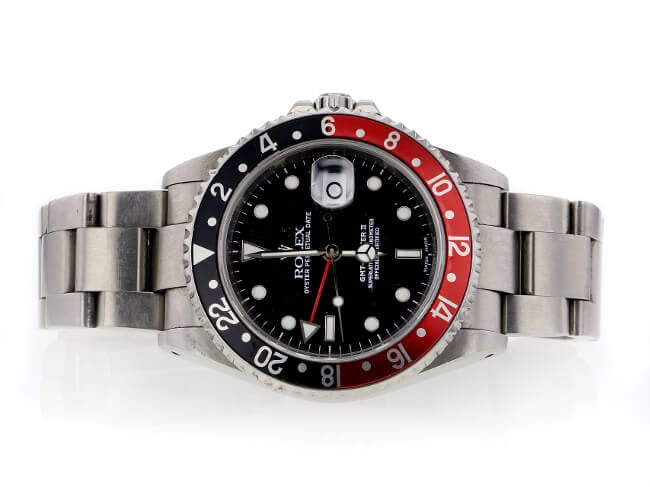 Read our full Rolex GMT Master Review
Rolex Sea-Dweller
Another iconic watch engineered with divers and marine engineers in mind, the Rolex Sea Dweller was originally introduced in 1967, pushing waterproofness to an astonishing depth of 2,000 feet. In 1978, it was updated to allow wearers to descend to depths of 4,000 feet. A patented helium escape valve prevents overpressure and equalizes the air inside the chamber; not surprisingly, the so-called "supercase," similar to the ones found on GMT II and Submariner models, is thicker to allow for the demands of highly pressurized environments. Besides being a technological marvel, the Sea-Dweller is a handsome, masculine timepiece that exudes the go-anywhere appeal that all of the most popular Rolex models are known for.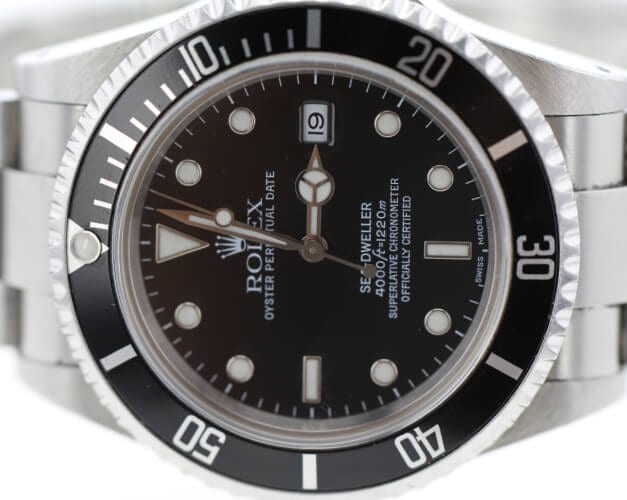 Rolex Explorer
Both the Rolex Explorer, introduced in 1953, and the Explorer II, introduced in 1971, are designed for those who love nothing more than navigating rough terrain. Like many other models, they are part of the Rolex Oyster Perpetual family (learn how to sell a Rolex Oyster), offering waterproof performance and a signature profile. Rolex Explorers offer the advantage of distinctive legibility, with luminescent indices and large numerals at 3, 6, and 9 o'clock. Robust yet elegant enough for the most distinguished affair, it's not at all surprising that the Explorer and Explorer II models remain among the most popular Rolex watches of all time.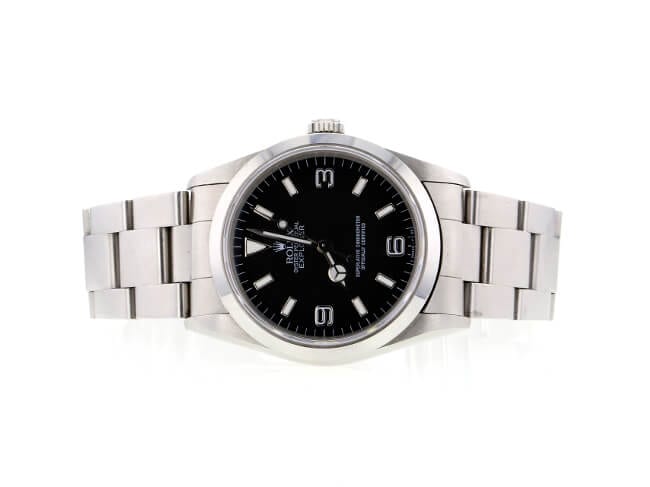 Rolex Air King
While it is sometimes considered to be an entry-level Rolex, the Air King is undeniably popular, and has been since its introduction in 1945 as part of a series of aviation-themed watches designed in honor of the British Royal Air Force pilots who took part in WWII's Battle of Britain. While vintage Rolex Air King watches are quite rare, it is easy to find a newer one in a finish that suits your style. The Air king offers a sleek profile that's similar to that of the Explorer, and both new and pre-owned models are popular with men and women.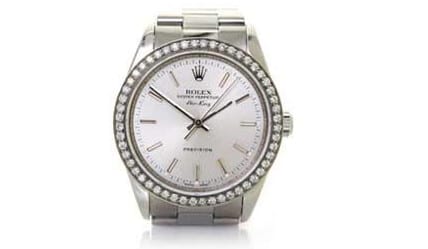 Read a full Rolex Air King review
All About Rolex Watches
Other Rolex Model Reviews
Air King · Cellini · Date/Datejust · Daytona Cosmograph · Explorer · GMT Master & GMT Master II · Milgauss · Presidential
More About Rolex Watches On Worthy
Top 9 Rolex Auctions on Worthy · Rolex As A Smart Investment · How To Spot A Fake Rolex · Most Popular Rolex Watches · James Bond's Rolex Watches
//= get_template_directory_uri() ?> //= get_template_directory_uri() ?> //= get_template_directory_uri() ?> //= get_template_directory_uri() ?> //= get_template_directory_uri() ?> //= get_template_directory_uri() ?>
©2011-2023 Worthy, Inc. All rights reserved.
Worthy, Inc. operates from 45 W 45th St, 4th Floor New York, NY 10036