4 Collectible Watch Brands Not Named Patek or Rolex
View the results of any of the major watch auctions in recent years and the top 10 lots are almost always dominated by Patek Philippe and Rolex—often with prices that rise into the stratosphere.
It's no surprise that many collectors focus on collecting these two iconic brands, but the cost of entry is beyond the means of most. However, there are other important brands with lower entry points that are valued among watch collectors. The four I'm about to mention are a short list of the brands that are available for serious collectors. There are no secrets here as these brands are well known for producing collectible pieces. And they are not exactly inexpensive (with one exception). But they do provide an entry point that may more realistic for a watch lover who wants to be a collector.
Audemars Piguet Royal Oak
One of things to look for is a watch brand or model with a strong following. There's one timepiece that has attracted a following that borders on being cult-like. It's the Audemars Piguet Royal Oak. Its success with certain buyers is practically freakish. Its octagon-shaped bezel, large—yet comfortable—case and "tapisserie" pattern or open-worked dials are all iconic features of the timepiece. Within this framework the 140-year-old family owned watchmaker has created many types of variations. The company also is a true watch manufacturer that has produced many groundbreaking movements, which adds a great deal of credibility to its brand. Among the most popular Royal Oaks are the many chronographs and perpetual calendar models.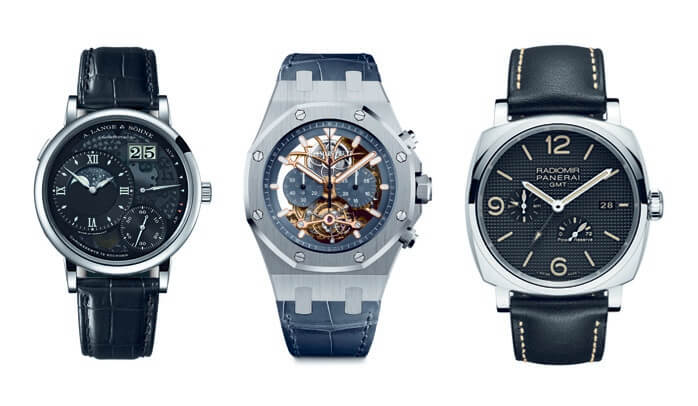 Panerai
If there's any watch that could compete with the rabid-like affection of the Royal Oak its Panerai. In 1997 Richemont bought the remains of a small Florence-based watchmaker that once created diver watches for the Italian navy and moved Angelo Bonati from Cartier to head what would become a brand. The first Panerai employee of its modern era, Bonati remains the brand's CEO. He is credited with using the company's modest history to turn it into a luxury brand. "It was a watch it was not a brand," Bonati told me in a recent interview. "It was one watch but it was a watch full of energy because of the size, because of the uniqueness, because the story, the history behind the watch." Thanks to Bonati, Panerai is an internationally recognized brand with a strong, passionate international following.
A Lange & Sohne
The small town of Glashutte, Germany, is one of the very few world-class watch centers outside of Switzerland. A. Lange & Sohne is a rare company that combines extremely complicated movements with simple and beautifully designed dials. Wilhelm Schmid, CEO of the brand said that's because the design of the watch is made prior to the movement. That is exactly the opposite of how most watches are made. Usually the movement dictates the design. This means the company has to make individual movements for each of its models. There are five watch collections within the brand and all of them have models that are exceptional in movements and design. The brand doesn't make the headlines as much as others but it truly enjoys a strong international following with an exclusive clientele that is serious about watches.
Swatch Sistem51
Introduced in late 2013, this watch has the potential to be revolutionary. The entire automatic movement of the watch is assembled by machine and has only 51 components, all of which are linked to a central screw that can be seen on the caseback. Fewer components require less lubrication, reducing wear-and-tear. In addition, the movement is made of a material called ARCAP—an alloy of copper, nickel, and zinc with anti-magnetic qualities. This prevents the movement from needing adjustments over time. This is all good because the movement is hermetically sealed in the Sistem51 case, never to be serviced. The first generation of the watch costs about $150 and appeared in late 2013. I purchased one at the Geneva airport in May 2014 (At the time Geneva was the only place to purchase the watch). The initial buzz about the timepiece took a backseat to something called the Apple Watch.
My wife wears it more than I do, which leads me to one more thing about buying a collectible timepiece. The first reason to buy any timepiece is to wear it. Buy something you'll enjoy wearing: don't keep it stored in a box.
Did you enjoy listening to the brand pronunciations? Check out our complete Watch Brand Pronunciation Guide!
//= get_template_directory_uri() ?> //= get_template_directory_uri() ?> //= get_template_directory_uri() ?> //= get_template_directory_uri() ?> //= get_template_directory_uri() ?> //= get_template_directory_uri() ?>
©2011-2023 Worthy, Inc. All rights reserved.
Worthy, Inc. operates from 25 West 45th St., 2nd Floor, New York, NY 10036