"Dr. No", The Legendary James Bond Rolex 6538 Auctioned At Worthy For $60,000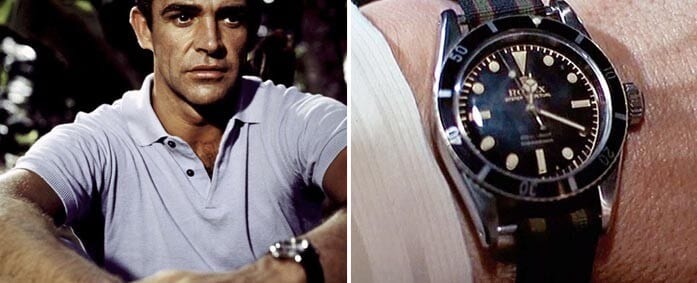 If there's one iconic 007 watch, it's the Rolex Submariner 6538. This model has a special place in Rolex history as the original "Bond Submariner" watch. Though several other Submariner versions, including references 5508 and 6205, have also received the nickname, the 6538 is said to be the original Submariner to be featured in James Bond films.
Lights, Camera, Auction!
A vintage Rolex Submariner 6538 was recently sold at Worthy; and as the story goes, it was on the set of some of the most emblematic James Bond movies. The Rolex 6538, produced between 1954 and 1959, this classic timepiece, we've heard, appeared in "Dr. No", "From Russia with Love", "Goldfinger" and "Thunderball". In each film, actor Sean Connery wears the Submariner with several different strap combinations and utilizes it to achieve his mission. Perhaps the most iconic shot of Connery wearing the Rolex watch is in the film "Goldfinger" where he illuminates the watch's dial with his lighter.
The "Goldfinger" James Bond Rolex
The Rolex Submariner 6538 seen in "Goldfinger" can be seen during the first few minutes of the move, just after Sean Connery wiggles out of his wetsuit and steps into the Latin nightclub. If you've seen the movie, then you know that Bond was surreptitiously checking the time, as he has just set a bomb to blow up a concealed heroin laboratory.
Back to the Goldfinger Rolex for a moment. This watch is crafted from a solid block of 904L stainless steel, which is the perfect material for a dive watch that takes you from underwater situations into sultry nightclubs. This particular type of stainless steel is corrosion-resistant, plus it buffs to a soft shine that offers a look similar to that of white gold. The bezel features 10-minute markings for divers to time their decompression stops; for the non-diving Rolex Submariner aficionados, it just looks cool!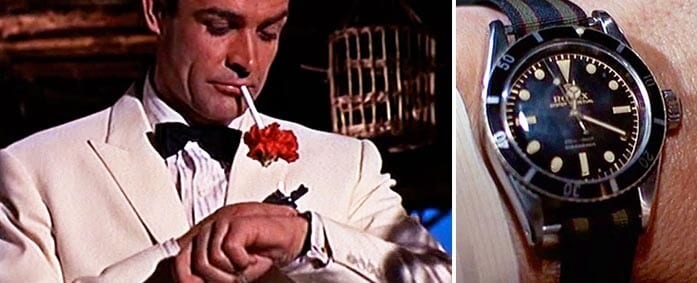 That scene brings us to the next twist in the story of this watch. The watch collector who presented this Rolex to us also offered an accompanying vintage lighter – a gift to Robert Sprague, Member of the American Society of Master Projectionists, from Albert "Cubby" Broccoli, the well-known the producer of many 007 films. The other names inscripted in the lighter correspond to Lamar Boren, underwater cameraman, Ricou Browning, underwater director, and Jordan Klein, underwater engineer, all of them members of the 1965 "Thunderball" crew.* This lighter is a wonderful piece of Bond history and if any interested buyers are out there, contact us at Worthy to learn more.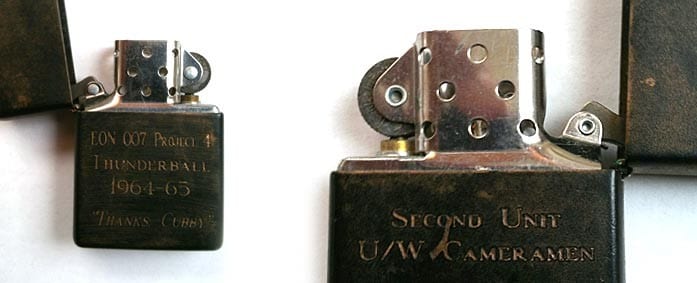 Ian Fleming & Rolex
It might not surprise you to discover that author Ian Fleming, who wrote the original James Bond spy novels, had a deep-seated passion for Rolex. His personal favorite was a Rolex 1016 Explorer, which also happened to be the original James Bond watch. The Rolex 1016 is no longer in production, but you can view Ian Fleming's famous Rolex online, and you can see it at the National Watch 7 Clock museum in Columbia, Pennsylvania, where it is displayed alongside some of Fleming's personal letters.

As you may have guessed, Ian Fleming's appreciation for Rolex watches overlapped from his personal life into the Bond stories that he wrote. In the original novels, James Bond wears a Rolex Oyster Perpetual, but other details provided are scanty, leaving it up to the reader to decide which actual Rolex the literary Bond wears. The 007 movies fill in the gaps, leaving us with a sense of excitement when we encounter the actual watch worn in the film.
SEE ALSO: How to Spot a Fake Rolex
The Original "Bond Submariner"
One of the most prominent and recognizable features of Submariner 6538 is its over-sized crown and lack of crown guards. This "big crown" certainly distinguishes this timepiece from other models in the Submariner family and is a feature collectors look for. This Rolex utilizes a caliber 1030 nickel-finished lever 25 jewels movement. The brown or black gloss dial prominently features luminous dot, baton and dagger markers as well as luminous Mercedes hands and sweep center seconds. The dial and case are topped with a revolving black bezel calibrated for 60 units.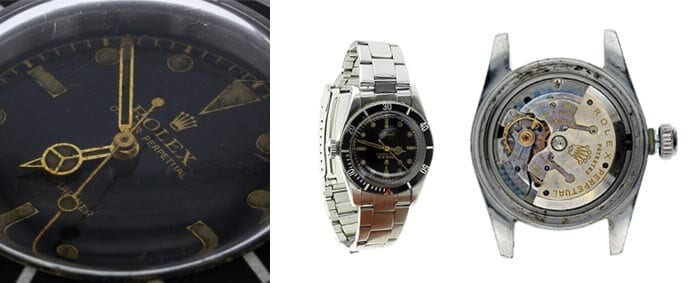 Despite this model being designated as the "Bond Submariner," it is more than a movie prop. Rather, it was made in the spirit of the Submariner family with divers or other water adventurers in mind. The 38 mm tonneau shaped Oyster case features a screw back and large screw down crown, giving it the ability to resist water pressure up to an impressive depth of 200 meters or 660 feet.

No wonder why this stellar Rolex attracted more than 700 buyers. This vintage piece was sold for $60,000.

*Source: http://www.imdb.com/title/tt0059800/combined
//= get_template_directory_uri() ?> //= get_template_directory_uri() ?> //= get_template_directory_uri() ?> //= get_template_directory_uri() ?> //= get_template_directory_uri() ?> //= get_template_directory_uri() ?>
©2011-2023 Worthy, Inc. All rights reserved.
Worthy, Inc. operates from 25 West 45th St., 2nd Floor, New York, NY 10036