The Noteworthy Series: Rolex Sea Dweller Review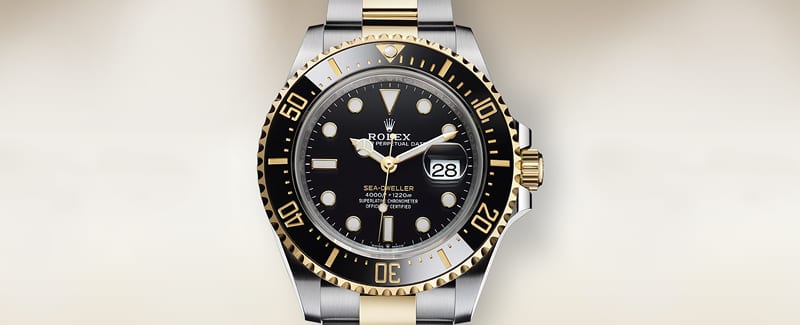 Since its earliest beginnings, Rolex has been producing some of the world's finest watches. In 1905, the company began life in London, operating under the name Wilsdorf and Davis. Wilsdorf and Davis rebranded its watches as Rolex in 1908, and in 1915, the corporation's name was officially changed to Rolex Watch Co. Ltd. Two name changes later, Rolex is now known simply as Rolex SA. By 2018, the company was ranked by Forbes as the world's 71st most valuable brand, and as of June of 2019, three of the world's most expensive watches ever sold are Rolexes, with Paul Newman's Rolex Daytona holding the number one spot as the most expensive wristwatch ever sold.
Like some of the most famous Rolex watches, the Sea Dweller is part of the acclaimed Oyster Perpetual line. Let's take a closer look.
All About Rolex Watches
Other Rolex Model Reviews
Air King · Cellini · Date/Datejust · Daytona Cosmograph · Explorer · GMT Master & GMT Master II · Milgauss · Presidential
More About Rolex Watches On Worthy
Top 9 Rolex Auctions on Worthy · Rolex As A Smart Investment · How To Spot A Fake Rolex · Most Popular Rolex Watches · James Bond's Rolex Watches
Rolex Sea Dweller Review & History
The history of the Rolex Sea Dweller is a fascinating one. Originally developed in 1967 in response to the needs of professional divers who were working at depths deeper than ever, the watch's public release was pushed back to 1971 due to a patent delay with the helium escape valve, which was pioneered by U.S. Navy diver Robert A. Barth.
When it was finally released, the very first Rolex Sea Dweller was nicknamed "Single Red" due to the presence of a single line of red text and had a maximum depth rating of 1,600 feet (500 meters). In subsequent releases, the depth rating soon increased to 2,000 feet (610 meters). Rolex's Sea Dweller is such an outstanding dive watch that it has been part of Comex divers' standard issue for more than four decades, since 1977.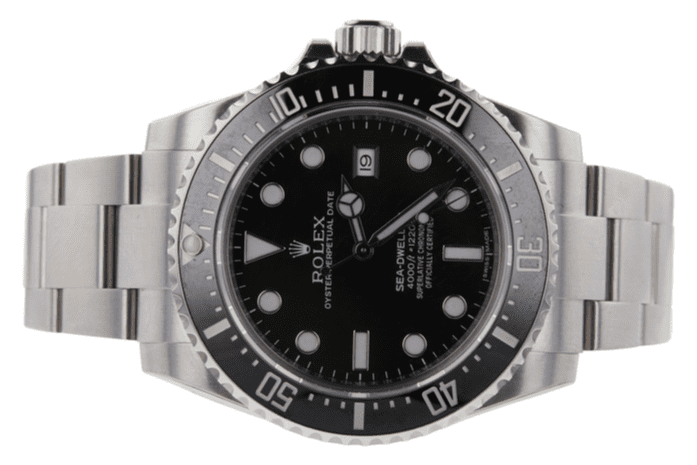 The earliest Sea Dwellers are sometimes missing the helium escape valve that is now standard on all Rolex Sea Dweller models. Additionally, newer versions dating from 2017 forward have a date magnifier (nicknamed a cyclops) that has been standard on most other Rolex watches for far longer. The reason for the missing Cyclops on these models is that it was previously impossible to use UV light curing adhesive on top of the watch crystal without risking damage under pressure.
Sea Dweller Submariner 2000 watches are distinguished by the presence of two red lines of text on the dial. These watches have been nicknamed "Double Red" as a fond reference to the earlier "Single Red" Rolex Sea Dwellers.
Rolex Sea Dweller Submariner 4000 watches, which extended the line's depth rating to 4,000 feet (1220 meters) were introduced in 1992. Like previous models, the Rolex Sea Dweller Deepsea 116600 retained the classic 40mm case size. It was, however, updated with a Maxi dial and a cerachrom ceramic bezel.
The Rolex Sea Dweller 4000 was discontinued in 2008, when the company introduced its Rolex Oyster Perpetual Date Sea-Dweller Deepsea with reference number 116660. Offering an official depth rating of 12,800 feet (3,900 meters), it held the distinction of being the most water-resistant mechanical watch being serially produced at the time.
2014 saw the reintroduction of the Sea Dweller line with reference 116600, along with a second "D-Blue" Deepsea variant that was created to honor James Cameron and celebrate his record-breaking 2012 journey into the Mariana Trench. During that dive, DSV Deepsea Challenger had an experimental Sea Dweller Deepsea Challenge watch attached to its manipulator arm.
The watch was carried to a depth of 35,756 feet (10,898.4 meters) however it was designed to be waterproof to a deeper depth of 39,370 feet (12,000 meters). James Cameron noted that the experimental Deepsea Challenge watch was "a reliable companion throughout the dive; it was visible on the sub's manipulator arm and working precisely at 10,898 meters down at the bottom of the Challenger Deep."
A larger Sea Dweller with a case diameter of 43mm was released in 2018 at BaselWorld. The Sea Dweller 126600 has Calibre 3235 movement and features the cyclops date magnifier.
There are many different Sea Dweller reference numbers available to collectors who are willing to search! This watch has been the subject of numerous semi-custom runs, with production focusing on different models of Sea Dweller Submariner 2000 as well as Submariner 4000. Some of these have unique dial patterns and a few were made without helium escape valves. Some feature dial patterns that were custom-made for Comex S.A.; these carry the Comex logo and are nicknamed "Rolex Comex watches."
Rolex Sea Dweller Watches Noteworthy Owners
Justin Theroux is the proud owner of a 1971 Gold Rolex Submariner. Besides loving its style, Theroux enjoys the fact that this watch shares the same production year as his own birth year.
British football icon David Beckham sports a few different Rolexes. Among them are a Rolex Sea Dweller Deepsea and a Submariner.
Swiss oceanic engineer Jacques Piccard is famous for taking an experimental Deep Sea Special along with him on his 1960 journey into the Mariana Trench in the submersible Trieste. After he and U.S. Navy Lieutenant Don Walsh returned from their successful mission, Piccard sent a telegram to Rolex noting that his watch had remained precise at 11,000 meters.
Joining the list of celebrities who wear Rolex Sea Dweller watches are Sylvester Stallone, comedian Joe Rogan, musician Dave Narvarro, and NBA champion Stephen Curry. Charlize Theron and Tiger Woods have been spotted wearing Rolex Deep Sea watches, and even the Cake Boss, Buddy Valastro wears one.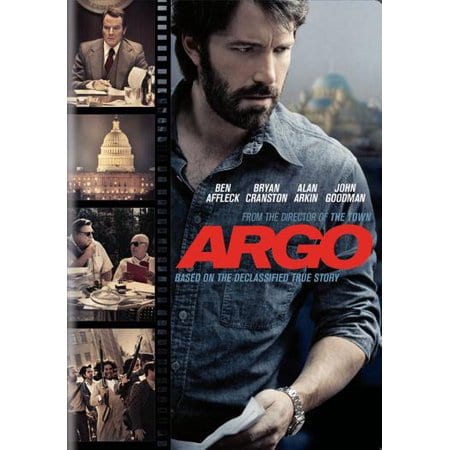 If you've seen the movie Argo, you'll notice that Ben Affleck is wearing a black Deepsea ref. 116660. Even though this particular model wasn't in production during the time of the Iran hostage crisis which took place in 1979 to 1981, it looks fantastic on Affleck's wrist.
How to Spot a Fake Rolex Sea Dweller
Counterfeit Rolex watches are a huge problem as it can be very difficult to discern a high-quality replica from the real thing. If you're buying a new Rolex Sea Dweller, it's important to purchase it directly from Rolex or one of their authorized dealers. If you are buying your Rolex preowned, be sure to purchase from a reputable source or at the very least, take it to a certified horologist who can inspect it inside and out to ensure that you are, indeed, getting an authentic timepiece. In the event that you are looking at the Rolex in person, here are a few things to watch out for:
Price is far below market value
There is no box, and there are no papers
You can see obvious flaws including misspelled words, the wrong hands, etc.
Luminous hour markers are not perfectly flush
Bezel's luminous dot has a greenish appearance instead of being white
Engraving inside the clasp is airbrushed rather than etched, and feels smooth to the touch
The bracelet or band seems to be of low-quality or isn't perfectly flush; the diver extension may be out of alignment
No authentic Rolex lettering anywhere inside the movement
Wrong dimensions, i.e. thickness, circumference, etc.
It's easier than ever for crafty counterfeiters to make faux Rolex Sea Dweller watches that look and function almost like the real thing – at least before they go into the water. These watches tend to look convincing and when faced with an unbelievably low price, it's worth remembering the old maxim that anything that seems too good to be true probably is!
Counterfeiting is a lucrative business and those who produce knockoff Rolexes tend to pull out all the stops in an attempt to trick unsavvy buyers. If you're considering a pre-owned Rolex Sea Dweller or another luxury watch, it's a very good idea to consider working with a trustworthy, reliable seller such as Worthy. Our horologists ensure that buyers avoid costly pitfalls by inspecting every watch inside and out before accepting it for auction.
Estimated Value of Rolex Sea Dweller Watches
The retail price of a new Rolex Sea Dweller is between $11,350 and $16,050. Preowned Rolex Sea Dwellers are often quite valuable as well, particularly when they are in excellent condition. If a Sea Dweller has unique provenance attached or is a limited edition, it may be worth even more.
Pre-owned Rolex Sea Dweller watches are in high demand. Final price depends on a number of factors including condition, rarity, and whether the watch comes with its original presentation box or if it is accompanied by original paperwork. At Worthy's auctions, Rolex Sea Dwellers typically fetch thousands of dollars.
If you own a Rolex Sea Dweller and you would like to sell it, we can take the guesswork out of the equation and facilitate the entire process, eliminating worries about marketing. By offering your watch to our interested, prequalified buyers, we ensure that you receive the best price possible.

//= get_template_directory_uri() ?> //= get_template_directory_uri() ?> //= get_template_directory_uri() ?> //= get_template_directory_uri() ?> //= get_template_directory_uri() ?> //= get_template_directory_uri() ?>
©2011-2023 Worthy, Inc. All rights reserved.
Worthy, Inc. operates from 45 W 45th St, 4th Floor New York, NY 10036