The Noteworthy Series: Rolex Explorer Model Review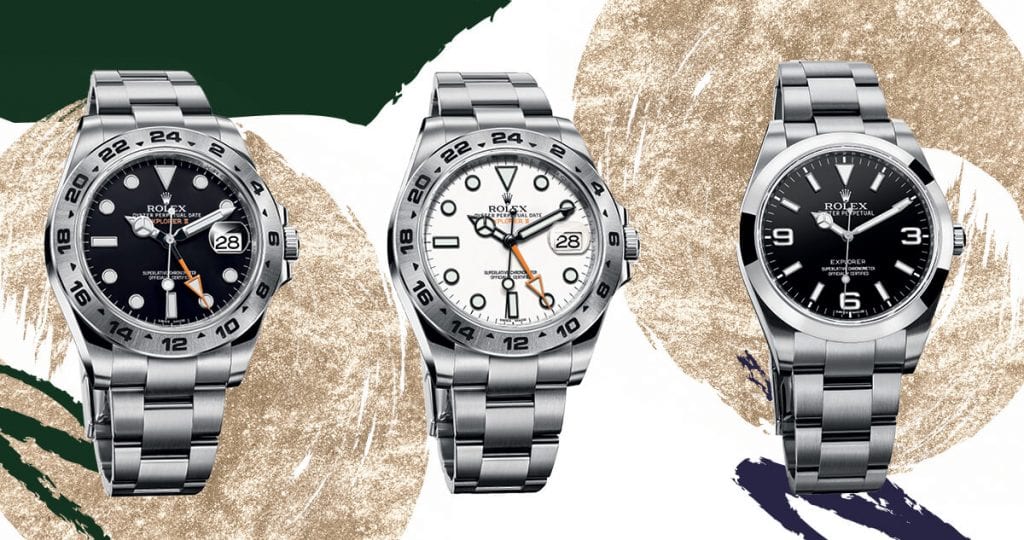 Today's Rolex Explorer watches are made with Oystersteel, which was developed specifically for use in Rolex watches. Part of the 904L steel family, this material is exceptionally durable – so much so that it is most often used in chemical and aerospace companies. At the same time, it offers an outstanding finish when polished, retaining its attractive appearance even under extreme conditions encountered by adventurers.
These watches are equipped with Calibre 3132 movement, which withstands extreme conditions beautifully thanks to Paraflex shock absorbers and a Parachrom hairspring. Not only does this Rolex-designed and manufactured movement withstand the elements, but it is also a certified Swiss chronometer, having successfully passed tests administered by the Swiss Official Chronometer Testing Institute (COSC).
All About Rolex Watches
Other Rolex Model Reviews
Air King · Cellini · Date/Datejust · Daytona Cosmograph · Explorer · GMT Master & GMT Master II · Milgauss · Presidential
Other Rolex Model Reviews
Air King · Cellini · Date/Datejust · Daytona Cosmograph · Explorer · GMT Master & GMT Master II · Milgauss · Presidential
A smooth bezel contributes to the Explorer's clean, elegant appearance, while textured rotating bezels give Rolex Explorer II models a sportier look. We also see the brand's distinctive black dial on many current models, although some Explorer II models are equipped with white dials that contribute to the "Rolex Polar" nickname and provide better visibility at night. The 3-6-9 indices contain luminescent material, as do the hands and hour markers. As part of the Oyster Perpetual family, these watches feature updated Oyster bracelets, which offer a combination of comfort, durability, and attractive appearance.
The earliest Rolex Explorers had white dials and white leaf-shaped hands, along with leather straps that were later replaced with Oyster bracelets. Photos of Sir Edmund Hillary's Rolex show a watch that appears to have been through a lot – not surprising, considering this adventurer's penchant for incredible feats! The case is a bit battered but still attractive; one can only imagine how those little scratches came to be.
The Rolex Oyster Perpetual Explorer was introduced to the market in 1953, after Sir Edmund Hillary and Sherpa Tenzing Norgay successfully reached the summit of Mount Everest. Interestingly, the first Rolex Explorer model was based on Rolex References 6098 and 6150, which were part of the Bubbleback series. These watches were transformed into Rolex References 6298 and 6350 when Explorer-type 3-6-9 dials were added, however they weren't yet called "Explorer." The name "Explorer" was finally added to Rolex Reference 6350 watches in 1953.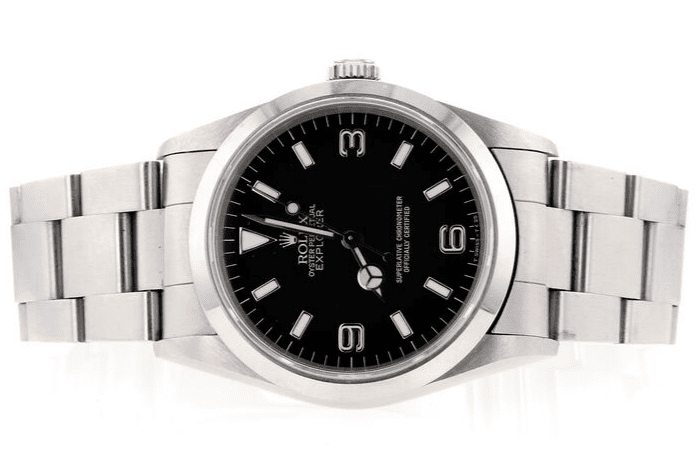 Rolex Explorer Ref. 6350 watches were only built for a year before being replaced with Rolex Ref. 6150. In 1959, the Rolex 6150 was replaced by Rolex Ref. 6610, which was a bit smaller at 36mm, and which offered water resistance to a depth of 50 meters.
Adventurers were given a new option in 1963, when the Explorer Ref. 1016 was introduced. This watch was produced using Calibre 1050 movement until 1971. During its second production run, which lasted until 1989, the Rolex Explorer Reference 1016 was equipped with Calibre 1570 movement. The newer model offered water resistance to a depth of 100 meters.
In 1989, Rolex launched a newly redesigned Explorer, which had a thicker case with a glossy black dial and 3-6-9 indices in white gold. The Rolex Explorer Ref. 14270 made quite a stir, as it was a bit more formal in appearance than previous "sporty" models. The original plexiglass was replaced with sapphire crystal and the movement was swapped out for Calibre 3000.
The year 2001 saw Ref. 14270 replaced with Rolex Explorer Ref. 114270, which featured Calibre 3130 movement, but retained a similar appearance.
In 2010, the Explorer got a little bigger. The newly introduced Rolex Ref. 214270 had a 39mm case instead of a 36mm case, which accommodated the Calibre 3132 movement. A new edition of Ref. 214270 was introduced in 2016. Both versions are certified chronometers, and both offer waterproof cases that are guaranteed to a depth of 100 meters.
Popular Rolex Explorer Reference Numbers
Find the watch you are interested in by using this list of Rolex Explorer reference numbers. On all Rolex watches reference numbers, the first three digits represent the model type. On newer models, the fifth digit indicates which bezel type is used, and the sixth digit is indicative of the bracelet type.
Rolex Explorer Watches Noteworthy Owners
England's Prince Harry, mountaineer Ed Viesturs, and actor Tom Hardy are all fans of the Rolex Polar, or Rolex Explorer II ref 216570.
Orlando Bloom, Adam Levine, John Mayer, and Jason Statham have all been spotted wearing Rolex Explorer ref. 1655 orange-hand models, which are also known as "Steve McQueen" Rolexes.
Brad Pitt, Tom Hanks, Jon Hamm, and Izabel Goulart have worn Rolex Explorer I 39 watches on various occasions.
The Rolex Explorer Ref. 1016 has been spotted on John Mayer, Aziz Ansari, Orlando Bloom, Matt Damon, and Sir Ian Fleming.
How to Spot a Fake Rolex Explorer
Not surprisingly, pre-owned Rolex Explorers are in high demand. The counterfeiting market is robust and fakes are getting harder for untrained eyes to spot – even professional watchmakers must use a careful eye when distinguishing faux Rolex watches from the real thing. If you are hoping to buy a Rolex Explorer for your collection, it's important to take extreme care. We recommend purchasing certified models only; however, there are times when you might be tempted to make a faster determination. These tips for spotting a fake Rolex will be helpful, although there are many models with unique features and it's best to use caution. Now that we've done our due diligence, here are some ways to tell if a Rolex is fake.
Price is far lower than market value.
Missing paperwork.
Obvious flaws: Look for spelling errors, issues with letter spacing, engraving errors, and other visual markers that don't appear to be of high quality.
Incorrect or fake reference numbers between lugs and 12 o'clock.
Has a caseback engraving (some rare/vintage models do have these, so double-check with a reputable horologist).
Missing the Rolex crown logo.
Missing reference number.
Bracelet links are misaligned.
On models with rotating bezels, the bezel should turn smoothly and silently. Be careful since some faux Rolex watches have silent bezels.
You can feel the watch's movement inside its case when you hold it in your hand.
The bracelet (any part of it) reacts to a magnet.
All Pre-1980s Rolex models should have four-digit reference numbers.
Rolex cyclops magnifying lenses are convex, and magnify the date 2.5 times.
Rolex models made in 2002 and later have micro-etched crown logos on the crystal, located at the 6 o'clock position; difficult to see with the naked eye.
All Rolex models released during the 1980s and 1990s have 5-digit reference numbers.
All Rolex models released between 2000 and present day have 6-digit reference numbers with the number 1 in front of another 5-digit number. This might change as new models are released onto the market.
READ MORE: How to Spot a Fake Rolex
High-tech counterfeiting is a lucrative business, and unscrupulous manufacturers know that by producing watches that look and feel like the real thing, they can trick people who are looking for a great deal on a Rolex Explorer. The market is absolutely flooded with these phony watches and unfortunately, many platforms aren't accountable for counterfeit goods that frequently make their way to consumers. The best way to ensure that you aren't duped is to purchase certified Rolex models directly from Rolex, or from a trustworthy dealer.
Estimated Value of Rolex Explorer Watches
The current retail (MSRP) price of a Rolex Explorer depends on its configuration. For example, a Rolex Polar (Explorer II) is around $8,100, but could be more depending on the desired configuration. The best place to get current Rolex prices for new models is directly from Rolex.
Pre-owned Rolex Explorer watches normally retain value, often selling for at least a few thousand dollars. Value varies on an individual basis as it is is determined by several factors including condition, rarity, the current market value, and more. Rolex Explorers with presentation boxes and original paperwork tend to be worth more.
If you own a Rolex Explorer and want to sell it, we can eliminate the guesswork and target qualified buyers who have expressed an interest in purchasing pre-owned Rolex Explorers, so that you receive the best price possible.
//= get_template_directory_uri() ?> //= get_template_directory_uri() ?> //= get_template_directory_uri() ?> //= get_template_directory_uri() ?> //= get_template_directory_uri() ?> //= get_template_directory_uri() ?>
©2011-2023 Worthy, Inc. All rights reserved.
Worthy, Inc. operates from 25 West 45th St., 2nd Floor, New York, NY 10036