Olympic Athletes and Their Watches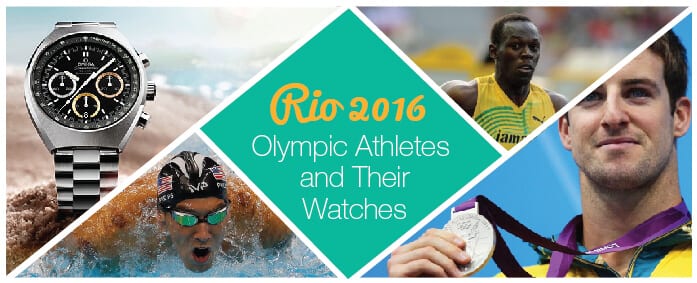 Certain luxury watch brands are renowned for their sponsorship of sports including golf, tennis, yacht racing, and equestrian events like polo and show jumping. Famous athletes including some of the brightest Olympic stars enjoy wearing luxury watches from manufacturers such as Omega, Rolex, and Hublot. Here, we take a closer look at four Olympic athletes and their watches. Some of these timepieces are special edition models that honor the athletes who inspire and wear them.
Michael Phelps – Omega Seamaster
United States swimmer Michael Phelps holds the distinction of being the most decorated Olympian to date, plus the all-time record for gold medals. An Olympian since qualifying for the 2000 Summer games at the youthful age of 15, he has set more records than any other swimmer. It's no surprise then, that he has become a brand ambassador for Omega, the Rio 2016 Olympic Games official timekeeper. The Swiss luxury watch manufacturer is well-known for its support of water sports, providing a number of technical items including touchpads, underwater lap counters, and other timekeeping equipment that's used to measure athletic performance. As an Omega brand ambassador, Phelps is the company's perfect match. He has worn many Omega watches through the years and is often seen wearing an Omega Seamaster.
James Magnussen – Maurice Lacroix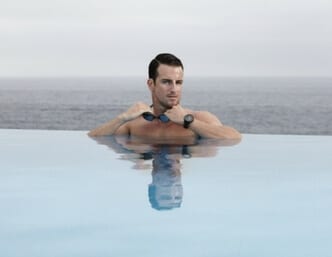 Australian swimmer James Magnussen has the distinction of holding the fifth-fastest swim in recorded history. He took two medals at London's 2012 Summer Olympics, and just obtained the bronze medal for the Men's 4x100m freestyle relay in Rio's 2016 games. Magnussen favors Maurice Lacroix wristwatches and is a brand ambassador for the Swiss company, and currently, favors the Pontos S. In an interview, Magnussen mentions the importance of time to his sport, and with its many technical features the Pontos S makes an ideal match for this Olympic champion.
Usain Bolt – Hublot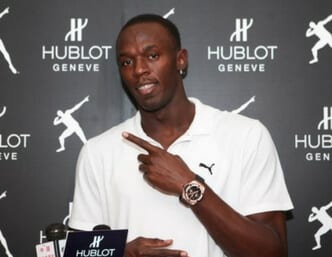 Jamaican sprinter Usain Bolt is known as the fastest person ever timed, holding world records for both the 100 meter and 200 meter sprints, as well as the 4×100 meters relay. Off the track, "Lightning" Bolt participates in a number of projects in Jamaica, with a focus on child health, education, and development. Before he became Hublot's official brand ambassador, he raced against 10 child athletes and all in good fun, allowed them to win! As a result, Hublot made a $100,000 contribution to the Usain Bolt Foundation. Usain Bolt has been spotted wearing a number of different Hublot models, including the signature Hublot King Power Usain Bolt Watch. This limited edition timepiece features a band made with the same gold synthetic leather that Bolt's world record holding shoes were made from, along with the Olympian's famous "lightning bolt" pose on the dial.
Novak Djokovic – Seiko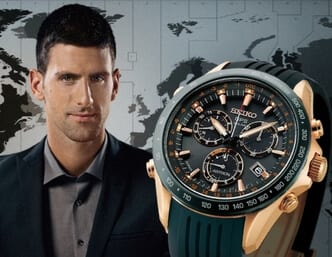 Serbian tennis player Novak Djokovic grew up as a member of a family of proficient skiers, in a ski resort called Kopaonik. Despite family ties and the availability of snowy slopes, he found himself drawn to the tennis courts opposite a restaurant owned by his parents. A steady player since age six, he took his first Grand Slam title in the 2008 Australian Open, then went on to take bronze in the Beijing games. Djokovic has been winning championships ever since, and is a Seiko brand ambassador. His watch of choice is one that was created in his honor, the Astron GPS Solar Novak Djokovic Limited Edition. This handsome perpetual calendar watch can be set to 40 different world time zones, and connects automatically to the GPS network. It was produced in a limited run of 3,000 pieces and comes with a Novak Djokovic signed casebook.
Image sources:
Michael Phelps: Jing Daily.
James Magnussen: Maurice Lacroix.
Usain Bolt: WWD.
Novak Djokovic: Forbes.
//= get_template_directory_uri() ?> //= get_template_directory_uri() ?> //= get_template_directory_uri() ?> //= get_template_directory_uri() ?> //= get_template_directory_uri() ?> //= get_template_directory_uri() ?>
©2011-2023 Worthy, Inc. All rights reserved.
Worthy, Inc. operates from 25 West 45th St., 2nd Floor, New York, NY 10036