Stunning Colored Rings Auctioned at Worthy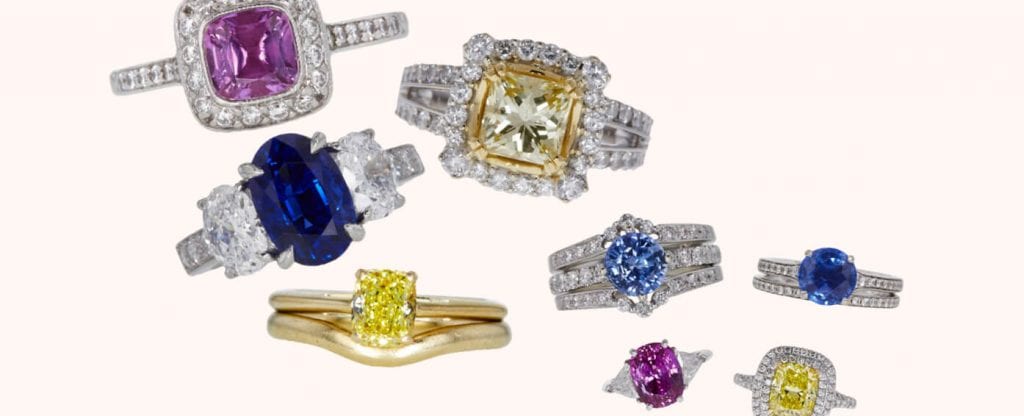 Whether you are looking for a different look for your engagement ring or to bring some color to your hands, colored diamonds and gemstones can be a stunning way to bring something new to a ring. And for those looking to add some extra meaning to a piece of jewelry, gemstones and their interesting symbolism can be a great way to do so. Let's have a look at some of the gorgeously colorful rings auctioned at Worthy.
Tourmaline Cushion-Cut Ring
This green gemstone comes from Sri Lanka and was made popular in Europe when it was brought in by the Dutch East India Company in the 17th and 18th centuries. It's nickname back then was "Ceylonese Magnet" because it was able to attract and repel hot ash (due to pyroelectric properties).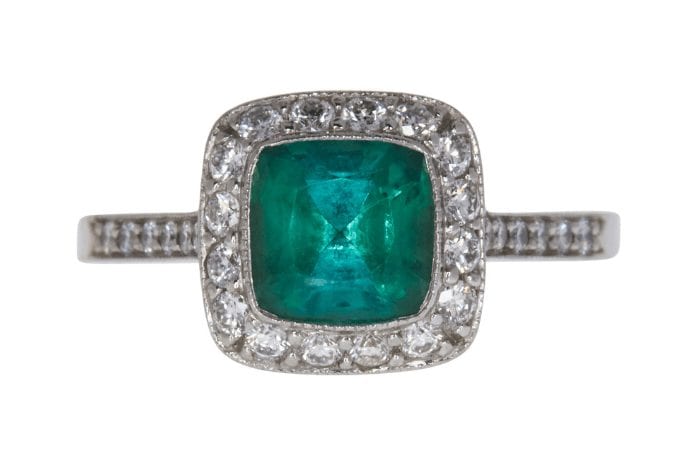 This Tiffany & Co. ring has a cushion-cut tourmaline surrounded by a diamond halo and diamond band. It sold on Worthy for $1,105.
Cushion Cut Ruby Ring
While you may think of rubies in their red tones, these gemstones run the gamut of rose-colored hues, including beautiful pinks. The birthstone of July, rubies have traditionally been used in jewelry for monarchs as red represents fire, blood, and power.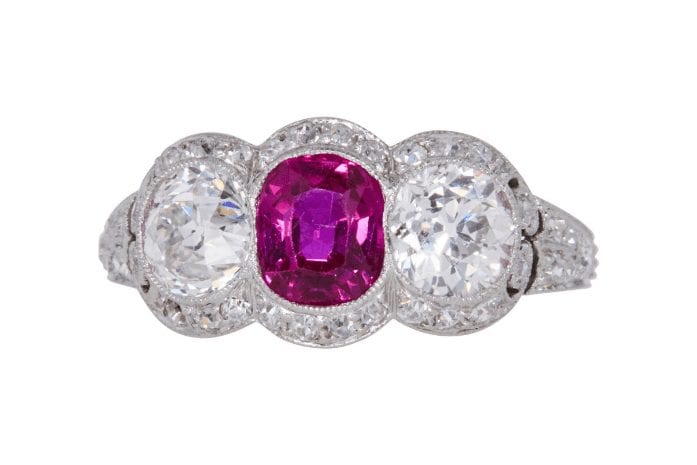 This antique Edwardian ring features a cushion-cut ruby which exhibits a magenta color. The gem is flanked by two old European-cut diamonds.
Sapphire Rings
Blue sapphires, such as the one worn by Princess Diana and the Duchess of Cambridge, are the more traditional look of this gemstone. These blue gems are thought to represent sincerity, truth, and faithfulness, all wonderful qualities in a potential receiver of sapphire jewelry. But beyond the traditional blue, yellow, purple, and pink sapphires also exist, as seen in some of the rings pictured below.

7.46 CT Cushion Cut 3 Stone Tiffany & Co. Ring, Pink Sapphire. Sold at auction for $22.858.


2.88 CT Oval Cut 3 Stone Ring, Blue Sapphire. Sold at auction for $1,287.


2.31 CT Round Cut Blue Sapphire Bridal Set from A. Jaffe. Sold at auction for $663.


1.1 CT Cushion Modified Cut Pink Sapphire Halo Ring from Tiffany & Co. Sold at auction for $1,823.


1.55 CT Round Cut Bridal Set, Blue Sapphire. Sold at auction for $327.
Here are some of the most stunning sapphire rings seen on the Worthy auction platform.
Amethyst Cushion Cut Ring
Purple amethyst has an interesting story in Greek mythology. These gemstones can be found all over the world where they were used as amulets against drunkeness and to help heal wounds. If you or a loved one have a February birthday, jewelry with amethysts can make a very personalized gift since it is February's birthstone.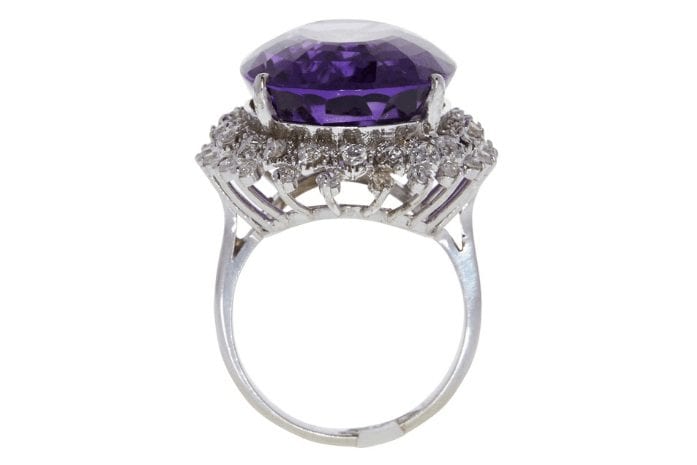 This larger-than-life amethyst ring weighs in at 27 carats and has a halo of diamonds surrounding it. It sold for $310 on Worthy.
Yellow Diamond Rings
For the jewelry novices among us, a clear, colorless diamond seems like the pinnacle of diamond jewelry. But for those who really know their stuff, yellow diamonds are some of the most sought after diamonds. Yellow diamonds were first seen in South Africa in the late 1860s and have since been used in some of the most outstanding and legendary pieces by the industry's top brands, such as the Tiffany yellow diamond.

Tiffany Soleste® Cushion Modified Cut 2.32 CT Yellow Diamond Ring. Sold for $30,525.


GIA 0.72 CT Cushion Cut Yellow Diamond Bridal Set from Tiffany & Co. Sold for $3,213.


GIA 2.02 CT Princess Cut Yellow Diamond Halo Ring. Sold for $4,410.
Here are a few of the most beautiful yellow diamond rings seen on the Worthy auction platform.
//= get_template_directory_uri() ?> //= get_template_directory_uri() ?> //= get_template_directory_uri() ?> //= get_template_directory_uri() ?> //= get_template_directory_uri() ?> //= get_template_directory_uri() ?>
©2011-2023 Worthy, Inc. All rights reserved.
Worthy, Inc. operates from 45 W 45th St, 4th Floor New York, NY 10036