All About the Tiffany Yellow Diamond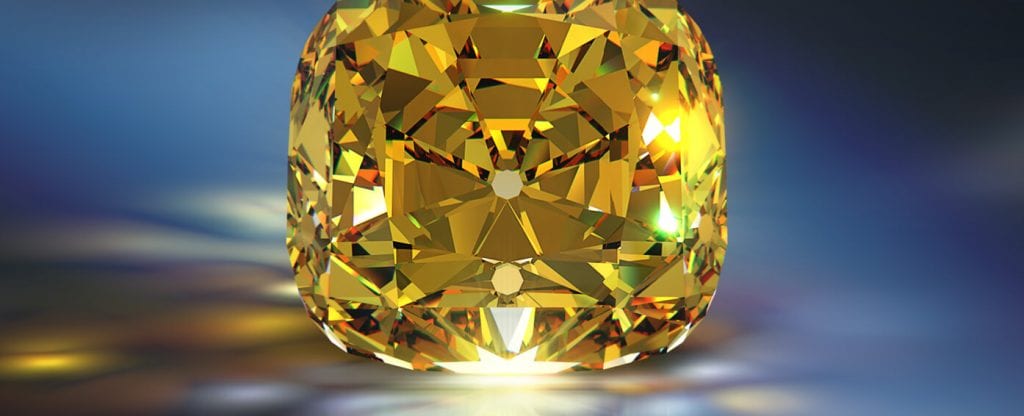 In a sea of pink frills, Lady Gaga stood out at last night's Oscars in a beautiful black Alexander McQueen dress and elbow length sleeves. She was the picture of Old Hollywood glamour, but the finishing touch to her look was the legendary Tiffany yellow diamond hanging on her neck.
The Tiffany Yellow Diamond
The famous 141-year old yellow gem is one of Tiffany's most prized possessions. It originally hails from the Kimberly diamond mine in South Africa and was purchased as a rough diamond by the company's founder, Charles Lewis Tiffany, in 1877 when it weighed a whopping 287.42 carats! But even after cutting and polishing, the Tiffany yellow diamond is still massive. It weighs 128.54 carats and features 82 radiant facets.
In 2012, to celebrate the 175th anniversary of Tiffany's, the yellow diamond was reset in a diamond-encrusted necklace. The necklace took over a year to make and features 20 Lucida diamonds and 58 brilliant cut diamonds among its 481 stones. The necklace includes over 100 carats of diamonds, in addition to the yellow diamond.
The Diamond's Heritage
This stunning stone has had some very famous moments but it's most iconic one was probably when it was worn by Audrey Hepburn during a photo shoot promoting Breakfast at Tiffany's in 1961. Back then, the diamond was set in a collar-style necklace designed by Jean Schlumberger. With such a wonderful moment in the spotlight, the Tiffany yellow diamond has not been worn since.
Yellow Diamond – Gaga Edition
Fast forward to the 2019 Oscars and the diamond made its first ever appearance on the red carpet! This awards season has been a big one for Lady Gaga due to her incredible work on the movie A Star is Born. The style icon has taken inspiration for her red carpet looks from Old Hollywood and saved her best ensemble for the Oscars. And it doesn't hurt that Lady Gaga is a spokesperson for Tiffany.
While Lady Gaga did not win for best actress, she certainly won a place in the top red carpet looks of all time. And by choosing the Tiffany yellow diamond, Gaga has elevated her look from classically beautiful to incredibly memorable.
Back to world's most famous diamonds
More About Tiffany:
//= get_template_directory_uri() ?> //= get_template_directory_uri() ?> //= get_template_directory_uri() ?> //= get_template_directory_uri() ?> //= get_template_directory_uri() ?> //= get_template_directory_uri() ?>
©2011-2023 Worthy, Inc. All rights reserved.
Worthy, Inc. operates from 25 West 45th St., 2nd Floor, New York, NY 10036