The Premium of a Brand Name – Tiffany & Co.
At Worthy, we are constantly witnessing beautiful luxury brand diamond jewelry come and go. While our professional buyers know that the value of a ring resides in the stone, Tiffany diamond engagement rings generally have a higher resale value and often times are sold at a higher price than similar non-branded items.
Tiffany & Co is without a doubt, one of the most influential brands in the diamond industry. Most Tiffany engagement rings auctioned at Worthy have excellent or very good cut and are either colorless or near colorless. While the brand is known for its high standards, we couldn't help but wonder: are the high values due entirely to the quality of their stones? Let's see what our auction platform has to tell us about it…
It is well known that what matters the most for a diamond ring's value are the stone's attributes: carat, cut, color and clarity. But if we compare some of the classic 6 prong round cut solitaire engagement rings auctioned at Worthy, we will find out how much value a brand name can add.

Take, for example, a Tiffany 0.7 CT round cut solitaire ring recently auctioned at Worthy for $2,709. The diamond was graded with good polish and good symmetry, color G, VS1 level of clarity, and the metal was platinum. A similar round cut solitaire platinum but brand-less ring, with a GIA graded 0.73 CT stone, graded with very good polish and good symmetry, color I and internally flawless was sold for $1,575. This means that the non-branded jewel was sold for a 41.86% lower price than the Tiffany piece.
Similarly, this recently auctioned Tiffany's 1.04 CT round cut solitaire platinum ring, with a diamond graded H-I in color, SI1 in clarity and with an excellent cut, reached the high digit of $4,230. Meanwhile, a very similar non-Tiffany piece with a 1.02 rock, color J, internally flawless and excellent cut closed at $3,420, a 23.68% lower price.
In both cases, the brandless pieces were GIA graded, and even had a higher clarity grading than their Tiffany counterpart. Although in both cases the non-Tiffany piece had a slightly lower color grading than the Tiffany one, all the diamonds were near-colorless, therefore the price shouldn't vary at such magnitude from one stone to the other.
To see another example, in early 2015 a Tiffany's 0.56 CT diamond ring, with a grading of H in color, VVS2 in clarity, very good polish and good symmetry, was auctioned for $1,755. A couple of months earlier, a brandless ring with a similarly graded diamond – 0.56 CT, color F, VS2 level of clarity, very good polish and excellent symmetry – received a final offer of $1,179.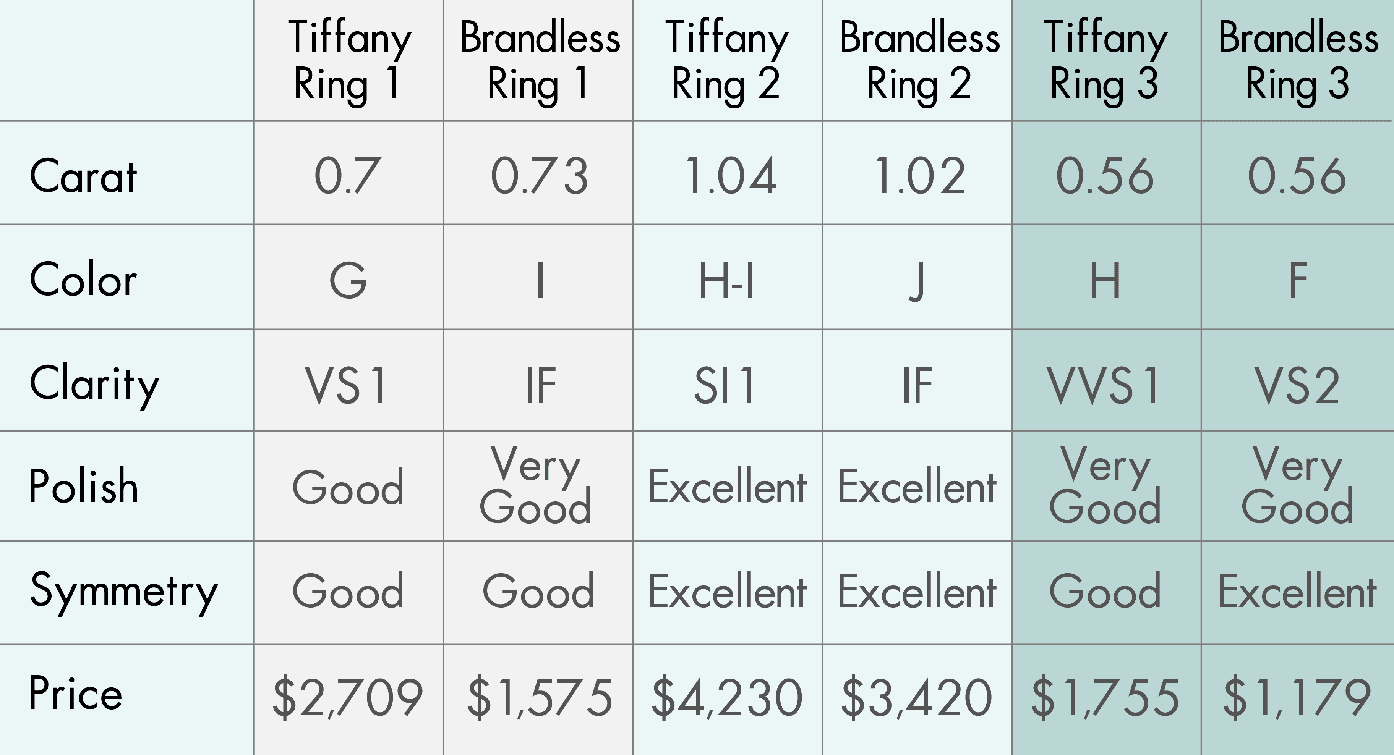 But if we take a closer look, the 32.82% rise in the value from the non-branded to the Tiffany item, is also due to – and in this case especially- a very important and often not enough mentioned aspect: design. This Tiffany diamond ring had a cornered square mixed shape – one of the company's trademark setting – known as Lucida. Beyond high quality standards, prestige and status, Tiffany & Co is a guarantee of stylish and timeless designs that have turned the brand into an icon of the jewelry industry.
Undoubtedly, the brand has a huge impact on a ring's value. This doesn't sound as arbitrary when we think that, after all, Tiffany & Co has been creating the most iconic designs for decades, like the popular and classic solitaire engagement ring. And thus, its name is a synonym of top quality.
More about Tiffany:
//= get_template_directory_uri() ?> //= get_template_directory_uri() ?> //= get_template_directory_uri() ?> //= get_template_directory_uri() ?> //= get_template_directory_uri() ?> //= get_template_directory_uri() ?>
©2011-2023 Worthy, Inc. All rights reserved.
Worthy, Inc. operates from 25 West 45th St., 2nd Floor, New York, NY 10036