What's in a Man's Jewelry Box?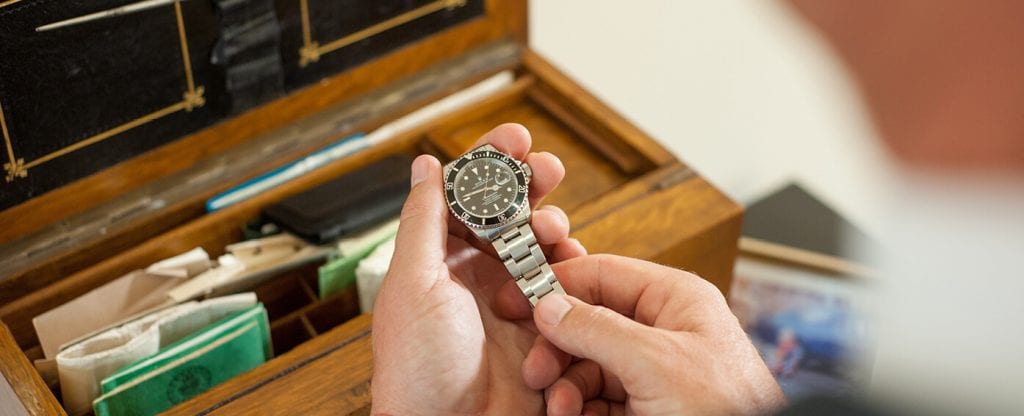 Years ago, "men's jewelry" evoked images of a diamond pinky ring and way too many gold chains worn under a polyester shirt opened way too low.
No more. Men, especially younger men, are perfectly comfortable wearing earrings, rings, necklaces, you name it. Having been an editor and analyst in the fine jewelry industry for—ahem—let's just say a long time, I've watched men's jewelry evolve from tacky gold nugget rings to some really cool stuff.
I think the shift came with the 1990s' rise in white and/or so-called "alternative" metals. Maybe guys felt there was just something innately more masculine about platinum, palladium, steel, or titanium than gold. Or the mix of precious and non-precious: a St. Christopher's medal looks way more cool on a leather cord than a gold chain. Or maybe it was just part of the evolution of style and culture: the "metrosexual" guy trend had a real impact on men's interest in fashion in general.
So what's in a man's jewelry box? I can't speak for all men, but I can tell you two things that are not in my husband's jewelry box anymore: his father's watches.
While not minimalists, neither he nor I like clutter and we both like things in order. He's also the only man I know that was as into watching Marie Kondo's Netflix series as I was.
One day he tossed two watches on the bed. "Take those the next time you go to Green Drop." Green Drop is our local charity drop point, where donations go to the Red Cross and several other organizations.
"What are these?"
"My dad's watches."
Before I could even open my mouth to protest, he continued, "I don't wear them and I don't need them to remember him, so there's no point in keeping them."
Ok. I get that. After all, isn't Worthy.com all about unloading jewelry you don't wear?
I'm blessed to have a wonderful marriage and I adore my husband—you know there's going to be a "but" coming, so here it is—but when he's on a decluttering roll he has been known to toss things out that he shouldn't have. Luckily, he tossed the watches to me and not directly into the Green Drop box we always have sitting in the garage.
Why? Because one of them is a vintage Omega Seamaster, and the other is a rare special-edition commemorative Hamilton created for the 1969 Pennsylvania Big 33 football game. (The Big 33 is a statewide high school all-star game for graduating seniors. In my senior year, one of my classmates made the team and sacked Dan Marino during the game. That probably also gives you a clue about how long I've been in the jewelry industry.)
I went downstairs to look both watches up online.
"Do you know what you almost just threw out?? These are really valuable!"
"But I don't wear them. If you want to sell them, go ahead. I can't be bothered."
I didn't sell them, I'm wearing them, along with my own father's watches: the Longines he was so proud to buy when he got out of WWII and the gold Seiko he got for his retirement. My husband's father died many years before we ever met, and my own father passed 2-1/2 years ago. Wearing their watches is an honor, and besides, most women prefer men's watches nowadays anyway. Not to mention that those of us who are old enough to have a classmate that sacked Dan Marino in high school are old enough to appreciate a nice big watch that we can see without reading glasses.
In 2018, Worthy's five top watch brands in auctions were Rolex (27%), TAG Heuer (14%), Omega (11%), Cartier (7%) and Breitling (4%). While our auction customers are overwhelmingly female, there were six states where more than 20% of our auction customers were male: Alaska (21%), Arkansas (20%), Hawaii (24%), North Dakota (28%), Ohio (22%), Rhode Island (21%).
What's in men's jewelry boxes today?
Watches
Despite smartphones, many men still love and collect watches. Rolex, as evidenced by our data, is still the number-one brand, but watch aficionados like to have a wardrobe of watches, ranging from Apple to Zenith. Even the Fitbit hasn't hurt the watch business — lots of guys just put their favorite watch on with it.
Cufflinks
Of course, there's still a demand for cufflinks. While most workplaces are fairly casual, when guys do dress up they still want cool cufflinks, especially if those have or tell a story. My husband also tells me tie clips are coming back; he's not planning to get in on that trend, although if he wants to, he has my dad's engraved silver one with matching cufflinks.
Earrings
Earrings, even diamond ones, are de rigueur, either one ear or both. And since designers started using oxidation to get a blackened look on precious metal and skulls became a thing (ugh), necklaces and bracelets are hip and cool.
Rings
Finally, there's the man-gagement ring. Today's couples are truly egalitarian. Some go the traditional route (man buys diamond ring, gets down on one knee), others share the cost of the diamond, some opt not to marry at all, and others are proposing to each other.
Severine Ferrari, founder and editor of yourengagement101.com, is a leader in the "man-gagement" movement. Her site features many stories of "double proposals; women who proposed back (or first) to their man. Check out her Instagram page to see six couples that chose matching engagement rings.
But if you've inherited your grandfather's old diamond pinky ring, sell it and get something you like better. As for all those chunky gold disco-era chains, they're looking really fresh again—layered on women.
Identifying valuable items in a man's jewelry box
For men's items, the highest resale value is likely to come from watches, especially those that are highly sought-after brands like Rolex, TAG-Heuer, Cartier, etc.

For jewelry pieces, if it is indeed gold or platinum throughout, the heavier weight of a man's piece should fetch more than a more delicate women's piece. See how to identify metal fineness marks and other tips for determining value.

//= get_template_directory_uri() ?> //= get_template_directory_uri() ?> //= get_template_directory_uri() ?> //= get_template_directory_uri() ?> //= get_template_directory_uri() ?> //= get_template_directory_uri() ?>
©2011-2023 Worthy, Inc. All rights reserved.
Worthy, Inc. operates from 25 West 45th St., 2nd Floor, New York, NY 10036