A New Mourning | A Closer Look at Mourning Jewelry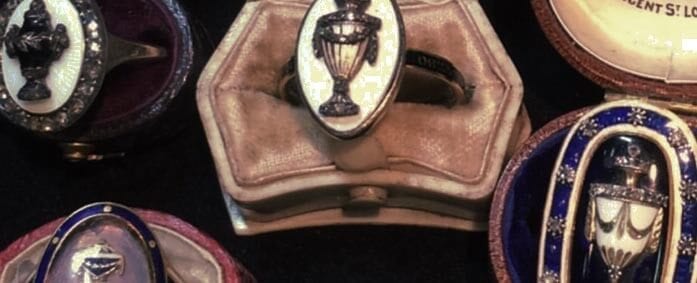 "It's the romance of memory," says Lenore Dailey, an antique dealer specializing in Georgian and Victorian jewels, when asked why once-neglected mourning, memorial, and memento mori jewelry is fetching high prices at auction and attracting a whole new generation of passionate collectors.

At Sotheby's on January 16, 2016, two mourning jewels containing George Washington's hair sold for $47,500 and $30,000, both well above the estimates of $8,000-$12,000.
"Certain pieces are more rare, in excellent condition for age, and strike a chord with antique jewelry enthusiasts who appreciate the connection these piece have with the past," says Dailey, who spent half her career specializing in the category. "They are deeply curious and become involved in the story about how the owners of the pieces lived, loved, and were commemorated. When they purchase these pieces, they feel that they are now the entrusted custodians of a part of history."




Although all antique jewelry was once owned and worn, there is something special in the rings, brooches and lockets that memorialize those who have passed on. The consummate collector of mourning jewelry is searching for and also paying high prices for pieces with the right combination of age, condition, rarity, and more intricate and sentimental motifs.

"It is similar to seeing a master's work of art—those we most desire are truly amazing in execution and detail," Dailey says.
A Short History of Mourning Jewelry
The mourning category includes many different types of jewelry from different eras. Mourning/memorial jewelry dates back for centuries but underwent a revival in 18th century England that spread throughout Europe. It was (and continues to be) a way for those who lost a loved one to hold on to their memory and keep it close to them. These jewels commemorate those who left too soon and those, as many mourning pieces are inscribed, that are "gone but not forgotten."




In contrast, memento mori jewelry, which means "remember you must die," was designed to be worn by the living as a reminder of their mortality. Popular in the 17th and 18th centuries, these pieces often used imagery of skeletons, skulls and coffins. Although it feels a bit macabre to some, others find it humbling and realistic. This practice reached its peak in the 18th century, which is why original pieces are extremely rare. When authentic and in excellent condition for its age, memento mori jewelry is very collectible.

In Georgian times, rings were the most popular mourning jewels. Creation and distribution of mourning rings were a common bequest in people's wills. This tradition began in the later part of the 17th century and continued through the 19th century. Some styles are simple: a ribbon shaped enameled gold band with a person's name and the dates they were born and died. Others are more ornate, with rose-cut center diamonds and other gemstones. Mourning jewelry took on many different styles throughout the 18th century. Those who were married and had reached adulthood were commemorated with black enamel designs. A child or an unmarried person was commemorated in white enamel jewelry.



By late 18th century, more dramatic styles of mourning jewelry were created in the artistic pieces of mourning miniatures. These feature sepia-tone scenes worked in hair and mounted on ivory in rings, pendant clasps and large brooches. According to Dailey, pieces depicting weeping willows, winged and entwined hearts, and angels looking down from above are particularly popular. Many miniatures also include sentimental inscriptions, poems, and the dates of the person's birth and death on the back of the piece. Others have locket compartments, which held locks of the loved one's hair. Whose hair I wear I love most dear is an old epigram describing the snips of hair in specially designed locket rings, pendants, and brooches of the period.

Late 18th century large navette or rectangular rings with rose-cut diamond-set urns against blue enamel also command high prices and are a true find in pristine condition. In the second half of the Victorian era, Queen Victoria went into mourning for two decades after losing her husband and great love Prince Albert. Her deep sadness was reflected in a revival of mourning jewelry in new styles, including lockets with "In Memory Of" or similar sayings in black enamel. Dark gemstones and Whitby jet adorned many jewelry styles. All of England wore black somber jewels, which turned into the fashion of the day.



Today, mourning and memento mori pieces are attracting new collectors to antique jewelry. Their popularity is due in part to the Goth movement and the work of the late Alexander McQueen, who made symbols of death not only acceptable but also a fashion statement.

"All this had a strong influence in what is happening," says Dailey. Dailey's favorite pieces are the mourning version of the Lover's Eye brooch, which has a diamond tear or clouds surrounding the eye. "These are the pieces I don't find too often but when I do—I snap them up," she says.

You too should purchase the pieces you find most appealing in this category in which mourning and death are not only part of life's cycle but a significant chapter in the history of jewels.
//= get_template_directory_uri() ?> //= get_template_directory_uri() ?> //= get_template_directory_uri() ?> //= get_template_directory_uri() ?> //= get_template_directory_uri() ?> //= get_template_directory_uri() ?>
©2011-2023 Worthy, Inc. All rights reserved.
Worthy, Inc. operates from 45 W 45th St, 4th Floor New York, NY 10036