Collecting Meaningful Jewelry Talismans
Whether you are spiritual, sentimental or superstitious, there are certain motifs in antique and period jewelry that you might want to add to your collection to bring luck, love and protection to your life. These pieces reflect symbolism to which many women can relate: expressing your beliefs, representing your experiences or motivating the changes you want to make. Selling an engagement ring or other piece of jewelry you no longer wear to buy a talisman that is personally meaningful to you can be the perfect clean start to your jewelry wardrobe and a powerful reminder of what matters most to you now.

We chose six meaningful pieces that would add powerful symbolism to your jewelry wardrobe. You can find these styles in diamonds, pearls, precious stones or predominately in metals with touch of colored gems. Although some of these motifs have been around since ancient times and in various cultures and civilizations, they were particularly strong in the Victorian Era, known for messages, puzzles and symbolic meanings in jewelry. And, take note: you don't have to stop at choosing one. You can always add multiple pieces or pendant to create a talismanic charm necklace or bracelet, or even a cluster of brooches, to cover all of your bases. I know I have.
Crescent Moon Jewelry Designs
The crescent moon dates back to second millennium BC and is the oldest symbol known to man. It became most popular in jewelry in Georgian through Victorian times as brooches and then morphed into other forms of jewelry. Crescent moons celebrated the Feminine moon goddess and therefore is associated with female empowerment. It also symbolizes change, as it turns into a full moon and then back just like the ebb and flow of life. If there is a star attached or in the same piece as the crescent, it can be associated with "I love you to the moon and back." Victorian brides wore brooches with a crescent moon cradling a flower on their honeymoon. These sweet styles are called "honeymoon brooches," representing "the magic of the moon and the sweet nectar of the flower."
Star Jewelry
While we are looking to the sky for symbolism, five and seven point stars are another powerful symbol to collect, representing of guidance that is leading you in the direction you were meant to go. The Victorians also adopted the Eastern beliefs that the numbers five and seven bring luck and protection to their wearer.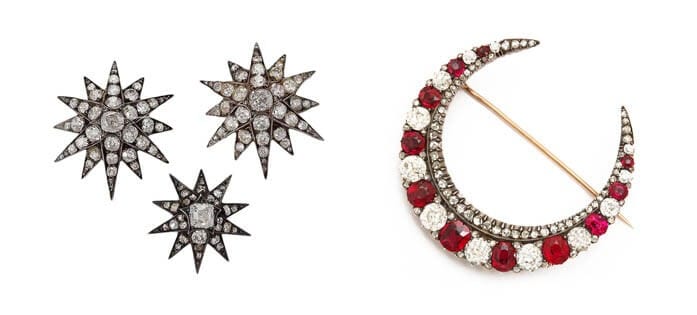 Anchor Jewelry
The anchor's has a connection to sailors out at sea to protect their country and also to discover new land and opportunities. The anchor is also a traditional symbol associated with hope and steadfastness. In Victorian times, it was overlaid onto lockets designed in silver topped gold with old mine or rose cuts or gold set with touches of turquoise and rubies and into brooches that double as pendants. When combined with a cross and a heart, it is the well-known symbol of Faith, Hope & Charity: the cross for faith, the anchor for hope, and the heart for charity. Wearing anchor jewelry can remind you that the future will be better than the present.
Bird Jewelry
Symbolic bird jewelry usually features swallows or doves. When thinking about swallows, once again we look to the sea. In legend, swallows lead ships home when they were getting closer to land and prevent them from being lost at sea. There are beautifully executed diamond and pearl swallows in pendants and brooches that mean safe home, or safely returning home. There are also connotations of faithfulness. Doves often are shown on intaglios and fobs with the word "pax," peace in Latin holding an olive branch in their beak. These doves symbolize peace, friendship and the bringing of hope.

In Victorian times, the French "Saint Esprit" or Holy Spirit dove seems to be descending from heaven to earth with wings spread. It is a symbol of faith and was often bombe set with turquoise, which is meant to bring luck to the wearer. When it holds a heart in its beak, it symbolizes love.
Dragonfly Jewelry
Throughout history, the symbolism of the dragonfly is based on its agile movement and its lifecycle. In certain cultures it is believed that, like the butterfly, dragonflies represent change and transformations in life and new beginnings, a belief that was also adopted by the Victorians. The dragonfly's meaning goes more in depth to signifying embracing change rather than fearing it, with the ability to handle whatever changes may occur. Dragonflies were set with precious stones or seed pearls in the Victorian era and were also popular in Art Nouveau, often with lovely transparent enameling.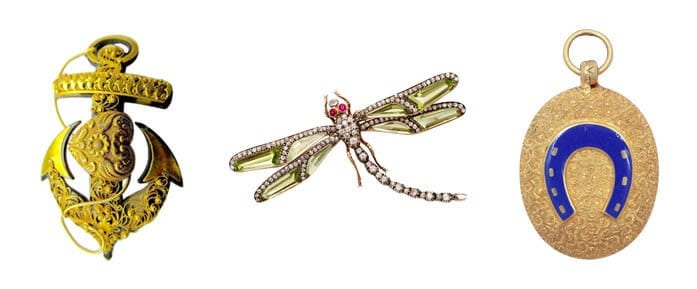 Horseshoe Jewelry
There is no motif more associated with luck than a horseshoe. These are as popular now as in Victorian times and are created in myriad gems and settings. Facing upward they bring luck to the wearer and facing downward, they send luck out into the universe. When combined in one piece with a four-leaf clover or shamrock, which also signifies good fortune, they are doubly lucky.
Other Talismans
Here are a few more symbols to consider for your jewelry collection:

Shields and swords mean protection from harm. A Lion holding a shield symbolizes protector of love.
Dogs carry the meaning of loyalty and you will find many versions in buttons, pendants, charms and brooches from Victorian times.
Owls represent wisdom and are carved out of gold or encrusted with various gemstones and are usually set with sapphire eyes.
//= get_template_directory_uri() ?> //= get_template_directory_uri() ?> //= get_template_directory_uri() ?> //= get_template_directory_uri() ?> //= get_template_directory_uri() ?> //= get_template_directory_uri() ?>
©2011-2023 Worthy, Inc. All rights reserved.
Worthy, Inc. operates from 25 West 45th St., 2nd Floor, New York, NY 10036