Jewelry Icons of the Victorian Age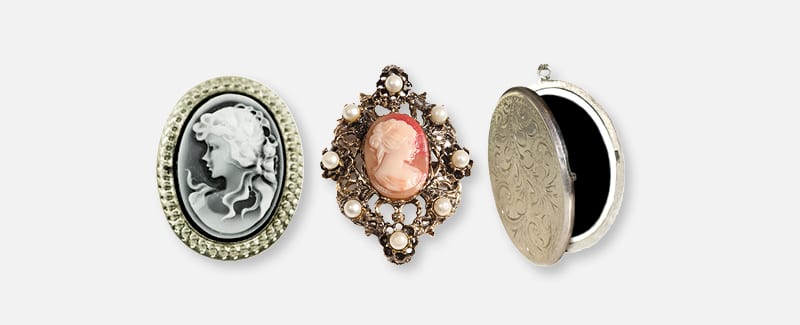 If you look at modern jewelry, you will find inspiration from every popular design from the Victorian Period. The symbolism and meaning of jewelry from this time left its mark on all the jewelry that followed, from the 19th through the 21st centuries. Victorian jewelry speaks to the cycles of life–birth, love, marriage and death—as well as leisure time, hobbies, and travel. It was longest age in jewelry, spanning the long years of Queen Victoria's reign, from 1837-1901.
Victorian jewelry is divided into three periods: Romantic, Grand and Aesthetic. The Romantic Period covers the earlier years when Queen Victoria married her Prince, Albert. Sentimental motifs were plentiful and jewelry designs were steeped in meaning. It was an innocent time full of youthful passion. What made this time even more influential was that it marked a major change in the way jewelry was produced and worn, due to the industrial revolution and the discovery of the diamond mines in South Africa. Women of all social status were now able to wear fine diamond jewelry pieces for day and for evening.
During the Grand Period, the two decades when the Queen mourned the death of Prince Albert, the style of jewelry changed dramatically. Dark, somber jewels were the vogue. Mourning and memorial lockets and rings with inscriptions and dark colored stones of Whitby jet, onyx and deep red Bohemian garnets came into vogue. Pendants, brooches and bracelets were bolder and more often statement pieces. During this time, the popularity of the Grand Tour, which took the well-heeled British to Greece and Italy, brought Revival Etruscan, Greek and Renaissance influences to jewelry design.

When Queen Victoria came out of mourning in the later Aesthetic Period, it reflected a return to lightheartedness with symbols of luck, good fortune and naturalistic forms and motifs. The jewelry of this period created an entire iconography that we still see today in daring designers like Stephen Webster and Shaune Leane. Many styles, materials, motifs, and concepts from this time have never become passé.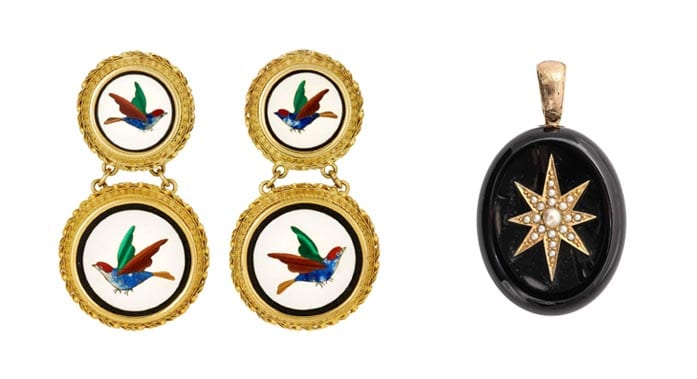 Snake Jewelry
Snake motifs are one of the earliest historical and mythological symbols that had significance in almost every culture. From Adam and Eve to Cleopatra, snakes have been associated with diverse meanings from good to evil. In 1839, when Prince Albert proposed to Queen Victorian with a snake ring signifying everlasting love for eternity with an emerald, her birthstone, centered in its head, it became one of the most iconic Victorian motifs in jewelry. Queen Victoria's ring set a trend throughout England, and eventually throughout Europe, for a range of snake rings, coil-style flexible necklaces and bracelets with gem-set heads, as well snake brooches, cuffs, bangles, and hoop and drop earrings that featured a snake slinking around a gemstone. The serpent motif continued oninto the Art Nouveau period as well as becoming a motif for renowned houses like Bulgari in mid 20th century. Today, they are still slinking around and seem to be a symbol that will never go out of favor.
Heart Jewelry
Hearts became most popular in Georgian and continued on into Victorian jewelry. There is a whole language of symbols associated with hearts but all are variations on the most iconic symbol of love and romance. One heart symbol that became popular in Victorian jewelry is the witch's heart, also called the Luckenbooth heart in Scotland. In the 18th century, the symbol implied that the giver had become bewitched to fall in love with the recipient. English Victorian pendants and brooches displayed a hand holding out a heart as a gesture of affection. The Irish claddagh ring, in which two hands hold one heart, means "I hold your heart in my hand." The claddagh takes on slightly different meanings depending on whether the recipient wears it facing in or out on the finger. Other heart styles include entwined hearts with connotations of "continuous, everlasting love" similar to the infinity sign. And double hearts set side-by-side signify two hearts together as one. Double hearts with a crown were associated with fidelity reigning over a marriage, while single crowned hearts mean "ruler of my heart." A heart with a flame on top symbolizes burning with passion. An arrow piecing a heart referred to cupid shooting his dart to make the recipient fall in love. And a heart with a key motif contained several meanings, such as "I have the key to your heart" or "you are the key to my heart." Victorian jewelry is nothing if not romantic, with many other love-inspired heart designs.


Grand Tour Jewelry
Another icon of Victorian jewelry is the souvenir. The most popular Victorian souvenir jewelry is exotic pieces collected on The Grand Tour. The most popular are Italian. Pietra Dura micro-mosaic jewelry, crafted out of colored gemstonesor glass often depicts famed Italian destinations. Also popular are coral and shell cameos. Other designs are inspired by Ancient jewelry in Italian museums with Etruscan details such as granulation, wirework and filigree. Enameling in patterns and symbols adds color to other styles. Rings, bracelets and brooches feature the word Souvenir in both English and Italian. Others spell out Roma on the back of a picturesque micro-mosaics crafted into images of the city.
Victorian Lockets
Sentimentality and tokens of love and loss are characteristic of Victorian jewelry. Lockets are common in all three in different moods and materials. The secret compartments that could hold photos, messages or locks of a loved one's hair in life orafter death were all part of the popularity of this category of jewelry. When Queen Victoria went into mourning, lockets designed in remembrance of lost loved ones became the height of fashion. The symbolism that reigned over the entire Victorian period include the meanings of gemstones too. Turquoise symbolizes forget-me not. Lockets are also embellished with diamond horseshoes for luck, buckles for holding tightly onto a loved one, and anchors for hope and home safe for sailors. Lockets are also often chased and engraved with names and dates representing births, marriages, deaths, and other important occasions.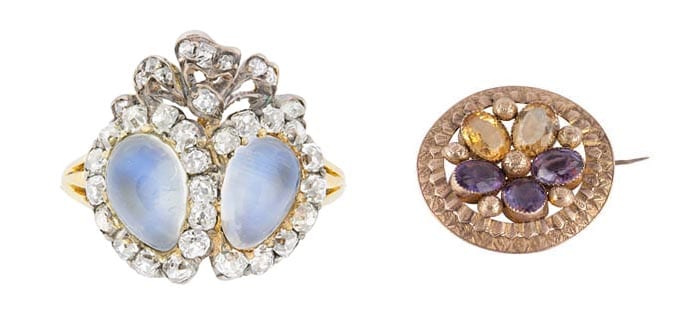 The Language of Flowers
Books and pamphlets published in the Victorian era describe the language of flowers, offering meanings for a wide range of botanicals. The jewelers of the day use floral and foliate motifs to add extra meaning to antique rings, lockets, brooches and earrings. The main floral motifs during this time period include forget-me-nots for remembrance and pansies for "think of me" (from pensee in French, which means think). There were tulips for a declaration of love, ivy leaves for fidelity, and orange blossoms for everlasting love. There was meaning for almost every bloom. These eloquent flowers are added to lockets, charms, rings and brooches. This Victorian tradition continues on to the 20th and 21stcentury with every renowned jewelry house creating their versions of garden variety or exotic botanicals to add beauty and meaning to jewelry that speaks from the heart.
//= get_template_directory_uri() ?> //= get_template_directory_uri() ?> //= get_template_directory_uri() ?> //= get_template_directory_uri() ?> //= get_template_directory_uri() ?> //= get_template_directory_uri() ?>
©2011-2023 Worthy, Inc. All rights reserved.
Worthy, Inc. operates from 25 West 45th St., 2nd Floor, New York, NY 10036