17 Celebrity Rings Bought for More Than 1 Million Dollars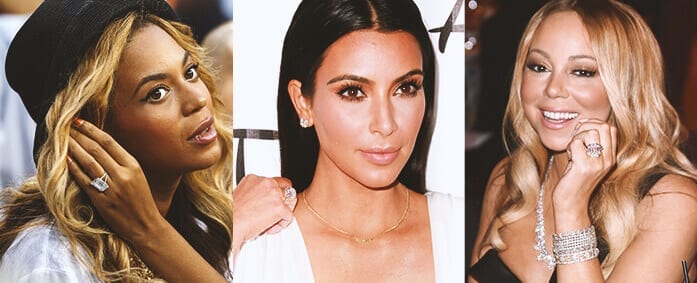 What's the most expensive wedding ring in the world? While we've seen some impressive engagement rings owned by everyday people, the priciest – and most famous – rings have been purchased by and for celebrities.
Angelina Jolie's 16-Carat Engagement Ring
Angelina Jolie's engagement ring features a gorgeous arrangement of approximately 16 carats worth of emerald-cut diamonds, and is estimated at over $1.5 million. A custom design by jeweler Robert Procop, it's the perfect match for Angelina's sophisticated personality. Sadly, she and Brad Pitt separated in 2016 after a 12-year relationship that included two years of marriage.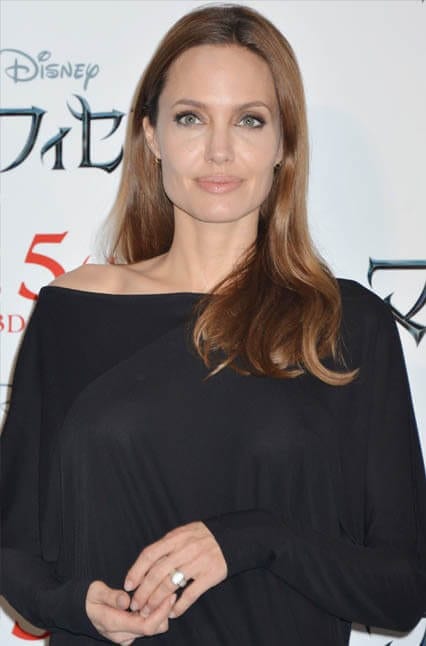 Jennifer Aniston's 8-Carat Engagement Ring
Jennifer Aniston's million-dollar engagement ring is stunning, yet simple. The 8-carat rose-cut diamond is presented as a solitaire, and is mounted on a gold band. Justin Theroux proposed in 2012, and the pair enjoyed a long engagement before tying the knot in 2015.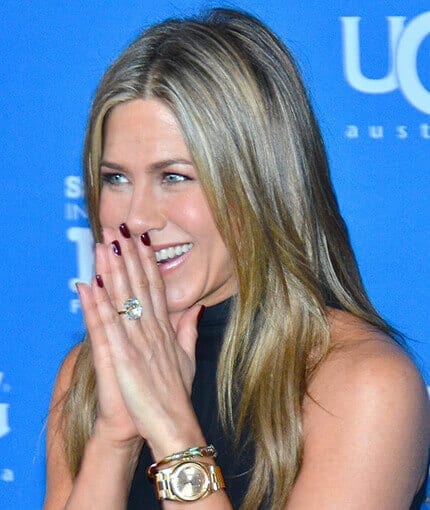 Jennifer Lopez' Engagement Rings
People are sometimes surprised that Jennifer Lopez' engagement ring cost Ben Affleck about 1.2 million dollars back in 2002 – after all, it isn't the largest celebrity engagement ring! The answer to the high price tag lies in the diamond's color: it's a gorgeous shade of pink. The couple broke up in 2004, and the Harry Winston diamond was sold back to the jeweler after Jennifer returned it to Ben.
J Lo's ring finger wasn't empty for long, though. Marc Anthony proposed in 2004 with a stunning 8.5-carat blue diamond from Neil Lane. Worth approximately $4 million, the ring was sold after the couple divorced in 2011.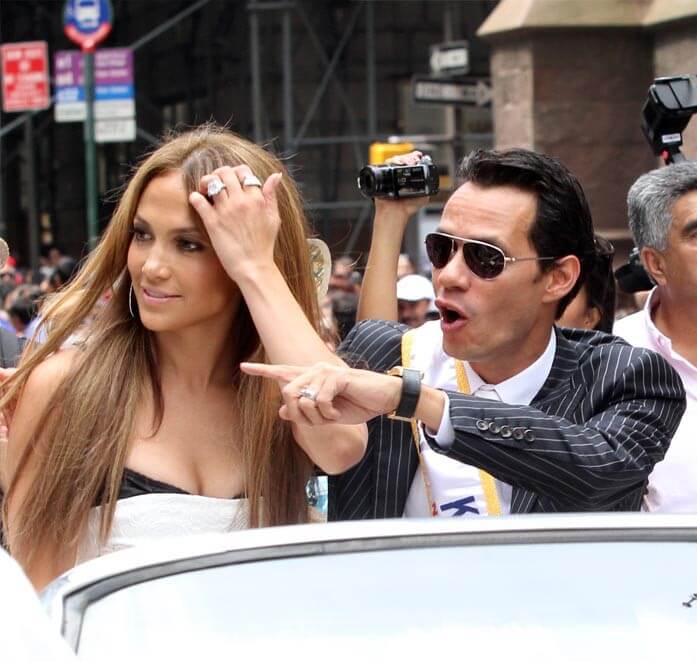 Kim Kardashian's Engagement Ring
When Kris Humphries proposed to Kim Kardashian in 2011, he impressed her with a 20.5-carat Lorraine Schwartz ring worth about $2 million. The couple split after just 72 days of marriage and Kim returned the ring, which fetched just $620,000 when it was auctioned off at Christie's in New York.
Kim's second engagement ring is equally impressive. When Kanye West proposed back in 2013, he designed the 15-carat Lorraine Schwartz ring himself. Worth more than $1.6 million when it was presented, the ring features a cushion-cut diamond that appears to be floating on air.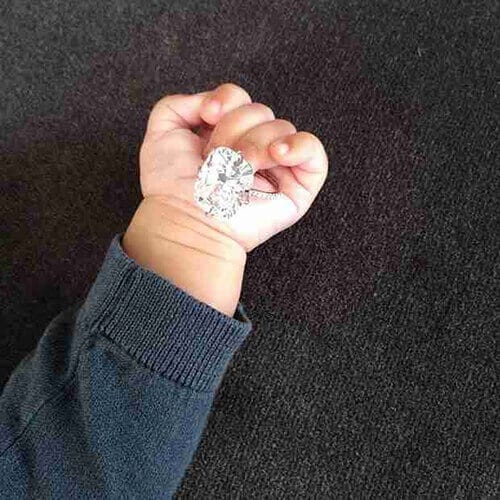 A third engagement ring (an extra, or "second" engagement ring from Kanye) worth an estimated $4.5 million was stolen when Kim was robbed at gunpoint in Paris during the 2016 fashion week. The 20-carat sparkler was "disposed of" by the thieves, however the diamond is traceable and may one day be recovered.
Source: US Magazine, E! Online.
Mariah Carey's Engagement Rings
Nick Cannon's gift of a 17-carat engagement ring made up of 58 pink diamonds adorned Mariah Carey's finger from 2008 until the two split in 2014. At the time of its purchase, it was worth approximately $2.5 million.
Mariah received an even larger engagement ring from billionaire James Packer. Designed by Wilfredo Rosado, it features a massive 35-carat stone worth an estimated $10 million, and it's entirely worthy of her diva status. The couple's relationship ended in a breakup, and because Mariah was not the one who called off the engagement, she was allowed to keep the ring.
Source: ET Online, US Magazine.
Jacqueline Kennedy Onassis 40.42-Carat Engagement Ring
Not only was Jackie O's engagement ring pricey, it is still one of the most famous celebrity engagement rings of all time! The 40.42-carat Lesotho III diamond ring is worth about $2.6 million, and was worn just twice. The ring was auctioned off by Sotheby's in 1996 as part of the former First Lady's estate.
Elizabeth Taylor's Diamond Rings
Elizabeth Taylor was a legendary actress, and her love of diamonds is part of her legacy. The star owned many priceless treasures during her lifetime, including two famous diamonds. The 33.19-carat Asscher-cut Elizabeth Taylor Krupp diamond fetched $8.8 million at auction following her death, and the 68-carat pear-shaped Taylor Burton diamond is worth approximately $18.9 million, making it one of the most expensive engagement rings in the world. See who owns Elizabeth Taylor's diamond rings.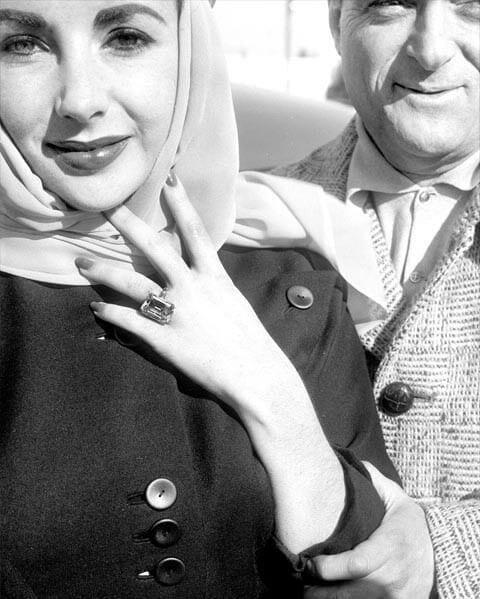 Beyonce Knowles
Beyonce and Jay-Z have been together since 2008, when she first flashed her incredible 18-carat Lorraine Schwartz ring. Valued at more than $5 million, Queen B's engagement ring boasts a stunning emerald-cut diamond and two delicate bands.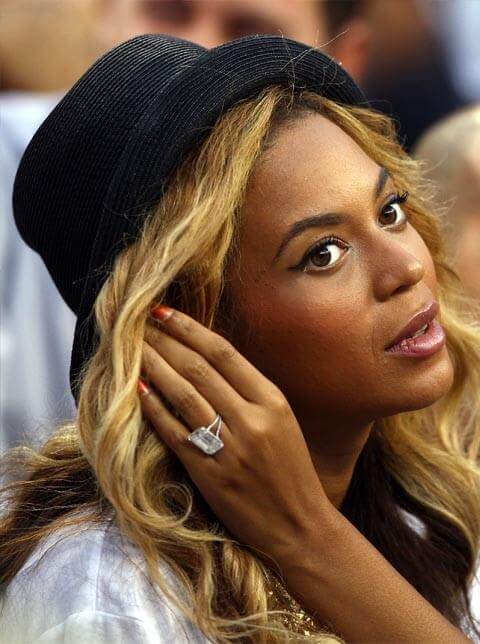 Ciara's Engagement Rings
Although Ciara and her fiancé Future had a very short engagement, the 15-carat emerald cut diamond ring was incredibly impressive, and its cost was an estimated 1.5 million dollars. Designed by Avianne & Co., the ring featured a large center stone with a slightly smaller stone on each side and more emerald-cut diamonds along the band. Ciara returned the ring to Future when the couple went their separate ways.
There's a happy ending to this story, though. Ciara and Russel Wilson were engaged early in 2016, with Russel presenting Ciara with a 16-carat sparkler. The ring's estimated cost is $2 million, and in photos, the stone exhibits incredible beauty.
Sources: US Magazine, Hollywood Life, US Magazine.
Blake Lively's 7-Carat Engagement Ring
Not only does this famous $2.5 million engagement ring feature a flawless diamond in a unique pink color, it's also a gorgeous oval cut. Set on a delicate band covered in tiny diamonds, the Lorraine Schwartz ring was given to Lively by her current husband, Ryan Reynolds. The couple astonished everyone with a surprise wedding in 2012, and have been enjoying life together ever since.
Source: People.
Catherine Zeta-Jones' 10-Carat Engagement Ring
While many celebrity rings purchased for over 1 million dollars are brand-new, Catherine Zeta-Jones received a vintage Fred Leighton ring from Michael Douglas. With a 10-carat marquis-cut center stone surrounded by 28 smaller diamonds, it's quite a sparkler – and its vintage look is the perfect complement to Catherine's classic style.
Embed from Getty Images
//= get_template_directory_uri() ?> //= get_template_directory_uri() ?> //= get_template_directory_uri() ?> //= get_template_directory_uri() ?> //= get_template_directory_uri() ?> //= get_template_directory_uri() ?>
©2011-2023 Worthy, Inc. All rights reserved.
Worthy, Inc. operates from 45 W 45th St, 4th Floor New York, NY 10036