Top 7 Most Stylish Diamond Watches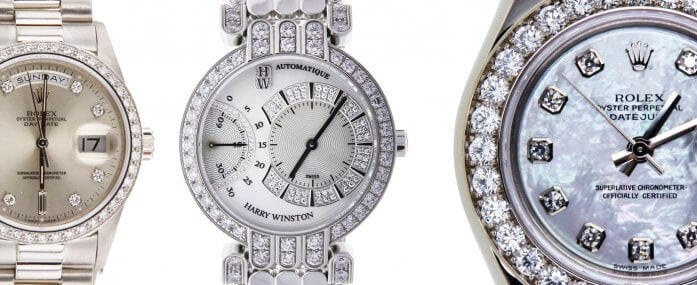 All diamond watches are the same, right? Nothing could be further from the truth. The marketplace is flooded with options, some far fancier than others, some offering cool retro styling, and some with amazing technical features. Our own online auction platform has seen some stunners sell, such as this Rolex 18346 Day-date sold at auction for $16,802. Beyond functionality and durability, diamond watches offer incomparable elegance while providing a bit of insight into the wearer's personality. Because most luxury watches retain their appeal over time, this countdown includes a few vintage options as well as newer diamond watches.
Cartier Tank Française Watch
Cartier's Tank Française watch is a classic. Considered one of the most stylish diamond watches ever to enter the marketplace, it was introduced in 1916. This timeless watch offers a pleasing rectangular profile, and comes in models for men and women alike. We love the clean, crisp look of the stainless steel Tank Française diamond watch for its ability to complement a variety of fashions while offering exceptional functionality and water-resistance to a depth of approximately 30 meters.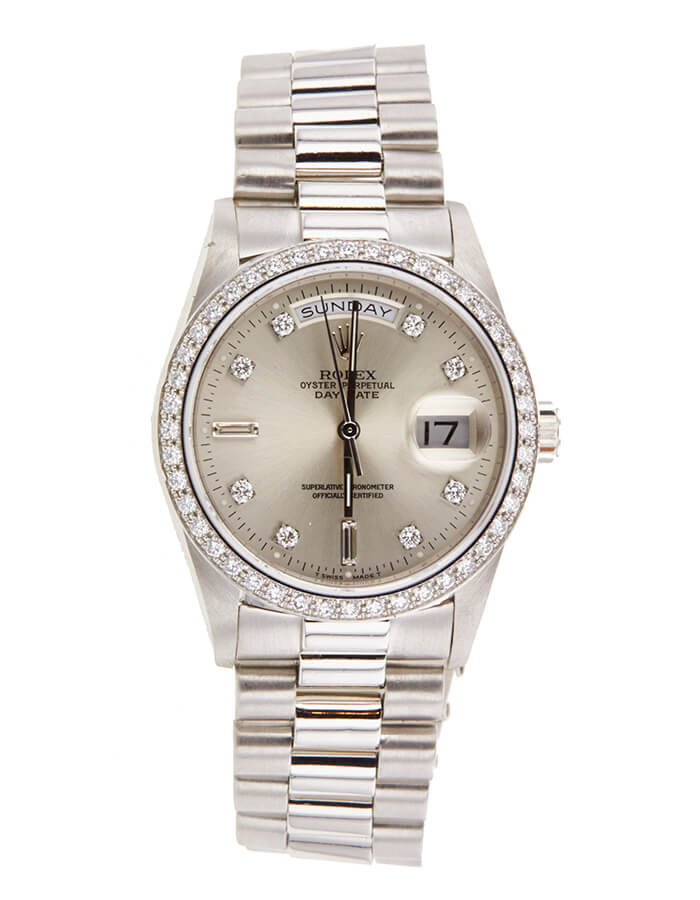 Rolex Diamond Day-Date President
Nicknamed the "Rolex Presidential," the Day-Date President was released in 1956. Available with and without diamonds in different configurations, it has been popular ever since. This is an absolute classic when unadorned, and when diamonds are added, it takes on incomparable elegance. If you are interested in a diamond Rolex Day-Date, be sure to keep the model number in mind as you shop. The Rolex Day-Date 18238 has just a smattering of diamonds, discreetly positioned at the hours. In contrast, the Rolex Day-Date 18348 offers a diamond bezel. These are just two fine examples of stylish Day-Date President watches.
Diamond Rolex Pearlmaster
Rolex offers an endless array of ladies' diamond watches. The Pearlmaster is a breathtaking example, thanks to diamond markers and a gorgeous diamond bezel. Add a diamond bracelet to match, and the presentation is one of absolute luxury. Like most other watches by Rolex, this one comes in a variety of colors and configurations to suit the wearer's taste. The Rolex Pearlmaster is an excellent example of a watch that provides a lifetime of style.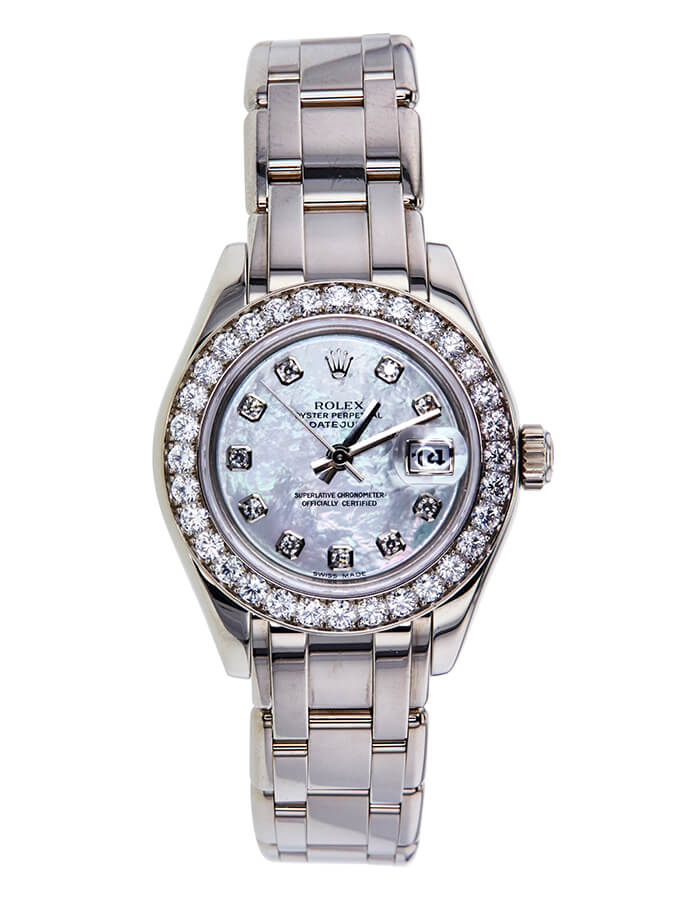 Breitling Colt 36
The Breitling Colt 36 offers a number of configurations, all with classic styling. Each Colt 36 version comes with exquisite touches including optional diamond markers at 1, 2, 4, 5, 7, 8, 10, and 11, plus an optional diamond bezel, also available in different configurations. Available with silver, black, or blue dials, two different mother of pearl options, and a forgiving steel case, this option combines durability with go-anywhere style appeal. A number of bracelet options add versatility, allowing wearers to change the look on a whim.
Bulgari Divas' Dream
This is a stunning ladies' diamond watch with an incredible array of round, baguette, and brilliant cut diamonds surrounding the case and adorning the bracelet. In addition to all the outer bling, the Bulgari Divas' Dream features a snow pave dial for even greater brilliance. Part of Bulgari's Divas' Dream jewelry collection, this watch is a celebration of femininity that manages to offer a stunning contemporary look while taking its inspiration from ancient Rome's graceful mosaics.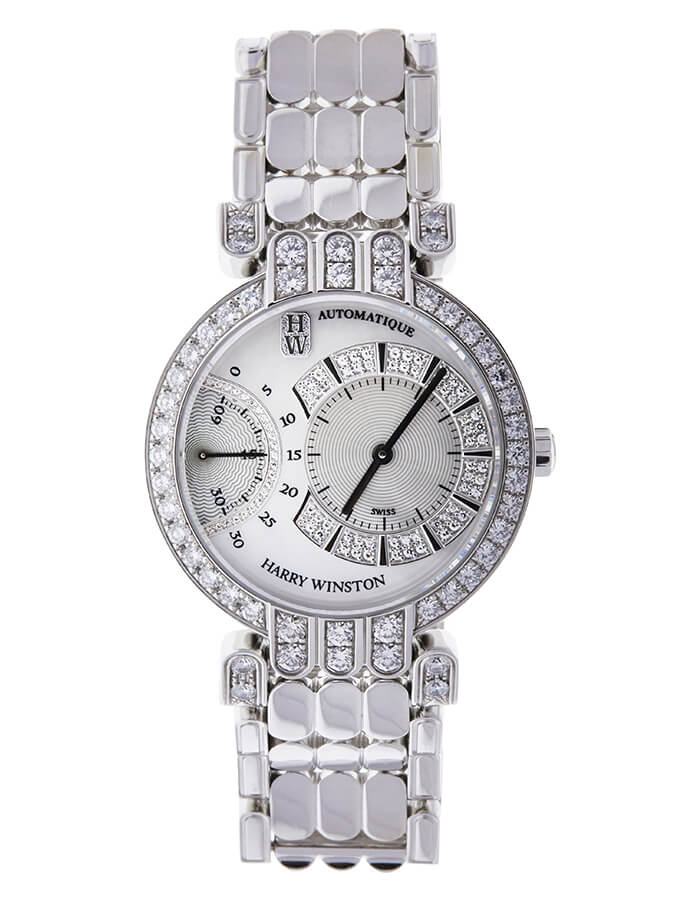 Harry Winston Premier Diamond Second
Introduced in 1989, the Harry Winston Premier diamond watch collection is home to many favorites. While every Harry Winston watch has something special to offer, we're smitten by the Premier Diamond Second, which offers a gorgeous take on the current color trend via a splash of burgundy within a mother-of-pearl dial. Brilliant pink sapphires accompany emerald- and brilliant-cut diamonds; in all, this watch contains approximately 2.65 carats of gemstones. An 18K white gold case and a burgundy pearl alligator leather strap complete the presentation.
Patek Philippe Ref. 7130 Ladies' World Time Watch
Patek Philippe offers a fantastic selection of stylish diamond watches for everyone. Of these, the Patek Philippe 7130G stands out for its beautiful complications, its elegant presentation, and its unique yet versatile color combinations. Designed with business and travel needs in mind, it features all 24 world time zones and a 24-hour day/night indication. Gorgeous with fashions of every kind, this magnificent timepiece comes in white gold or rose gold.
Whether you are looking to upgrade your current watch or simply want to sell one you've lost interest in, Worthy can help. Our online auction platform is an easy and simple way to sell diamond watches and other jewelry from the comfort of your home. What's more, you will receive true to market bids on your watch from our qualified buyers, making the transaction a good deal for everyone involved. Have questions? Learn more about selling your watch here.
//= get_template_directory_uri() ?> //= get_template_directory_uri() ?> //= get_template_directory_uri() ?> //= get_template_directory_uri() ?> //= get_template_directory_uri() ?> //= get_template_directory_uri() ?>
©2011-2023 Worthy, Inc. All rights reserved.
Worthy, Inc. operates from 25 West 45th St., 2nd Floor, New York, NY 10036