Worthy Reviews: Selling a Tiffany Diamond Ring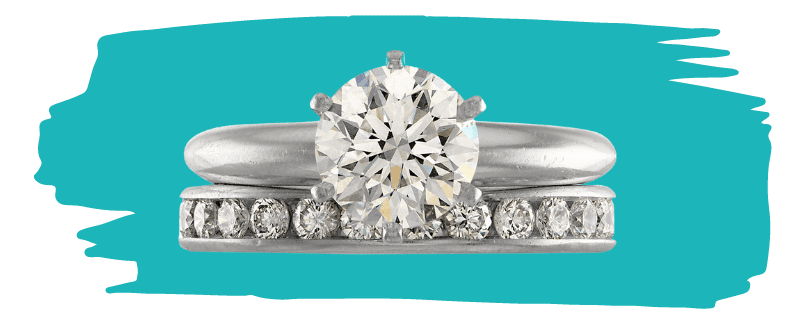 We've had the privilege to help many clients get more for their valuables but this client really got our attention. Not only was Cara's Tiffany bridal set stunning, but it had also been through quite the journey on its way to us.
See What We Learned In Our Post-Auction Interview With Cara:
Q. How did you find Worthy?
A. I conducted a pretty straightforward Google search for "jewelry consignment".

Q. Did you try selling your ring elsewhere?
A. I did! At the beginning of the year, I took my ring to a local jeweler that I had known – they have a pretty good local presence. I decided to consign the ring with them in order to maximize the value without much risk. It was up for consignment for 6 months with no luck. When the consignment period was up I decided not to extend it and tried another local jeweler. They said they had a dealer in NY who would purchase it outright-I liked the price but found Worthy and thought I would give it a try.
Q. Did you have any hesitations with Worthy?
A. I was pretty uncomfortable with it but decided to call and learn more. I called and met my account manager, Josh. He really walked me through the process and helped me understand that there would be no obligation, that everything is insured, etc. I had him show me everything! The insurance ticket was another reassurance before I went to ship also.
Q. Did you feel that you were working with professionals?
A. Most certainly, yes. I really felt like you all knew what you were doing and that you are genuine people that wouldn't be working at a company like this if it was a scam or anything.

Q. Do you feel that you got the highest market value for your ring?
A. Yes, for sure – especially since it was higher than anyone else was willing to offer. I was very happy with it.

Q. Would you use Worthy again or recommend us to others?
A. Definitely! I've already started recommending you to people I know. I even told a coworker of mine who was considering eBay to try you guys out instead.
About Tiffany & Co.
Headquartered in New York City, Tiffany & Co. is renowned for its diamond jewelry and luxury goods. Founded on September 18, 1837, under the name Tiffany, Young, and Ellis, the company was once a purveyor to Russia's imperial family. Today, Tiffany & Co. is known worldwide as an arbiter of style and taste.
When the market for Tiffany's diamond rings is robust, as it is today, their owners tend to be pleasantly surprised with the outcomes of their auctions. The final outcome? When compared with other jewelry brands, Tiffany's diamond ring prices tend to be far better, particularly on the resale market.
What to Do With Unwanted Tiffany & Co. Diamond Rings?
When it comes to old or unwanted Tiffany diamond ring, many people opt to give it away, save it "just in case," or remove the diamond and sell it separately from the setting. Sometimes, ring owners opt to remove precious stones and have them reworked into new designs that they can wear or pass on to their heirs. In cases involving old Tiffany diamond rings, though, the options are far different. Because this is a prestigious brand that offers highly sought-after diamond rings and other pieces, it pays to keep the ring intact and either keep it to pass on as an heirloom or sell it on the secondhand jewelry marketplace. Antique Tiffany ring designs are highly coveted for their unique beauty, and more recent models are in equal demand due to their quality and exquisite craftsmanship. As Cara discovered when reselling her Tiffany bridal set, not all resale markets have the ability to offer excellent prices.
Tiffany Diamond Ring Resale Value
Because the value of diamonds and precious metals fluctuates over time, diamond rings resale value tends to be variable. Items from well-known luxury goods manufacturers like Tiffany & Co. tend to command higher prices than other, lesser-known, lower-quality brands, no matter how the general resale marketplace is doing. As Cara's story illustrates, Tiffany diamond rings resale value performs better in comparison to non-branded rings. Our professional buyers are highly attracted by branded pieces like Tiffany's, and this ultimately results in higher bids. Antique, vintage, and contemporary Tiffany rings continue to offer high resale value in our marketplace.
Why Sell Your Tiffany Diamond Ring with Worthy
When looking to sell a Tiffany ring, it's important to choose a professional and transparent service that you can trust. From secure shipping–insured up to $100,000–to a dedicated account manager that keeps you updated every step of the way, at Worthy we make your piece of mind our priority. As soon as your ring arrives at our New York City headquarters, you can rest assured that it's in good hands. Our team of experts, led by former Tiffany & Co. Chief Gemologist, Roy Albers, will handle your valuables with utmost care, from cleaning and photographing, to diamond grading at industry-leading labs like the GIA. Worthy can help you securely sell your Tiffany ring for more by allowing multiple buyers across the nation compete for your valuables at an online auction.
How to Sell a Tiffany Diamond Ring with Worthy
Describe your Tiffany ring to the best of your ability. Based on the provided information, we'll conduct a market value analysis, resulting in a trending market price.
We'll provide you with a fully insured FedEx shipping label addressed to our headquarters.
When your Tiffany ring arrives we will photograph it and have it professionally graded at the GIA laboratory located near our offices.
The e-Diamond report and professional photos will be made available to you and the buyers interested in bidding on your Tiffany item.
All you have to do is sit back, relax, and watch the offers roll in with the live auction viewer. Approve the final bid, and the money is yours!
//= get_template_directory_uri() ?> //= get_template_directory_uri() ?> //= get_template_directory_uri() ?> //= get_template_directory_uri() ?> //= get_template_directory_uri() ?> //= get_template_directory_uri() ?>
©2011-2023 Worthy, Inc. All rights reserved.
Worthy, Inc. operates from 25 West 45th St., 2nd Floor, New York, NY 10036