5 Minutes With Watch Anish
Worthy recently had a chance to talk to Anish Bhatt, better known to the watch world as Watch Anish about watch collecting. Anish is the founder & CEO of Lion Luxe Media and WatchAnish.com, a leading online luxury lifestyle media platform. Anish is an internationally renowned Instagram personality and expert in men's style and luxury watches.
How many watches are there in your collection?
Maybe 40 or 50?
Is that the right number?
There's not really a right number. It all depends on the person. It depends on what excites them. Watches are never really a necessity. It's what you like. To me, there's never an end to that number. For a lot of people there's never an end. There's always the next one. And the next one after that. Planning the next two or three after that.
Have you ever sold a watch?
I think to be honest, when you start collecting watches, as opposed to just buying and hoarding, you realize that the first five or ten purchases that you make are mistakes. You're finding your taste, you're finding what you love. You're finding what speaks more to you. Because it's a very personal thing. It's more about emotion. You're kind of finding your feet, I think, with your first five or ten watches. So I have, but only to upgrade to something I think is better.
So you've sold a watch to buy a watch.
Yes. When I started collecting watches I would have bought a particular reference. But then over the next few years after that purchase I educated myself more about things I should look at and the condition of the dial and hands and how important these things are, and how different versions or different dials are rarer. Maybe I prefer them. So maybe I would take the one I bought previously and sell that in order to then purchase one that I think is superior to it in condition and in rarity.
What are you wearing today?
This is a watch that was made for me. I collected it recently. It's a German Company called Greib & Benzinger and they specialize in restoration of vintage movements completely refinishing and making bespoke watches from these old movements. They made this for me.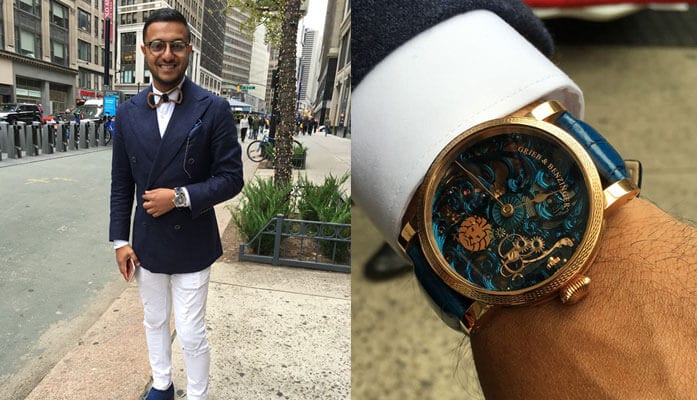 What's your next watch?
I have a list of 10 or 15 at any given time and then it depends on my mood and if I'm ready to buy. Now at this stage I don't buy watches every day but when I buy it's like when I buy fashion, clothes. If I'm in the mood and I'm in Switzerland and one of the brands I'm looking for is available, I'll just buy it.
If you could own any watch in the world, which would it be?
You could always say a big grand complication from Patek or a really really special vintage Rolex. Maybe something like the Only Watch piece Patek did a few years ago: the 5004 in titanium. That would probably be my ultimate watch if I was given the choice. (Editor's note: Good taste! That unique Patek sold for $4 million at the 2013 Only One charity auction in Monaco.)
What watch would you recommend for a collector who's just starting out?
Most people will tell you it's better to start out modest. Don't make a huge purchase because your taste will change and you'll find that the circle of people around you will influence you as well. Especially once you get into the watch collector community, you'll meet different sets of people. Whether they collect only vintage or that collect modern or only one brand or only perpetual calendars and so on. So I would say start with something modest, start with something that means something to you. Maybe from your birth year or the date your first child was born, something like that, something you're not going to change. At least make your first purchase something you'll keep forever and you'll always be able to fine-tune other pieces.
//= get_template_directory_uri() ?> //= get_template_directory_uri() ?> //= get_template_directory_uri() ?> //= get_template_directory_uri() ?> //= get_template_directory_uri() ?> //= get_template_directory_uri() ?>
©2011-2023 Worthy, Inc. All rights reserved.
Worthy, Inc. operates from 25 West 45th St., 2nd Floor, New York, NY 10036