The Noteworthy Series: Rolex Sky-Dweller Review
Ask anyone to name a few top luxury watch manufacturers, and it's quite likely that Rolex will make it onto their list – and for good reason! By 2005 – that's 100 years after its founding – more than half of all the watches certified by Contrôle Officiel Suisse des Chronomètres (COSC) were made by Rolex, which still maintains the record for having the most certified chronometer movements in the wristwatch category. The Sky-Dweller uses one of these movements: Calibre 9001, a COSC-certified caliber that offers a combination of complex works and exceptional functionality. Like many of the watches Rolex produces, the Sky-Dweller offers fantastic complications that amplify its usefulness while lending interest to its appearance. Let's take a closer look at this remarkable timepiece.
All About Rolex Watches
Other Rolex Model Reviews
Air King · Cellini · Date/Datejust · Daytona Cosmograph · Explorer · GMT Master & GMT Master II · Milgauss · Presidential
More About Rolex Watches On Worthy
Top 9 Rolex Auctions on Worthy · Rolex As A Smart Investment · How To Spot A Fake Rolex · Most Popular Rolex Watches · James Bond's Rolex Watches
Rolex Sky-Dweller History
Known as "The Watch for Word Travellers," the Rolex Sky-Dweller treats its owners to a view of two different time zones. The first is displayed on the edge of the dial. The second is displayed inside a recessed, off-center disc that lends additional interest to the watch's appearance. A small red-framed triangle positioned just below the Rolex crown logo points to the time on this innovative rotating disc.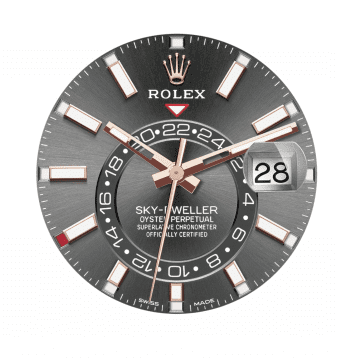 All Rolex Sky-Dwellers are equipped with the Saros annual calendar, which features a deep red "month" indicator that appears in one of twelve windows positioned around the dial (see image above with indicator positioned at 8 o'clock), plus a date that is displayed in a small window located at the three o'clock position. As with other Rolex models, the date on the Sky-Dweller is magnified with a high-quality lens for enhanced readability.
Like many of the most popular Rolex watches, the Sky-Dweller is part of the Rolex Oyster family. Its full name is Oyster Perpetual Sky-Dweller, and its movement is protected by fourteen patents. Introduced in 2012, the Sky-Dweller line was originally available in 18k white gold, 18k yellow gold, and Everose. The white and yellow gold versions came with Oyster bracelets. The Everose version was presented on a brown alligator strap. The earliest Sky-Dweller models had dials in the same colors as their cases, along with Arabic numerals.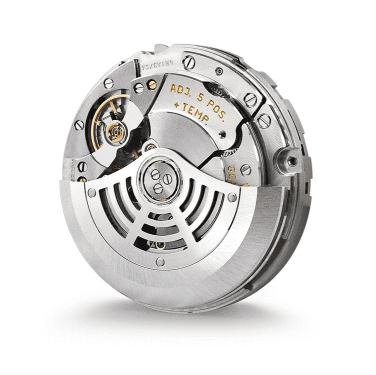 In 2014, Rolex added three more versions to its Sky-Dweller line including a pink gold Sky-Dweller on an Oyster bracelet and yellow and white gold versions on leather bands. Buyers could choose from additional dial colors including a black satin dial on the white gold watch or a silver dial on the yellow gold watch.
The Rolex Sky-Dweller line was further expanded in 2017 when two-tone yellow gold and stainless steel, as well as white gold and stainless steel models, were introduced. These models were offered at substantially lower price points, making part of the Sky-Dweller line more attainable. There are some minor changes to all Sky-Dwellers from the 2017 design line; for example, they feature baton indices rather than Arabic numerals on the primary time zone, and the center hands are a touch longer for enhanced visibility. Additional colors are available; for example, it's possible to purchase a Sky-Dweller with a blue face.
How to Spot a Fake Rolex Sky-Dweller
Technology makes "magic" happen in so many ways. Unfortunately, the same technology we praise means that counterfeiters have access to solutions that allow for greater innovation, meaning that faux Rolex Sky-Dwellers look more like the real thing than they may have in the past. As there are quite a few different Sky-Dwellers on the market and various counterfeiting shops rely on different techniques, there's no way to list all of the telltale signs that you're looking at a fake Rolex Sky-Dweller. Here are a few common issues to watch for.
Price is very low – often seems too good to be true
No box or any paperwork; seller will make up a story about what happened to it
Small errors in craftsmanship such as incorrect color combinations, finishes, numeral type/indices, or anything that appears to be out of alignment
Poorly engraved or stamped details
Feels too heavy or too light
Seems to be too thick or too thin
Complications do not run correctly
Date magnifier looks cheap
If you're tempted to purchase a preowned Rolex Sky-Dweller privately and you aren't able to take it to a reputable watch dealer for examination, be sure to familiarize yourself with the model in question and learn how it operates. Rolex has a complete guide to operating the Sky-Dweller on its website, so you can easily test the watch for proper functioning and compare it with photos.
This process won't weed out all fakes as some are extremely convincing. The only tried and true method for verifying that a Rolex Sky-Dweller is authentic is to have it inspected inside and out. The case back should only be opened by an expert; this isn't something that we recommend attempting on your own.
The best way to avoid being scammed by a counterfeiter is to purchase your watch directly from Rolex, an authorized Rolex dealer, or a trusted source for luxury preowned watches, such as Worthy. Our horologists have the expertise required to identify fakes, and our authentication process includes an internal examination that confirms that the correct movement is present.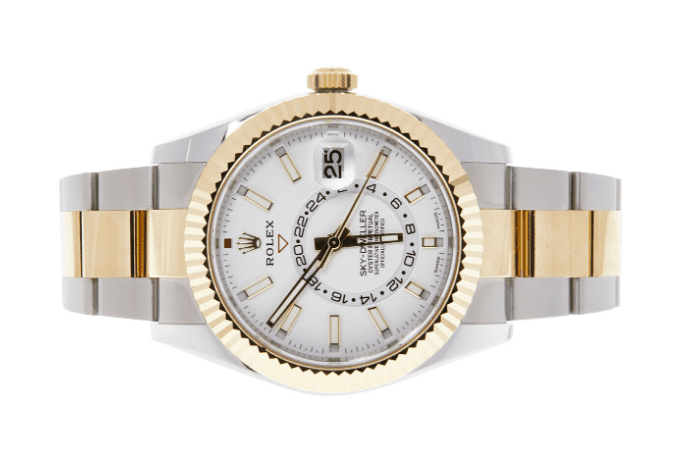 Estimated Value of Rolex Sky-Dweller Watches
The current retail (MSRP) price of a Rolex Sky-Dweller watch ranges from $14,400 to $48,850.
Pre-owned Rolex Sky-Dweller watches are in high demand and retain their value very well, typically bringing in thousands so long as they're offered in pristine condition. Factors including materials, rarity, age, and real-time market demand contribute to the selling price of a pre-owned Rolex Sky-Dweller, as well. Value is typically a bit better when original paperwork and the watch's presentation box are included.
If you own a Rolex Sky-Dweller watch and wish to sell it we can help by eliminating the guesswork that's so often involved with selling a preowned luxury watch. Our process helps you get the best possible price by targeting interested, prequalified buyers who are actively searching for pre-owned Rolex Sky-Dweller watches like yours.

//= get_template_directory_uri() ?> //= get_template_directory_uri() ?> //= get_template_directory_uri() ?> //= get_template_directory_uri() ?> //= get_template_directory_uri() ?> //= get_template_directory_uri() ?>
©2011-2023 Worthy, Inc. All rights reserved.
Worthy, Inc. operates from 25 West 45th St., 2nd Floor, New York, NY 10036