Engagement Rings from "The Bachelor"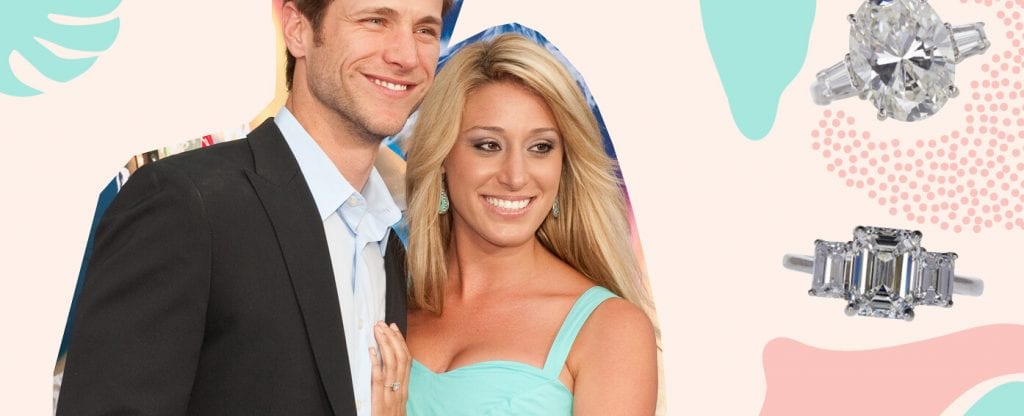 Since the moment "The Bachelor" first premiered in 2002, millions of us have been glued to our screens, eagerly anticipating the moment when a handsome bachelor would propose to one of the show's finalists. While the suitor and his chosen lady don't always stay together, engagement rings from The Bachelor never fail to impress. As the show's 23rd season gets underway, let's take a closer look at all of "The Bachelor" engagement rings to date.
Season 2: Aaron Buerge & Helene Eksterowicz
Season one of The Bachelor ended without a proposal. At the end of the show's second season, Aaron Buerge proposed to Helene Eksterowicz with a 2.75-carat Harry Winston 3-stone engagement ring set in yellow gold. The couple broke up after several weeks.
Season 3: Andrew Firestone & Jen Schefft
As The Bachelor's third season came to an end, Andrew Firestone proposed to Jen Schefft with a stunning Harry Winston engagement ring featuring an oval-cut diamond set on a slender band of white gold. The engagement lasted for only a few months.
Season 6: Byron Velvick & Mary Delgado
The Bachelor seasons four and five ended without proposals. Fans were thrilled when, at the end of season six, Byron Velvick proposed to Mary Delgado with a stunning 3.5-carat engagement ring from Tacori. The relationship lasted for five years.
Season 10: Andrew Baldwin & Tessa Horst
Seasons seven, eight, and nine ended in relationships between the bachelors and their finalists, but none of these relationships led to proposals. At the end of season ten, Andrew Baldwin proposed to Tessa Horst with an exquisite $50,000 solitaire engagement ring from Chopard. The couple called off their engagement after a month, but continued their relationship until deciding to break up in September of 2007.
Season 12: Matt Grant & Shayne Lama
When The Bachelor's 11th season ended without a proposal, viewers worried about another long dry spell. Luckily, the 12th season finale ended with bachelor Matt Grant proposing to Shayne Lama with a 2.85-carat platinum-and-diamond eternity engagement ring from Tacori. The couple went through a breakup up a few months later, however, Shayne said that she planned to keep the ring.
Season 13: Jason Mesnick & Melissa Rycroft
The Bachelor season 13 ended with some confusion when Jason Mesnick proposed to Melissa Rycroft, only to realize shortly after filming that his heart belonged to runner-up Molly Malaney. The 13th season marked the start of the partnership between Neil Lane and The Bachelor. Molly received an oval-cut halo engagement ring set on a rose old band. The couple went on to marry and have a daughter. Theirs was the first marriage in The Bachelor's history.
Season 14: Jake Pavelka & Vienna Girardi
As season 14 came to an end, bachelor Jake Pavelka proposed to Vienna Girardi with a cushion-cut halo engagement ring from Neil Lane. The couple ended their relationship a few months later.
Season 15: Brad Womack & Emily Maynard
At the end of season 15, Brad Womack proposed to Emily Maynard with a 3-carat cushion-cut engagement ring from Neil Lane. Brad and Emily broke up while their season of The Bachelor was airing, but got back together after its finale. The relationship simply didn't work: the couple decided to break up for good in May of 2011.
Season 16: Ben Flajnik & Courtney Robertson
Season 16's The Bachelor finale saw Ben Flajnik propose to Courtney Robertson with a $50,000 cushion-cut Neil Lane halo engagement ring set in platinum. The ring featured a floral design with a trio of tulip leaves on each side. Like the couple from the previous season, Ben and Courtney broke things off while their season was airing. They reunited but the second engagement didn't last: they called it quits in October of 2012.
Season 17: Sean Lowe & Catherine Giudici
The Bachelor season 17 ended with a successful engagement between Sean Lowe and Catherine Giudici. After Sean proposed with a 3.15-carat cushion cut Neil Lane halo engagement ring, the couple went on to marry in January of 2014. Theirs is the first successful marriage from The Bachelor. Sean and Catherine have two children together.
Season 19: Chris Soules & Whitney Bischoff
Season 18 ended without a proposal, so fans were relieved when, at the end of The Bachelor's 19th season, Chris Soules proposed to Whitney Bischoff during the final episode, presenting a stunning 4-carat cushion-cut engagement ring worth $92,000. The ring featured a halo of 20 diamonds, along with a beautiful arch band that gleamed with even more accent diamonds. Even though Neil Lane pulled out all the stops with this stunner, the relationship didn't work out. Chris and Whitney announced their breakup a few months later.
Season 20: Ben Higgins & Lauren Bushnell
As The Bachelor celebrated the end of its 20th season, Ben Higgins presented Lauren Bushnell with a 4.25-carat art-deco style Neil Lane engagement ring worth a cool $100,000. The couple starred in their own reality show, Ben and Lauren: Happily Ever After? ultimately opting to end their relationship in May of 2017.
Season 21: Nick Viall & Vanessa Grimaldi
The 21st season of The Bachelor came to an end with an engagement. This time, Nick Viall proposed to Vanessa Grimaldi with a 3.75-carat round-cut halo engagement ring from Neil Lane. Like its predecessor, this ring was valued higher than the average engagement ring from The Bachelor. Set in platinum and accented with two baguette diamonds and 164 round-cut accent diamonds, it was worth an estimated $95,000 to $100,000. The engagement didn't last: Nick and Vanessa broke up a few months after the show's finale.
Season 22: Arie Luyendyk & Becca Kufrin
Talk about drama! At the end of season 22, bachelor Arie Luyendyk proposed to Becca Kufrin with a 3-carat halo engagement ring from Neil Lane, only to break things off a few weeks after the show's filming wrapped. Arie went on to date runner-up Lauren Burnham. The two were engaged during a special After the Final Rose episode, during which Arie presented Lauren with a spectacular 3.5-carat cushion-cut halo ring from Neil Lane. They went on to marry on January 12, 2019, and are eagerly anticipating the birth of their first child.
//= get_template_directory_uri() ?> //= get_template_directory_uri() ?> //= get_template_directory_uri() ?> //= get_template_directory_uri() ?> //= get_template_directory_uri() ?> //= get_template_directory_uri() ?>
©2011-2023 Worthy, Inc. All rights reserved.
Worthy, Inc. operates from 45 W 45th St, 4th Floor New York, NY 10036