Top 10 Featured Auctions from August 2022: Classic Styles from Our Auctions
There are plenty of reasons people opt for classic styles. Maybe they love the look of an empire silhouette. Or maybe they admire the ingenuity that went into creating that first 6-prong setting at Tiffany & Co. all those years ago. Whatever the reason, classic styles are always a good choice, especially when it comes to jewelry. And last month we saw some true classics come through our auction platform which we absolutely loved. Let's take a look.

Pear-Cut Perfection
No one loves a classic more than the British royal family! And one of our favorite things about the royals is their unrivaled jewelry collection. But today we're talking about one very specific piece, the Cullinan III and IV (also knowns as "Granny's chips"), a 94.4-carat pear-shaped diamond and 63.6-carat cushion-shaped diamond that Queen Elizabeth has set in a brooch. We couldn't help but think of that icon when we set our eyes on the 2.5 CT pear-cut diamond earrings (#1 below) that would make any wearer feel like royalty.

Keeping It Simple
There's keeping it classic and there's keeping it classy. Last month we saw a few pieces that kept things both classic and classy by sticking to simple, solitaire styles and big (but not too big) carat sizes. For example, the setting style of the 1.51 CT oval ring (#6) shows off the diamond's beauty without any distractions such as a halo or pave band. Another great style choice is the round-cut pendant necklace (#4) that keeps things focused on the 2-carat diamond, without any need for added glitz.

While we do love a classic jewelry look and simple styles, sometimes holding onto these pieces just isn't practical, especially if there's a big ticket item on your shopping list or a college fund to start. If you have a piece of diamond jewelry sitting unworn in your jewelry box, consider selling it with Worthy.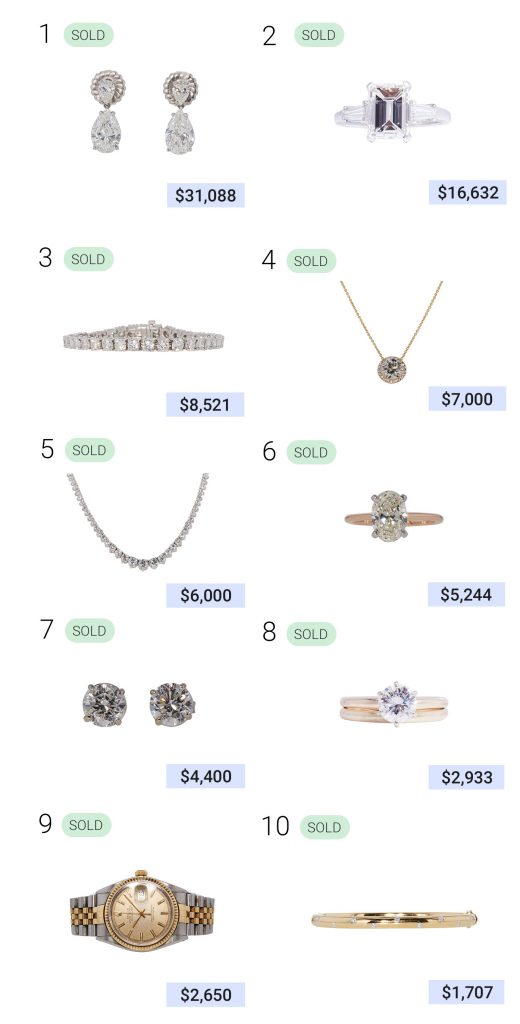 Top 10 Featured Auctions from August 2022
//= get_template_directory_uri() ?> //= get_template_directory_uri() ?> //= get_template_directory_uri() ?> //= get_template_directory_uri() ?> //= get_template_directory_uri() ?> //= get_template_directory_uri() ?>
©2011-2023 Worthy, Inc. All rights reserved.
Worthy, Inc. operates from 25 West 45th St., 2nd Floor, New York, NY 10036