Worthy's Guide to Radiant Cut Diamonds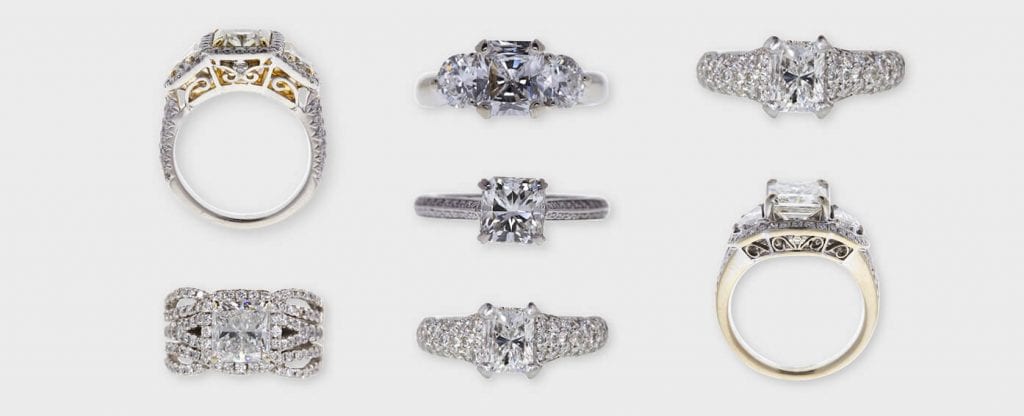 With all the fire of a brilliant cut and the intriguing geometric appeal of an emerald cut, the radiant cut diamond brings many attractive features together in one. This breathtaking diamond shape features a square or rectangular profile with cropped corners. Its table provides a marvelous view of the brilliant-cut facets. This quick guide provides an in-depth look at what makes radiant cut diamonds so very alluring.
Radiant Cut Diamond Facts
The radiant cut is quite a bit newer than most other diamond shapes. Invented in 1976, introduced in 1977, and patented by its creator, Henry Grossbard, this diamond shape is similar to the Barion cut, but with different facets. Like the Barion cut and other modified brilliant cuts, this diamond shape can make a diamond's color look either darker or lighter. When a colored round brilliant diamond is re-cut into a radiant diamond, for example, its color tends to be intensified and improved.
Like emerald, Asscher, and Barion cut diamonds, radiant cut diamonds have eight sides. Depending on how deeply the corners are cropped, this shape can appear more rectangular or more octagonal. When shaped like a longer rectangle, this stone has a lovely elongating, slenderizing effect on the wearer's hand.
Radiant cut diamonds feature step cut facets at the crown, which afford a view of the brilliant cut facets on the pavilion below. The effect is absolutely dazzling and offers the advantage of minimizing the appearance of many inclusions.
The ideal radiant cut diamond features a centered culet, even corners, and parallel sides. This creates the look of a starburst that seems to radiate from the stone's center.
Famous Radiant Cut Diamonds
If you love radiant cut diamonds, you're definitely not alone! Many celebrities prefer this diamond shape for its incredible fire and scintillation. Here are a few to feast your eyes on.
Hilary Duff's radiant cut engagement ring features a 14-carat center stone flanked by side stones. Its estimated value is $1 million.
Jennifer Aniston's radiant cut diamond engagement ring from Justin Theroux was a stunner at 8 carats. This diamond exhibits the cut's irresistible sparkle and is estimated to be worth approximately $500,000.
Megan Fox's engagement ring is a 3-carat radiant cut surrounded by a halo. Its estimated value is $80,000.
For those who love fancy colored diamonds, Jennifer Lopez's engagement ring from Ben Affleck was worth a look, as is Anna Kournikova's ring. J Lo's $2.5 million stunner was a pink radiant cut, while Anna's yellow radiant cut diamond ring has an estimated value of $6 million.
Outstanding Worthy Auctions featuring Radiant Cut Diamonds
We encounter many beautiful radiant cut diamonds as they make their way through our auctions.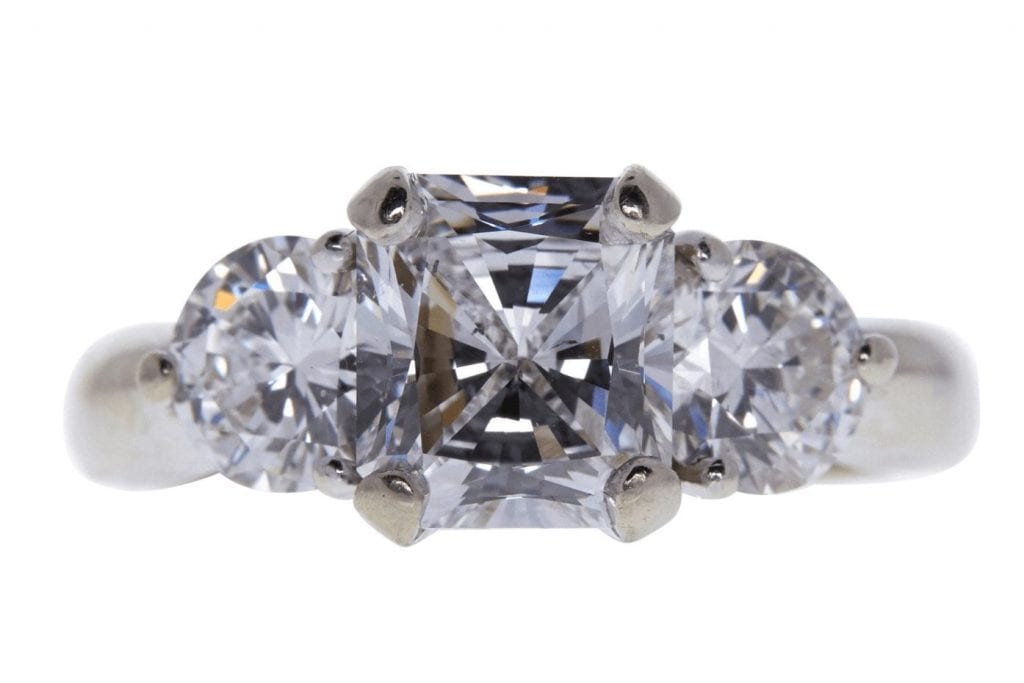 This exquisite 3-stone ring featured a 1.54-carat radiant cut diamond at its center. The round side stones weighed in at 0.58 carats apiece. This beautiful ring sold for $6,248.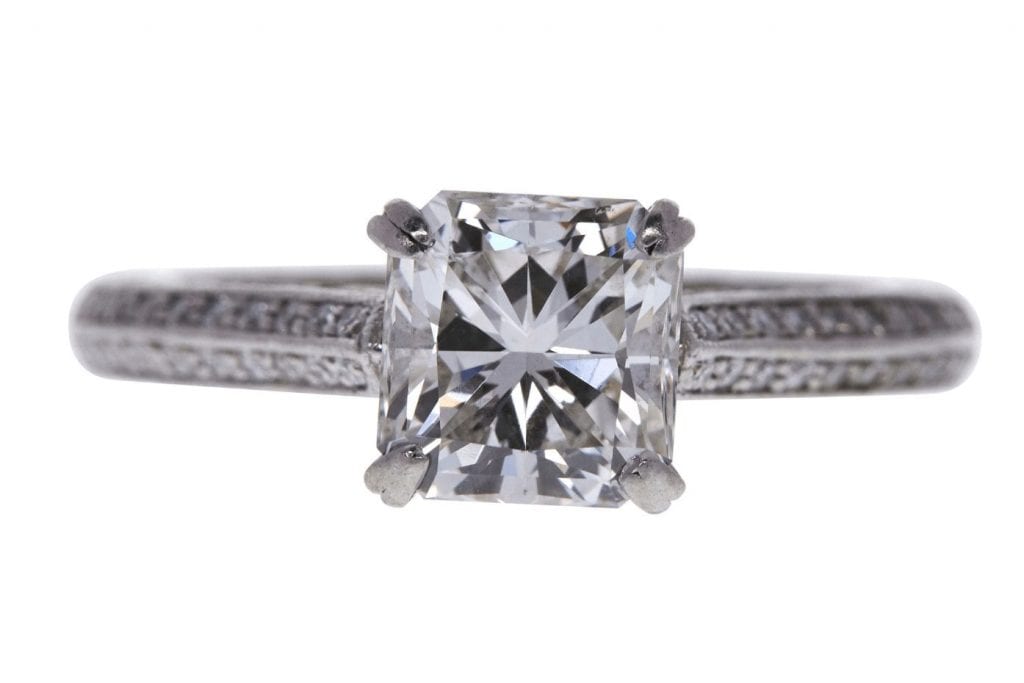 A gorgeous 2-carat radiant cut diamond solitaire ring exemplified the cut's desirable characteristics. It was accented by with 182 micro pave diamonds on the band, and sold for $7,124.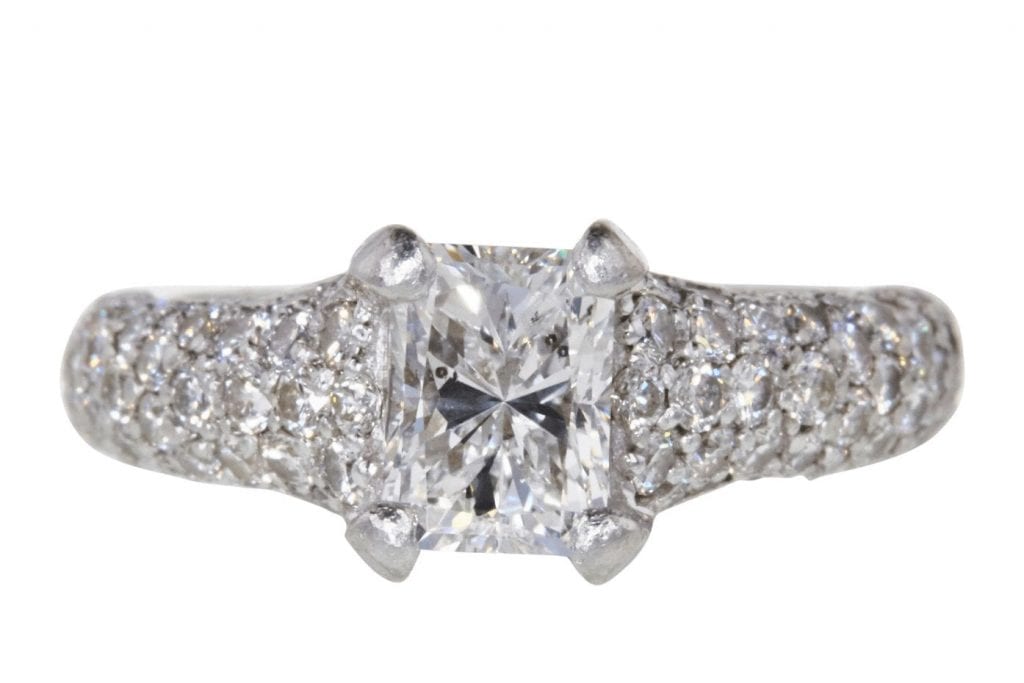 This custom platinum ring featured a 1.3-carat radiant cut diamond at its center. The band offered plenty of sparkle, thanks to 96 pave diamonds. It sold for $2,848.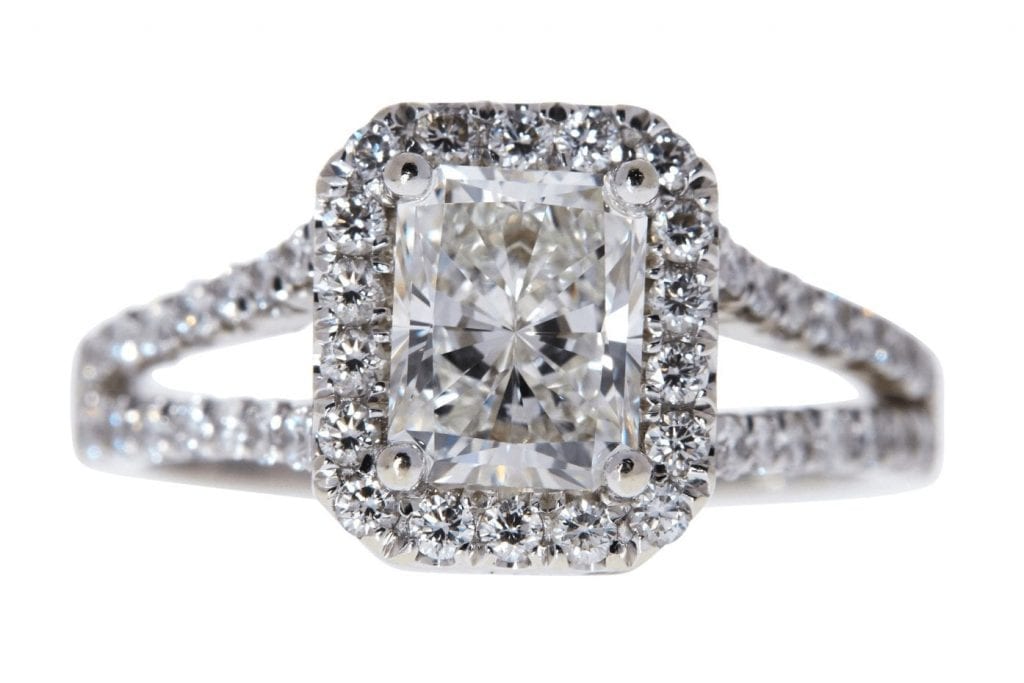 This stunning 1.2-carat radiant cut halo ring with a total of 54 round accent diamonds featured an elongated rectangular shape. This beauty sold for $2,709.
Are you considering selling a radiant-cut diamond or other jewelry? The experts at Worthy can help you get the best deal for your item. Sell smart!
//= get_template_directory_uri() ?> //= get_template_directory_uri() ?> //= get_template_directory_uri() ?> //= get_template_directory_uri() ?> //= get_template_directory_uri() ?> //= get_template_directory_uri() ?>
©2011-2023 Worthy, Inc. All rights reserved.
Worthy, Inc. operates from 25 West 45th St., 2nd Floor, New York, NY 10036