Patek Philippe Aquanaut Review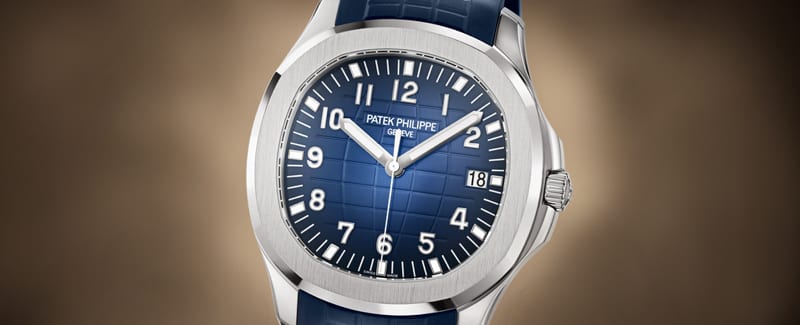 Sometimes referred to as the "Nautilus Light," the Patek Philippe Aquanaut is an incredible luxury sports watch that easily takes its wearers from sporty, active attire to dressier look for business and evening.
Launched in 1997, more than 150 years after Patek Philippe's founding, the Aquanaut brings exceptional performance together with sophisticated style details. Thanks to 120-meter water resistance, divers appreciate its ability to descend well beyond recreational depths. 
Patek Philippe Aquanaut History & Review
When consumers expressed a desire for an alternative to Patek Philippe's Nautilus watches, the company responded by designing the Aquanaut. Though priced lower than the Nautilus, the original Aquanaut ref. 5060 had a screw-down crown and a three-part case, which featured a rounded, octagonal shape inspired by the iconic Nautilus.
The "Tropical" strap, which is still available on new Aquanauts, was an innovation in wear-resistant composite, with a pleasing textured pattern that repeats the raised guilloche motif seen on the dial. To this day, the Aquanaut's rubber strap must be cut to fit the wearer. The cut ends of the strap are encased in a double-folding clasp that features Patek Philippe's trademark Calatrava cross motif when closed.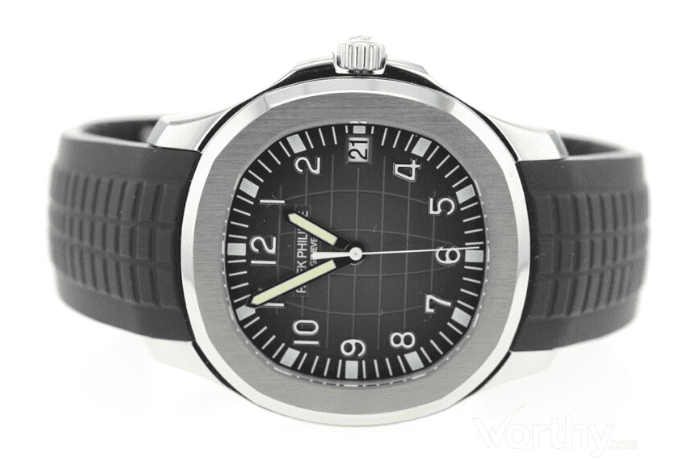 Original Patek Philippe Aquanaut ref. 5060A and 5060J watches are difficult to come by, as only 1,000 were initially released. The Aquanaut 5060A was made with stainless steel, while the 5060J was in 18k yellow gold. Both had a diameter of 36mm, and both relied on Patek Philippe's calibre 330 SC movements.
Shortly after ref. 5060 was released, Patek Philippe added the "Jumbo" to its new line. With a 38mm case and similar design details, the Aquanaut Jumbo ref. 5065 was offered in stainless steel as Aquanaut ref. 5065A, and in 18k yellow gold as Aquanaut ref. 5065J. 2006 saw these popular watches discontinued, but the company reintroduced the line quickly, releasing the Aquanaut ref 5167A in 2007.
Today, Patek Philippe offers an entire collection of Aquanaut watches. Case and dial color options vary, as do strap options. Whether you love the classic appearance and rugged durability of stainless steel, or if you prefer options such as rose gold, white gold, or diamonds, it's possible to satisfy your sense of style with an Aquanaut.
Patek Philippe Aquanaut Noteworthy Owners
There are a handful of famous Patek Philippe Aquanaut owners. Ringo Starr and Paul McCartney, both of Beatles fame, have been spotted wearing the same model: Aquanaut ref. 5167A, in stainless steel. Investor George Soros has been photographed wearing an Aquanaut ref. 5066A.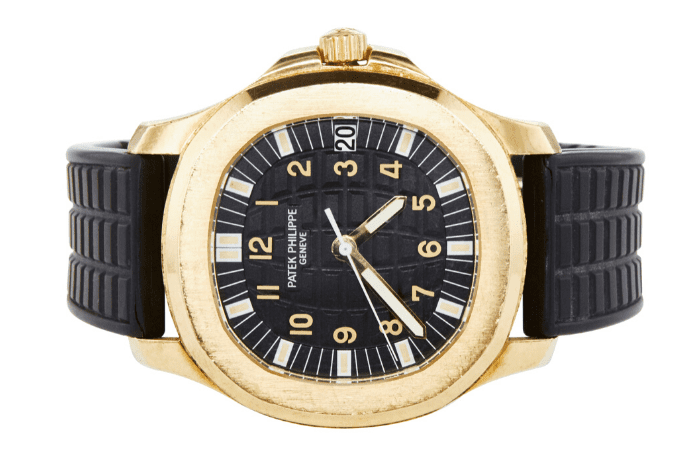 Paul McCartney was famously sporting his Aquanaut on the cover of Time magazine, while George Soros' Aquanaut can be seen in the photo that adorns the cover of his biography.
How to Spot a Fake Patek Philippe Aquanaut
As counterfeiters gain even greater access to top technology, they're finding it easier than ever to create counterfeit luxury watches including convincing faux Patek Philippe Aquanauts. These watches don't make up a huge portion of the billion-dollar counterfeit watch industry, but they are definitely out there.
Price is suspiciously low, often far lower than market value
Offered without box or any accompanying paperwork
Logo on the dial should be a separate piece of metal that is applied to the dial; if it's painted on, the watch is a fake
Craftsmanship flaws that are easy to spot with careful examination: Look for misspelled words, misaligned letters or numerals, slightly tilted crown, any rough finish, and poorly stamped or engraved markings.
Too thick
Too lightweight
Subdials are slightly out of alignment or even run backwards
Incorrect hour and minute markers
Cheap movements rather than authentic Patek Philippe movement
If you're confronted with a tempting deal on a Patek Philippe Aquanaut and you're not able to get it to a knowledgeable horologist for a thorough examination inside and out, be sure to compare it with a photo of the exact model.
Most counterfeits get tiny details wrong, although there are certainly exceptions. Sometimes the only clues to the fact that you're holding a fake Patek Philippe Aquanaut are found inside the watch – and it's recommended that the caseback should be opened only by an expert.
When all is said and done, the best way to avoid purchasing a faux Patek Philippe Aquanaut is to buy your watch from Patek Philippe, one of its authorized retailers, or a trusted dealer such as Worthy. Our horologists are well-acquainted with Aquanaut watches, and our authentication process is unparalleled.
Estimated Value of Patek Philippe Aquanaut Watches
The current retail (MSRP) price of a Patek Philippe Aquanaut watch ranges from $16,900 to $193,920. Most models are in the $20,000 to $40,000 range with a few higher- and lower-priced options.
As you might expect, pre-owned Patek Philippe Aquanaut watches retain their value well, normally fetching thousands when in pristine condition. As with all pre-loved luxury watches, the value of a previously owned Patek Philippe Aquanaut is determined by several factors including age, condition, rarity, and current market demand as well as current market value. When accompanied by an original presentation box and original paperwork, the value of a pre-owned Aquanaut tends to increase.
If you own a Patek Philippe Aquanaut watch and wish to sell it for the best possible price, we can help by eliminating the guesswork that's so often involved with selling a preowned luxury watch. Our process targets interested, prequalified buyers who are actively searching for pre-owned Patek Philippe watches like yours.

//= get_template_directory_uri() ?> //= get_template_directory_uri() ?> //= get_template_directory_uri() ?> //= get_template_directory_uri() ?> //= get_template_directory_uri() ?> //= get_template_directory_uri() ?>
©2011-2023 Worthy, Inc. All rights reserved.
Worthy, Inc. operates from 45 W 45th St, 4th Floor New York, NY 10036