Patek Philippe Nautilus Review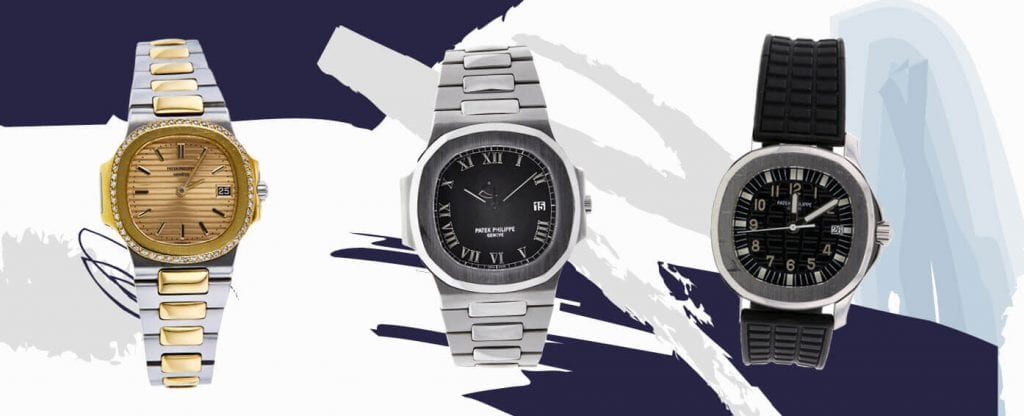 Patek Philippe was founded in 1851 and the company has offered a signature line of luxury watches that captivate horologists and wearers alike ever since. We have Patek Philippe to thank for the keyless winding system as well as for many other watch innovations. Many of Patek Philippe's watches include incredible complications and all are renowned for offering peak performance. These watches are highly coveted; in fact, many of the world's most expensive wristwatches sold at auction are from Patek Philippe.
Patek Philippe Nautilus History
The original Patek Philippe Nautilus was designed by none other than Gérald Genta, who is also credited with designing the Audemars Piguet Royal Oak. This luxury sports watch gets its inspiration from the uniquely rounded shape of a ship's portholes. On close inspection, you can see that the design's water-resistant case offers a slightly octagonal bezel, which is subtly beveled and carved. The bracelet is fully integrated, with offset links and a folding clasp that lend a distinctive appearance while contributing a comfortable feel.

The Nautilus watch is named in honor of the submarine piloted by Captain Nemo in Jules Verne's Twenty Thousand Leagues Under the Sea. Even though it offered water resistance to a depth of 120 meters, it wasn't considered to be a professional divers watch.
Like many Patek Philippe Nautilus models, the original Jumbo Nautilus reference 3700/1 was made with stainless steel. It got its nickname from its size: at the time of its introduction, the Jumbo's 42mm diameter was considered quite large. The Jumbo Nautilus featured a black dial with subtly textured horizontal striping, a date window at 3 o'clock, and luminous white gold hands and baton hour markers.
The first ladies' Patek Philippe Nautilus (reference 4700) was introduced in 1980. In 1981, a smaller, slimmer version with a reduced diameter of 37.5mm was introduced. The Patek Philippe reference 3800/1A wasn't immediately popular when it made its way onto the market, but consumers warmed to it soon after.
The year 1998 saw the introduction of Patek Philippe Nautilus reference 3710/1A, which featured the signature black dial, but without the horizontal bar design. A slim second hand, bold Roman numerals, and a power reserve indicator at 12 o'clock provide additional interest to the design. The date remains at the 3 o'clock position. In introducing this model, Patek Philippe went back to the original design in terms of size. Like the Jumbo, the 1998 Nautilus offered a 42mm case. At just 8mm thick, it manages to blend a lightweight, luxurious feel with the sporty size that lends to this model's widespread appeal.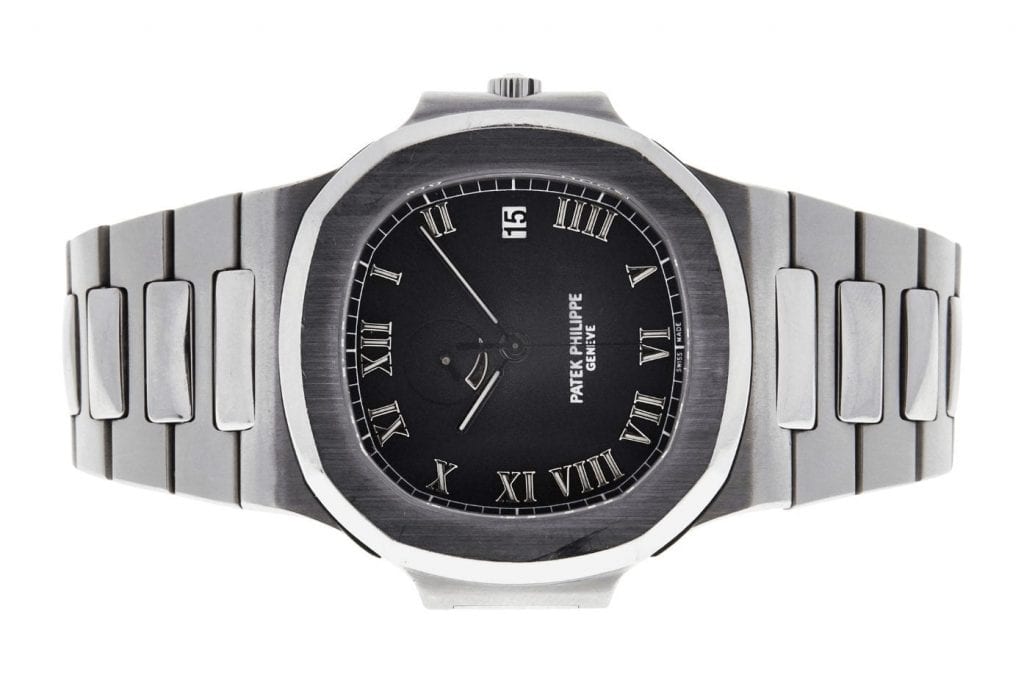 In 2005, Patek Philippe referred to the original Jumbo design again. Ref. 3712 featured bold horizontal texture on the black dial. Analog date and moon phases, a power reserve indicator, and an independent second hand provide added interest.
Patek Philippe reference 3712 is a rare watch and a favorite with collectors. It was only produced during 2005 and was discontinued just before the 2006 introduction of new generation Nautilus models.
Fans of the Jumbo were thrilled to see the 30th anniversary Patek Philippe Nautilus. A throwback to the original design, reference 5711/1A was introduced in 2006 with many visual similarities including baton markers and simple horizontal texture on a black dial. This model features a 43mm case, the addition of a central seconds dial, and a simple date window at three o'clock.
2006 saw the introduction of two more models including the Patek Philippe reference 5712, which is the successor of the Patek Philippe 3712. Like reference 5711/1A, this model features a 43mm case. It also includes an independent second hand, a power reserve indicator, and a date/moon phase indicator. Its hands are slimmer, and the dial has a blue-black tone that differentiates it further from its predecessor.
The Nautilus Chronograph reference 5980 was also introduced in 2006. A bolder 44mm case houses a black dial with signature striping, plus luminous baton markers and hands. A contrasting automatic chronograph movement and microseconds add to this model's intrigue, while a date window at three o'clock lends classic appeal.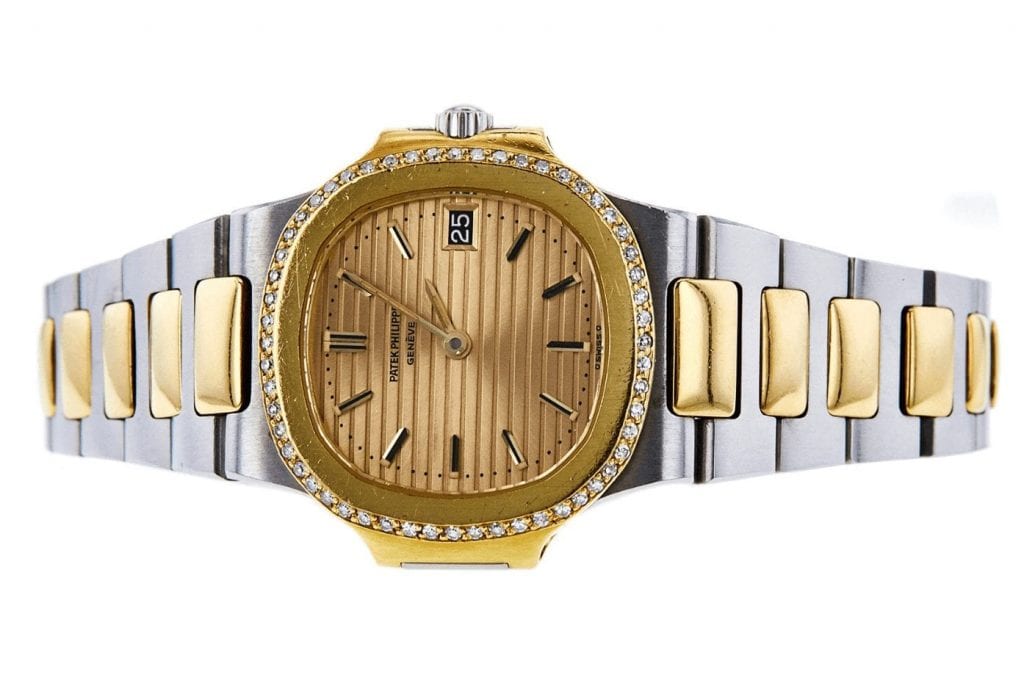 While original Nautilus designs are mostly stainless steel, some models do exist in precious metals including platinum, gold, white gold, and rose gold. A few feature blue, gray, gold, chocolate, or white dials rather than black, and different complications have been incorporated over the years. The Patek Philippe Nautilus Travel Time Chronograph reference 5990/1A is a good example; it features a column-wheel flyback chronograph and a dual time function.
Many Patek Philippe Nautilus models feature transparent backs that allow a view of the movement. Some have been accentuated with diamonds, and some have leather or crocodile straps rather than classic link bracelets.
Popular Patek Philippe Nautilus Reference Numbers
This list of Patek Philippe Nautilus reference numbers includes all the most popular models past and present, along with a few rare models that might be difficult to find:
3700/01A, 3700/11A, 3700/1A,J3700/11A,J3700/1,J3700/11J, 3700/1G, 3700/11G, 3700/1, 3710/1A, 3711/1G-00, 3712/1, 3800/1A, 3900/1JA, 4700, 4700/51, 5060/S – Gold (This model is sometimes referred to as a Patek Philippe Aquanaut as it features lugs), 5711/1A-010, 5711/1A-011, 5711/1P, 5711/1R-001, 5712/1A-001 , 5712R-001, 5712G-001, 5719/10G-010, 5724G-001, 5724R-001, 5726/1A-001, 5726/1A-010, 5726A-001, 5740/1G-001, 5976/1G, 5980/1R-001, 5980/1AR-001, 5980R-001, 5990/1A-001, 7010R-011, 7010R-012, 7010/1R-011, 7010/1R-012, 7014/1R-001, 7014/1G-001, 7018/1A-001, 7018/1A-010, 7018/1A-011, 7021/1R-001, 7021/1G-001, 7118/1A-001, 7118/1A-010, 7118/1A-01,17118-1200R-0101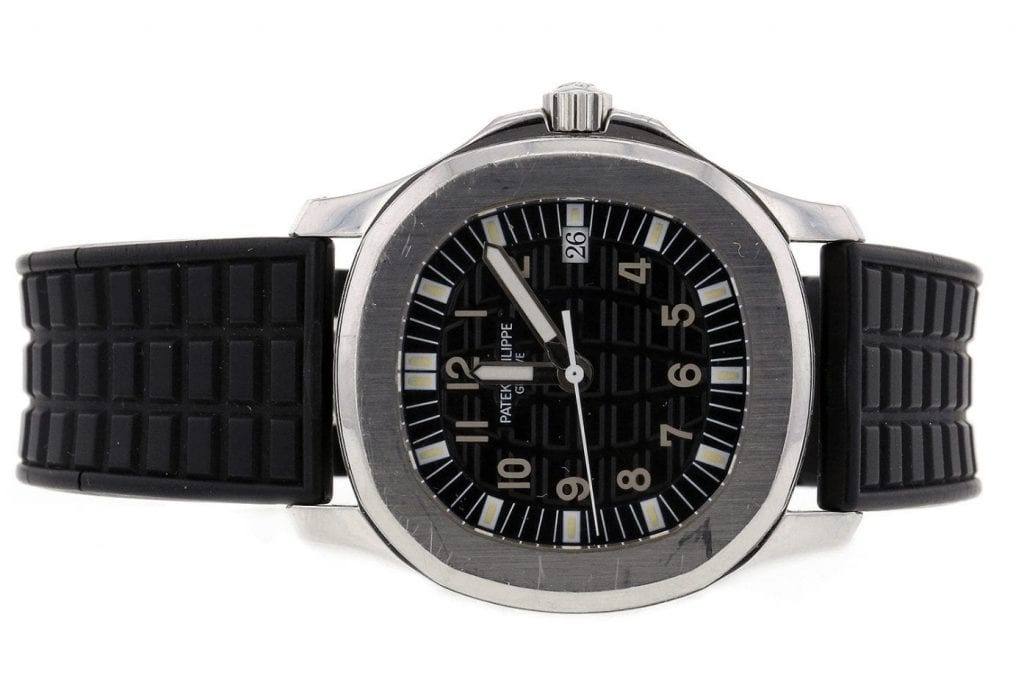 Patek Philippe Nautilus Noteworthy Owners
Footballers Claudio Marchisio of Italy's Juventus and Karim Benzema of Real Madrid prefer the Patek Philippe Nautilus Chronograph Ref 5980 in classic stainless steel.
Actor Jonah Hill was spotted wearing a Patek Philippe Nautilus Ref 5711/1A on The Tonight Show with Jimmy Fallon.
Actor Robert Downey Junior, who stars as Tony Stark (Iron Man) in the Avengers series movies wears a Patek Philippe Nautilus Ref 5712/A.
Don Cheadle, also of Avengers fame, has been spotted wearing a Patek Philippe Nautilus Ref 5711/A.
How to Spot a Fake Patek Philippe Nautilus
If you are looking to expand your collection and buy a Patek Philippe Nautilus watch, it is important that you know how to spot a fake Patek Philippe.
Unfortunately, Patek Philippe watches are often counterfeited. Because there are so many models with so many unique features, there is no tell-tale feature to watch out for. With this in mind, here are some ways to distinguish a fake Nautilus from the real thing.
A suspiciously low price point
No certificate of authenticity
Obvious flaws like misspelled words, unevenly spaced letters, poorly engraved numbers and/or letters
Subdials appear to be asymmetrically placed on certain models
Bracelet links appear to be out of alignment
Low-quality leather and/or buckle on versions with leather band
Too thick or too lightweight
Pointed hour markers rather than rounded
Lines rather than spots to mark minutes
Because counterfeiting equipment is better than ever and a convincing fake can lead to a huge payday for a watch counterfeiter, the best way to avoid fake Patek Philippe watches is to purchase genuine, certified models only – either from Patek Philippe or from a trustworthy seller such as Worthy. Certified watches have been inspected inside and out by a qualified horologist who is familiar with the brand and model in question, so that there's no doubt you're purchasing the real thing.
Estimated Value of Patek Philippe Nautilus Watches
The current retail (MSRP) price of a Patek Philippe Nautilus is $29,800 to $310,720. Some current prices are only available on request from Patek Philippe.
Pre-owned Patek Philippe Nautilus watches typically hold their value very well, often selling for well over $100,000. Value is determined by a number of factors including the watch's condition, current market value, rarity, and more. In general, watches with original presentation boxes and paperwork are often of greater value than those without.
If you currently own a Patek Philippe Nautilus and would like to sell it, we can help by taking the guesswork out of the equation and targeting interested, qualified buyers from across the nation so that you receive the highest price possible.
More about Patek Philippe Watches:
//= get_template_directory_uri() ?> //= get_template_directory_uri() ?> //= get_template_directory_uri() ?> //= get_template_directory_uri() ?> //= get_template_directory_uri() ?> //= get_template_directory_uri() ?>
©2011-2023 Worthy, Inc. All rights reserved.
Worthy, Inc. operates from 25 West 45th St., 2nd Floor, New York, NY 10036