Patek Philippe Calatrava Review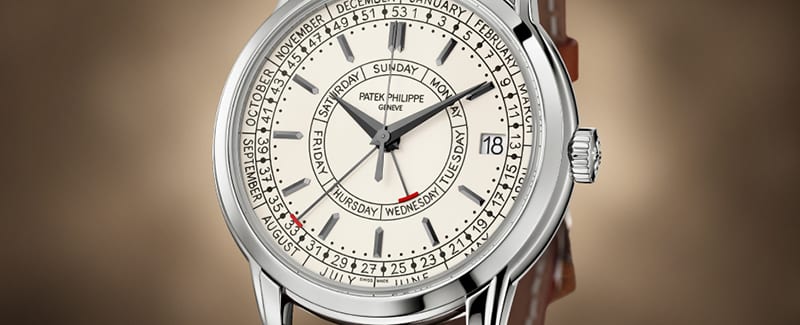 Patek Philippe luxury watches were introduced more than 100 years ago, in 1851. Today, the company offers some of the most desirable watches on the market, including unique timepieces with fascinating complications, sleek dress watches, and a wide range of sophisticated designs that appeal to a worldwide audience of horologists and watch enthusiasts. The Patek Philippe Calatrava is one of the manufacturer's most popular designs. Let's take a closer look.
Patek Philippe Calatrava History
First introduced in 1932, the Patek Philippe Calatrava line features dress watches inspired by the Bauhaus principle, which states that form should follow function. Elegant, streamlined profiles, sleek finishes, and beautiful details give these watches an air of timeless distinction.
The first Patek Philippe Calatrava watch was meant for affordability, with the goal of helping the company (then known as Patek, Philippe & Cie) transition through the Great Depression. Introduced as the Patek Philippe Calatrava ref. 96, this simple, elegant watch was a smashing success – so much so that it remained in production for over 40 years. Its successors had a similar understated appearance and to this day, most timepieces in the Calatrava watch line retain the original design's classic, uncomplicated appeal.
The original Patek Philippe Calatrava was designed by David Penney. The watch's name comes from a cruciform symbol used on marching banners carried by the Calatrava knights who defended Calatrava's fortress against Moorish invaders in the year 1158. The Calatrava Cross symbol was registered as a trademark by Patek, Philippe & Cie in 1887; however, its appearance on Patek Philippe watch crown and movements began decades later, in the 1960s.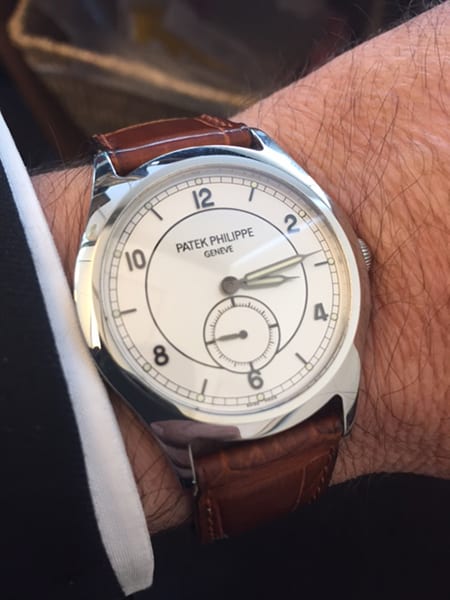 Designed with the goal of presenting timekeeping in the purest essence possible, the original Patek Philippe Calatrava ref. 96 featured a slim 31mm round case that measured a mere 9mm thick. The flat polished bezel, integrated tapered lugs, and snap-on back are commonplace features these days, but at that time, wristwatches were still in their infancy and having design features that placed a priority on comfort was a completely new concept.
Where many vintage watches of the period offered up ornate details and intricate complications, the Patek Philippe Calatrava reference 96 offered up a minimalistic profile with hours marked around the dial's outer edge via gold trapezoid-shaped markers. Seconds were displayed on a sub-dial that was simply positioned at six o'clock. Pointed Dauphine hands with faceted surfaces reliably indicated the passage of time. More than a few current Patek Philippe Calatrava models retain this design or remnants thereof, and the design's simple, sleek layout has been replicated thousands of times by one brand after another.
From 1932 to 1933, Calatrava watches were powered by a 12-ligne LeCoultre movement. Beginning in 1934, Patek Philippe powered its Calatrava line with its in-house 12"'120 calibre. In keeping with the waste-not, want-not ethos of the era, the company used up the rest of its LeCoultre movements in watches that date beyond 1933, so it's possible to find some vintage Patek Philippe timepieces containing these movements.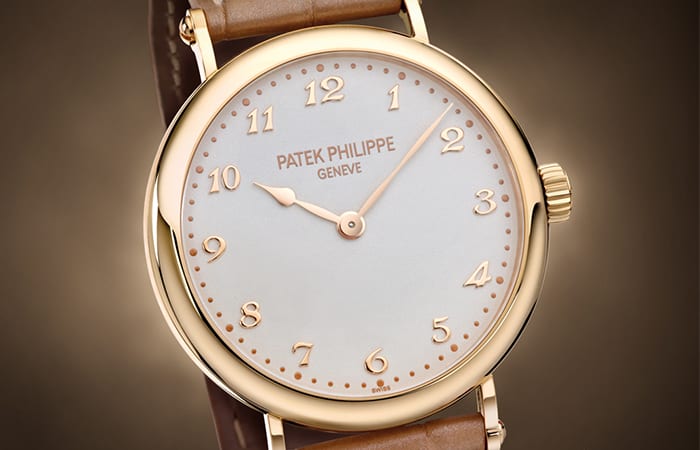 Patek Philippe produced the original Calatrava ref. 96 for more than four decades, finally halting production in 1973. A few different iterations were offered during that time including Calatravas models with no seconds, indirect central seconds, and Breguet numerals with either subsidiary seconds or indirect central seconds. Some models offered more unique features such as stainless steel cases or sector dials with concentric circles. A few Patek Philippe Calatrava watches even featured pilot-style details including luminous oversize Arabic numerals positioned on black lacquered dials, with the famous sub-dial overlapping the five and seven o'clock numerals and omitting the six. These were precursors to the contemporary Calatrava ref. 5522A Pilot.
Today's Patek Philippe Calatrava watches come in white gold, rose gold, yellow gold, and platinum, with a number of options for ladies joining the traditional men's lineup. Some offer date windows, some feature sub-dials to mark the passage of seconds, and some offer up unique design elements including volutes and arabesques as well as dials embellished with ornate details in diamond, sapphire, and mother of pearl.
How to Spot a Fake Patek Philippe Calatrava
If you are looking to buy a Patek Philippe Calatrava watch for your collection, it's vital that you watch out for well-made replicas and obviously counterfeited timepieces. Because there are a variety of Calatrava watches with unique features, there is no single way to determine whether you're holding a real or counterfeit Calatrava. With this very important caveat in mind, here are some of the best ways to spot a fake Patek Philippe Calatrava watch:
Price is far below fair market value
Watch is not accompanied by a certificate of authenticity
Common flaws such as misspelled words, shoddy engraving, unevenly spaced letters, wrong Patek Philippe logo / trademark
Subdial is in the wrong position
Low-quality bracelet or band, often with obvious flaws
Too heavy or too light
Hour markers aren't the correct shape / type for the reference number in question
Since counterfeiters have access to exceptional technology these days, it's easier than ever for bad players to manufacture counterfeit watches with convincing details. Luckily, knowledgeable horologists and trustworthy sellers including Worthy, watch shops, and of course Patek Philippe themselves, are able to offer certified timepieces that have been fully inspected to ensure that you are investing in an authentic Patek Philippe Calatrava watch
Estimated Value of Patek Philippe Calatrava Watches
The current retail (MSRP) price of a Patek Philippe Calatrava is $20,870 to $102,060.
Like other models from this designer, pre-owned Patek Philippe Calatrava watches tend to hold their value extraordinarily well, fetching thousands; one noteworthy Patek Philippe Limited Edition Calatrava 5565 auctioned for $34,000. Several factors go into determining resale value including current market value, overall condition of the watch in question, whether the model is a rare one, and more, including the watch's condition, current market value, rarity, and more. In general, watches with original paperwork and authentic presentation boxes fetch better resale prices than their undocumented counterparts.
If you currently own a Patek Philippe Calatrava and would like to sell it, we can help. Worthy targets qualified, interested watch buyers from across the nation. By eliminating guesswork and partnering with buyers who are eager to compete for the opportunity to purchase pre-owned luxury watches, we help you receive the best price possible. 

More About Patek Philippe Watches:
//= get_template_directory_uri() ?> //= get_template_directory_uri() ?> //= get_template_directory_uri() ?> //= get_template_directory_uri() ?> //= get_template_directory_uri() ?> //= get_template_directory_uri() ?>
©2011-2023 Worthy, Inc. All rights reserved.
Worthy, Inc. operates from 25 West 45th St., 2nd Floor, New York, NY 10036