Watch Men: Hollywood Actors and Their Watches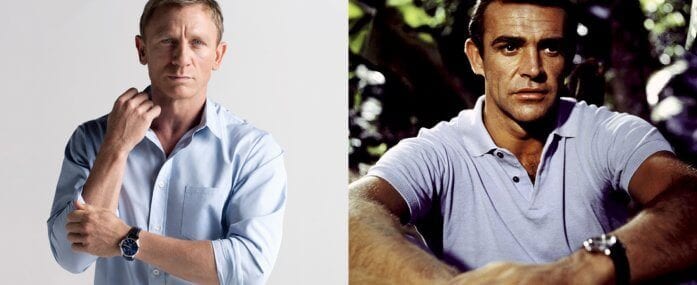 Left: Daniel Craig. Photo by Discutivo. CC BY-SA 2.0 / Right: Sean Connery as James Bond in "Dr. No" (1962)
A watch tells you a lot about the man who wears it. And, not surprisingly, watches do the same for the leading men in our favorite movies. In the golden age of Hollywood, many actors wore their own watches in films, helping to get recognition and boost sales not just for the watch style they chose but also for watches in general.
The Cartier Tank
Roaring twenties heartthrob Rudolph Valentino wore the first wristwatch ever to be shown on the silver screen in the 1926 silent film The Son of The Sheik. The Cartier Tank Watch, the first timepiece to be designed as a wristwatch, reportedly belonged to Valentino himself, since it had nothing to do with the costumes or the script. Back then, men were still flipping open a pocket watch to tell time. Valentino helped to change that: his example boosted the popularity of wristwatches enormously. The Cartier Tank, inspired in name and design by World War I tanks, began to replace the pocket watch in the 20s. The sleek Tank is now available in approximately 250 variations. Many of the most dapper leading men of the early to mid-20th century owned Cartier watches and also wore them on screen. Cary Grant owned a Tank and also wore one in Hitchcock's 1959 thriller North by Northwest. Gary Cooper owned and wore the Tank Basculante, the 'tipping' Tank. Warren Beatty wore Cartier Tanks in real life and in various publicity stills in the 60s and 70s. Steve McQueen also owned and wore a range of watches including Cartier Tanks and Rolex styles in film.
Clark Gable might have personified rugged sex appeal, but he also understood luxury. His collection included Cartier (Tank), Patek Philippe (Triple Date Moonphase), and Rolex, one of which he wore in the 1953 film Mogambo. Most extraordinary is what ownership by a major actor can add to a watch's value at auction. Bonhams' "What Dreams Are Made Of" sale in November, 2013 included the 14k gold Rolex Oyster Perpetual Ref. 6011 that Gable owned and wore in the film. It sold for $28,750, plus premium.
Rolex Men
The sexiest men of film during the sixties through seventies – Steve McQueen, Robert Redford and Paul Newman—all were Rolex men in their choice of personal timepieces. However, in the 1968 film The Thomas Crown Affair, Steve McQueen starred as a stylishly bored millionaire who is also a sportsman and who likes to live on the edge. McQueen's character is projected through the sophisticated choices of the watches he wears: a Cartier Tank, a gold Patek Philippe pocket watch, and a Jaeger LeCoultre Memovox. McQueen wore a Rolex in real life, yet the one named after him (The Rolex Explorer II) was mistakenly promoted to be the Rolex he owned, causing this model to command outstanding prices. The Rolex, McQueen did in fact wear was the (chronometer rated) version of a no-date Submariner, seen in many of his publicity stills.
Robert Redford also wore a Rolex Submariner, model 1680, in his private life and also in at least two films: The Candidate in 1972 and All the President's Men in 1976. Paul Newman's watch story was also one of mistaken identity. He did wear the Rolex Daytona, which was named after him, but not in the film that supposedly inspired the watch's name. Talk about dashingly handsome men and Rolex in one sentence and you can't help think of James Bond. Ian Fleming describes a Rolex in his 11th book in the series, On Her Majesty's Secret Service, 1963: "James sees a heavy Rolex Oyster Perpetual on a metal watch bracelet as he awakes in the middle of the night." In all future 007 adventures, Fleming remains true to Rolex. Sean Connery, the original Bond man, wore a Rolex Submariner in 1962's Dr No and the next seven Bond films he starred in.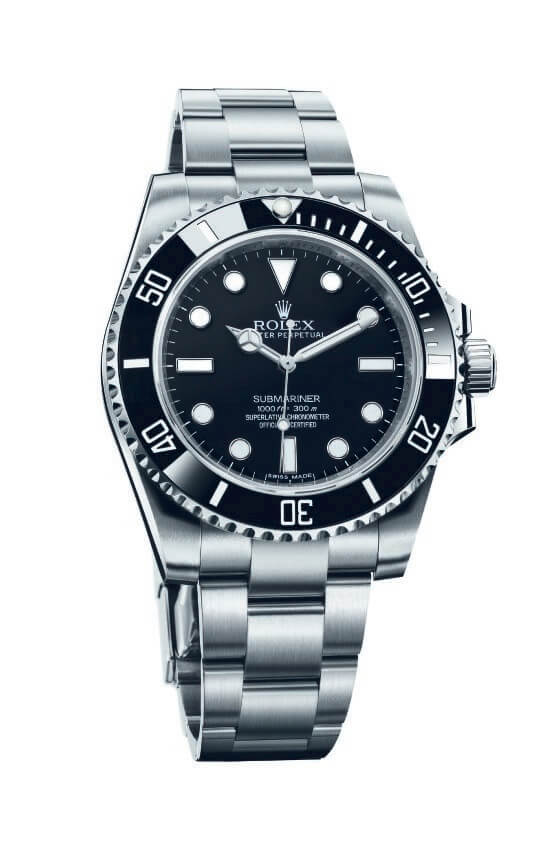 When Roger Moore became the new 007, he wore Seikos that helped him survive and performed fictionalized tasks. Then in 1995, Omega won the bid to become the official 007 watch. Pierce Brosnan was the first Bond guy to sport an Omega Seamaster Professional 300m in Golden Eye. In Casino Royale, Daniel Craig wears two Omega models: a blue Omega Seamaster300m chronometer and a Seamaster Planet Ocean 600m Co-Axial chronometer. I guess if moviegoers can believe that Connery and Craig are both the same MI6 agent as were all the Bond men in between, they can believe that a man, even one with such a clear identity, can change his watch brand. For Bond, product placement replaced the inspiration from book to film.
Then and Now
Where would the manly male characters in today's action adventures be without their watches? Bremont designed three watches based on the brand's existing chronographs for the 2015 spy action adventure Kingsman: The Secret Service. Founded in 2002 by brothers Nick and Giles English, Bremont is a U.K.-based company takes pride in its British tradition of watch making and works with the military, also accessorizing the wrist of many celebrities.
Not all watches appear on secret agents or hot cops, but still wrap around the wrists of men who prefer danger—perhaps those who have an affinity for handcuffs? Staying true to the books for which the film is based, Omega watches are described as being on Christian Grey's (Jamie Dornan) wrist. The film version of the E.L. James best-selling novel Fifty Shades of Grey has main character Christian sporting an Omega Seamaster Aqua Terra Chronograph and black-faced Omega Speedmaster Moonwatch Co-Axial Chronograph. The younger generation of actors in leading roles, like Ryan Gosling, Brad Pitt, Leonardo DiCaprio, and Ben Affleck, all wear on-screen watches that convey the personality of their characters. But they still today prompts men to think about their own style and purchase timepieces that express the confidence, dignity or casual chic they want to project.
About The Author
Beth Bernstein is the author of If These Jewels Could Talk: The Legends behind Celebrity Gems and this article is partially based on that book. Her other books include Jewelry's Shining Stars (Fine Points Publishing) and My Charmed Life (Penguin). Beth is also a journalist whose articles have appeared in The Jewellery Editor, Four Seasons Magazine, Accent, InDesign, Departures, Elite Traveler, Lustre, and The Huffington Post.
Not sure how to pronounce luxury watch brands? Check out our Watch Brand Pronunciation Guide.
//= get_template_directory_uri() ?> //= get_template_directory_uri() ?> //= get_template_directory_uri() ?> //= get_template_directory_uri() ?> //= get_template_directory_uri() ?> //= get_template_directory_uri() ?>
©2011-2023 Worthy, Inc. All rights reserved.
Worthy, Inc. operates from 25 West 45th St., 2nd Floor, New York, NY 10036