The Cigarette Case: Then and Now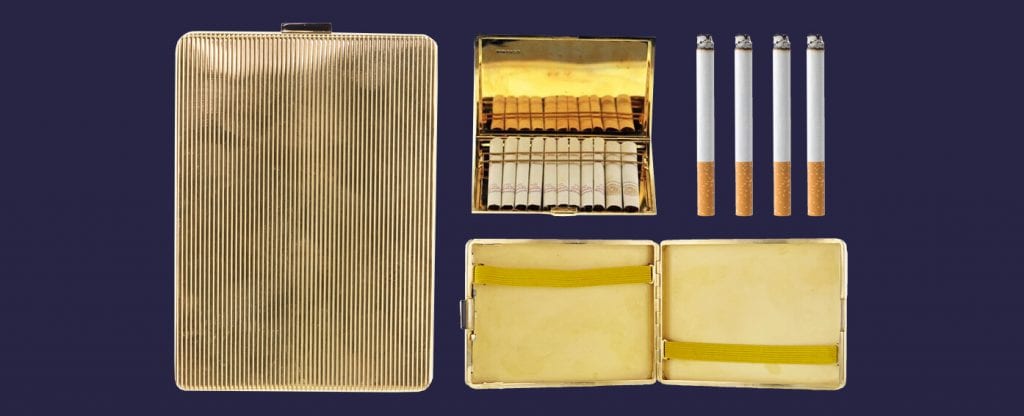 While smoking tobacco has been popular for centuries, it was only in the late 1800s and early 1900s that cigarettes came to the scene. They were originally created for soldiers fighting in the American Civil War and caught on soon after. Until then, cigars were the preferred medium. With this transition came the creation of the cigarette box and portable cigarette case that we are familiar with today. The purpose of the cigarette holder was mostly utilitarian but quickly became a fashion accessory as well. Cigarette boxes and cases were seen as an extension of the owner's style (and wealth).
Most cigarette cases follow a similar design, a slim rectangular shape made out of silver or tin with decorative designs, sometimes plated with a precious metal and fitted with an inner elastic strap. For the wealthier (or royal) smokers in society, Faberge got into the business, adorning their cigarette cases and boxes with yellow gold and precious gems. Some rare Faberge cases can go for $200,000 at auction!
Limited Edition Cartier Cigarette Box Calendar Clock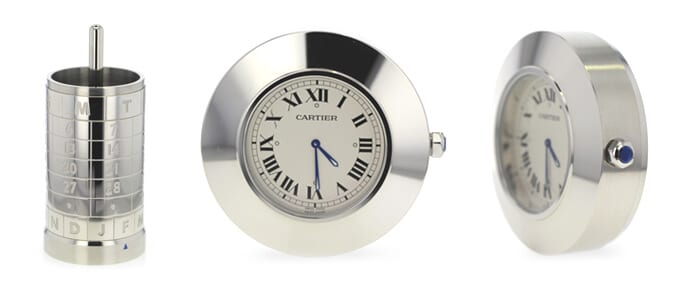 Interestingly enough, we've recently seen two cigarette cases of note – one antique and one modern. The first one (pictured above) is a trifecta of functionality complete with a calendar, clock and a platinum finish. We were surprised to see such a modern take on a relatively older concept that is the in-house cigarette box. When Cartier decided to produce this cigarette box, they kept production limited, making only 2000 of these table clock cigarette boxes worldwide.
Vintage British E.S. & Co. Gold Cigarette Case
The cigarette case pictured below, also recently auctioned at Worthy, is even more fascinating. It is a genuine Vintage 18kt British Cigarette Case with 11 original "Farouk Airport TWA Dessert Inn Cairo" cigarettes included. We are sure those cigarettes are no longer suitable for smoking but definitely adds some character and context to the item. We had to wonder, where in the world has this cigarette case travelled?? The dimensions of the rectangular case are 5″ by 3.25″ by 1/3″ weighing 7.8 Ounces and Hallmarked ES & Co. N 18.
This vintage cigarette case drew quite the competition at auction with over 20 buyers placing bids over a 3-day period, resulting in a final offer of $6,009!
//= get_template_directory_uri() ?> //= get_template_directory_uri() ?> //= get_template_directory_uri() ?> //= get_template_directory_uri() ?> //= get_template_directory_uri() ?> //= get_template_directory_uri() ?>
©2011-2023 Worthy, Inc. All rights reserved.
Worthy, Inc. operates from 25 West 45th St., 2nd Floor, New York, NY 10036